Blog Home
Contemporary Abstract Artists to Watch - Part II
Mar 25, 2016
Last week, we brought you profiles of ten contemporary abstract artists that have caught our eyes while attending art fairs, biennials, gallery openings, museum exhibitions and auctions recently. On the heels of that post, today we bring you profiles of nine more voices in contemporary abstract art we believe deserve your attention.
Angela Glajcar
The preferred medium of this artist is paper, working with it both as surface and substance. Born in Mainz, Germany, Glajcar creates objects of various sizes and scales from paper, layering it, carving into it, and sometimes using it sculpturally or as the centerpiece in a large-scale public installation. She creates multi-dimensional works that seem to both explore and defy paper's delicate nature. They are beautiful objects, intricately crafted, that demonstrating simultaneous strength and weakness, speaking to familiar paradoxes of our humanity and our time.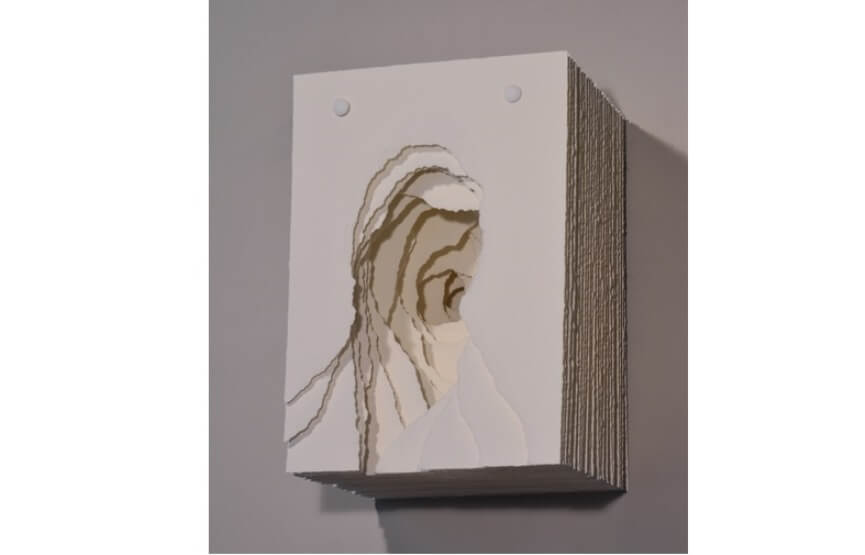 Angela Glajcar - Terforation #030, 2015, Paper and metal, 29.8 × 21 × 21 cm, photo credits Diana Lowenstein Gallery, Miami
Diego Pujal
The work of this Argentina-born abstract painter accomplishes dual feats of being both highly technical as well as instinctive. Pujal's process begins with drawing , as he searches for a communicative form to express. Once an agreeable form emerges, he brings it to the canvas, painting everything by hand in a process that allows him to intuitively search for the colors and hues with which to best express the character and essence of the form. Though his paintings possess an intentionally high degree of flatness, the emotive character of his forms, and the graphic quality of his work create a depth and dimensionality that brings the forms in his paintings instantly to life.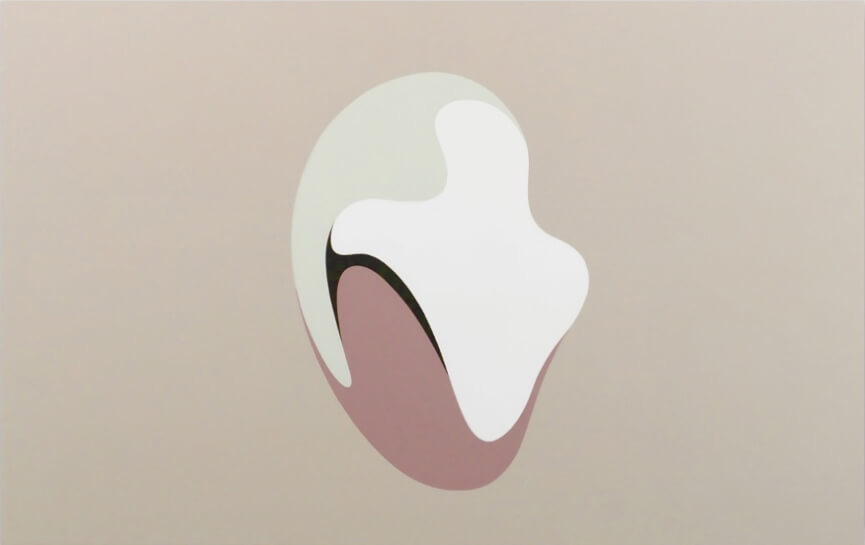 Diego Pujal - Yot, 2015, Acrylic on canvas, 190 x 300 cm, © Diego Pujal
Jorinde Voigt
This German artist's work uses an evocative visual language that speaks to both problem solving and serene acceptance. Her marks, gestures , lines, forms, and even her surfaces feel inspired by, or perhaps invaded by, some sort of frenzied cultural arithmetic, which she is either trying to destroy or unravel. Like a meta-psycho-socio-physical mapmaker, Voigt combines primal essences of sensuality, emotion and whimsy with modern connotations of data farming, code breaking and indexing. Her imagery connects with essential human anxieties, and finds balance among unanswerable, or perhaps unaskable questions.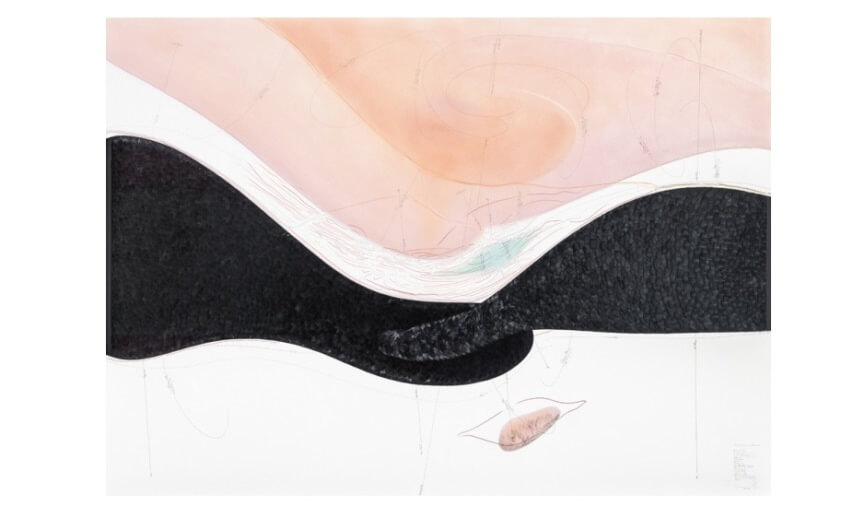 Jorinde Voigt - Too much happened over the weekend, 2015, Ink, feathers, oil pastels, pastel, pencil on cardboard, 182.5 x 252 cm, © Jorinde Voigt
Philippe Decrauzat
This Swiss artist works, or maybe plays, in the space between imagery and culture. His works could be appreciated purely as objects, as images without cultural relevance. Then again they could be seen as complex references to art history, the art market, and the way contemporary culture navigates aesthetic space. Decrauzat states often that he is "investigating the status of the image." Like his Op-Art predecessors, he makes work that takes viewers off balance, pulling them into dimensional space without apparent meaning, like Alice going down the rabbit hole. His work confronts contemporary attitudes about abstract imagery's power to influence a viewer's thoughts.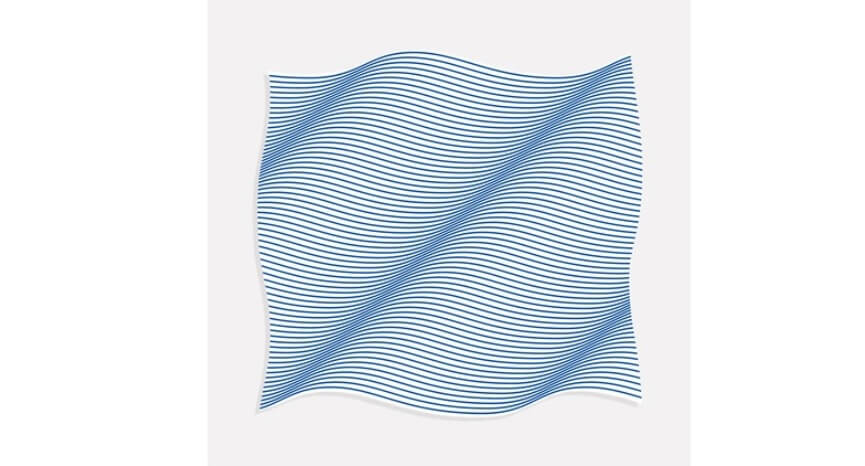 Philippe Decrauzat - Flag, 2015, Acrylic on canvas, 151 × 143 cm, photo credits Parra & Romero, Madrid
Jaime Gili
The work of Venezuelan artist Jaime Gili possesses an ominous optimism. His marks and gestures evoke references to utopian Modernist movements such as Futurism and Rayonism. Yet they seem also to contain a sense of decay and rebirth. The mechanical energy of the images seems to be overpowering something else lurking with, something organic and calm. Gili's images recall failed past attempts at idealism, and imply momentum toward an eerily similar future. The speed and the passion with which they're painted, along with their eye-catching beauty, adds to the anxiety they capture as harbingers of a return to an old future.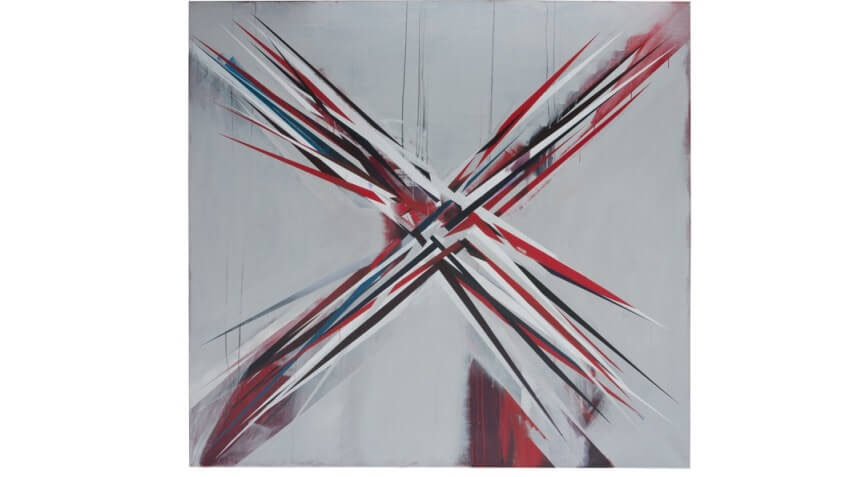 Jaime Gili - A163 (Tulse Hill Superstar), 2007-2014, Acrylic on canvas, 210 × 225 cm, photo credits Mana Contemporary
Ignacio Uriarte
Anyone familiar with the aesthetic iconography of an administrative office might respond to the work of Ignacio Uriarte with revulsion. A former business administrator himself, Uriarte confines his artistic practice to the use of materials common in his past professional life. In his words, this contemporary conceptual artist is striving to "stay in my own personal 'petit-bourgeois' reality in order to deal with it from the inside." His images transcend the boundaries of their conceptual roots, simply and profoundly articulating what could be the essence of Uriarte's investigations: a dynamic struggle to break free from expectations and limitations.
Ignacio Uriarte - Sloppy crosses, 2010, Pigmented ink on squared paper., 35.8 x 48.8 cm, © Ignacio Uriarte
Phil Chang
Los Angeles-based artist Phil Chang isn't exactly a photographer , but he works in the realm of photography. He sometimes uses photo paper and photo chemicals and photographic processes. But his approach is conceptual, investigating the layered meanings inherent in his process. For example, Chang recently exhibited a selection of photographs printed on expired, unfixed photo paper. Since the images weren't exposed to photo chemicals, when they were hung in the light of the exhibition space they began a process of fading into earth-toned monochromes. Since the paper was old, the process was gradual enough to be experienced by viewers of the exhibition.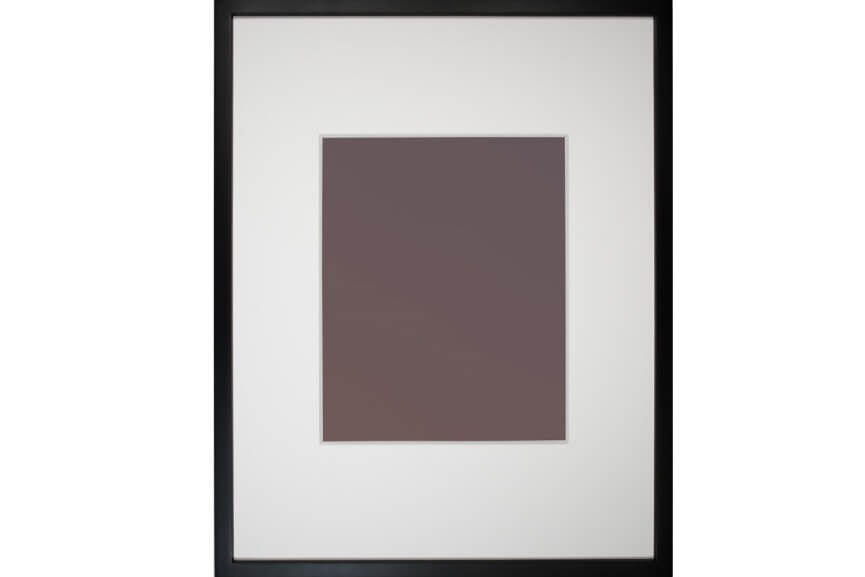 Phil Chang - Monochrome Exposed, 2012, Unfixed Silver Gelatin Print, © Phil Chang
Riccardo Baruzzi
One of the areas of investigation undertaken by the Italian artist Riccardo Baruzzi is that of the "painting as object." What that means is that he explores the different ways that a painting might be perceived. One function a painting might have is as a conceptual realm in which concerns outside the painting might be addressed. The other function it might have is as a simple material object that references only itself. Baruzzi fluctuates between figurative and abstract works, focusing on intuitive, pared down gestures. His canvases are sometimes translucent, suggesting voyeurism, or perhaps inviting allusions to a peek behind the curtain.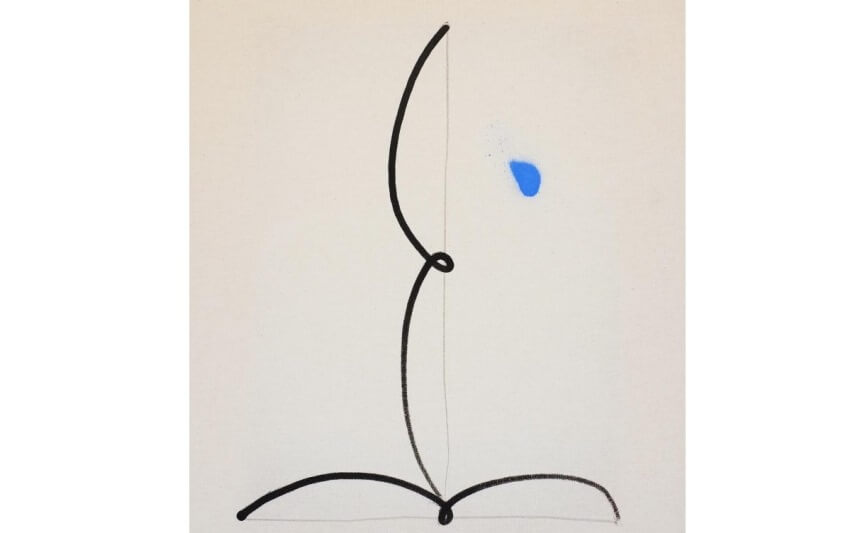 Riccardo Baruzzi - Porta pittura dei riccioli, 2015, Mixed media on canvas, 50 x 40 cm, © Riccardo Baruzzi
Laura Miranda
This Brazilian abstract artist examines the relationship between human culture and nature. With a poet's process, she focuses on the ways humans dress themselves either with fabric, with nature, or with structural space. She uses her body to make marks on materials such as rice paper or drawing paper. She manipulates paper and fabric with dyes and folds. She has even made latex molds of interior spaces, creating impressions of surroundings that protected past human inhabitants. Miranda also makes actual clothes, though un-wearable and delicate, bringing to question the purpose of clothing, and the relationship we have to covering, protecting, and presenting our bodies and ourselves.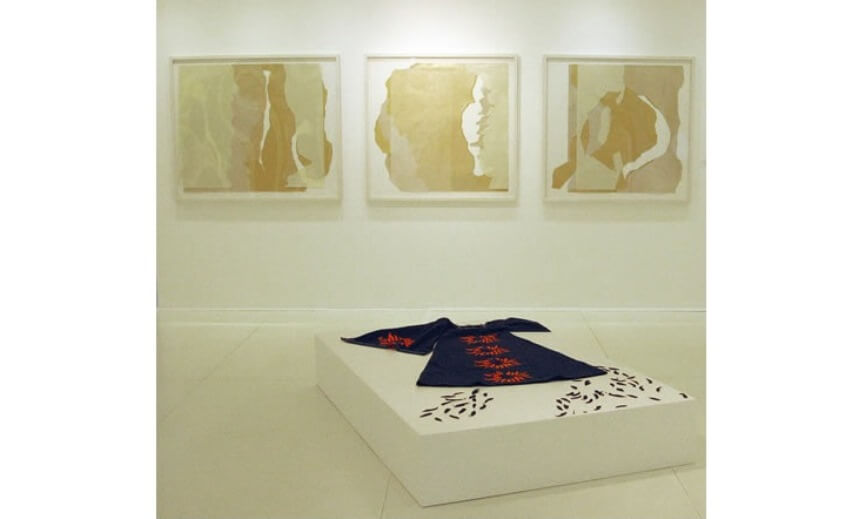 Laura Miranda - Exhibition still from Dan Gallery, São Paulo, Brazil, © Laura Miranda
In our opinion, these nine contemporary abstract artists, and the ten we brought you last week , are making exciting, relevant work that pushes boundaries and challenges expectations. If you get a chance to see an exhibition by any of these artists in person, we hope you will!
Featured Image: Diego Pujal - Yot, 2015, Acrylic on canvas, 190 x 300 cm, © Diego Pujal
All images used for illustrative purposes only