Blog Home
Abstract Photographers to Follow
Jan 4, 2017
Abstract photography has blossomed since the invention of digital cameras, especially since cameras merged with our mobile devices. Abstract photographers work in a form that demands experimentation. But back in the darkroom ages, when it took time, money and chemicals to develop every single negative, the investment abstract photography required was simply too much for most artists. And for those who did endeavor to explore the possibilities of the form, public appreciation for their work was sparse. But now experimentation is relatively cheap. Anyone with the means to acquire even the least expensive mobile phone can take an unlimited number of photographs. And the visual culture is so inundated with photography that even casual art viewers have developed a basic understanding of what photographic abstraction means. Today we are all photographers, and each of us, even if only by accident, occasionally takes photographs that are abstract. The pressure therefore to evolve a higher, more nuanced definition of what contemporary abstract photography can become falls on the artists; those whose intellect, heart and resources are wholly committed to moving art forward. Here are ten such contemporary abstract photographers we believe are worth following:
Jessica Eaton
The abstract photographs of Canadian-born photographer Jessica Eaton look like they are created through a digital process. But they in fact come into being through old-fashioned artistic labor. Eaton builds what she calls "beautiful unobtrusive forms," such as cubes and orbs, and then paints these objects grey. She then photographs them multiple times on the same negative, each time placing a new color separation filter over the lens. The resulting images show a layered, dimensional space full of merging abstract forms. Her repetitive use of simple forms is intended to move attention onto the idea, as inspired by Sol LeWitt, who said, "the reproduction of the form only reinforces the concept."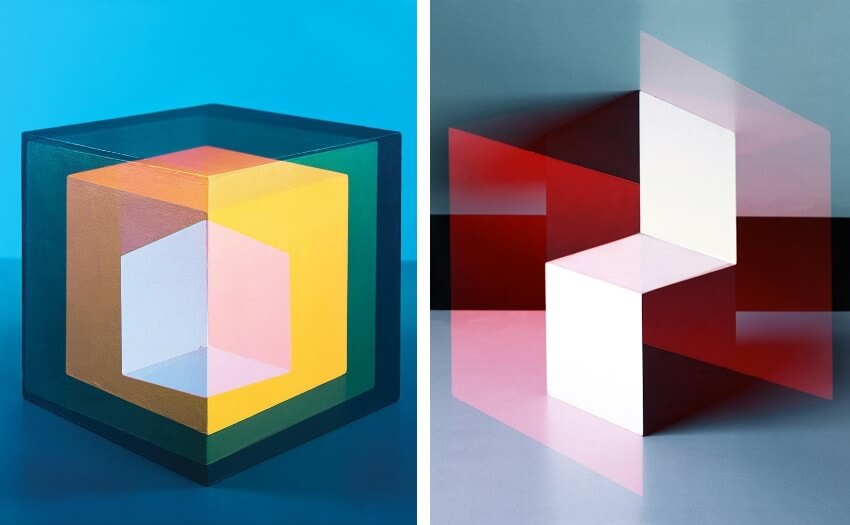 Jessica Eaton - cfaal 260, 2012. © Jessica Eaton (left) / Jessica Eaton - cfaal 115, 2011. © Jessica Eaton (right)
Barbara Rosenthal
Multi-media artist Barbara Rosenthal does not use the word abstract to describe her photography. Rather she uses words like conceptual and surreal. Her photographs are intended to affect viewers on a psychological level. When considered as art qua art, they occupy unique aesthetic territory. Rosenthal often employs extreme chiaroscuro effects, creating geometric compositions where the surrounding blackness is equal in importance to whatever recognizable content is present, raising questions about the value of perceptible narratives. Her photo composites as well explore formal ideas of geometry, line and space, while flirting with issues like memory, culture and myth.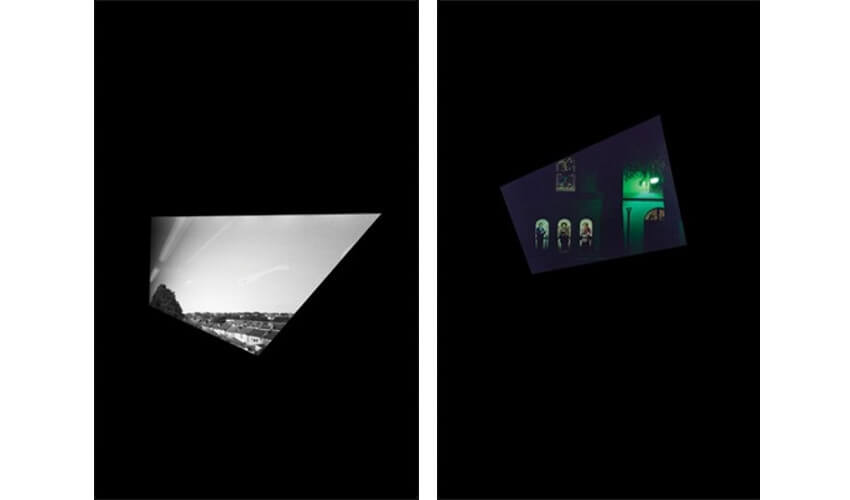 Barbara Rosenthal - two conceptual photographs. © Barbara Rosenthal
Eileen Quinlan
Boston-born Eileen Quinlan makes what she calls abstract still life photographs. She constructs elaborate, dimensional landscapes in her studio consisting of various materials and surfaces then photographs them. The resulting compositions explore texture, form, space, and color relationships. She uses light and materiality to achieve her vibrant images, but does not digitally enhance her images, preferring instead to use analog technology such as darkroom manipulation to complete the ideas.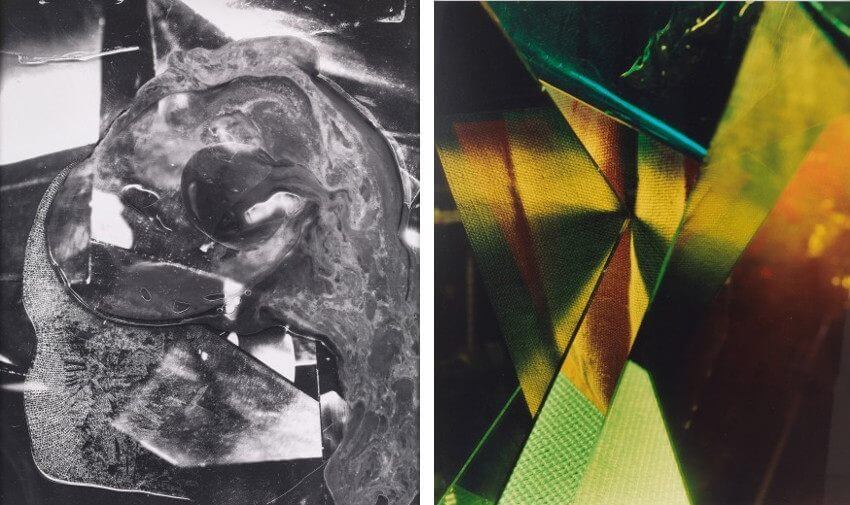 Eileen Quinlan - Great Basin, 2012. Gelatin silver print. © Eileen Quinlan (left) / Eileen Quinlan - Black Friday, 2011. Chromogenic color print. © Eileen Quinlan (right)
Barbara Kasten
Early Modernist thought serves as inspiration for abstract photographer Barbara Kasten. She constructs architectural compositions in her studio, arranging geometric objects and mirrors in such a way that color, line, shape and space come together in a visual language reminiscent of Neo-Plasticism or De Stijl. Through her skillful manipulation of light and shadow she creates photographs that challenge the visual perception of two and three-dimensional space.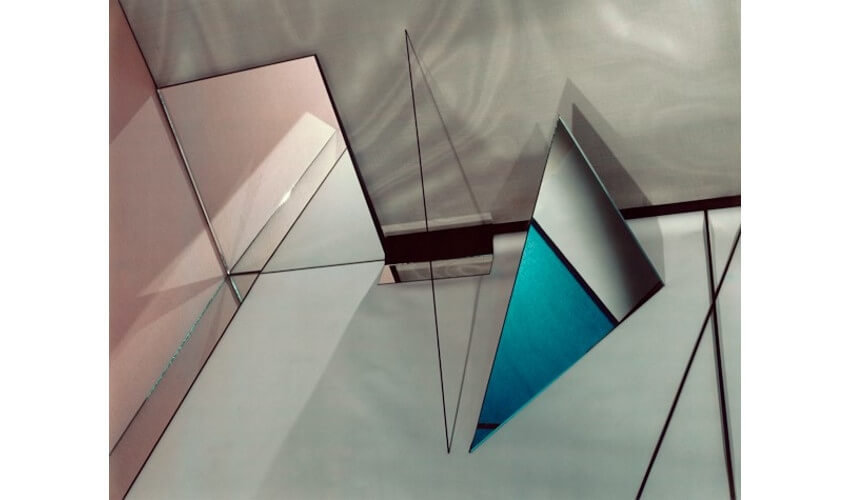 Barbara Kasten - Construct VI-B, 1981. Polaroid. © Barbara Kasten
Liz Deschenes
The work of Liz Deschenes poses essential questions about what a photograph can be. She does not make what most viewers would traditionally think of as photographs. Rather she uses a photochemical process, applying the chemicals to a surface by hand and creating an exposure on the surface as the chemicals react to weather conditions and ambient light. She is interested in the ways light interacts with forms in architectural space, and in the ways light can influence and alter the perception of color.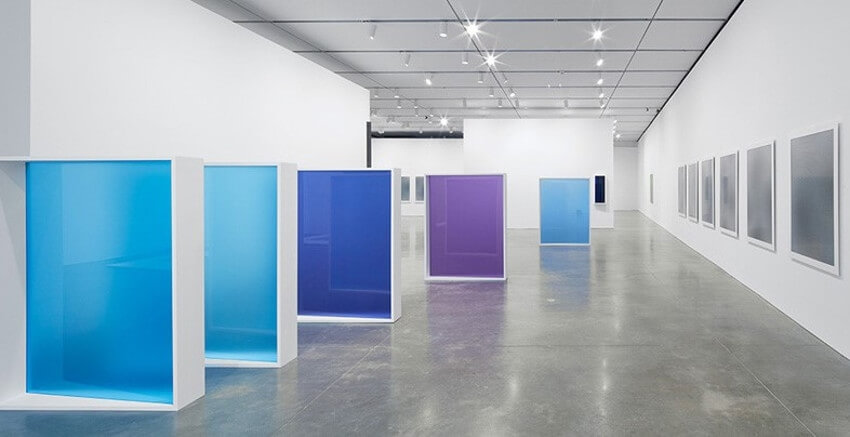 Installation view of select works by Liz Deschenes
Gottfried Jäger
German photographer Gottfried Jäger has literally written the book on abstract photography, many times over. Born in 1937, Jäger has influenced several generations of artists with his books, classes, lectures, and his immense body of work. Heavily influenced by the concepts of the Bauhaus, he has continued to forge new paths in experimental photography, seeking ways to discover and expand its relevance to contemporary culture.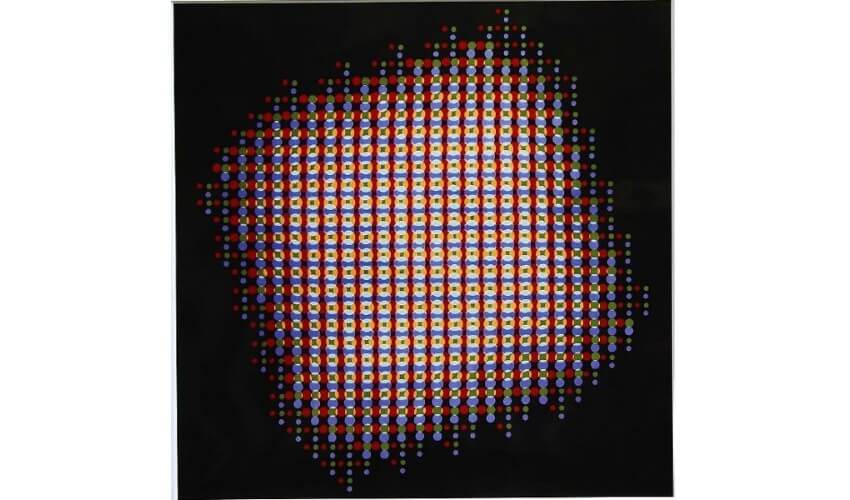 Gottfried Jager - Pinhole Structure 3814 C 25 (Camera obscura work), 1967. © Gottfried Jager
Walead Beshty
London-born artist Walead Beshty employs multiple aesthetic avenues, including photography, to explore his interest in the incidental and accidental collaborations that occur between seen and unseen forces. His abstract photographs have taken various forms. For one series, he hid unexposed film in his luggage, leaving it to be exposed to x-rays when going through security, resulting in ghost-like monochromatic photos. For another series he revisited the ideas of abstract photography pioneer Lázló Moholy-Nagy who theorized about making abstract images by exposing crumpled photo paper to light.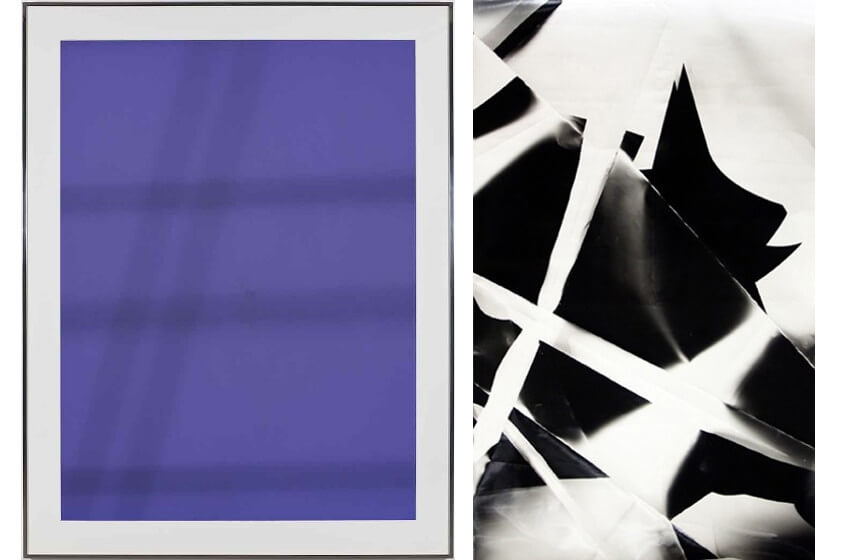 A Transparency by Walead Beshty. © Walead Beshty (left) and an example of one his crumpled photograms. © Walead Beshty (right)
Franco Fontana
Since the 1960s Italian photographer Franco Fontana has been finding and revealing the unseen abstractions that surround us in ordinary life. His vibrant abstract photographs capture precise compositions of nature, architecture, and various other aspects of the contemporary physical world. His asphalt photographs isolate remarkable areas of the street that have been altered by workers, weather, or the ravages of time, transforming them into studies of color, line and form. His abstract landscapes shock the eye with their brilliance, as they illustrate the ethereal abstraction evident in passing moments of nature.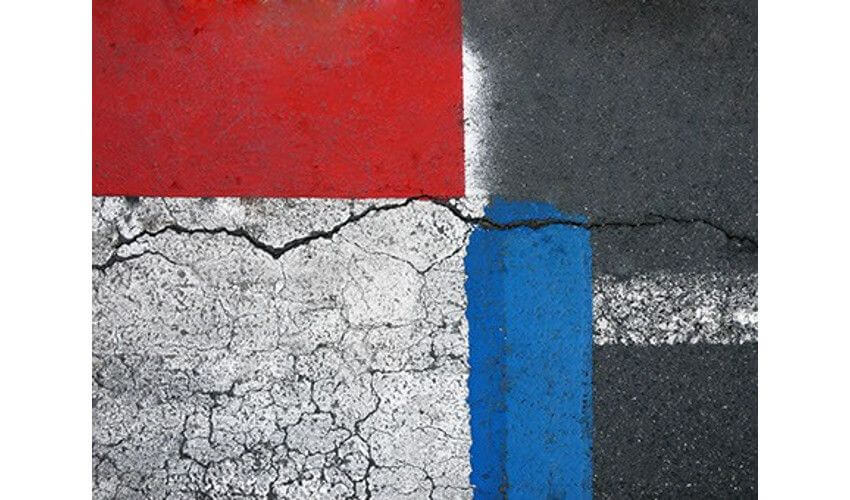 Franco Fontana - Asphalt. © Franco Fontana
Rolf Aamot
Norwegian artist Rolf Aamot refers to himself as a tonal-image composer. He has experimented with laser paintings, digital photography, as well as traditional chemical photographic processes. In his digital photopaintings he endeavors to create ephemeral color compositions that create space within the visual field.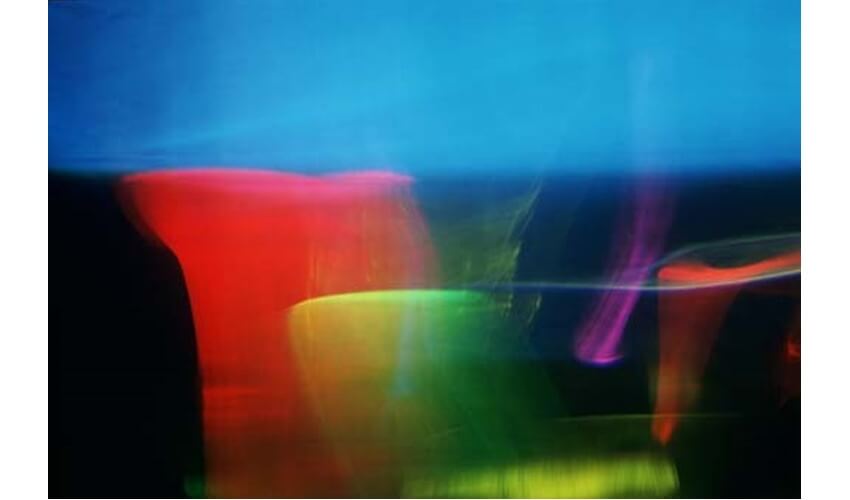 Rolf Aamot - Returning to India, 2002-2003. Digital photopainting. © Rolf Aamot
Silvio Wolf
Italian artist Silvio Wolf is interested in experimentation, and in expanding the limits of the photographic image-making process. He has produced many unique bodies of work that explore different elements of photography. He is best known for his Horizons series. For these works, he used the leaders, or ends of rolls of film, which unavoidably become exposed when a photographer loads the film into a camera. Normally discarded during the photographic process, he transformed these bits and pieces into transcendent abstract color fields that inhabit a glowing, magical environment between translucent color and light and total darkness.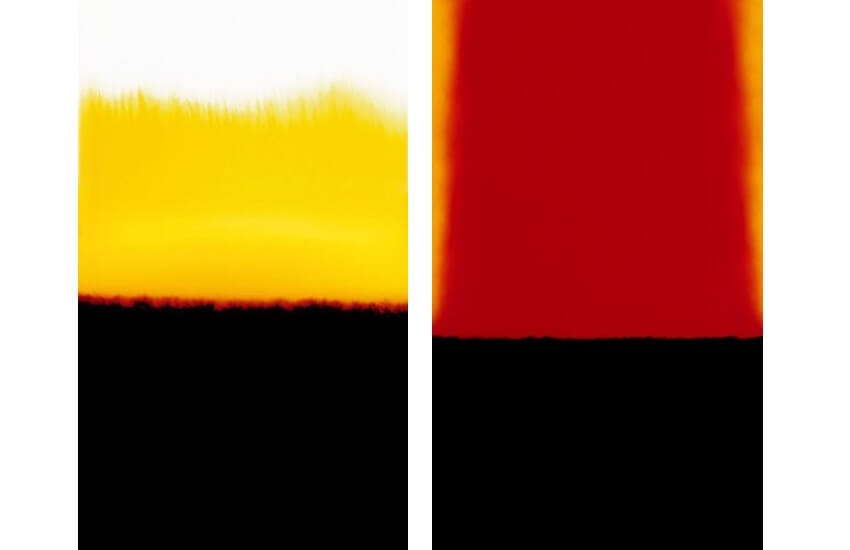 Silvio Wolf - Horizon 14 – Yellow, 2002. © Silvio Wolf (left) / Silvio Wolf - Horizon 13 – Red, 2002. © Silvio Wolf (right)
Featured image: Gottfried Jager - Gradation (detail), 1983, Thirty-two unique gelatin silver prints on Agfa Brovira 112. © Gottfried Jager
All images used for illustrative purposes only
By Phillip Barcio