Blog Home
Op Art Artists to Follow
Dec 21, 2016
When it first emerged in the Mid-20th Century, Op Art made huge impact, not just on the art world but also on the culture at large. Something about the way Op Art artists challenged our visual and mental perception connected perfectly with the politics, philosophies and fashions of the 1960s and 1970s. Many influential Op Art artists like Bridget Riley have never stopped exploring their experimental ideas about new perceptual art today, though in the past few decades, the public love affair with Op Art has cooled off. But now Op Art is resurging as a new generation of Op Art artists is revisiting the theories and practices that defined this movement half a century ago. We have previously covered the careers of some of the most famous and influential names in Op Art, such as Victor Vassarely, Bridget Riley and Jesus Rafael Soto. But there are dozens more Op Art artists that have made important contributions to the history of the style. Here are 10 Op Art artists you may not have heard much about before—some were part of the seminal Op Art exhibition in 1965 called The Responsive Eye, while others are part of the contemporary generation of Op Art artists expanding the boundaries of where perceptual art can go.
Susie Rosmarin
Houston-based painter Susie Rosmarin creates colorful layered compositions that offer stunning glimpses of illusionary space. She builds her compositions based on color combinations and mathematical formulas. She looks to natural landscapes as one of her main inspirations because of the way they interact with color and light. Though the optical effects of her paintings are powerful she considers them secondary to her main concern, which is the interconnection between light and color on a surface.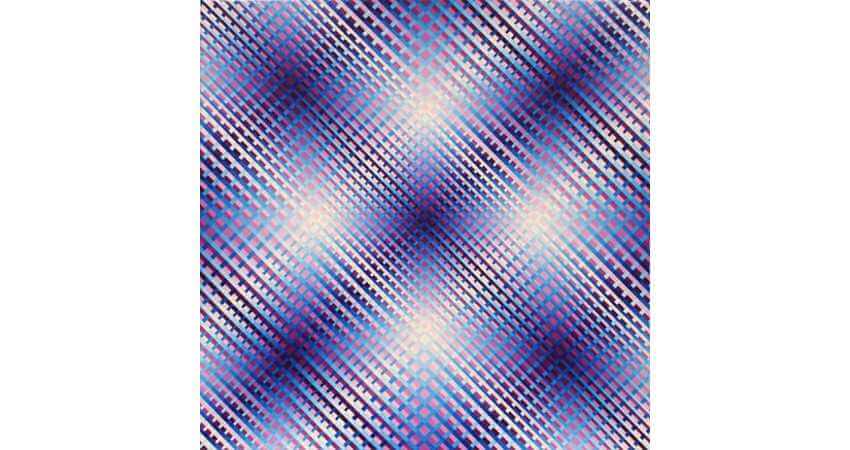 Susie Rosmarin - 403 Blue-Violet, 2008. Acrylic on canvas. 20 x 20 in. © Susie Rosmarin
Yaacov Agam
Israeli-born artist Yaacov Agam has lived and worked in Paris since 1951. He is one of the pioneers of Op Art and Kinetic Art, and was included in The Responsive Eye exhibition in 1965. In 1964, he declared that his intention was to make art that "cannot be perceived except in stages." In addition to paintings, he makes perceptual sculptures and public artworks, including his famous Fire and Water Fountain, installed in Tel Aviv in 2015.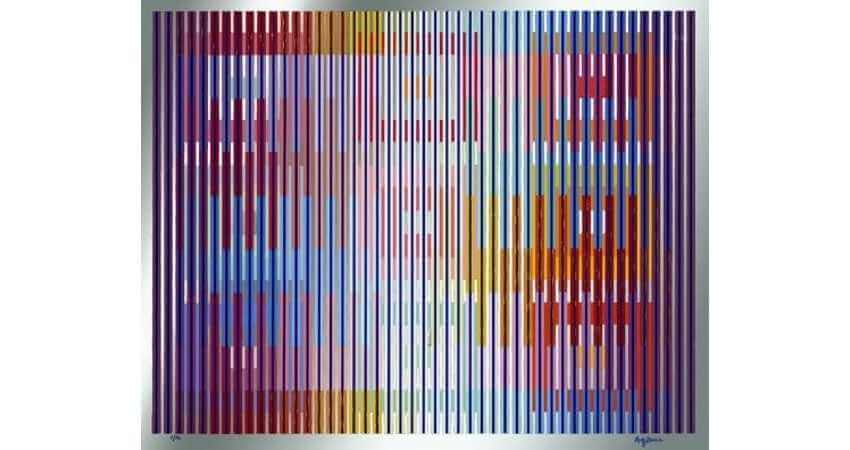 Yaacov Agam - Infinite Reach, 1985. Serigraph print on reflective mylar. Park West Gallery, Michigan. © Yaacov Agam
Carlos Cruz-Diez
Venezuelan artist Carlos Cruz-Diez spent his career working only with the elements of line and color to create aesthetic phenomena that will challenge the perception of viewers. He attained worldwide recognition in the 1960s and 70s as a leading member of the Op Art and Kinetic Art movements. His oeuvre includes paintings, prints, sculptures, environments, architectural integrations, public interventions and monumental public installations.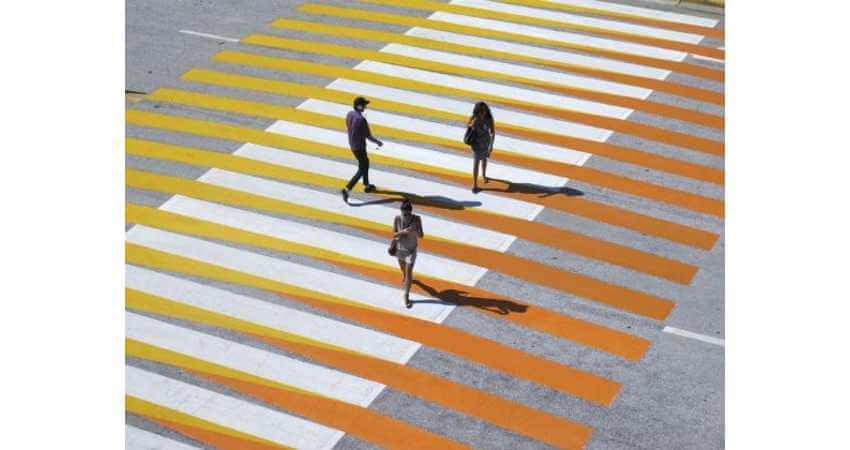 Carlos Cruz-Diez - public intervention on crosswalks at Art Basel Miami, 2010. © Carlos Cruz-Diez
Xylor Jane
California-born artist Xylor Jane graduated from the San Francisco Art Institute in 1993, and has since shown her mathematically based perceptual paintings in exhibitions all over the world. She is fascinated by numbers, in particular Fibonacci Numbers, strings of numerals related to the Golden Mean, in which each new number is determined by adding up the two previous numbers. In addition to their basis in mathematics, the paintings Jane creates are concerned with a grid structure and the interrelation of colors.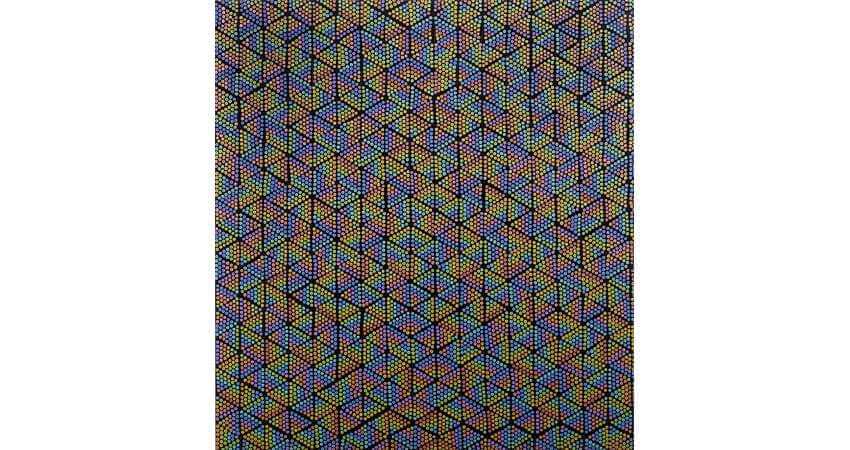 Xylor Jane - Bombinating, 2009. Oil on panel. 44 x 41 in. © Xylor Jane
Francis Celentano
New York-born artist Francis Celentano had the good fortune to take an elective drawing class from Philip Guston during his undergraduate studies. Guston recognized his talent and introduced him to the influential circle of artists that gathered weekly in New York at the Artists Club. Celentano combines mastery of paint with a love for dimensional optical effects. In addition to paintings, he is known for his towering Op Art sculptures and kinetic paintings that swirl on motors.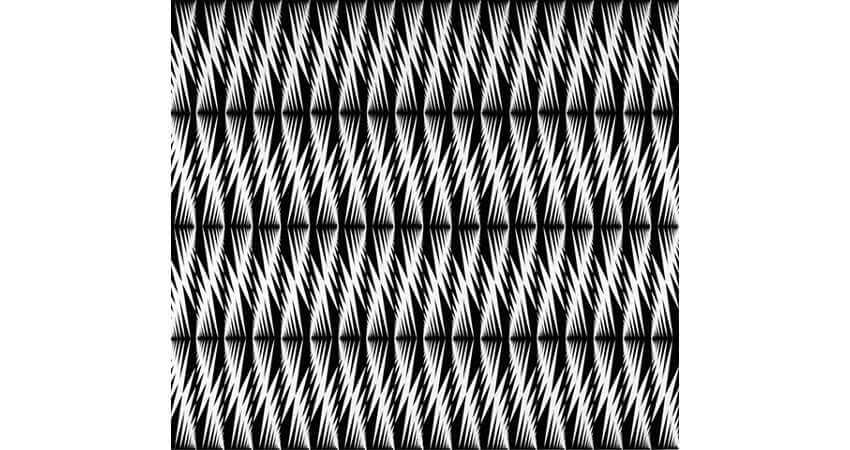 Francis Celentano - Zilos, 1966. Silk screen & acrylic on canvas. 48 x 54 in. © Francis Celentano
Luis Tomasello
Argentina-born artist Luis Tomasello was a groundbreaking contributor to both Op Art and Kinetic Art. His sculptural wall hangings, called atmosphères chromoplastiques, relied on the placement of painted cubes and other objects on a flat plane to create spatial illusions. He sometimes painted the back of the cubes to create back glow on the surface, and other times he left the entire piece the same color, relying only on shadow and light to create optical effects. Tomasello did not create moving objects, but rather invited viewers to approach his constructions as closely as possible then move their gaze across the surfaces, allowing perception to evolve as they move across the plane.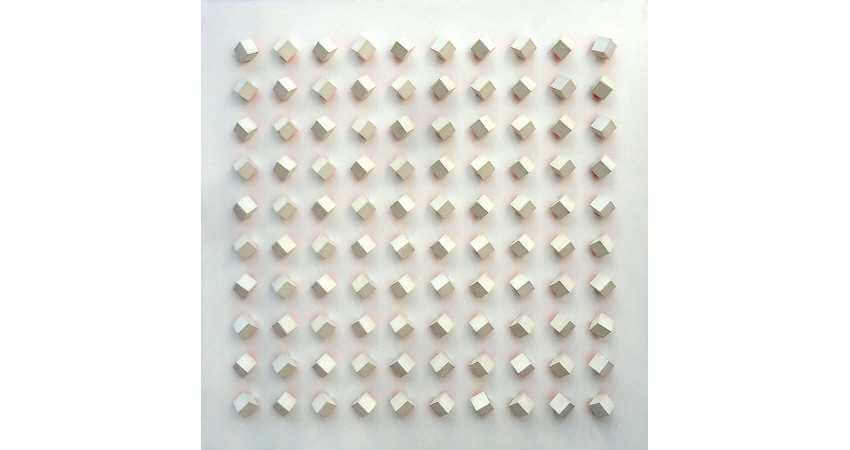 Luis Tomasello - Atmosphere Chromoplastique No 228, 1969. Painted wood relief. 170 x 170 cm. © Luis Tomasello
John Aslanidis
In his perceptual paintings, Australian-born artist John Aslanidis explores the relationship between vision and sound. His paintings incorporate Moiré patterns, the visual patterns created when different frequencies overlay each other, such as with acoustic beats. His paintings amplify visual patterns through repetition and through variations in how the patterns intersect and overlap.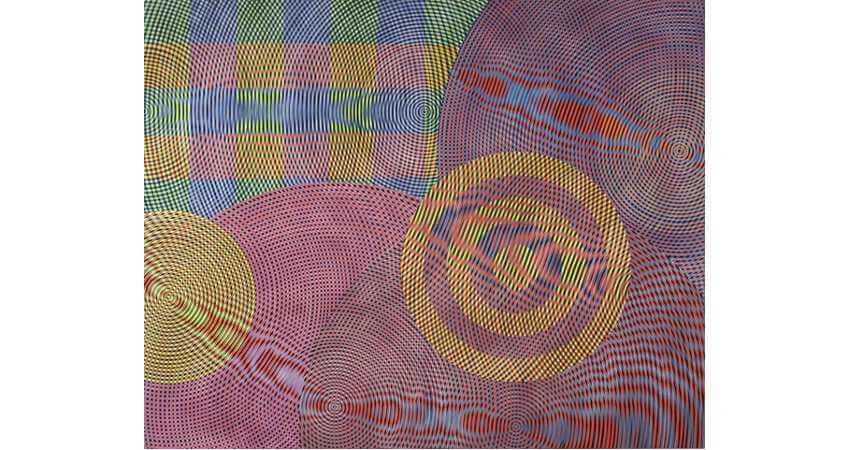 John Aslanidis - Sonic Network No 8, 2010. Oil and acrylic on canvas. 244 × 305 cm. © John Aslanidis
Walter Leblanc
Belgian artist Walter Leblanc was associated with Zero, a group of avant-garde artists in the late 1950s led by the German artists Heinz Mack and Otto Piene. Their objective was to create new possibilities for artists in the wake of the emotional, ego-driven art movements of the past decade. Leblanc sought a way of painting without using paint. He developed a particular method of creating stunning Op Art compositions by twisting strips of colored material over a support. He called these works Torsions, which means twisting, and they stand today as unique among the works of other Op Art artists.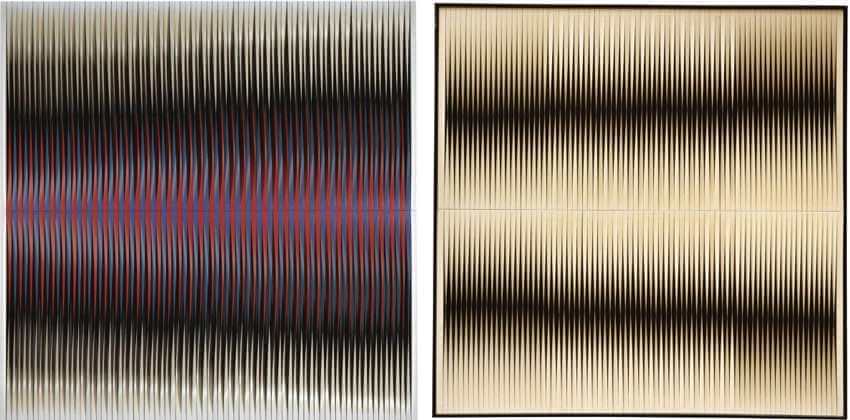 Walter Leblanc - Torsión mobilo statique B 702, 1968. Polyvinyl on masonite. 48 4/5 × 48 4/5 in. 124 × 124 cm. Museo de Arte Contemporáneo de Buenos Aires, Ciudad Autónoma de Buenos Aires. © Walter Leblanc (Left) / Walter Leblanc - Torsions Mobilo-Static - Weiss auf Schwarz, 1967. Polyvinyl on masonite. 120 x 120 x 4 cm. (47.2 x 47.2 x 1.6 in.) © Walter Leblanc (Right)
Gianni Sarcone
Italian artist Gianni Sarcone is one of the leading experts in the field of visual perception. A bit of an outsider in the art world, he regularly contributes brain-teasing visual puzzles to newspapers and magazines and creates images that have been used in hypnosis treatments. His work was featured once in a Smithsonian article about images that trick our brains into thinking they are moving. His digitally created artworks are mind-boggling in their effects, and move Op Art into new territory of illusion and perception.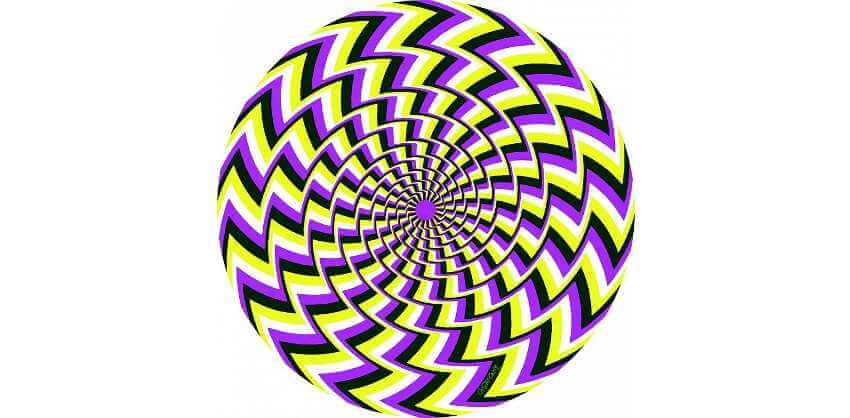 Gianni Sarcone - Twisting Spirals. © Gianni Sarcone
Suzanne Song
Korean-American artist Suzanne Song is a master of subtlety and nuance. Her subdued color palette and use of shadow results in hypnotic compositions that rearrange space. Not only does she create paintings that metamorphose into seemingly impossible dimensional arrangements, she is also adept at transforming three-dimensional space, creating painted installations that cause viewers to question their visual relationship to the physical world.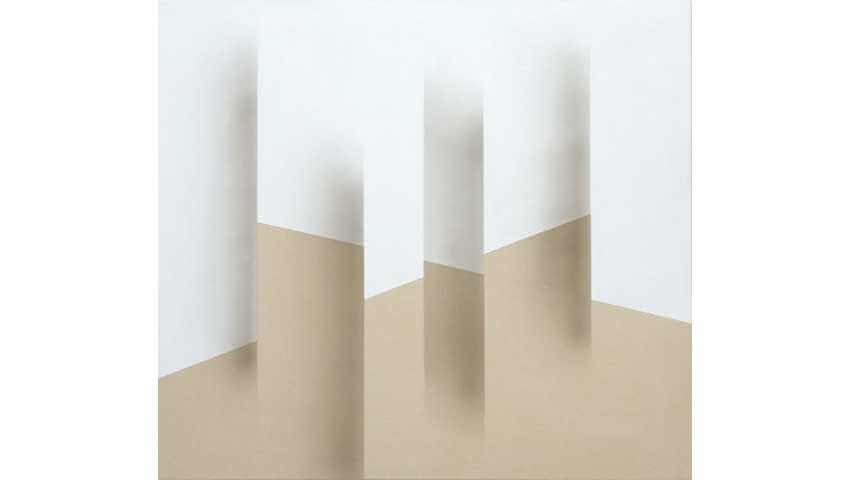 Suzanne Song - 4X, 2007. Acrylic on canvas. © Suzanne Song
Featured image: Carlos Cruz-Diez - Caura-14 (detail), 2015, Aquatint
All images used for illustrative purposes only
By Phillip Barcio