Blog Home
Guggenheim Exhibits 170 Modern Works for its 80th Anniversary
Jan 6, 2017
Over the years we have had the pleasure of attending many Guggenheim exhibits. But to our embarrassment we admit that we have displayed a rather cavalier attitude toward the provenance of the works on display. We admired the work, of course, but often forgot to research more closely those plaques on the wall reading "Gift of," along with the name of whatever collector loaned, sold, or otherwise bestowed the work so we might enjoy it. This February, to mark the approach of its 80th Anniversary, the Solomon R. Guggenheim Museum will present an exhibition highlighting the unique, often overlooked role of the art collector. Visionaries: Creating a Modern Guggenheim will present 170 modern artworks from more than 70 modern artists. The provenance of all of the pieces on view can be traced back to just six collectors, without whose dedication to preserving the legacy of modern art this exhibition would not have been possible.
Solomon and Hilla
Foremost among the collectors highlighted in this exhibition is of course Solomon R. Guggenheim. Born in 1861 into a wealthy and influential family, Guggenheim founded a gold mining company along with many other businesses prior to turning his attention to art. His first art acquisitions were in the 1890s. But by the end of World War I he decided to leave the business world entirely and focus only on art collecting and philanthropy.
Around 1927, Solomon Guggenheim made the acquaintance of a German abstract artist named Hilla Rebay, who had recently immigrated to America. Hilla had shown her work alongside modern artists like Constantin Brancusi and Robert Delaunay, and had met and was inspired by abstract artists like Vassily Kandinsky and Paul Klee. An art collector herself, she developed a fast friendship with Solomon Guggenheim, who quickly trusted her as an art collecting advisor. Together, Hilla and Solomon assembled what made up the core collection of the Solomon R. Guggenheim Museum when it opened in 1939.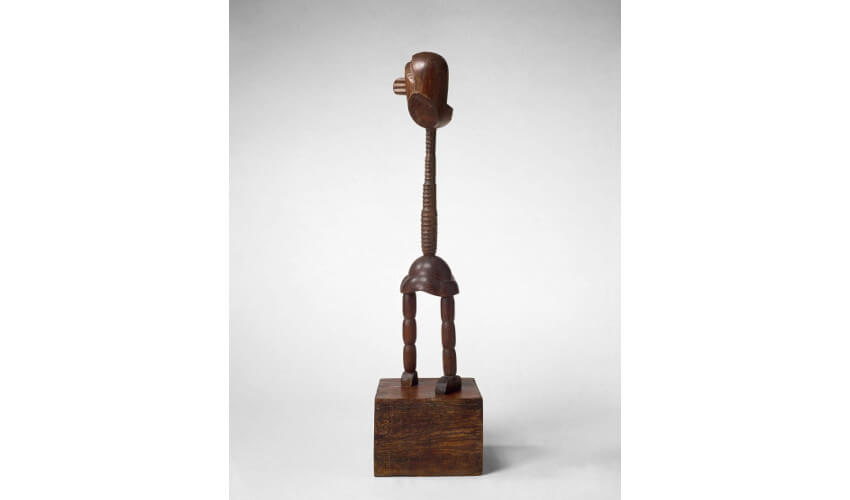 Constantin Brancusi - Little French Girl (The First Step [III]), ca. 1914–18 (mounted by museum, 1953). Oak on pine base, figure: 49 x 9 3/8 x 9 1/4 inches (124.5 x 23.8 x 23.5 cm); base: 11 x 15 1/4 x 13 inches (27.9 x 38.7 x 33 cm), Solomon R. Guggenheim Museum, New York Gift, Estate of Katherine S. Dreier, 1953. © 2016 Artists Rights Society (ARS), New York/ADAGP, Paris
Peggy and Justin
Also featured in Visionaries: Creating a Modern Guggenheim will be a few dozen works from the collection of the Peggy Guggenheim Collection museum in Venice. Peggy Guggenheim was the niece of Solomon Guggenheim, and the daughter of Benjamin Guggenheim, who died in the sinking of the Titanic. She inherited a relatively small fortune compared to many of her relatives, which she dedicated along with her time and influence to encourage and collect avant-garde art. On view from her collection will be pieces by René Magritte, Max Ernst, Yves Tanguy and several others, as well as Alchemy (1947) by Jackson Pollock, which has not been shown in the US for half a century.
Also on view will be work from the collection of Justin K. Thannhauser, who, as a young gallery worker in Munich in his 20s was among the first to support Vassily Kandinsky and the other artists of Der Blaue Reiter. Thannhauser and his father were also early supporters of artists of the early 1900s French avant-garde and the Italian Futurists. Justin is the namesake of the Thannhauser Gallery on Tower Level 2 of the Guggenheim, which will be included in this exhibition.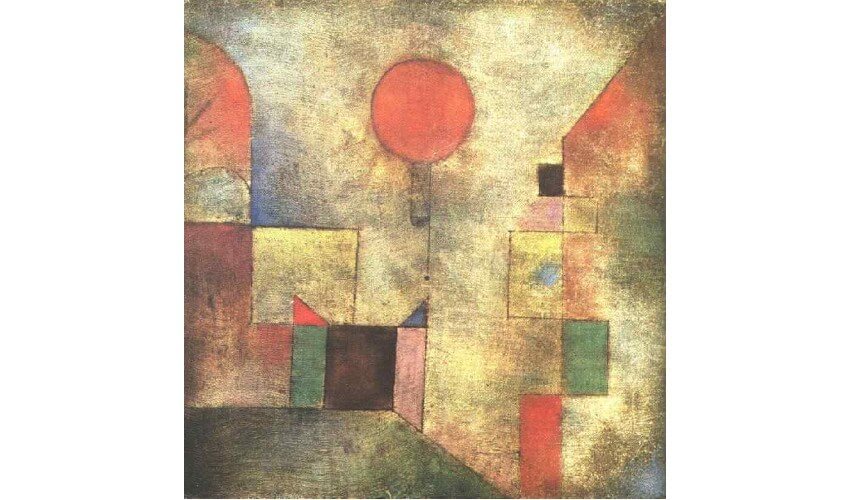 Paul Klee - Red Balloon, 1922. Oil (and oil transfer drawing?) on chalk-primed gauze, mounted on board, 12 1/2 x 12 1/4 inches (31.7 x 31.1 cm), Solomon R. Guggenheim Museum, New York Estate of Karl Nierendorf, By purchase. © 2016 Artists Rights Society (ARS), New York / VG Bild-Kunst, Bonn
Karl and Katherine
Also on display will be select works from the collections of Karl Nierendorf and Katherine S. Dreier. Karl Nierendorf and his brother Josef were the founders of Gallery Nierendorf, which opened in Germany in 1920, and in 1936 in New York. They focused on collecting contemporary German artwork, and were known for their extensive collection of Expressionist works. After Karl died in 1947, the collection of the New York gallery was confiscated by government officials and sold to the Guggenheim.
Katherine S. Dreier was a modern artist, and a patron of other modern artists. In 1913, she exhibited work in the International Exhibition of Modern Art, also known as the first Armory Show. Also in the show was Nude Descending a Staircase by Marcel Duchamp. Annoyed by the lack of respect the work received by Americans, Dreier befriended Duchamp and co-founded the Society of Independent Artists, and along with Man Ray, the Société Anonyme, an organization devoted to promoting modern art. She wrote and lectured extensively on the value of modern art and its potential spiritual relevance.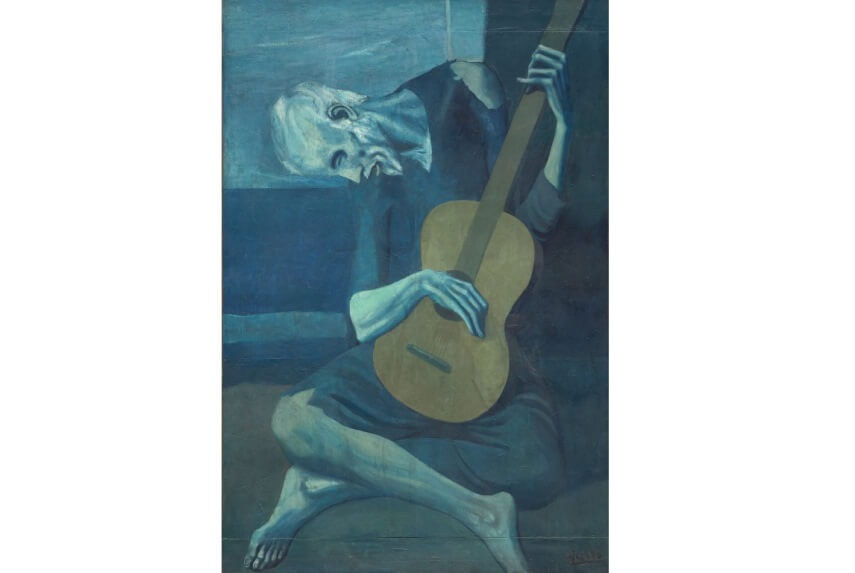 Pablo Picasso - Woman Ironing, Paris, 1904. Oil on canvas, 45 3/4 x 28 3/4 inches (116.2 x 73 cm), Solomon R. Guggenheim Museum, New York Thannhauser Collection, Gift, Justin K. Thannhauser, 1978. © 2016 Estate of Pablo Picasso / Artists Rights Society (ARS), New York
The Exhibition
The complete catalogue is not yet available, but 170 works by more than 70 modern artists will be on view in Visionaries: Creating a Modern Guggenheim. Among them will be giants like Paul Cézanne, Pablo Picasso, Vincent van Gogh, Édouard Manet, Marc Chagall, Fernand Léger, Edgar Degas, Pierre-Auguste Renoir and Paul Gauguin. Abstract art will be well represented by masters such as Vassily Kandinsky, Paul Klee, Piet Mondrian, Josef Albers, Jackson Pollock, and Perle Fine. Many of the pieces were restored for the exhibition. For example, suspended over the fountain in the rotunda will be Red Lily Pads (1956) by Alexander Calder, which after extensive historical research underwent restoration to its surface and a resetting of the work to its intended balance.
At the opening of the exhibition, rare works on paper by Pablo Picasso and Vincent Van Gogh will be on view in the Thannhauser Gallery on Tower Level 2. In May they will be swapped out for a new selection of works on paper by Picasso, Van Gogh, Paul Klee, Kurt Schwitters, and others. On the ramps will be sculptures by Edgar Degas and paintings by Édouard Manet, Paul Gauguin, and Pierre-Auguste Renoir. Included will be Woman in Evening Dress (1877–80) by Manet, which was cleaned by scientists, curators and conservators, revealing vibrant, cool colors and a refreshed look at its masterful brushwork. Visionaries: Creating a Modern Guggenheim opens 10 February 2017 at the Solomon R. Guggenheim Museum in New York, in the Frank Lloyd Wright–designed rotunda and the Thannhauser Gallery, and will be on view through 6 September 2017.
Piet Mondrian - Composition No. 1: Lozenge with Four Lines, 1930. Oil on canvas, 29 5/8 x 29 5/8 inches (75.2 x 75.2 cm); vertical axis: 41 3/8 inches (105 cm), Solomon R. Guggenheim Museum, New York The Hilla Rebay Collection. © 2007 Mondrian/Holtzman Trust
Featured image: Jackson Pollock - Alchemy (detail), 1947. Oil, aluminum, alkyd enamel paint with sand, pebbles, fibers, and broken wooden sticks on canvas, 45 1/8 x 87 1/8 inches (114.6 x 221.3 cm), The Solomon R. Guggenheim Foundation Peggy Guggenheim Collection, Venice, 1976. © 2016 The Pollock-Krasner Foundation/Artists Rights Society (ARS), New York
All images used for illustrative purposes only
By Phillip Barcio