Blog Home
Ellen Priest - Group exhibition "On another note: The intersection of Art and Music"
Jun 10, 2016
As Wassily Kandinsky pointed out more than a century ago, music is capable of communicating human universalities without the aid of representational language. The goal of abstract art ever since has been to achieve that same hallmark, to non-objectively convey and connect with the human experience. Ellen Priest has been creating abstract paintings inspired by the rhythm and energy of jazz since 1990. She paints while listening to music, allowing it to guide her visual compositions. Priest's work is on view now as part of the group exhibition, On another note: The intersection of Art and Music, opening 9 June at Yale University's Green Hall Gallery.
Seeing What's Heard
There must be infinite ways of visually expressing the experience of hearing music. In a straightforward sense music already sometimes manifests visually through such phenomena as vibrations from bass, and digital readings on an equalizer. On another note: The intersection of Art and Music invites artists to examine in what other ways music might manifest through visual aesthetic phenomena. The show incorporates works from a variety of mediums including sculpture, digital art, painting and collage.
In the show, Ellen Priest will be exhibiting two works from her series titled Jazz Cubano.
This series builds on Priest's long fascination with Cuban Jazz. She analyzes the space and movement created by the complex rhythms of this musical style and attempts to reconstruct them abstractly. She mimics the layered complexity of the Cuban Jazz through the physicality of her works. From afar the surfaces of her paintings appear flat, but up close their collage elements add dimensionality, blurring the line between two and three-dimensional space.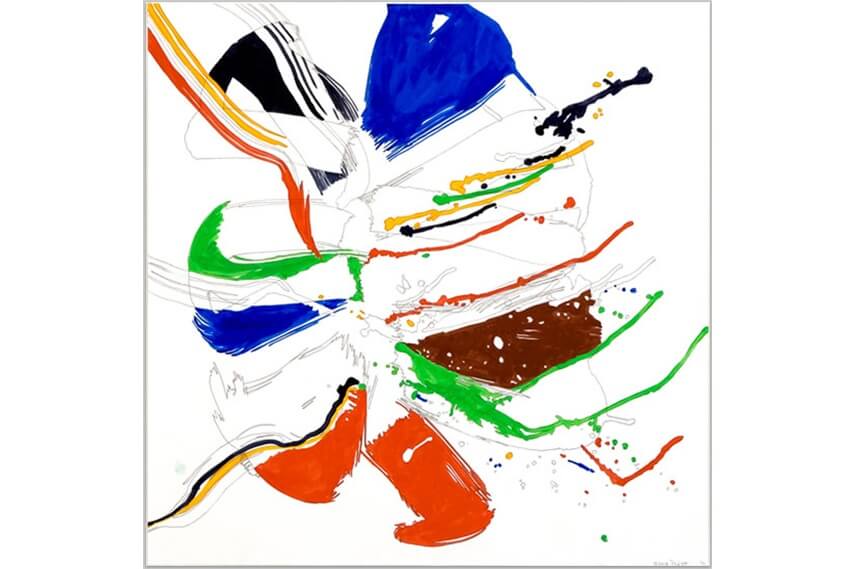 Ellen Priest - Jazz Cubano #42, 2012
The Cycle of Inspiration
Says Priest about her Jazz Cubano series; "I began work in 2012 with the music of Cuban percussionist Arturo Stable and Cuban pianist Elio Villafranca using their duo recording Dos Y Mas. Arturo was very generous with his time, trying to teach my very non-Afro-Cuban ears to hear the music's 'bones' more clearly." She created a series of brush studies after analyzing the music's simplest components. Those studies led to larger works, which the musicians in turn reinterpreted into new, improvised compositions, continuing the cycle of inspiration.
This exhibition is a homecoming for Priest who earned her Master of Divinity from Yale in 1977. She has mostly exhibited in the Unites States and has twice received grants from the Pollock-Krasner Foundation. She has been represented by IdeelArt since 2015. On another note: The intersection of Art and Music opens on Saturday, 9 June at Green Hall Gallery at the Yale School of Art, 1156 Chapel Street, New Haven, CT, and runs through 25 June 2016.
Featured image: Ellen Priest - Jazz Cubano #2, 2013