Blog Home
The Pattern is Set Exhibition
Jun 8, 2016
What is the contemporary role of Concrete and Constructive art? How do these styles intersect with architecture, design and modern life? Berlin's dr. julius | ap gallery has been examining these questions since 2008. Opening 9 June, The Pattern is Set, a duo exhibition featuring Daniel Göttin and José Heerkens, offers the gallery's latest meditation on this topic. Göttin and Heerkens first exhibited at dr. julius | ap in 2012 in a group show called FutureShock OneTwo. In that show, 31 artists were asked to exhibit one work each that they felt looked toward the future. Now, four years later, we return to the same space to reexamine these two artists and their new work.
The Concrete Art of Daniel Göttin and José Heerkens
Daniel Göttin has been making and exhibiting Concrete, Minimal and Geometric Abstract art since he graduated from the School of Visual Art in his hometown of Basel, Switzerland in 1990. Göttin multidisciplinary practice includes painting, site-specific installation and three-dimensional artworks. The Pattern is Set will feature a new site-specific installation by Göttin within the gallery in addition to a number of his new two and three-dimensional works. He has exhibited extensively in galleries and museums internationally, including Haus für konstruktive und konkrete Kunst, Zürich and Kunsthaus Baselland, Muttenz. He has also participated in numerous residencies, including the Chinati Foundation in Marfa, TX, USA, and created several public works. He has been represented by IdeelArt since 2015.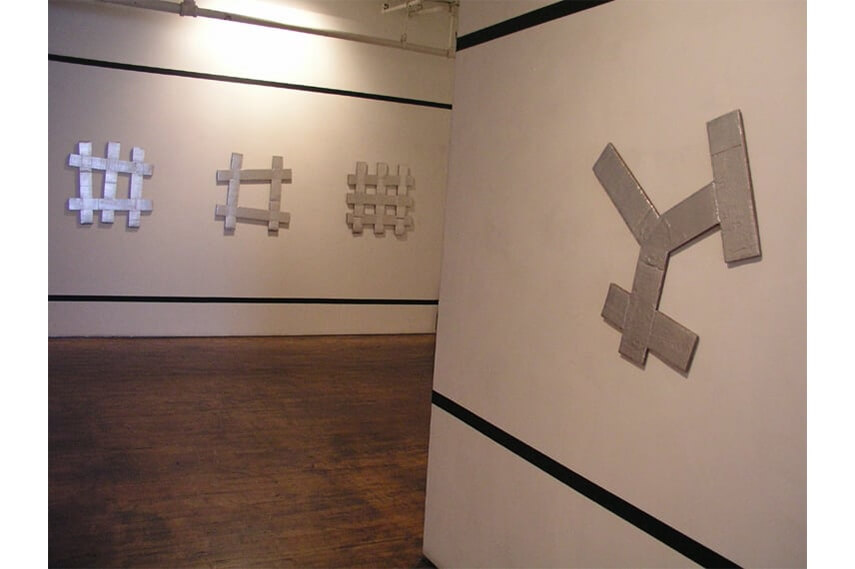 Daniel Göttin - Artwork from Minimal Improvisation show
Minimalist Aesthetic in the Works of José Heerkens
José Heerkens explores the concept of space in her paintings. She endeavors to create harmonious compositions that focus on lines, geometric patterns and the interactions between colors. The flattened surfaces of her works together with her horizontal and vertical grid structures embrace a Minimalist aesthetic, while the hand-made nature of her process conveys rawness and sincerity. Heerkens was born in the Netherlands and studied art and painting at the Royal Academy for Art and Design. She has exhibited extensively internationally at numerous galleries and museums, including Vasarely Museum in Budapest and Galerie Gimpel & Müller in Paris. She has been represented by IdeelArt since 2015. Simultaneously to The Pattern is Set, Heerkens' is also being featured in a solo exhibition titled Noontide at Mies van der Rohe Haus in Berlin. Later this year she will be participating in the International Painting Symposium at the Mark Rothko Art Center in Daugavpils, Latvia.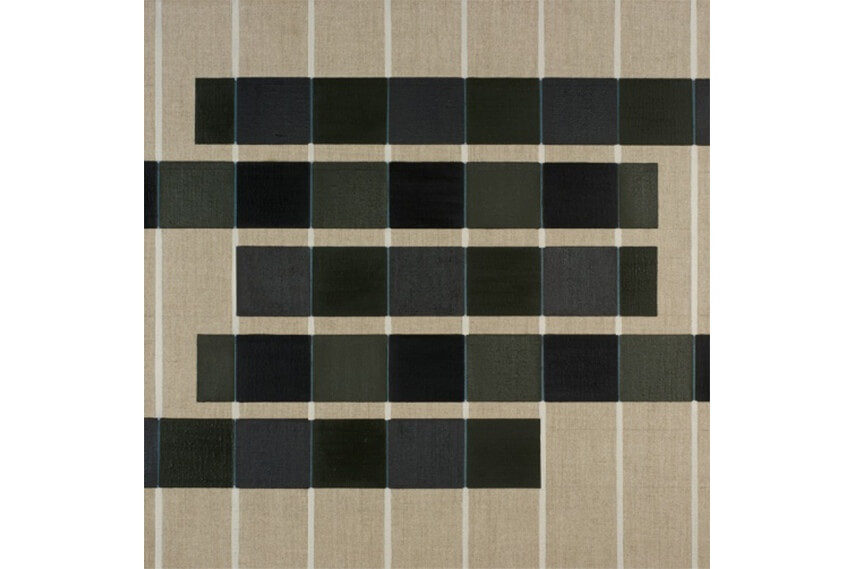 José Heerkens - L5. PREDAWN. BLACK OXYDE AND LEMON YELLOW, 2013
Simplicity and Complexity
Together, the works of Göttin and Heerkens invite calm contemplation of systems, order, materiality and structure. They emanate clarity and harmony, and are simultaneously simple and complex. The Pattern is Set opens 9 June and runs through 16 July 2016 at dr. julius | ap in Berlin.
Featured image: The Concrete Art of Daniel Göttin and José Heerkens Exhibition Poster