Blog Home
Abstraction and Calligraphy at The Power Station of Art
Oct 19, 2015
The Power Station of Art in Shanghai, China, is currently holding an exhibition entitled "Calligraphic Time and Space: Abstract Art in China" exploring the relationship between abstraction and calligraphy, which will run until 22 November 2015.
Abstraction and Calligraphy
The exhibition is uniting 66 projects and is comprised of 174 works by 28 Chinese artists. Chinese abstract art takes aesthetic inspiration from calligraphy, while also drawing from Daoist and Zen Buddhist ideology. Calligraphy focuses on the swift movements made with the ink brush, highlighting the intricate composition of the pictorial characters as both individual elements and as a collective unit. Calligraphic abstraction takes these ideas even further, exploring the rhythmic fluidity and movement of the forms.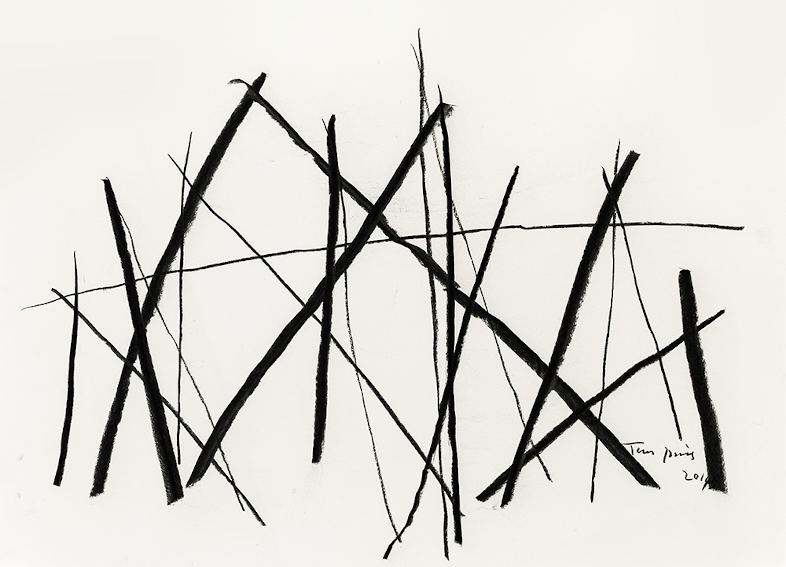 TAN PING - from the series "Sketch," 2014, charcoal on paper, five works: 79 × 109 cm each. Courtesy Power Station of Art, Shanghai.
The exhibition will include works by Fang Shaohua, Ding Yi, Cheng Dapeng, Zhang Hao, and Wang Xieda, to name only a few, and aims to provide a platform for discussion of the future of abstraction in China. Founded in 2012, The Power Station of Art is the first state-run contemporary art museum in China. It takes its name from its former use, as a power plant that spans 42,000 square meters, offering extensive space to display a wide range of different art forms and media.
Click here for more information.
Featured image: WANG HUAIQING - Vertical and Horizontal, 2009, mixed media, 100 × 244 cm. Courtesy Power Station of Art, Shanghai