Blog Home
Who is Zao Wou-Ki, China's Auction Record-Breaker?
Oct 10, 2018
The stunt Banksy pulled at the 5 October Contemporary Art Auction at Sotheby's London, with his self-shredding "Girl with Red Balloon" painting, was truly newsworthy, but it also took attention away from what easily would have otherwise been the biggest auction story of the month: a triptych by Zao Wou-Ki titled "Juin—Octobre 1985" (1985) sold for $65 million at Sotheby's Hong Kong Modern and Contemporary auction. That sales price is nowhere near the $137 million auction record for a Chinese artist, which was set in 2017 by a 12 panel painting by Qi Bashi. But the price vastly exceeded the $45 million pre-sale high estimate for the painting, and it marked a new record for a Chinese-French artist. (Taiwanese businessman Chang Qui Dun, who paid $2.3 million for the work in 2005, received a nearly 3,000 per cent return on his investment!) The appeal of of "Juin—Octobre 1985" may have something to do with the fact that it was the largest work Wou-Ki ever created, but it may also have something to do with its provenance. It was commissioned by another member of the ex-patriated Chinese-French community, the architect I.M. Pei. Zao Wou-Ki and I.M. Pei first became friends in 1952 after meeting at Galerie Pierre, the first French gallery to represent Wou-Ki. Their meeting came at a pivotal time for Wou-Ki, a time when he was just beginning to discover his abstract voice. The two remained close for decades, as Wou-Ki strived to develop what he called his style of "imaginary and illegible writing." To many people, "Juin—Octobre 1985" is considered a masterpieces precisely because it so beautifully manifests that poetic and abstract goal, which Wou-Ki spent his whole life trying to achieve.
A Global Abstract Influence
When Zao Wou-Ki died in 2013, his genius was hailed both by his native Chinese admirers and by the French, who lay equal claim to his brilliance. In truth, when Wou-Ki left China to move to Paris, he commented that his true education as a painter had only just begun, despite the fact that he was already an accomplished teacher at that time. Wou-Ki was born T'chao Wou-Ki in 1920, in Peking (modern day Beijing). He was fortunate to have been born into a family associated with the esteemed Song Dynasty, so he was raised in an environment that was financially well off and where intellectual pursuits were freely encouraged. He began painting at age 10, and was also taught to appreciate the ancient art of calligraphy. His training as an artist thus had two distinct aspects. One focused on concrete things like craft and technique, and the other on the poetic and abstract qualities of things like gesture and line.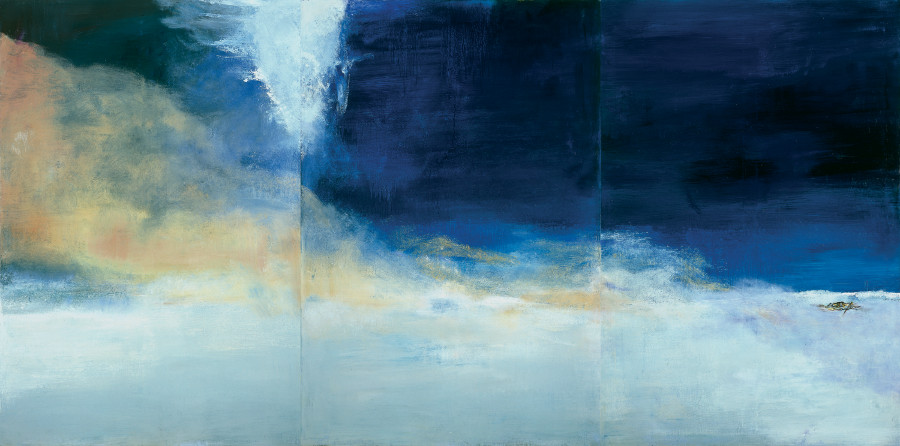 Zao Wou-Ki - Le vent pousse la mer – Triptyque, 2004. Huile sur toile, 194,5 × 390 cm. Photo Dennis Bouchard. © Zao Wou-Ki
To feed his interest in concrete things, he practiced copying the art of the ancient Greeks. He learned oil painting from both the Western perspective and that of traditional Chinese art. To feed his interest in the more abstract elements of art he studied calligraphy and also learned as much as he could about the Impressionist painters of Europe. His main exposure to European modern art came from postcards that his uncle brought him from Paris, and from American magazines featuring images of the works of artists like Renoir, Matisse, and Cezanne. At the time, Wou-Ki was taking a risk by embracing Modernism. China had been struggling with revolution and war for decades, and there was debate over whether to embrace tradition or progress. Despite the controversy, Wou-Ki exhibited his Impressionist inspired paintings in 1941. To his delight they were well received. The positive attention aided Wou-Ki in establishing himself as an influential teacher, an opportunity which eventually gave him the chance to move to Paris.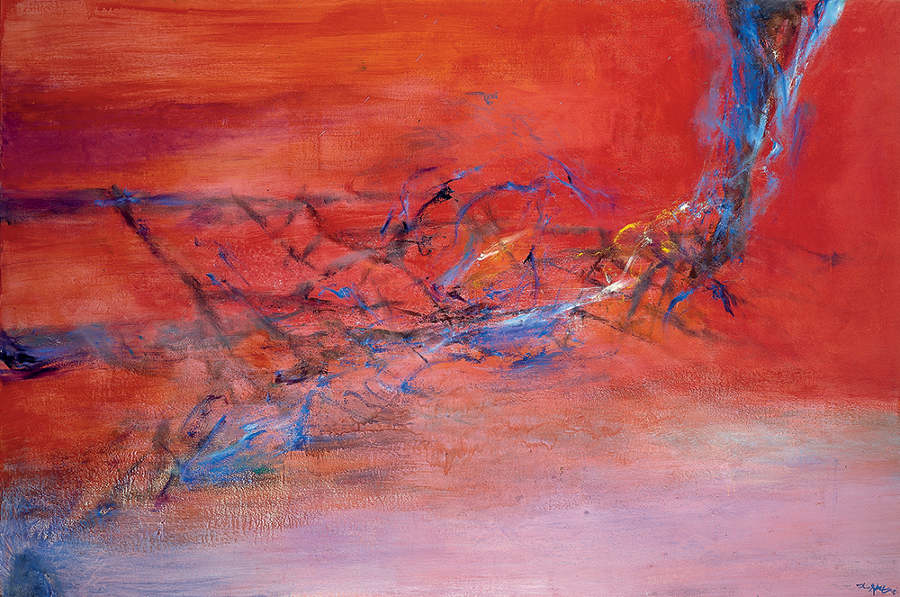 Zao Wou-Ki - Terre rouge – 16.01.2005, 2005. Huile sur toile, 130 × 195 cm. Photo Dennis Bouchard. © Zao Wou-Ki
An International Abstract Expression
Wou-Ki arrived in Paris in 1948, at the age of 27, and became completely absorbed into the vibrant intellectual scene. He rented a studio in Montparnasse next to the studio of Alberto Giacometti, and over the next decade befriended influential painters from all over the world. Among his closest associates he counted the American Abstract Expressionists Joan Mitchell and Sam Francis, Canadian artist Jean-Paul Riopelle, German artist Hans Hartung, and the French master Pierre Soulages. They all were striving for the same thing—a way to push the boundaries of abstraction. Wou-Ki wanted to develop a style of painting that was emotive and gestural, but also wanted his works to be grounded in some kind of structure. Ultimately, he had two breakthroughs that set him firmly on his path. First he encountered a fragment of Chinese oracle bone script from the Sheng dynasty in a museum, which reconnected him to his interest in calligraphy. Then in 1951, he discovered the works of Paul Klee. The symbolic shapes Klee created seemed to Wou-Ki to occupy a poetic middle ground between something planned and something inspired.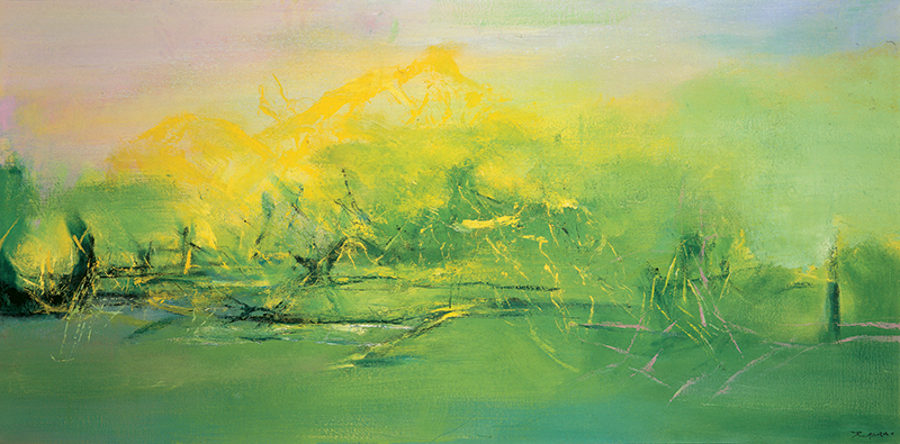 Zao Wou-Ki - Sans titre, 2005. Huile sur toile, 195 × 97 cm. Photo Dennis Bouchard. © Zao Wou-Ki
These influences converged with the innate talent Wou-Ki had as an oil painter, and around 1953 he arrived at what he considered a truly personal abstract style. Yet looking at his entire oeuvre, it is evident that rather than dwelling entirely in abstraction, Wou-Ki truly straddled a world in between abstraction and the natural world. In his paintings, haunting, biomorphic features that suggest mountain peaks or snake-like rivers lurk in the clouded, atmospheric tempests of color. Gestural calligraphic lines fill his canvases, not communicating anything obvious, but rather suggesting moods through echoes of the movements that made them. The middle ground between abstraction and nature is held together in his work by the structure of visual harmony. Wou-Ki was a conjurer of visual ecosystems whose balance resides in complementary forces—darkness and light, hot and cold, lyrical and concrete. The massive "Juin—Octobre 1985" possesses every aspect of what Wou-Ki was trying to achieve. Though illegible in a rational sense, its intuitive language of form, color, texture and perspective clearly declares a wealth of emotion that transcends the limits of time.

Zao Wou-Ki - Juin—Octobre 1985, 1985. © Zao Wou-Ki
Featured image: Zao Wou-Ki - Juin—Octobre 1985, 1985, installation view. © Sotheby's
All images used for illustrative purposes only
By Phillip Barcio