Blog Home
Three Chinese Artists Wed the East with the West in New York
Apr 16, 2018
A revelatory exhibition of recent Chinese abstract art is currently on view at Boers-Li Gallery in New York. Featuring the work of three artists—Wu Dayu, Yu Youhan, and Zhang Wei—Brush and Beyond elucidates connections between multiple generations of abstract art pioneers, raising fascinating concerns about the connections between Eastern and Western theories of contemporary art. Although China boasts many of the oldest, richest, and most sophisticated artistic traditions in human history, the past one hundred years of Chinese art has been disrupted repeatedly by political upheaval, war, social revolution, and famine. A multitude of artists and countless works of art have been lost to history as the powers that be have deemed them at various times to be dangerous. Each of the three artists whose paintings are on view in Brush and Beyond has faced down both personal and public demons. In addition to the aesthetic value of their work, the fact that it is able to be displayed at all is a powerful testament to the endurance of human creativity.
Wu Dayu
Wu Dayu (1903 – 1988) is considered one of the most important Chinese artists of the 20th Century. Not only was he an accomplished artist, but he was also a widely respected teacher. Nonetheless, it was almost the case that no paintings by Wu Dayu survived. Most were destroyed during the Cultural Revolution of the 1960s and 70s. The reason his work was destroyed was because of his social stature. He enjoyed private painting lessons since he was six years old. In 1922, he was sent to Paris, where he was educated at L'Ecole Superieure Nationale des Beaux Arts. When he returned to China in 1927, he started teaching.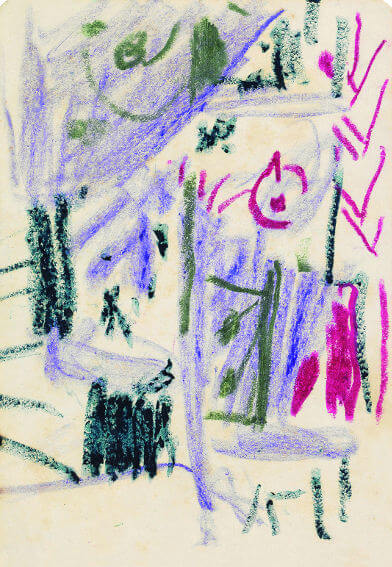 Wu Days - Untitled I-349, 5 4/5 x 4 1/10 inch, Pastel on paper, ca 1980s, photo courtesy Boers-Li gallery, New York
Wu established himself as a school founder, a dean, and a renowned expert on Western art. He was an undeniable member of an elite class of intellectuals in China. The Cultural Revolution was particularly harsh on such individuals. His work was seen as antagonistic to the goals of the Revolution, and almost everything he had made was destroyed. Gradually, over the rest of his life, he built up another impressive body of work, much of which is abstract. He never signed these works nor dated them, however. His practice was guided purely by his belief in the enduring value of art as a meaningful human activity. The oil and pastel works on paper by Wu that are on view in Brush and Beyond are believed to have been created some time in the 1980s.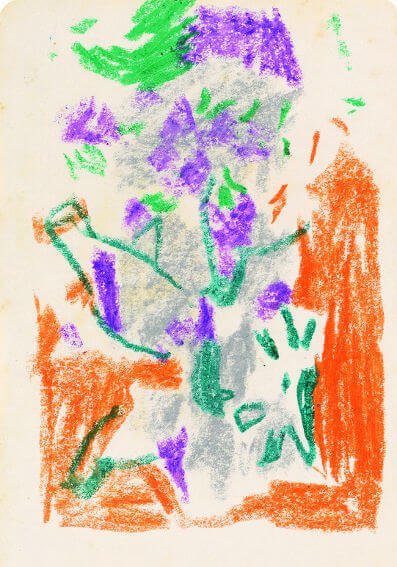 Wu Days - Untitled I-353, 5 4/5 x 4 1/10 inch, Pastel on paper, ca 1980s, photo courtesy Boers-Li gallery, New York
Yu Youhan
When Yu Youhan (b. 1943) was 18 years old, he joined the army. It was not out of any particular sense of patriotism or duty that he enlisted, but rather it was because he was nearly starving, and had no other choice if he wanted to survive. After serving for three-and-a-half years, he was able to go to college. He studied ceramics at theCentral Academy of Arts and Crafts and studied painting with a friend whose father was an accomplished painter. Politics were an ever-present aspect of his career. His early work touted the benefits of the Revolution, which, at the time, seemed to promise a better life for most Chinese people. As time went on, however, he became disillusioned, and his work reflected the pessimism that inundated his mind and the culture.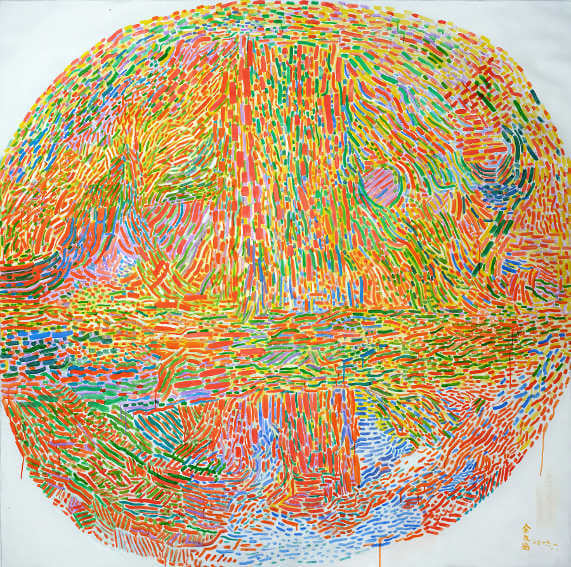 Yu Youhan - Abstract 2016-01, 59 1/20 x 59 1/20 inch, Acrylic on canvas, 2016, photo courtesy Boers-Li gallery, New York
In the 1980s, Yu established himself as a leading voice of Chinese Political Pop Art. This work caused him to be touted as a leader of the avant-garde, a label he rejected. Yu once said, "I have a theory about grass: every spring new grass grows in the garden. But don't take yourself as the leader of grass. The grass is there because of the good timing, suitable temperature and the earth's rotation. So the '85New Wave artists did not actually create anything new. They were involved in a natural development." Simultaneously to his Pop Art paintings, Yu began painting semi-abstract, circular paintings meant to express the universal essence. He likens these experimental works to a Chinese aphorism stating that by studying one of its spots one can imagine the nature of a leopard. If Yu was successful, viewers should be able to look at the large-scale circle painting on view in Brush and Beyond and imagine the nature of the entire universe.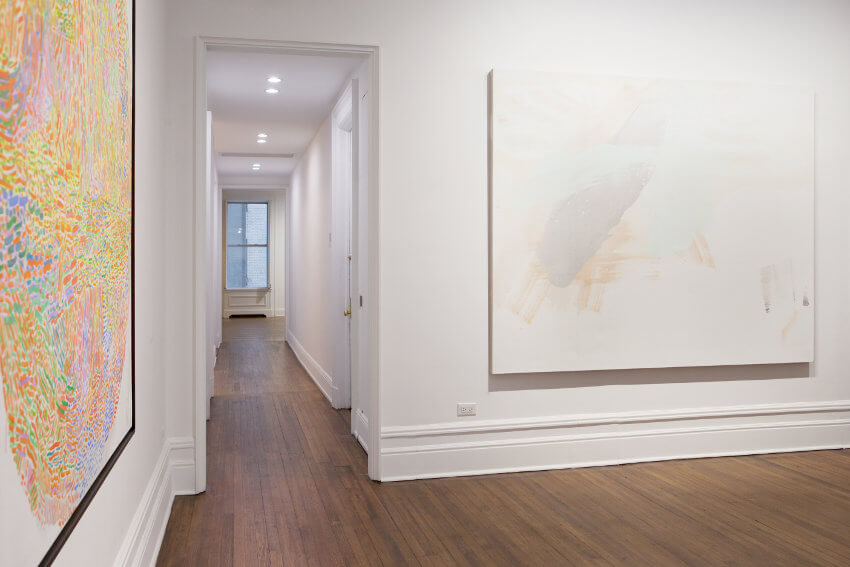 Brush and Beyond at Boers-Li gallery, New York, 2018, installation view, photo courtesy Boers-Li gallery, New York
Zhang Wei
Zhang Wei (b. 1952) is one of the most influential Chinese abstract artists working today. Hewas a founding member of the No Name Group, which came to prominence in the 1980s by staging controversial underground exhibitions of their art. The official response to those exhibitions caused many artists to leave China for the United States, including Zhang, who moved to New York in 1986 and stayed for nearly 20 years. While in New York, he was not content only making art. He worked in many different occupations and spent a great deal of time advocating for the rights of artists. He was part of a public protest at the Metropolitan Museum of Art in 1997 and fought in the courts for the first amendment rights of artists to sell their own work on the street.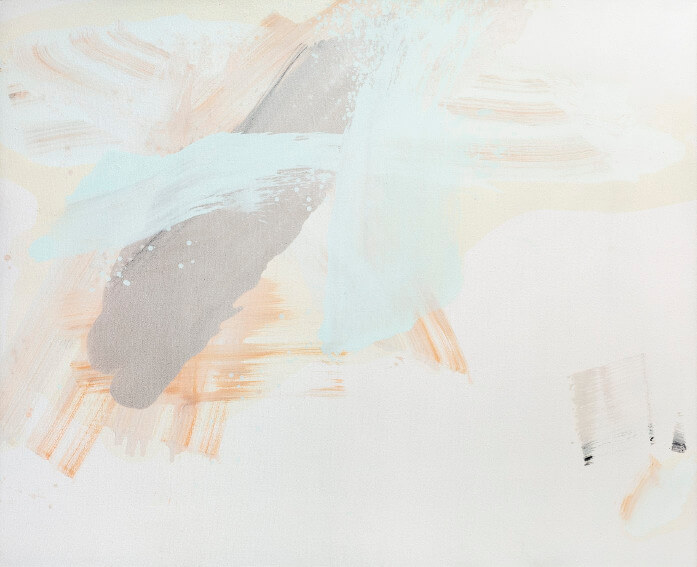 Zhang Wei - Z-AC1653, 180 x 220 cm, Oil on linen, 2016, photo courtesy Boers-Li gallery, New York
In 2005, Zhang returned to China where he still lives and works today. His abstract oil on linen paintings in Brush and Beyond convey powerful expressions of energy and emotion. Bursts of colorful pigment explode across the surfaces, thin washes reveal exhilarating under layers of luminescent hue, and gestural markings add drama and immediacy. These are the mature works of a painter who has been profoundly influenced both by centuries of Chinese art history and by the dynamism and freedom embodied in contemporary Western abstract art. The work of all three of these important painters is on view in Brush and Beyond through 18 April 2018 at Boers-Li gallery, New York.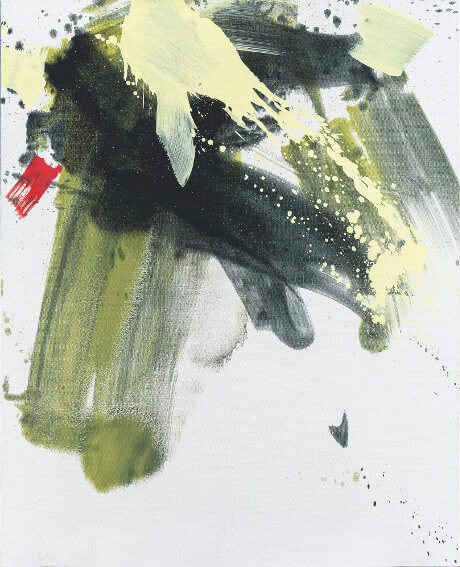 Zhang Wei - Z-AC1708, 180 x 220 cm, Oil on linen, 2016, photo courtesy Boers-Li gallery, New York
Featured image: Brush and Beyond at Boers-Li gallery, New York, 2018, installation view, photo courtesy Boers-Li gallery, New York
By Phillip Barcio