Blog Home
Space is Silence. Zao Wou-Ki in Paris After Fifteen Years
Jun 13, 2018
Inspired by encountering the early abstract work of his new friend, the Chinese-born painter Zao Wou-Ki, the Belgian-born poet and artist Henri Michaux once declared, "Space is silence." That poetic statement was also chosen as the title of the current Zao Wou-Ki retrospective, which opened at the Musée d'Art Moderne in Paris on 1 June 2018. Zao Wou-Ki: Space is Silence features 40 large-scale paintings, many of which have never been exhibited before, and it is the first exhibition in Paris to take such an extensive look at the work of this artist in at least 15 years. The exhibition offers a rare opportunity to see this many major works by Wou-Ki in one place, and it is a fascinating entry point into a discussion about what exactly Michaux meant when he said, "Space is silence." Was he making a straightforward aesthetic proposition, speaking only in plastic terms in an attempt to relate negative aesthetic space with visual quietude? Or was he giving poetic voice to an observance about the calmness that accompanies being unencumbered? Or perhaps this was a philosophical statement, intended to comment about the relationship between the internal and external worlds? Maybe the beauty of the statement is that it could have infinite meanings. As the Space is Silence exhibition demonstrates, any of those meanings could have relevance when considering the complex and layered legacy of Zao Wou-Ki.
An International Perspective on Home
In a sense, Space is Silence is a homecoming for Zao Wou-Ki. The artist was born in Beijing, China, in 1920. His father, who was not an artist but a banker, gave his son the name Wou-Ki, which means "no limits." The name presaged the encouragement his family gave him when, at age 10, Wou-Ki first displayed his abilities as a painter. In school at the Hangzhou School of Fine Arts, Wou-Ki studied figurative painting and ancient Chinese artistic traditions. But the young artist was not much interested in learning about his Chinese roots. Instead, on the side he was learning as much as he could about the Impressionists and Western modernism, which he considered a much bigger inspiration. He had his first exhibition in 1941 and received strong encouragement for his talents, but still he did not feel he was making the kind of work he wanted to make. So in 1948, he moved to Paris, where for the first time he could see firsthand the works of Picasso, Matisse, and the other artists who had inspired him while he was growing up in China.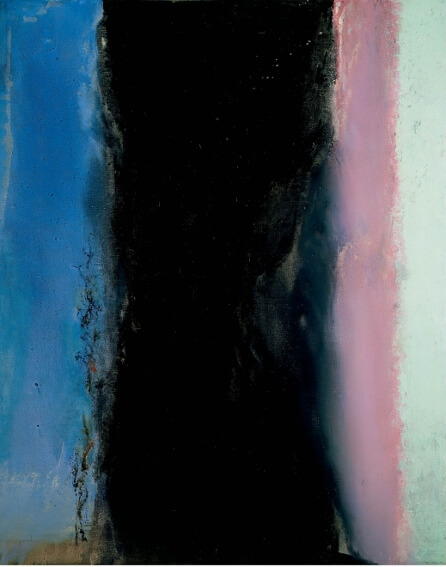 Zao Wou-Ki - Hommage à Matisse I - 02.02.86I, 1986. Oil on canvas. Collection particulière. © Adagp, Paris, 2018. Photo: Dennis Bouchard
It was in Paris that Wou-Ki transitioned to abstraction, and it was his early abstract work that inspired his new friend Michaux to make his now famous remark about space. Ironically, however, it was also in Paris where Wou-Ki became reconnected to the same ancient Chinese traditions that he had previously dismissed. He had an epiphany while viewing a fragment of oracle bone script, a type of writing on bone fragments dating back to the Sheng Dynasty of the 2nd millennia BCE. Consisting of anthropomorphic characters, the script is considered the first Chinese writing, and, though 1500 years later than the oldest Sumerian and Egyptian hieroglyphs, it ranks among the oldest organized symbolic writing systems in human history. His examination of oracle bone script led Wou-Ki to began emulating the primordial forms, which then led him to a renewed interest in Chinese calligraphy, and re-connected him to the symbolic and abstract roots of ancient Chinese culture.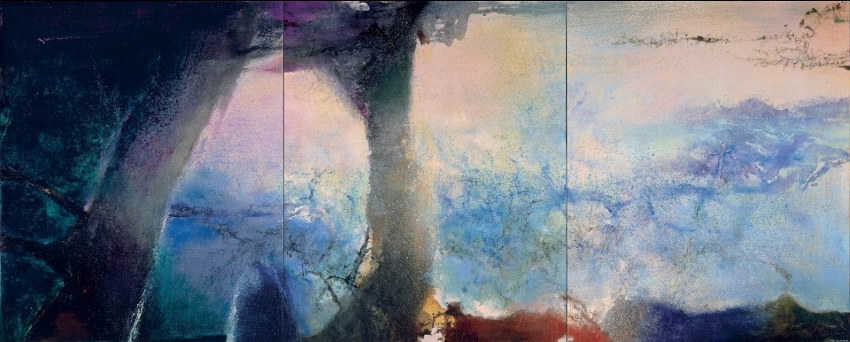 Zao Wou-Ki - Hommage à Claude Monet , février-juin 91 – Triptyque, 1991. Oil on canvas. Collection particulière. © Adagp, Paris, 2018. Photo: Jean-Louis Losi
Openness and Scale
Throughout the 1950s, Wou-Ki combined his renewed appreciation for Chinese symbolism with his interest in Impressionist colors, developing a distinctive abstract style. Yet this style still felt constrictive to him. He wanted to endow his canvases with space in multiple different ways. He wanted visual space to emerge when looking at his surfaces. He also wanted intellectual space to open up, so viewers could have more leeway to interpret the works. Finally, he literally wanted there to be more space—meaning he wanted his canvases to be bigger. He finally gave himself permission to work on a much larger scale after a trip to New York City in 1957, which introduced him to the monumental canvases of artists like Franz Kline. He immediately adopted this strategy in his own work. All of the paintings on view in Space is Silence come from this period forward. In their vast surfaces, we can also see the ways Wou-Ki endeavored to convey illusionary visual space.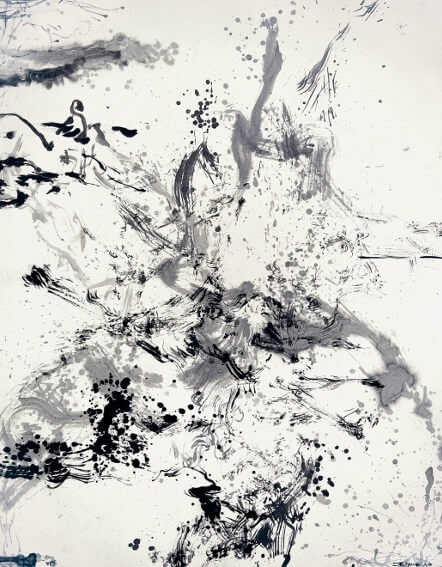 Zao Wou-Ki - Sans titre, 2006. Indian ink on paper. Collection particulière. © Adagp, Paris, 2018. Photo: Dennis Bouchard
In order to achieve his need for more intellectual space in his work, Wou-Ki began in 1959 to only title his paintings according to the date they were completed. He stated that he was attempting to paint the energies and forces of nature, but too many viewers were reading into that idea that he was painting landscapes. Buy titling his works only with the date of their completion, he knew viewers would have less information on which to base their interpretations. Instead of seeking narrative meaning in the paintings, people would have no choice but to open up to the more abstract aspects of the work. He hoped we would see in these paintings light and life. Most importantly he hoped we would see in them the mystery of space. Like so many other abstract artists who believe that the visual world is connected to the musical world, Wou-Ki showed us the possibility that the imaginary spaces that he reveals in his massive paintings can also be perceived as realms where there is an absence of music, and an absence of anything concrete. In these spaces of silence we might think more about how openness constitutes something essential to the natural world, and essential to our existence. Zao Wou-Ki: Space is Silence is on view at the Musée d'Art Moderne in Paris through 6 January 2019.
Featured image: Zao Wou-Ki - Hommage à Edgar Varèse - 25.10.64, 1986. Oil on canvas. Donation Françoise Marquet, 2015 Musée cantonal des beaux-arts, Lausanne. © Adagp, Paris, 2018 Photo : Dennis Bouchard
By Phillip Barcio