Blog Home
Mary Corse: A Survey in Light at The Whitney
Jun 8, 2018
A major retrospective of the career of Mary Corse is on view this summer at the Whitney Museum of American Art in New York. Titled Mary Corse: A Survey in Light, the exhibition touches on many of the key discoveries Corse has made in her studio over the past 50 years. Almost in retrospect, current scholarship is quantifying Corse as a member of the Light and Space Movement that emerged in California in the 1950s and 60s. Indeed, this seems on the surface, so to speak, to be an apt statement to make about this artist, since light and space are integral to many of the works she has made. Yet, as this exhibition demonstrates, her oeuvre is actually much more difficult to classify than that handy label implies. In addition to light and space, Corse has been struggling with many other ideas over the course of her career, including the mysteries of flatness, perception, subjectivity, and the idea that less is more. In a sense, she is as interested in science and philosophy as she is art. One of her biggest concerns is the idea that no piece of art can exist without a human mind that is able to perceive it.
No Tree, No Woods
There is an old riddle you have probably heard before, which asks, "If a tree falls in the forest, but no one is around to hear it, does it make a sound?" Mary Corse gave her take on that question in 2015, in an interview with Alex Bacon for the Brooklyn Rail. She said, "there is no outside reality without perception. In other words, the tree doesn't fall if no one is looking." Everything about this riddle is dependent on humanity. If there is no one in the forest endowed with cognitive perceptive ability, not only does the tree not make a sound, but there is no tree, because the word tree, the notion of a forest, the concept of sound—these are all human constructs. They exist independently of concrete realities in our minds alone. The idea of existence demands perception.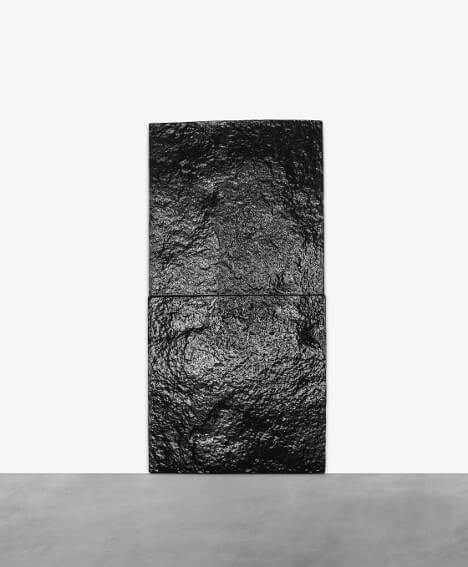 Mary Corse - Untitled (Black Earth Series), 1978. Ceramic, two tiles, 96 x 48 in. (243.8 x 121.9 cm). Courtesy Kayne Griffin Corcoran, Los Angeles, Lehmann Maupin, New York; and Lisson Gallery, London. Photograph © Mary Corse
Art, therefore, is the reformation of existence as made manifest by the body and translated by the mind. Corse is not so much a Light and Space artist as just an artist whose experience of reality has been affected by the qualities of light and space. Her affectation began one night back in the 1960s while driving, when she noticed the reflective nature of the white lines on the road. She sensed the existence of light and space through her experience of it. When she returned to her studio and tried to translate that experience, to reform it into a physical object, her efforts led her to seek out the same glass orbs that are found in painted street lines so she could mix them into her paint. This breakthrough gave rise to the possibility that viewers might share the same feeling she had in her car when they encounter her work.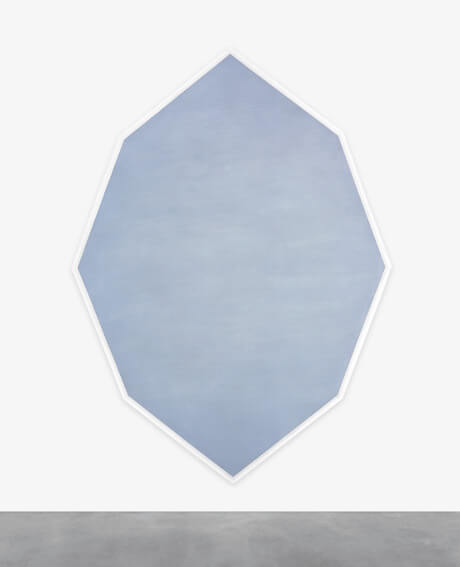 Mary Corse - Untitled (Black Earth Series), 1978. Ceramic, two tiles, 96 x 48 in. (243.8 x 121.9 cm). Courtesy Kayne Griffin Corcoran, Los Angeles, Lehmann Maupin, New York; and Lisson Gallery, London. Photograph © Mary Corse
Light, Space, Color, Earth and Mind
In addition to her glass orb paintings, the Whitney retrospective also explores many other bodies of work Corse has developed. One example is her light boxes, which she first made by hanging boxes filled with lightbulbs on the wall, with wires hanging down from them. Then she got rid of the wall and hung the light boxes from wires attached to the ceiling. Then she decided she wanted to get rid of the wires altogether, so she took a physics course and learned to build her own generator using Tesla coils. Corse was trying to isolate the experience in such a way that the work showed no trace of her hand. She wanted to make an experience that was completely objective.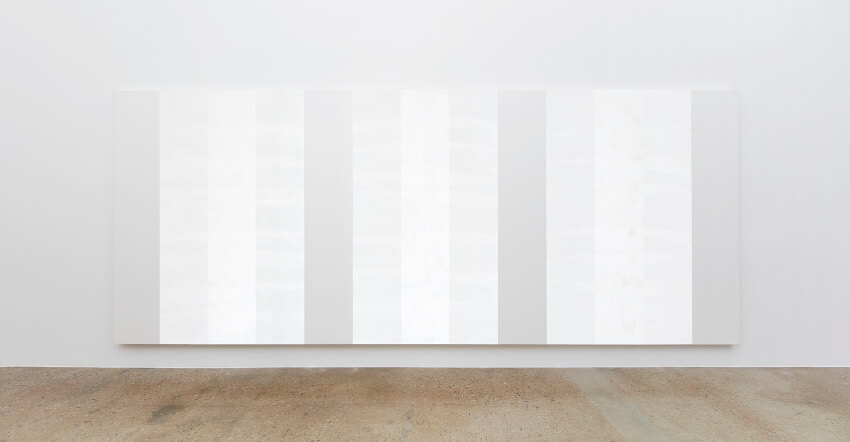 Mary Corse - Untitled (White Multiple Inner Band), 2003. Glass microspheres and acrylic on canvas, 96 x 240 in. (243.8 x 609.6 cm). Courtesy Kayne Griffin Corcoran, Los Angeles, Lehmann Maupin, New York; and Lisson Gallery, London. Photograph © Mary Corse
However, her physics studies led her to quantum physics, which taught her the lesson of the tree and the forest: that there is no such thing as objectivity; everything is subjective. Once she re-embraced the subjectivity of perception, Corse turned away from plastic and light and made a body of work she called Black Earth paintings—black ceramic slabs modeled after imprints of the dirt around her rural California home. As evident in the Whitney exhibition, the ceramic surfaces of these Black Earth paintings still reflect light, but the light is not their only concern. Their presence changes as the viewer walks around them, making the works kinetic. That means they are actually more about energy, the underlying principal of both movement and light.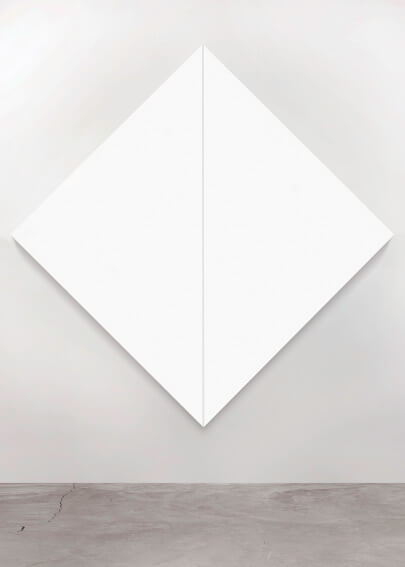 Mary Corse - Untitled (White Diamond, Negative Stripe), 1965. Acrylic on canvas, 84 x 84 in. (213.36 x 213.36 cm). Collection of Michael Straus. Photograph © Mary Corse
Art is a State of Mind
In addition to her Light Boxes, White Light paintings and Black Earth paintings, the Whitney survey also includes examples of the free standing, multi-paneled sculptures Corse makes. These works use light by reflecting it off of their white, painted surfaces, and they also make use of the thin bands of empty space the exists between the panels. That division, composed of emptiness, is an idea Corse has returned to often. In her earliest works, she divided her paintings with a vertical stripe. In some recent works a center line also exists, but is only visible from straight on—it disappears when viewed from the side. Likewise, if you were to view one of her free-standing sculptures from the side the division would also disappear. This again raises questions about the relationship between existence and perception.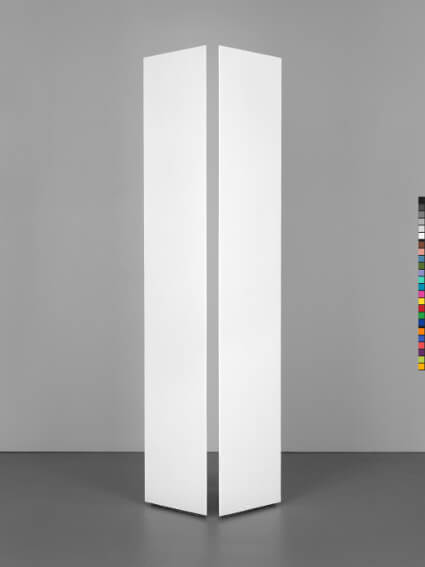 Mary Corse - Untitled (Two Triangular Columns), 1965. Acrylic on wood and plexiglass, two parts, 92 x 18 1/8 x 18 1/8 in. (233.7 x 46 x 46 cm) and 92 x 18 1/16 x 18 in. (233.7 x 45.9 x 45.7 cm). Whitney Museum of American Art, New York; gift of Michael Straus in loving memory of Howard and Helaine Straus 2016.6a-b
Interestingly, such questions are also at the heart of her professional career, as Corse as seen interest in her work expand immensely in recent years. She has always worked quietly, exhibiting infrequently, and rarely associating with her contemporaries. Now as so many more people and institutions are perceiving what she has accomplished, her career is becoming more concrete. This is why, now more than ever, a survey like this one at the Whitney is vital. It acts as a sort of disinfectant, fighting off the disease of art world fickleness by demonstrating that Corse is timeless and unclassifiable, refuting her definition as a Light and Space artist by showing that he work is as complex as the mind is able to perceive.
Featured image: Mary Corse - Untitled (Space + Electric Light), 1968. Argon light, plexiglass, and high-frequency generator, 45 1/4 x 45 1/4 x 4 3/4 in. (114.9 x 114.9 x 12.1 cm). Museum of Contemporary Art San Diego; museum purchase with funds from the Annenberg Foundation. Photograph by Philipp Scholz Rittermann
By Phillip Barcio