Blog Home
NGV's Special Bond with Artist Robert Hunter, on View in Melbourne
Jun 11, 2018
By the time Australian painter Robert Hunter died in 2014 he had earned an international profile, and was considered by many to be the most influential abstract artist in Australia. It was an amazing accomplishment for an artist who was at his core a straightforward, everyday type of person. His rise to fame seemed to surprise even him. It all began at the age of just 21. That was when, just months after his first ever solo exhibition, Hunter was invited to participate in an exhibition called The Field, at the National Gallery of Victoria (NGV). The Field included the work of 40 artists, each working in the field of Hard Edge Abstraction. Hunter was the youngest member of the group, yet he would go on to become the most prominent. His inclusion in the exhibition is even more remarkable considering his background. He never finished art school, despite multiple attempts. When the NGV show opened, Hunter was still making a living as a house painter and construction worker. But it was precisely the earnestness of his work that made him stand out. His first solo show consisted of 13 white paintings created with painters tape and the same plain house paint that he used on the job. The works were white because he had decided that color had "no emotional content or message." Only their subtle shifts in tonality and underlying geometric grid gave the viewer reasons to look more closely at the works. That basic foundation with which he started formed the basis for all of the rest of the work Hunter ever made. For the rest of his life, he built methodically on the logic of those early works. Now, on the fourth anniversary of his passing, the museum where his career began is holding a major retrospective of his oeuvre, which features more than 40 works created over a period of nearly 50 years. The exhibition traces the unassuming development of a laid back master abstractionist, and highlights the special relationship Hunter had with the NGV.
Compelled to Obsess
When Hunter first began painting, his intention was to be simple, not profound. After seeing the "Black Paintings" Ad Reinhardt made in the 1960s while they were on view in the exhibition Two Decades of American Painting (1967) at the NGV, Hunter became convinced that color was nothing but a distraction, and that there was a much more honesty and purity to just pure black or white. He chose white. Then he chose the grid as a foundation for his compositions, because it eliminated his need to make decisions about the structure of the work. He used masking tape to mark off repetitive linear patterns, so he would also not have to make decisions about shape. Finally, in order to explore the range of whiteness that might exist, he employed undertones of three primary colors—yellow, red, and blue—painting over them with white in order to achieve the most nuanced variations possible.
Robert Hunter - No. 4 untitled painting 1968, synthetic polymer paint on canvas. 158.4 x 158.4 cm. Queensland Art Gallery, Brisbane. Purchased 1987 (1987.144). © Estate of Robert Hunter
This formula eliminated many of the decisions from his work, but Hunter still found that he had one more decision to make: the size and shape of the surface on which he was going to work. In his first exhibition, he made all 13 of his paintings the exact same size and shape: five-foot by five-foot square. But over time, certain mundane challenges crept up regarding those dimensions. Namely, that size canvas did not fit easily into his car. He settled ultimately on 8 foot by 4 foot plywood boards, which fit his car easily and also had the benefit of reminding him of the billiard tables on which he liked to play. From 1983 onward, every painting he made was on that exact surface, and was painted using the exact same technical process and conceptual structure, in which the surface was divided up into four-inch segments, angles were taped off, and complex geometric patterns were created by applying successive layers of paint.
Robert Hunter - Untitled no. 1 1987, synthetic polymer paint on plywood. 122.0 x 244.5 cm. TarraWarra Museum of Art, Healesville. Gift of Eva and Marc Besen 2001 (2002.039). © Estate of Robert Hunter
Nothing to Feel Here
One of the few departures Hunter made from his formulaic works involved a series of compositions he painted directly onto walls. He became inspired to do wall paintings after traveling to New York and seeing the work of Sol LeWitt. Hunter enjoyed making these works because of their temporary nature. He often spoke of himself as operating outside of the formal art institutional system, so the chance to make non-archival works that existed purely for their experiential potential was exciting. Nonetheless, as with the wall paintings of Sol LeWitt, the wall paintings Hunter made can easily be recreated, even now after his death. Some of his recreated wall works are included in this current retrospective at NGV. Strangely, because they were not created by the hand of the artist himself, more than any of the other works in the show they embody the hope Hunter once expressed that he could "make something alien to myself … to produce something that is neutral."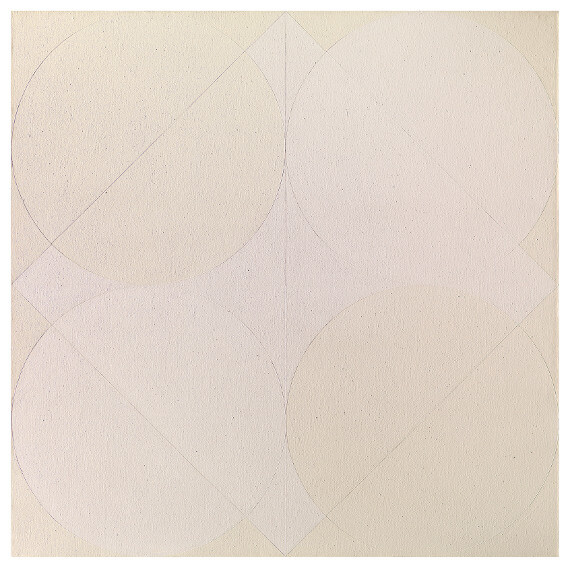 Robert Hunter - Untitled no. 8 1968, synthetic polymer paint on canvas. 158.4 x 158.4 cm. National Gallery of Victoria, Melbourne. Gift of N. R. Seddon, 1968. 1827-5. © Robert Hunter/Licensed by VISCOPY, Australia
Taken as a whole, this retrospective also elucidates another key quote from Hunter, when he said, "Working with knowns is the space for the unknown to occur." Hunter did not intend for any of his own personal feelings to be infused into his works. That is why he took such care to make his paintings anonymous representations of a formula. But that does not mean he was closed off to the possibilities that the work could be meaningful. In that quote, we see that he was open to the mysteries of abstraction, and the possibilities that something profound might emerge form his process. He never ventured to tell us what that meaning might be. He left it to us to figure out, and this lovely and contemplative retrospective at NGV offers the perfect opportunity to do just that. The Robert Hunter retrospective is on view at the National Gallery of Victoria through 28 August 2018.
Featured image: Robert Hunter - Untitled 1970, synthetic polymer paint and masking tape on paper (a-f) 172.7 x 158.4 cm irreg. (image and sheet) (each). National Gallery of Victoria, Melbourne. Purchased, 1977. Installation view in Minimal Art at the NGV in 1976. © Estate of Robert Hunter
By Phillip Barcio