Blog Home
Frank Auerbach's Landscapes and Portraits in New York
May 28, 2018
A compact and elegant show of paintings by the great British painter Frank Auerbach is currently on view at Timothy Taylor New York. Frank Auerbach: Landscapes and Portraits examines multiple decades of the long career of one of the most influential painters in Britain today. Auerbach has been painting for more than six decades, yet what is remarkable about this show is the consistency it conveys—a testament to this special artist, whose visual style has somehow both evolved and remained steady over time. Now in his late 80s, Auerbach has been working in the same studio in North London for more than half a century. During that time, he has focused largely on painting two general types of subjects: the local landscape and a select number of sitters. The descriptions of what it is like to pose for Auerbach that have been given by those who have had the pleasure are not glamorous. Some describe it as resembling a lengthy medical procedure; others have described the environment in which Auerbach works as something akin to a primordial laboratory, oozing with unctuous paint. Nonetheless, to pose for the great Auerbach is considered an honor. That fact has something to do with the nature of what this painter has managed to achieve over his long career. He works a full day, every day, seven days a week in his atelier. His dedication and focus has brought him in touch with what is essential about himself. His personal style is so succinct and recognizable that once you see a single Auerbach painting you will forever instantly recognize all others. And yet every Auerbach painting is also undeniably unique. While creating a signature style unique to himself, this artist has also honed an empathic intuition that enables him to boil down the essence of his subjects, which allows him to convey at least one true thing about who or what they are.
A Visceral Love of Paint
The first thing I notice when looking at an Auerbach painting is the thickness of the paint. His impasto surfaces seem to challenge the limitations of how much medium can be glopped on before a painting becomes something else. Up close, the aroma of the materials becomes part of the experience, as the shadows caused by the painterly ridges distort with any detailed reading of the image. From afar, the medium fades in importance, and the soul of the subject reveals itself. Auerbach intends for you to interact with his paintings in this visceral way. Whether it is the paint, the texture, or the interplay of color and light that pulls you in, he wants you to connect with the work on an intuitive level. As he once said, "I feel very strongly that if a painting is going to work, it has to work before you have a chance to read it."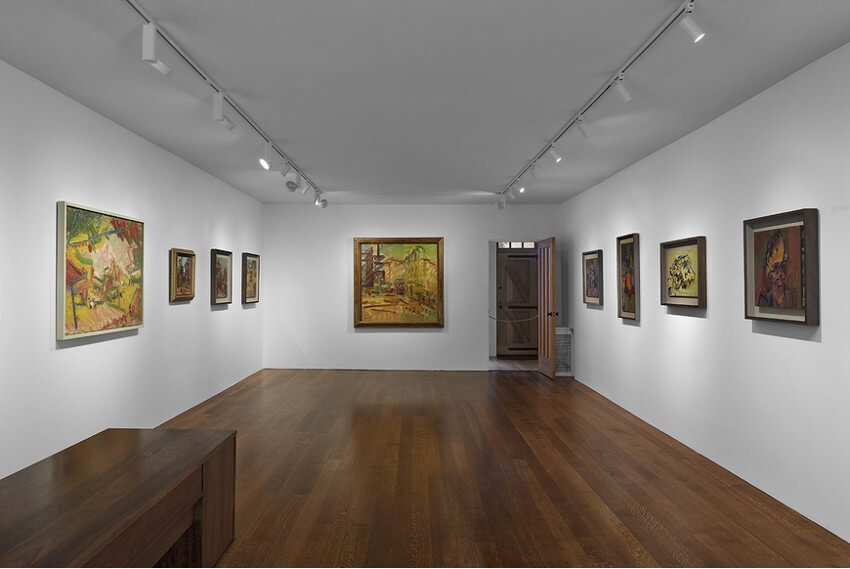 Frank Auerbach: Landscapes and Portraits, installation view at Timothy Taylor New York, 2018. Photo courtesy Timothy Taylor New York
The process by which Auerbach arrives at his finished images is time consuming and laborious. His landscapes are not painted from life—he sketches the scene and then works from that sketch. After seemingly completing a painting, he returns to it the next day and is almost never satisfied. So he scrapes off the top layer of paint and starts again. The scraped canvas retains some echo of the composition—some essential, abstracted memory of what went before. Each day he builds upon that memory, adding new impressions to it. Finally, the finished painting has a weight to it, a real physicality. Its asserts its history, as past layers peek through, giving the impression of something that seems to have its own spirit. This is the process of someone who is curious about people and places, and who loves and understands paint.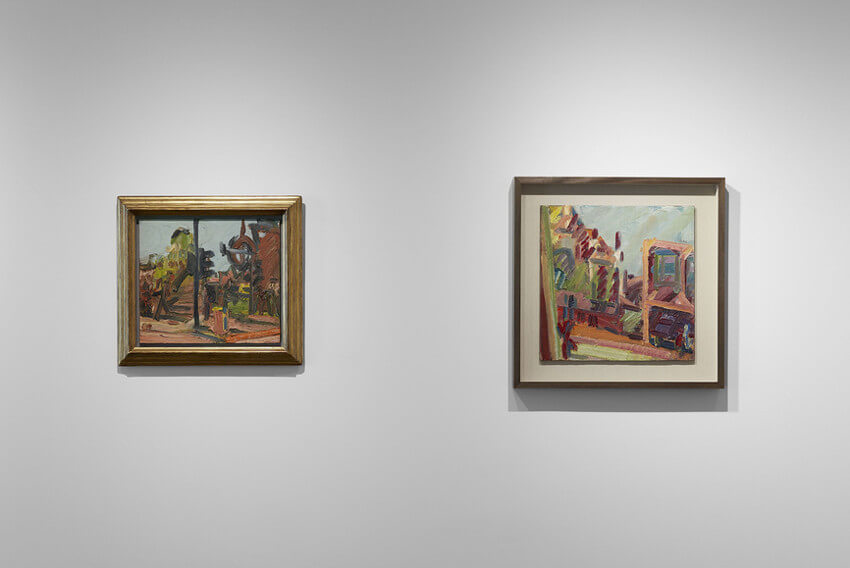 Frank Auerbach: Landscapes and Portraits, installation view at Timothy Taylor New York, 2018. Photo courtesy Timothy Taylor New York
To Add and Subtract
Pictorially speaking, the curation of Auerbach works on view at Timothy Taylor showcases another aspect of what makes Auerbach unique—the additive and reductive aspects of how the artist works. Consider these two paintings of the same sitter: "Head of JYM" (1984) and "J.Y.M Seated in the Studio III" (1988). Both images are piled high with thick layers of paint. They exemplify the paradox of how the more paint Auerbach adds, the more the image is reduced down to almost zero detail. Seen at a glance, the figures in these two paintings are so pared down that they almost dissolve into total abstraction. But the longer you admire the images, the more emotional detail you perceive. You gradually recognize that the energy of the figure in each painting is the same, even though the appearance is hardly similar at all. This is the secret additive power of reduction Auerbach has mastered—by simplifying the optics, he adds to the feeling. The less detail he shows, the more inner life he somehow reveals.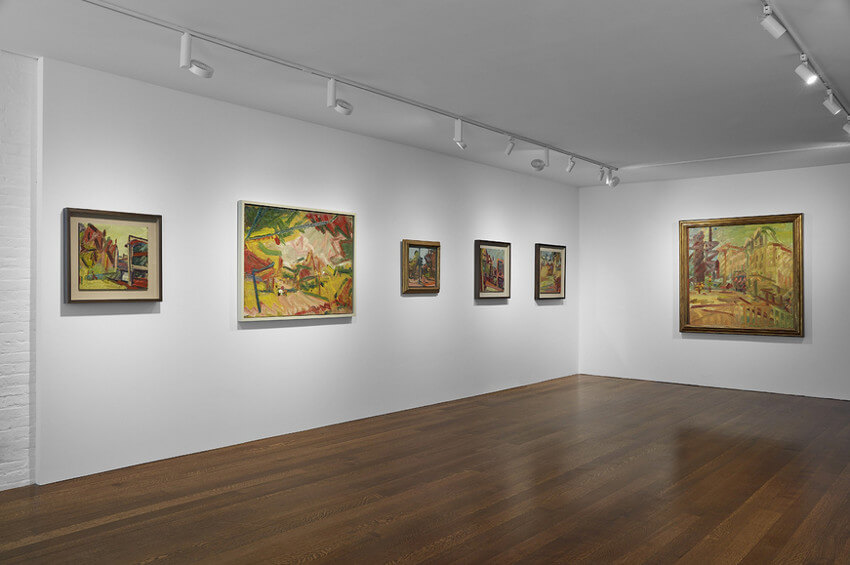 Frank Auerbach: Landscapes and Portraits, installation view at Timothy Taylor New York, 2018. Photo courtesy Timothy Taylor New York
The same effect is visible in several of the landscape paintings in this exhibition, such as "Koko, Mornington Crescent, summer morning" (2006). Reduced to little more than a series of lines and squiggled brush strokes, this painting appears to be purely abstract. But the longer you stare at the impasto layers, the more the push and pull of the colors exerts its magic, and the more the construction of the space becomes apparent. Slowly an urban environment reveals itself, but not purely urban. Natural elements are also present, along with the sensation of daylight, which evokes a park-like feel. These paintings remind me of how Ernest Hemingway once advised writers that all they really had to do was "write one true sentence." Auerbach embodies the painterly version of that advice. Each painting he creates shows something essential about the subject—one true thing. And as this exhibition also makes clear, each painting is also a glimpse at Auerbach himself. It is in that union that something magical occurs—Auerbach becomes one with his subjects, a communion which always shows through in the paint. Frank Auerbach: Landscapes and Portraits is on view at Timothy Taylor New York through 23 June 2018.
Featured image: Frank Auerbach: Landscapes and Portraits, installation view at Timothy Taylor New York, 2018. Photo courtesy Timothy Taylor New York
By Phillip Barcio