Blog Home
Patrick Heron and his Impact on Post-War Abstract Art
May 2, 2018
Later this month, a retrospective of the work of the brilliant British abstract painter Patrick Heron will open at the Tate St. Ives. It will be a homecoming for the artist in more ways than one. Heron lived, worked, and in 1999 died, in this picturesque fishing village in Cornwall, England. Although he was famous amongst the local community, this exhibition will be the first time the complete evolution of his aesthetic position will be on view in the town now known around the world for the distinctive aesthetic "school" he helped establish. It will also be a homecoming for Heron to the museum itself. Whether or not they realize it, anyone who has ever visited the Tate St. Ives has already been in the presence of at least one work by Heron. When the museum was constructed in 1993, the artist was contracted to create a stained glass window for the building. The architects had dedicated themselves to incorporating as many windows as possible in order to let in as much light as possible, since the St. Ives artists had long been known for their ability to capture the special light of this unique place. They gave Heron a massive window all to himself. He took an unusual approach to making his piece. Rather than replacing the existing window with a traditional leaded stained glass window, he adhered square sections of stained glass to the existing glass, thus creating one of the largest non-leaded stained glass windows in the world. The more than three-meter-high window is an exemplary crystallization of the visual language Heron developed over the course of his career. It is a masterpiece of mature abstraction in which all shapes, all forms, all content, and all meaning emanate from the simple elements of color and light.
Developing a Love of Color
The perfectly distilled visual language that is infused into his monumental stained glass window at the Tate St. Ives did not come easy to Heron. Nor did it come immediately. He started out as a figurative artist, imitating the work of the first artists who inspired him. Foremost amongst his inspirations was Paul Cézanne, whose work Heron first saw in 1933, at age 13. The way Cézanne captured light and created color relationships made a lifelong impact on the young artist. Ten years later, after Heron saw a Matisse painting titled The Red Studio, he became inspired to transition fully into abstraction. That painting had such an immediate and profound impact on him because of the way it elevated color, making it content, medium, subject matter, and meaning, all at once. Just four years later, in 1947, Heron would have his first solo exhibition, at the same gallery at which he saw The Red Studio.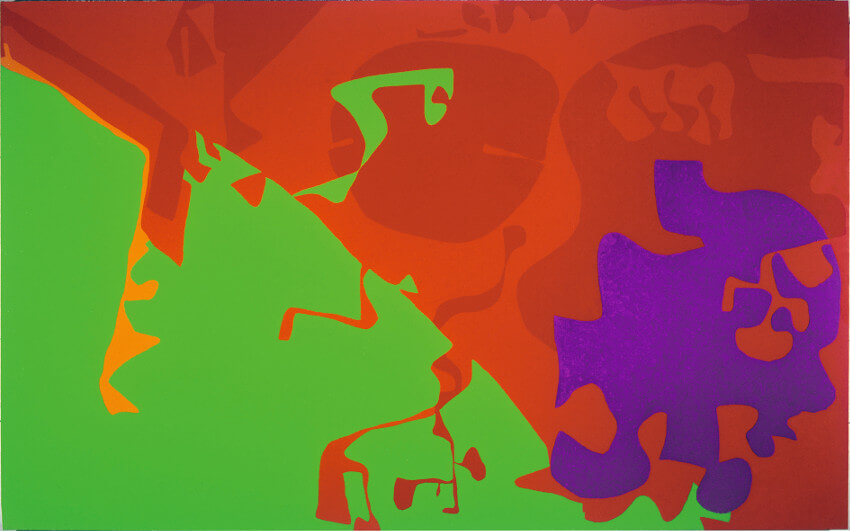 Patrick Heron - Big Complex Diagonal with Emerald and Reds : March 1972 - September 1974, 1974, Oil paint on canvas. Collection of Katharine Heron and Susanna Heron. © Estate of Patrick Heron. All Rights Reserved, DACS 2018
The path Heron originally took towards abstraction involved the reduction of recognizable shapes. A perfect example is the painting Interior with Garden Window. Like Matisse, was drawn to the forms and shapes that he saw around him in the everyday visual environment, but the real thing Heron was after was simply using these elements as a way of dealing with color and light. He was analytical and straightforward, not wishing to proclaim anything mystical with his work. He simply wanted to make paintings that exalted the beauty of the visual world, using color. One of his breakthroughs came in 1956 when he turned to lines as a method of constructing his compositions. The painting Verticals, January 1956, shows only vertical lines without the pretense that the lines represent anything figurative. The painting Green and Mauve Horizontals takes the idea even further, stacking lines of color atop each other such that no part of the painting is more important than any other part.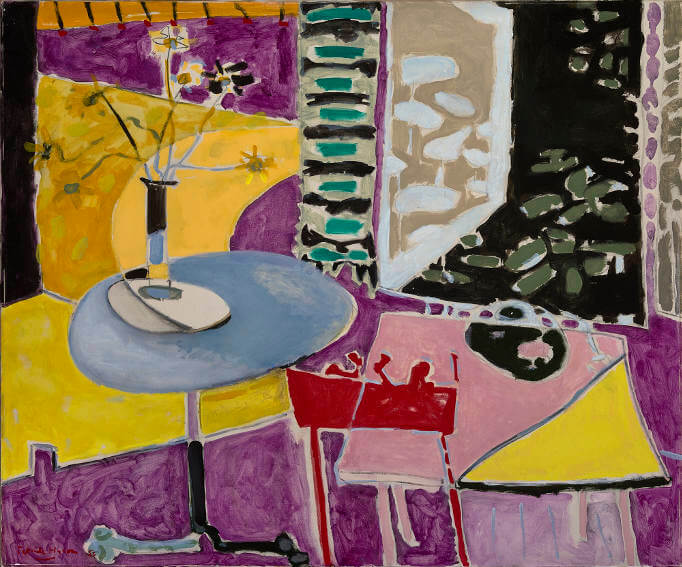 Patrick Heron - Interior with Garden Window : 1955, 1955, Oil paint on canvas, 1219.2 x 1524 mm. Private collection. © Estate of Patrick Heron. All Rights Reserved, DACS 2018
A Painter and a Thinker
From the late 1950s forward, Heron was a staunch defender of pure abstraction. He remained experimental, developing several distinct variations on his style. For a while, he created what he called "wobbly hard-edge paintings," which contained solid forms of pure color as in Hard Edge Abstract paintings, but the hand drawn forms remained organic looking. One effect of the wobbly edges was to de-emphasize the forms, allowing the focus remain on the color relationships. Later, after his wife unexpectedly passed away, Heron made a grand shift in his technique. Rather than manipulating his brush with his wrist, he started using his entire arm. The brush strokes in these later works are more active and emotive. As Heron well understood, the human mind connects to brushwork in paintings and automatically imagines recreating the movements that it took to make those marks. His large brushstrokes were a way to emotionally connect to viewers without making emotion the subject matter of the work.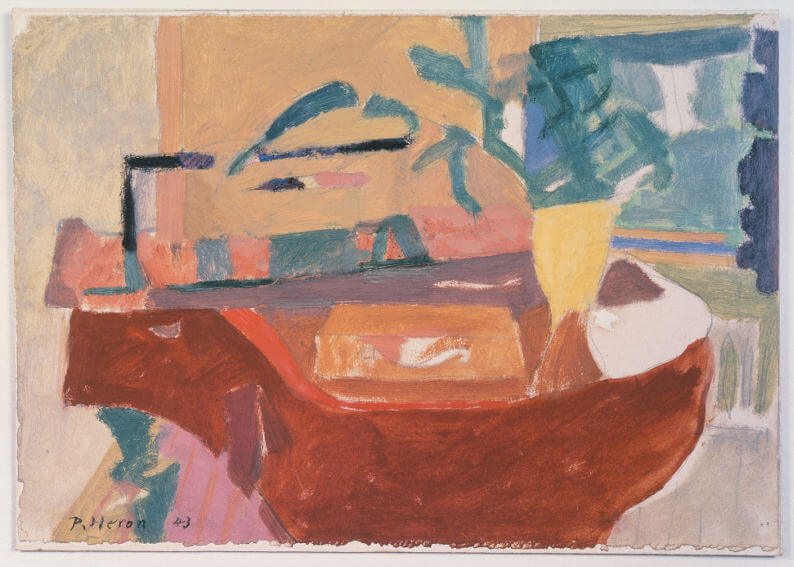 Patrick Heron - The Piano : 1943, 1943, Oil paint on paper. Courtesy of Katharine Heron and Susanna Heron. © Estate of Patrick Heron. All Rights Reserved, DACS 2018
We can be confident that Heron was aware of such things as the psychology of the viewer because, in addition to being a prolific and influential painter, he also wrote extensively about the philosophies underlying his approach. In fact, early in his career, he was becoming as well-known for his art criticism as for his paintings. His popularity as a writer even caused him to give up his regular columns for fear that he was going to become known as a writer who paints rather than the other way around. Nonetheless, he did continue to occasionally write influential catalogue essays and editorials periodically throughout his career. Through those writings, we can see that he thought deeply about all aspects of his art, a fact that underscored his importance not only to the St. Ives School, but to the history of British abstraction in general. The retrospective exhibition Patrick Heron features 45 works examining the entire evolution of the career of this important artist, and is on view at the Tate St. Ives from 19 May through 30 September 2018.
Featured image: Patrick Heron - Red Garden Painting : June 3 - June 5 : 1985 1985, Oil paint on canvas. Collection of Katharine Heron and Susanna Heron. © Estate of Patrick Heron. All Rights Reserved, DACS 2018
All images courtesy Tate St. Ives
By Phillip Barcio