Blog Home
10 Textile Pieces from the Sheila Hicks Exhibition at Centre Pompidou Paris
Apr 27, 2018
As a major Sheila Hicks retrospective at Centre Pompidou in Paris comes to an end this week, we are reminded once again of the sheer power of the oeuvre this influential artist has created, and of the enormous impact Hicks has had on the development of abstract art in the past half century. Trained initially as a painter, Hicks instead diverged onto an idiosyncratic, visionary path into the realm of textiles. She was partly inspired by the materiality of the medium, and partly inspired by her interest in non-western and under-represented art traditions. She once described her evolution in this way: "I have studied painting, sculpture, photography and drawing, but my strongest attraction is to textiles. I make a kind of textile art. I develop environments, fabricate thread objects, weave textiles, build up soft sculptures, bas-reliefs, and I design and make functional things from thread." Her practice included not only fine art but also commercial products—a natural outgrowth of her experiences in the classroom of Josef Albers while Hicks was studying at Yale. Albers imparted to Hicks his Bauhaus theories about the importance of creating the total art work. Hicks thus allowed herself the pleasure of pursuing any avenue her artistic vision opened up to her, whether that meant designing furniture, clothing, architectural interiors, film sets, monumental works of public art, or small objects to hang on the wall or set on the floor. At age 83, Hicks is still active in the studio. In fact, one of her most recent works, North-South-East-West (2018), was one of the most exhilarating pieces in her recent Pompidou retrospective. As a way of demonstrating the arc of her development and giving a sort of overview of her prolific and illustrious career, here is a closer look at ten of the works that were exhibited in that show.
Amarillo, 1960
Hicks lived in Mexico from 1960 through 1964. During that time, she had access to a small weaving workshop where she mastered what is considered the most ancient weaving method—"flat weaving"—which is a way of making rugs on a loom so there are no knots in them, thus making them flat. Amarillo is an iconic early example of the works Hicks made during this time period. The piece is referential of her training as a painter, as it hangs two-dimensionally against a wall. Yet it also points the way forward as the slashes caused by the weaving process expose the wall behind the work, suggesting a continuation into three-dimensional space.
Model for the Ford Foundation Commission, 1966-67
In 1967, Hicks created a monumental woven bas-relief on the walls of the New York headquarters of the Ford Foundation. The pattern she employed in this work referenced a honeycomb. Hicks called it a tribute to "the beehive of social change activity at the foundation." This model, which she made the previous year, shows the early development of the design. Incidentally, in 2013 Hicks returned to New York and meticulously recreated the original Ford Foundation work since it had deteriorated over time.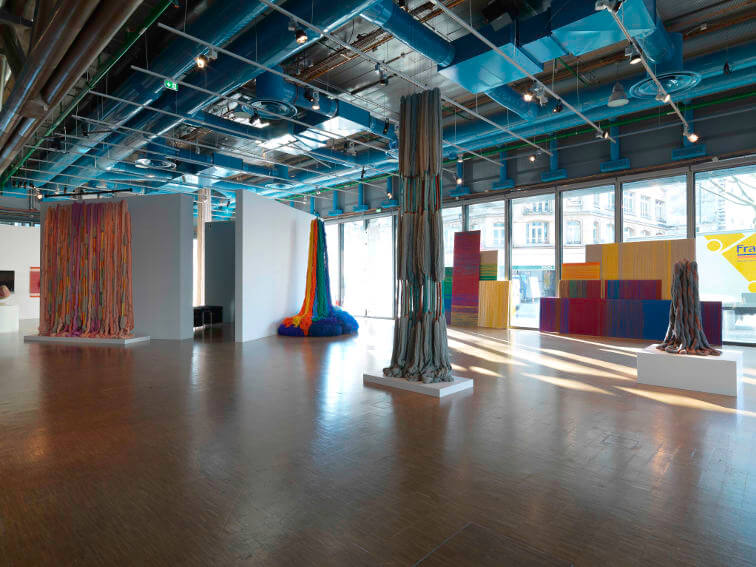 Sheila Hicks - Ligne de vie, installation view at Centre Pompidou 2018. © Centre Pompidou. Photo by Philippe Migeat
The Evolving Tapestry: He/She, 1967-68
This work consists of hundreds of stacked, individual woven units, nicknamed "ponytails" because of their tasseled edges. Every time it is exhibited the presentation changes. The title refers both to the evolving nature of textiles as a medium and to gender assumptions within the fine art world.
Trapèze de Cristobal, 1971
Hicks named this piece, which consists of a waterfall of woolen threads flowing from the ceiling, after her son Cristobal. As she once explained, "He and his friends would climb up it when it hung over the balcony in my studio, so I named it Cristobal's Trapeze." Hicks has noted that viewers frequently touch this work for some reason, a phenomenon she does not at all seem to discourage.
Prayer Rug, 1972-73
In the 1970s, Hicks looked for a way to combine the traditions of craft and folklore with the formal language of Modernism. By engaging the weaving techniques of the Berbers, an indigenous people of Northern Africa, she created a series of works called Prayer Rugs that satisfied her goals. The works are clearly in the craft tradition, but they hang on the wall allowing gravity to exert itself on the abstract, architectonic forms.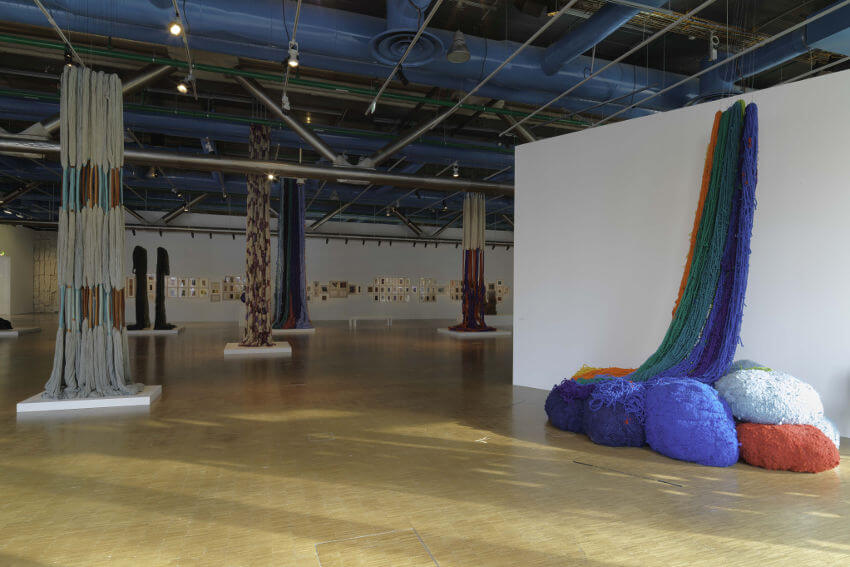 Sheila Hicks - Ligne de vie, installation view at Centre Pompidou 2018. © Centre Pompidou. Photo by Philippe Migeat
Pockets, 1982
An exquisitely Bauhaus statement, Pockets is an entire wall covered in hundreds of white cotton pockets, as if they has been taken out of pairs of jeans and hung in overlapping rows. The utilitarian function of these textile units is still accessible—if one wanted, one could stuff coins or sets of keys in them. Their installation, meanwhile, evokes the Modernist grids of Agnes Martin, or the language of line and form of De Stijl.
Palitos con Bolas, 2011
This work, which consists of a pile of yarn-covered forms that simulate rocks and twigs, is intended to be displayed differently every time, in an intuitive heap. The title playfully translates into "sticks with balls." Hicks refers to the round, organic forms as "listening stones," and the elongated forms as "talking sticks."
Lianes de Beauvais, 2011-12
The title of this work refers to the Beauvais tapestry manufactory, one of the most important textile makers in France, which dates back to the reign of Louis XIV. The word lianes is French for creepers, a reference to the climbing vines that this woven, hanging piece emulates.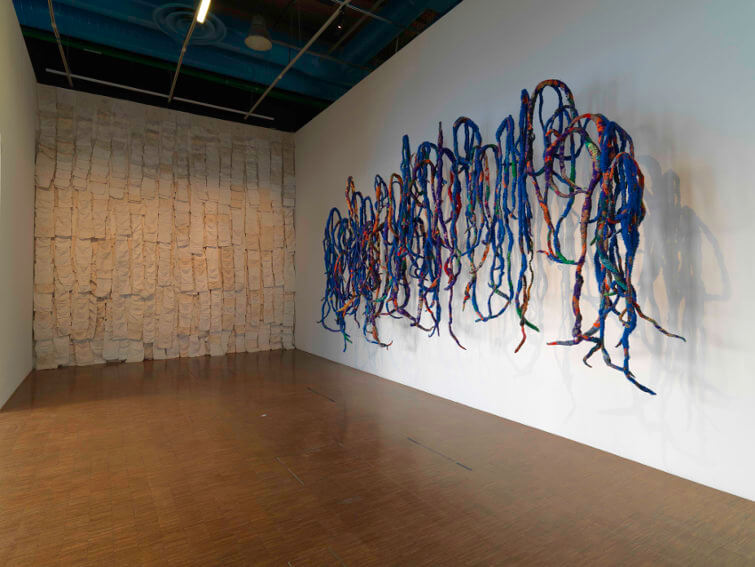 Sheila Hicks - Ligne de vie, installation view at Centre Pompidou 2018. © Centre Pompidou. Photo by Philippe Migeat
Atterrissage, 2014
One of the most immediately recognizable pieces Hicks has made, this vividly colored work consists of streams of fabric flowing from the ceiling and accumulating into biomorphic mounds on the floor. It is the embodiment of the idea that color can be used as both material and form.
North-South-East-West, 2018
This is the newest series of works Hicks has made. She wraps rectangular panels in linen thread, their form evoking her history as a painter. The material aspects of the work, together with the title, make a cunning remark about the universal aspects of the traditions in which she works.
Featured image: Sheila Hicks - Ligne de vie, installation view at Centre Pompidou 2018. © Centre Pompidou. Photo by Philippe Migeat
All images courtesy Centre Pompidou
By Phillip Barcio