Blog Home
The Week in Abstract Art – True Colors
Jul 6, 2016
This week, half a world apart from each other, exhibitions open featuring two of Modernism's greatest masters of color. The first, Henri Matisse: Rhythm and Meaning, opens 13 July and runs through 17 September 2016 at the Standard Bank Gallery in Johannesburg. Matisse traveled widely around Africa, and African culture played an inspirational role in his practice. It's said that he hung textiles collected from Zaire in his studio, which helped lead him to the ideas he pursued in his iconic paper cut-out collages. Amazingly, this is the first major exhibition of Matisse's work anywhere in Africa. Meanwhile in New York, Ameringer McEnery Yohe presents an exhibition of the work of Hans Hofmann, on view through 12 August 2016. Matisse directly influenced Hofmann's lifelong study of color. Hofmann's career both as an educator and an artist in turn influenced some of the brightest minds in 20th Century American abstract art. In celebration of these two Modernist color masters, here are three other exhibitions that demonstrate how their legacy lives on with artists who explore color as their primary concern.
Jean Feinberg at Beth Urdang Gallery, Boston, MA
On view now through 6 August 2016
Jean Feinberg creates multi-dimensional paintings on salvaged wood and found paper, using found materials such as paint chips as guidance and inspiration for her color choices. The abstract, geometric colored forms she adds to her surfaces speak to transcendence and possibilities even as the surfaces themselves appear ravaged by time and decay. Informed by the light and landscape of the natural environment, Feinberg uses color in ways both subtle and direct to create work that invites meditation, free from objective reference. "In Feinberg's work," Artforum once said, "dread and wonder overlap."
Jean Feinberg - P1.13, 16.9x12.2 in.
John Plumb – Paintings 1966: The Colour Fields at Paisnel Gallery, London
On view now through 8 July 2016
In the mid 1960s, the British abstract painter John Plumb focused on the creation of large-scale masterpieces of monochrome. Inspired by American Color Field artists, Plumb's monochromes show a tremendous depth of saturation and richness of hue. They often feature a slight edge of complimentary color that enhances the overall experience of the color field. Through the end of this week London's Paisel Gallery has nine of Plumb's masterful Color Field works on view.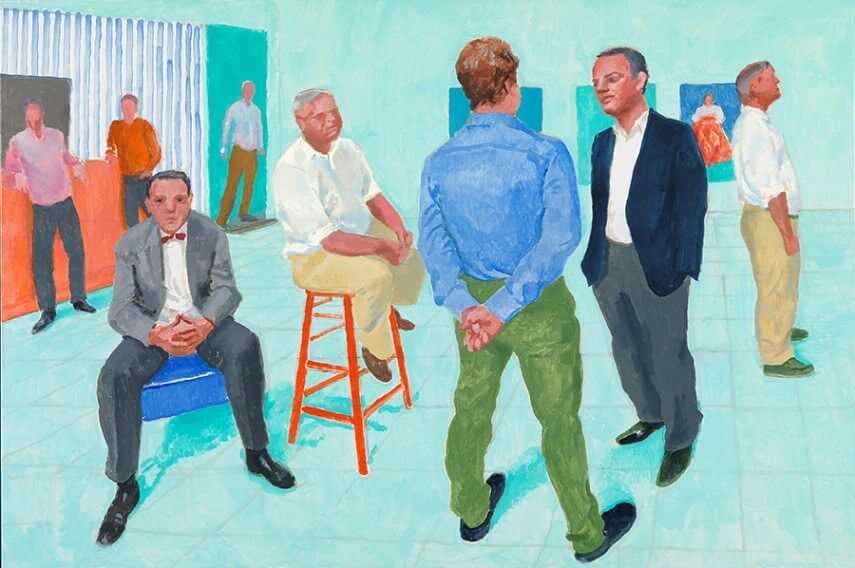 David Hockney - The Group V, 6-11 May, 2014 Acrylic on canvas, 48 x 72 in.
David Hockney RA: 82 Portraits and 1 Still-life at The Royal Academy of Arts, London
On view now through 2 October 2016
Although David Hockney is not exactly an abstractionist, his masterful use of color is key to the emotional charge viewers receive from his iconic works. Hockney's figures often seem detached, nearly becoming symbols, while the colors, lines, brush strokes and paint comprising them springs to life. As this exhibition's title explains, this show features a body of work comprised mostly of portraits. The large-scale works were all done in Los Angeles in recent years, all featuring sitters that Hockney personally knew, each one seated in the exact same chair, and each one painted over multiple days.
Featured Image: John Plumb - Untitled August 1969, 1969