Blog Home
The Week in Abstract Art – Life is a Cabaret
Jun 9, 2016
By abandoning logic and embracing the absurd the Dadaists invented so-called Anti-Art. But now we see rather than destroying art, their aesthetic contribution in fact became a monumental influence on the next century of art history. This year is the 100th anniversary of Dadaism's birth at Zürich's Cabaret Voltaire. Two major exhibitions this summer in the movement's hometown celebrate this landmark. Zürich's Hauser & Wirth presents Schwitters Miró Arp, featuring 100+ works from these immensely influential artists, 12 Jun through 18 Sep 2016. And Kunsthaus Zürich presents Francis Picabia: A Retrospective, featuring 200+ works representing every facet of this artist's multi-disciplinary career.
Something To Do With Discipline
The Dadaists' most enduring legacy is the idea that anything goes. That philosophy manifests concretely today in our widespread respect for multi-disciplinary practice. Artists can focus on a single discipline, like painting, or take full reign to express their ideas using any medium or any means they deem appropriate. In memory of the Dadaists gifts, here are four exhibitions featuring the work of multi-disciplinary artists, and four featuring the work of, um, mono-disciplinary artists?
The Multis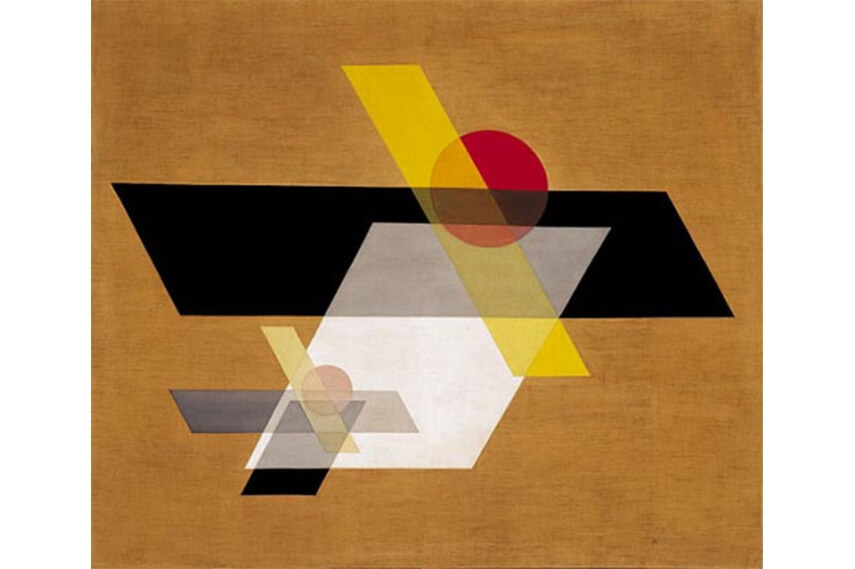 Laszlo Moholy-Nagy - A II, 1924
László Moholy-Nagy: Future Present at the Guggenheim, NY
27 May – 7 September 2016
László Moholy-Nagy is one of history's most successful multi-disciplinary artists. The Hungarian born artist was a successful painter, sculptor, photographer, filmmaker, graphic designer, stage designer and writer. He taught at the Bauhaus and founded the Chicago Institute of Design. This comprehensive exhibition features more than 300 of his works.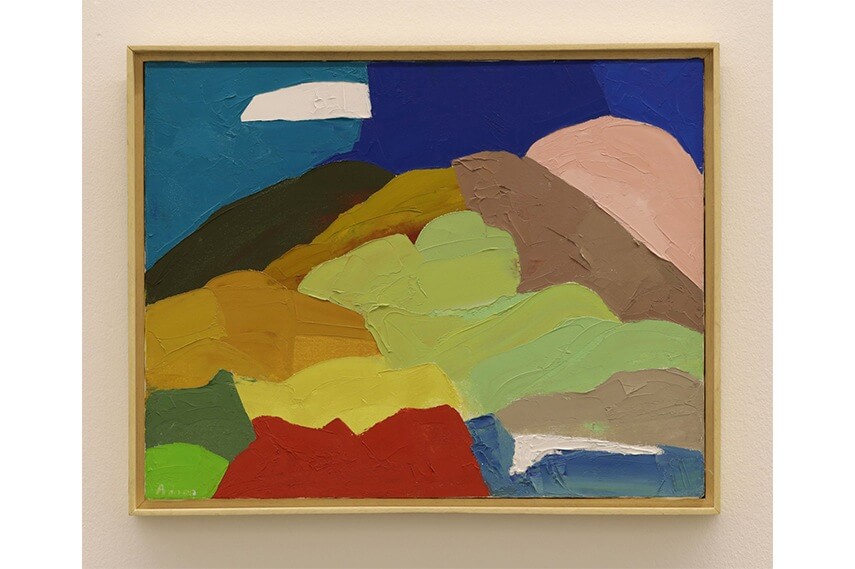 Etel Adnan - Artwork from The Weight of the World exhibition
Etel Adnan: The Weight of the World at Serpentine Galleries, London
2 June – 11 September 2016
91-year old Etel Adnan is a poet, essayist, object maker and figurative and abstract painter. Born in Beirut, she has had her work shown extensively internationally, including at New York's Whitney Museum. This is her first institutional public exhibition in the UK and it spans the full range of her creative output.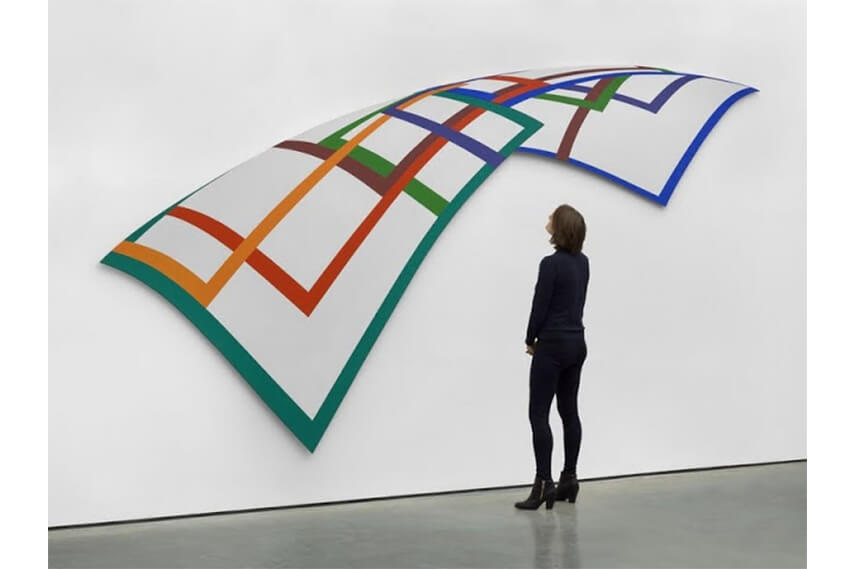 Dora Maurer - Quod Libet 39, 1999
Dóra Maurer: 6 out of 5 at White Cube Mason's Yard, London
24 May – 9 July 2016
A conceptual art pioneer, this Hungarian-born artist has made prolific contributions to painting, drawing, printmaking, photography and filmmaking. This exhibition features works from the past 50 years of her internationally acclaimed career.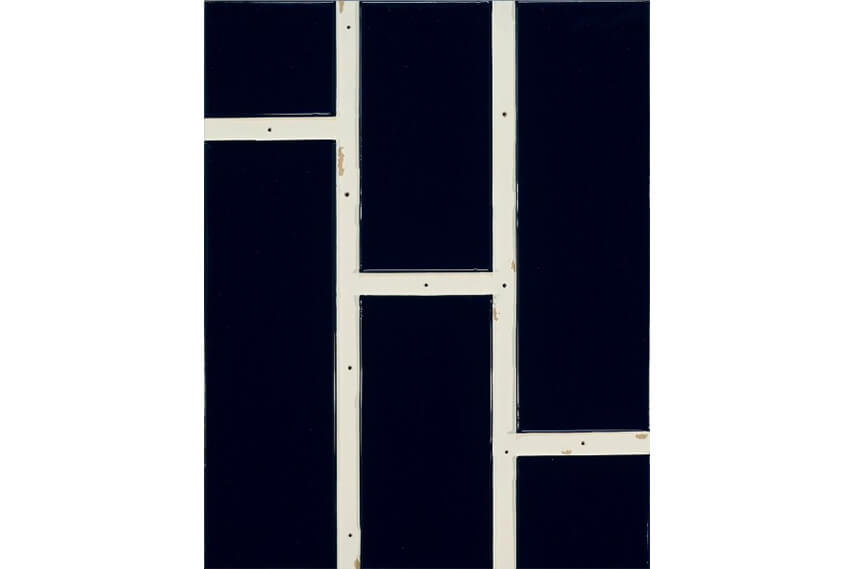 Ricardo Alcaide - Falling, 2016
Ricardo Alcaide: Down the Line at Johannes Vogt, NY
8 June – 8 July 2016
Venezuelan artist Ricardo Alcaide is influenced by the "mistranslation of modernism." His multi-faceted installations bring into focus the shocking and widespread ways progress has deformed contemporary landscapes.
The Monos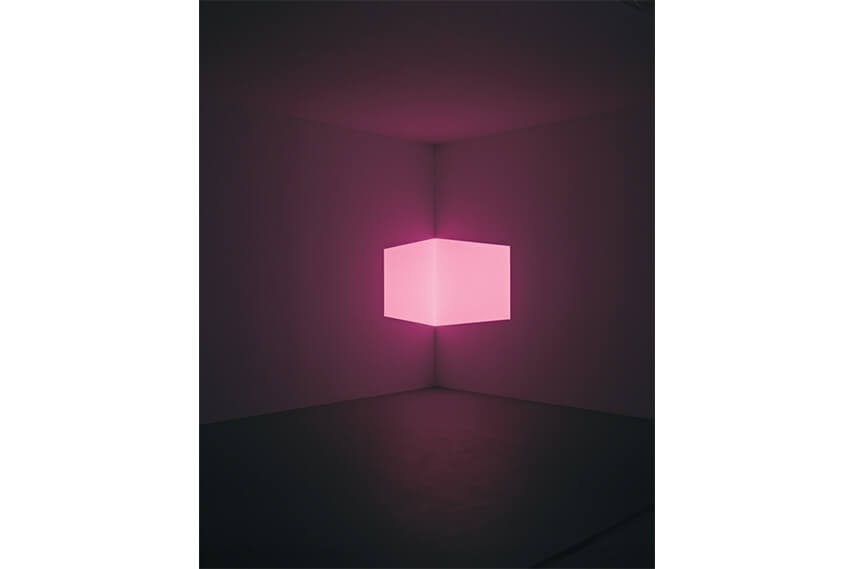 James Turrell - Installation, 1968 Projection
James Turrell at PACE New York and PACE Palo Alto
NY: 6 May – 18 June 2016; Palo Alto: 28 April – 30 July 2016
As the most influential member of the Light and Space movement, James Turrell is the perfect ambassador of a mono-disciplinary art practice. Though each of his pristine installations is unique, his single-minded focus on using light, shadow and space to create contemplative environments has created an iconic and instantly recognizable aesthetic.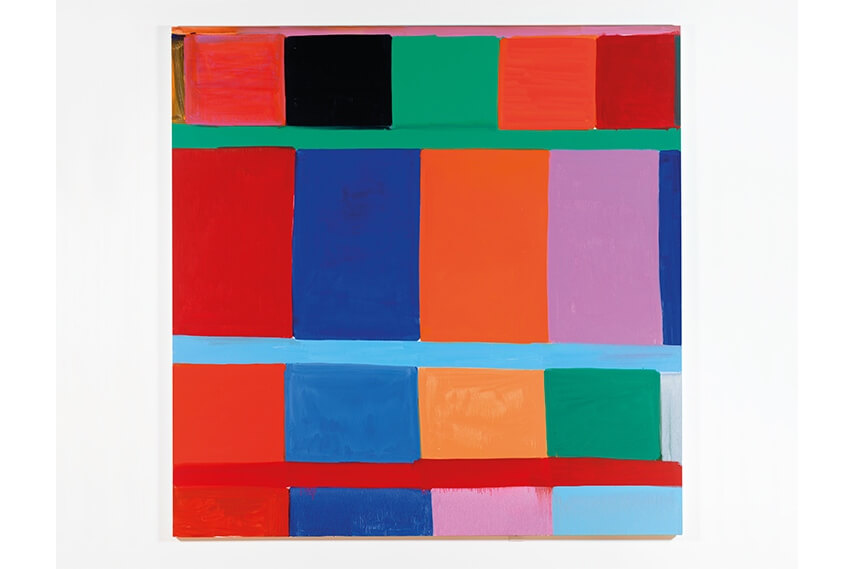 Stanley Whitney - Artwork from Radical Times exhibition
Stanley Whitney: Radical Times at Lisson Gallery, Bell Street, London
20 May – 2 July 2016
For four decades Stanley Whitney has been honing his color field practice. Influenced by Jazz and Minimalism, Whitney composes fields of stacked, multi-hued geometric forms that defy his predecessors' flat aesthetic by embracing gestural brushstrokes that reveal his artist's hand.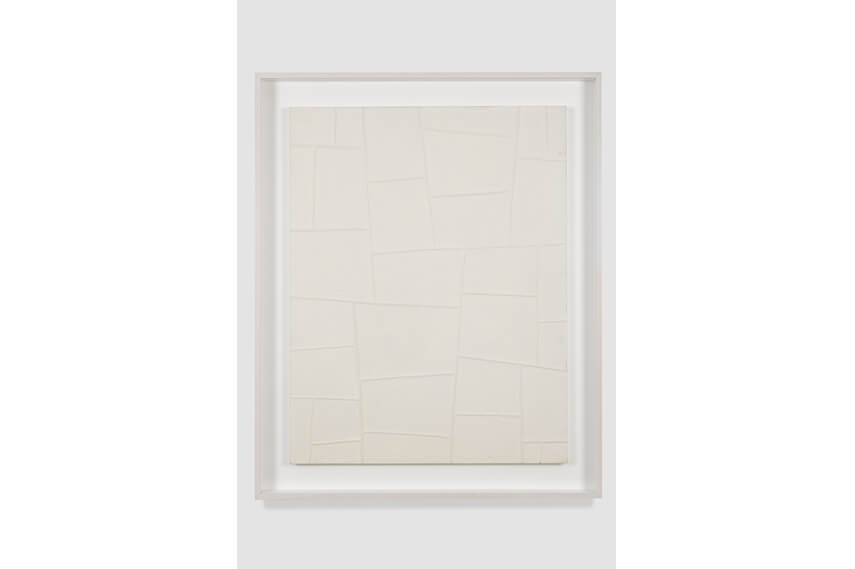 Kwon Young-woo - Untitled, 1996
Kwon Young-woo at Blum & Poe, NY
1 June – 1 July 2016
Young-woo is a founder of Korea's Dansaekhwa movement. His monochromatic abstract paintings focus on subdued hues and organic textures and patterns. This is Young-woo's first solo exhibition in New York.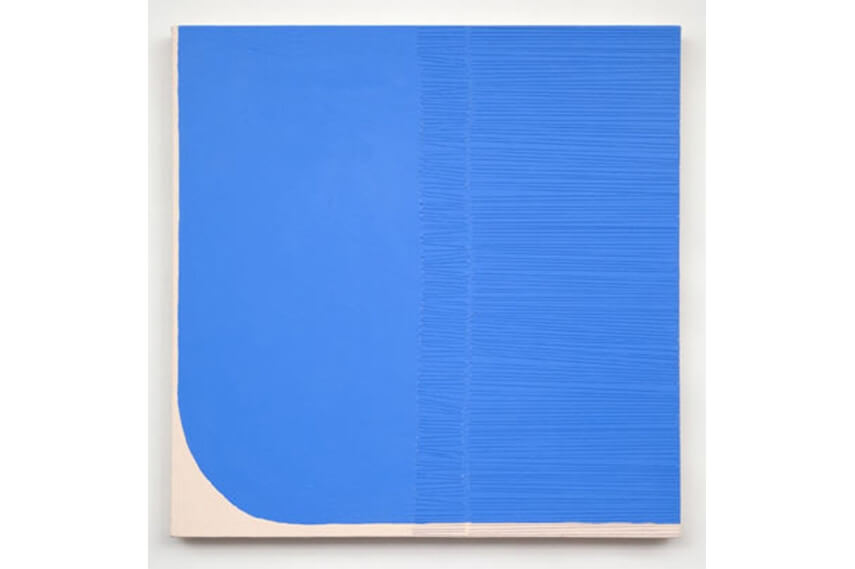 Holly Miller - Artwork
Holly Miller: Dynamic Force / True Colors at Galerie du Tableau, Marseille, France
6 June – 18 June 2016
Holly Miller's practice focuses on line. Once described as "the mystic marriage of Lucio Fontana and Agnes Martin," Miller cuts holes in the surface of her hard-edged abstract paintings and runs thread through the holes to create three-dimensional lines. From afar the lines seem painted on. On closer inspection additional dimensions are revealed.
Featured image: Hans Arp - Geometrische Collage (Collage géometrique), 1918