Blog Home
The Week in Abstract Art – Adventures in Space
Jul 13, 2016
Have you ever caught yourself dreaming about traveling to space then realized you already are in space? To some other beings on some other distant planet we're the aliens. It's just a matter of perspective, isn't it? Questions of space and how we perceive it are central to the work of the British Op Art painter Bridget Riley. Riley is a master of spatial manipulation. Her mind-bending images transform flat, two-dimensional planes into multi-dimensional wormholes. Witnessing her paintings in person can be so off-putting that it can make you wonder whether anything you see can be believed. A major retrospective of Riley's work titled Bridget Riley | Paintings, 1963-2015 is currently on view at the Scottish National Gallery of Modern Art in Edinburgh, through 16 April 2017. The show inspired us to consider other artist's views on how we perceive ourselves within space. Is space something we control, or does it control us? Should we contain space, or set it free? Here are four current abstract exhibitions that confront, challenge and celebrate our adventures in space.
Jeppe Hein, Semicircular Space
National Gallery of Victoria, Melbourne, Australia, Ground Level, Federation Court
On view through 26 February 2017
In this fabulously disorienting installation, Danish artist Jeppe Hein builds on the tradition of Op Art by inviting viewers to step into a spiraling environment lined with mirrored vertical forms. The mirrored forms are spaced out in such a way that the viewer becomes confused by the shifting visual landscapes. An impossible to distinguish mash-up of perspective and dimension tricks the eye and mind into wondering where surfaces begin and end and where we truly are within our environment.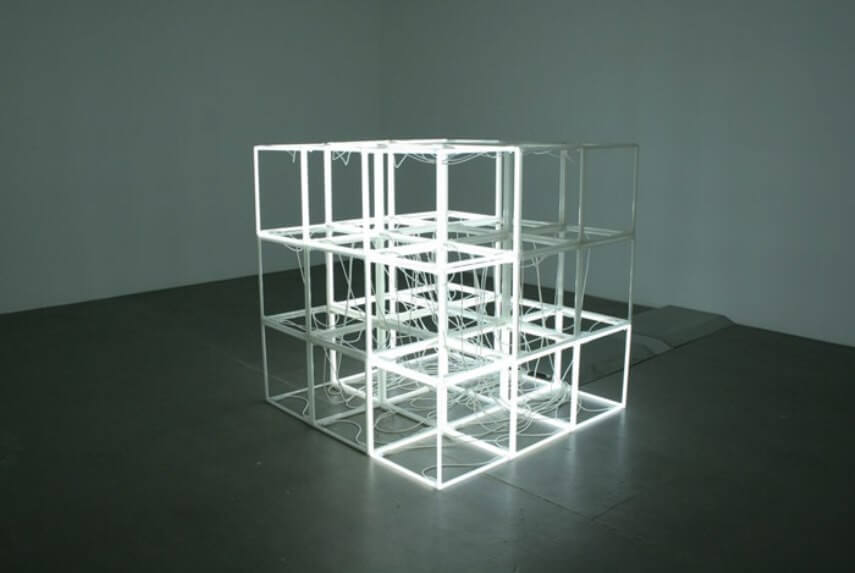 Jeppe Hein - Changing Neon Sculpture
Quiddity
RMIT University Gallery, City Campus, Melbourne, Australia
On view through 20 Aug 2016
Also in Melbourne is a fun exhibition that asks the question of how traditional works of art are perceived when encountered in a space other than the gallery. The exhibition transforms the gallery space by displaying works from the university's collection on metal racks, as they would be in storage. Encountering paintings arranged in this way poses interesting questions about their object-ness, and the importance of the exhibition space to an aesthetic object's translation into a work of art.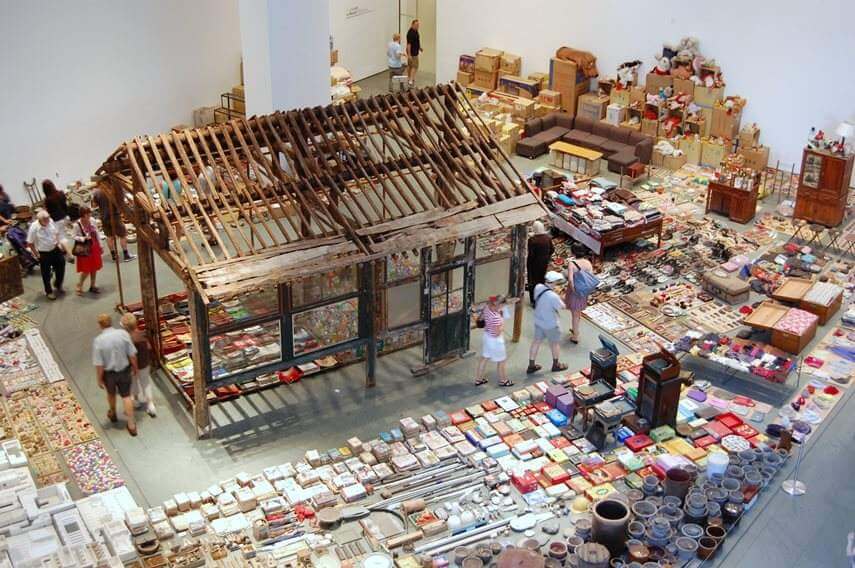 Song Dong - Waste Not, 2005
Jessica Stockholder: Rose's Inclination
Smart Museum of Art, University of Chicago, Chicago, Illinois
On view through 2 July 2017
In this monumental, site-specific installation, Jessica Stockholder has created a work that reinterprets the idea of a contained exhibition space. The vibrant, abstract assortment of color fields, forms, objects and materials inhabits the museum's lobby, incorporating a multitude of interior surfaces then spills outward into the museum's sculpture garden, occupying the lawn, the walkways, the flora and the air. Says Stockholder, "Rose's Inclination is to reach up and out. She slips under and over, and weaves into the landscape while flapping towards the sky."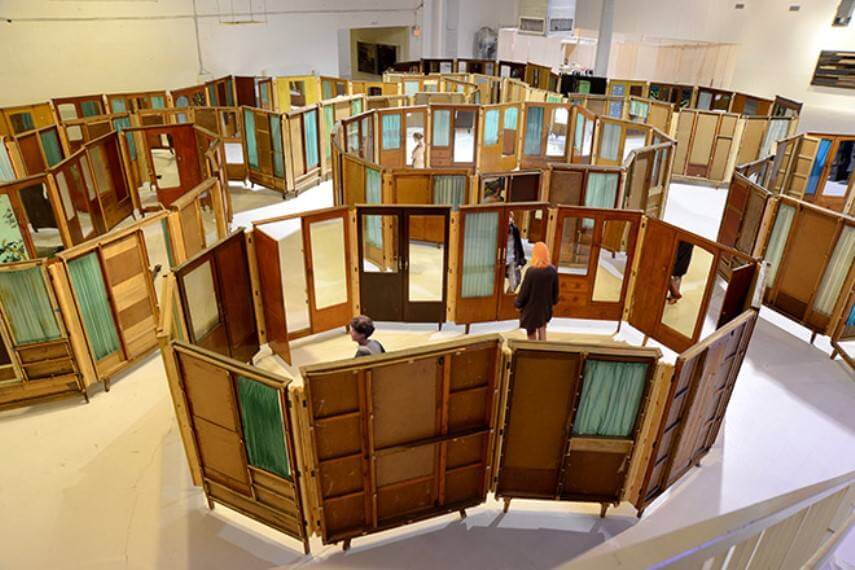 Song Dong's Communal Courtyard, Art Gallery of Ontario, Toronto, Canada
Song Dong's Communal Courtyard
Art Gallery of Ontario, Toronto, Canada
On view through 17 July 2016
In this installation, Beijing-based avant-garde artist Song Dong invites viewers to explore a maze of morphing, tiny spaces configured out of assemblages he created from 100 vintage Chinese wardrobe doors. The spaces might be interpreted as trying to evoke the tiny living spaces becoming so common in many urban environments. The use of mirrored wardrobe doors may also confront our attempts to define our images with the spaces we try to control.
Featured Image: Jessica Stockholder - Wide Eyes Smeared Here, 2009