Blog Home
The Week in Abstract Art – Written in Stone
Dec 15, 2016
We live in a precarious time. Our societies are changing, although that is nothing new. But our planet is also changing. Luckily, we know quite a bit about the various ways the planet has changed in the past. Much of that knowledge comes to us from the geological record. Since the dawn of time rocks have heaved up from the core of the planet, come crashing down on us from outer space, been worn, formed, ground to dust and reconstituted, over and over again. The stories of the rise and fall of each of our past epochs, as well as clues to our possible future ones, are all around us, written in stone. Do these rocks that surround and support us describe a world filled with constant danger, or one defined by endless resilience? That depends, perhaps, on your point of view. Here are five current abstract art exhibitions that can possibly help answer that question, as they feature the work of artists who utilize geological mediums in order to explore the messages, mysteries and meanings that surround us, in stone.
Rodrigo Braga, Inland Sea, Palais de Tokyo, Paris
On view through 18 December 2016
Brazilian artist Rodrigo Braga is known for his startling photographs and films documenting his performances, which address the painful realities of the struggle between nature and humanity. This exhibition, which closes Sunday, is his first solo show in France. It consists of a monumental outdoor installation inside of an ornamental pond. For the piece, Braga collected prehistoric limestone rocks from quarries used to build many familiar Parisian buildings. The rocks contain fossil remnants of a once thriving ecosystem that survived in the vast inland sea that covered Paris 45 million years ago.
Olafur Eliasson: The presence of absence, neugerriemschneider, Berlin
On view through 14 January 2017
At the center of this exhibition are two large concrete blocks, notable for the ragged empty spaces carved within them. To create these works, Danish-Icelandic artist Olafur Eliasson collected ice from the Greenland ice sheet and cast the ice blocks in concrete. Over the course of a month, the ice melted within the concrete casings, cracking and eroding the cavernous spaces within them. The vanished ice now can only be confronted through the void it has left behind.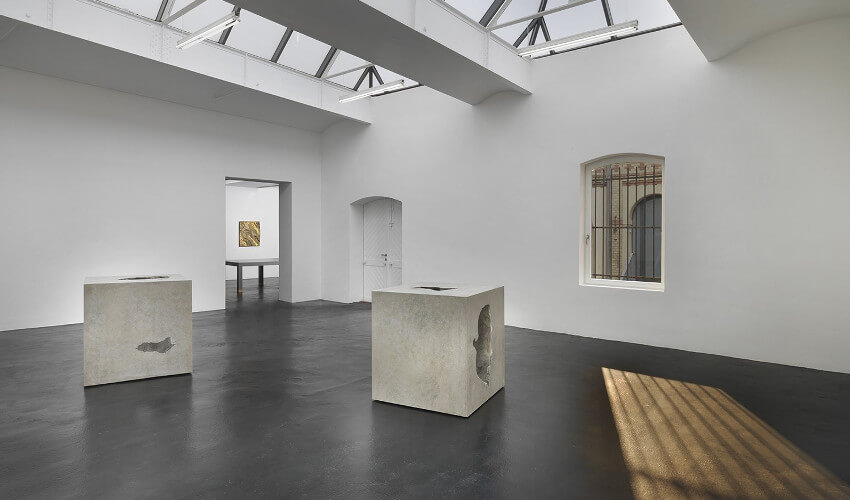 Olafur Eliasson - The presence of absence, installation view, neugerriemschneider, Berlin, 2016, photo by Jens Ziehe
Gardenshow, König Galerie, Berlin
On view through 30 September 2017
This exhibition transforms the former garden of St. Agnes Church in Berlin into a place of contemporary aesthetic discovery. Originally designed by the Royal Garden Academy, the garden is now occupied by new stone, metal, wood and glass sculptures by Alicja Kwade, Katharina Grosse, Elmgreen & Dragset, Michael Sailstorfer, Jeppe Hein, David Zink Yi, Erwin Wurm and Tatiana Trouvé.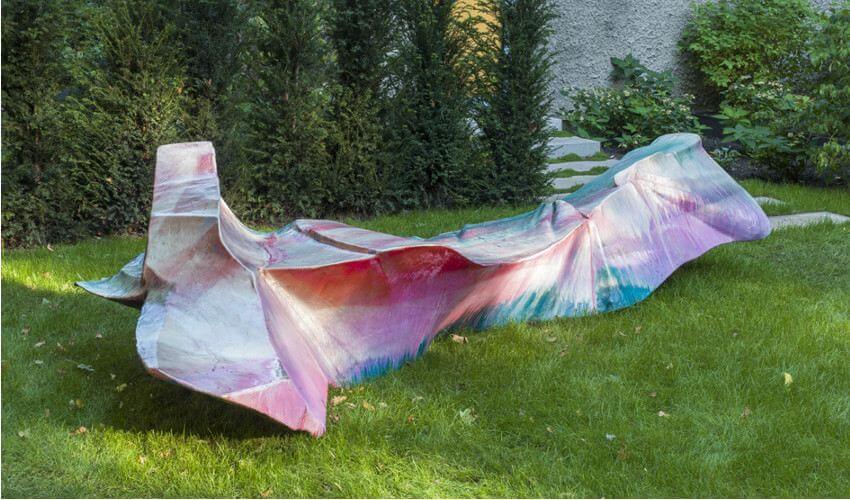 Gardenshow at Konig Galerie, Berlin, 2016, photo credits of Konig Galerie
Kishio Suga, Dia:Chelsea, New York
On view through 29 July 2017
A founding member of the Mona Ha movement in Japan in the 1960s and 70s, Kishio Suga has spent his career investigating the relationship between the materials of the natural and industrialized worlds. In addition to multiple new works created especially for this exhibition, Suga has recreated his 1973 installation Placement of Condition, which features an assortment of precariously balanced stone monoliths. This is his first solo museum exhibition in the US.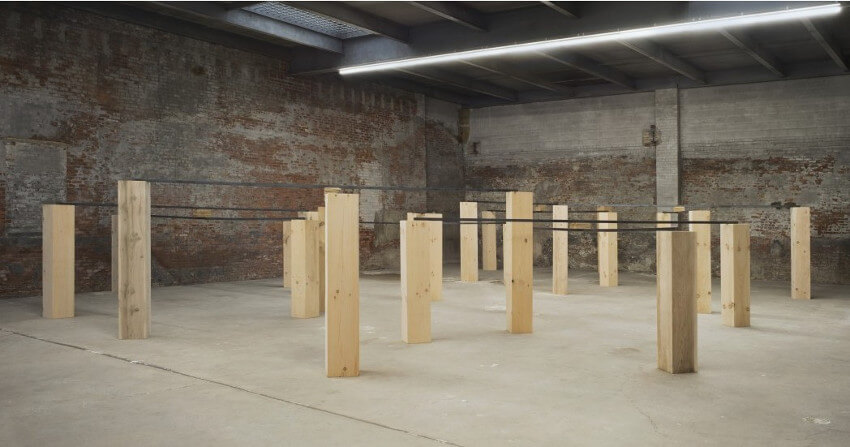 Kishio Suga - Law of Halted Space, 2016, NYC, photo credits of the artist, photo by Bill Jacobson Studio, NY
Cinthia Marcelle, Education by Stone (2016), MoMA PS1, Long Island City, New York
On view through 5 March 2017
Brazilian artist Cinthia Marcelle is known for her interventions, planned interactions with the unsuspecting ordinary world designed to result in unexpected aesthetic phenomena, which she photographs and films. She is also known for her installations and environments, which poetically address the actions and artifacts of human activity. For this installation, she has filled the multitude of cracks and fissures within the brick walls of the gallery, a former educational space, with chalk.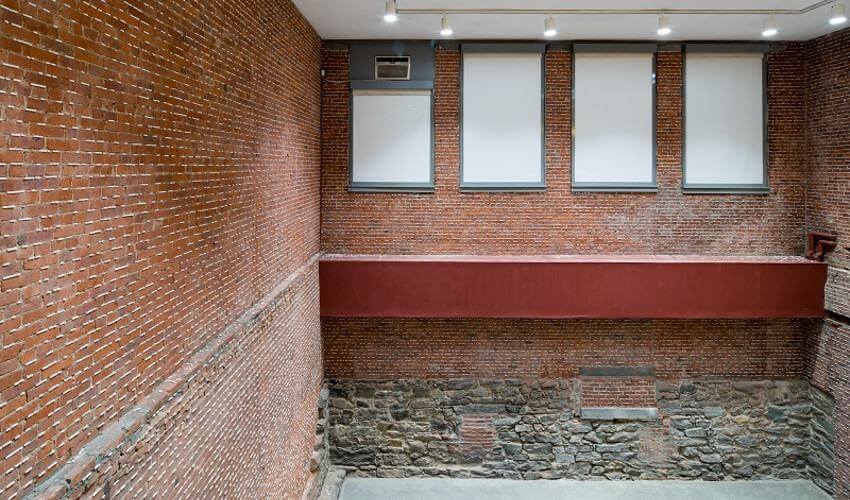 Cinthia Marcelle - Education by Stone, 2016, MoMA PS1, Long Island City, New York, photo credits of MoMA PS1
Featured image: Rodrigo Braga - Inland Sea (detail), Palais de Tokyo, Paris, photo credits of Palais de Tokyo
By Phillip Barcio