Blog Home
What Per Kirkeby Left Behind
May 16, 2018
News broke this week that the Danish artist Per Kirkeby died at age 79. His death comes as a huge loss to the contemporary art world, though at the same time his long time fans also realize that the work to which Kirkeby devoted his life dealt frequently with the inevitability of death. In the catalogue for his 2015 solo exhibition at The Gallery at Windsor in Vero Beach, Florida, the artist wrote, "The history of a species is not very long … A couple of cosmic weeks. All the leaves finally fall. And many cosmic years go by and finally the tree itself dies. What will become of the world?" His words may have only been intended to be contemplated in concert with the brooding, dramatic compositions that hung on the walls. Yet they also made a larger statement about the fleeting nature of all life, and the ephemeral nature of goals. Another quote from Kirkeby: "The role of art is to accept that things break down. That is the only way to get something new to emerge." It was his deep awareness of our connection to the processes of nature—the endless cycle of destruction and creation—that made Kirkeby one of the leading Neo-Expressionist painters to emerge in Europe in the 1980s. That awareness also helped him extend his influence far beyond the limitations of that single movement. His work was not about one particular aesthetic position, nor one particular medium, nor mode of expression. It was about human feeling: about communicating the raw, brutal, and purely emotional realities of existence. The abstract landscapes Kirkeby painted appear either to be in the midst of becoming something new or in the midst of falling apart. They are pictures of evolution, and they shine a particularly bright spotlight on the strange beauty of things when they meet their end.
Surface Is Space
Kirkeby once referred to himself as a sort of farmer. He said, "My canvas is the plot of land and my colors—that is, the matter of paint itself—are the soil, the flower beds, with their different components and varying textures." It does seem to be true that when we look out at the countryside we only see the ground and the sky—two surfaces meeting each other at the horizon. But true farmers see the ground not as a surface, but as an entry-point to an underworld of immense depth; and the sky as a vast arena in which endless meteorological dramas play out. To farmers it is all one interconnected universe. Likewise, Kirkeby saw the canvas not just as a surface, but as the entry-point to an endless inner space. While painting, he sowed open that layer, turning over the underworlds of the composition. He nurtured spatial illusions that would in turn nurture our eyes, feeding our minds with glimpses of the unknown mysteries of life.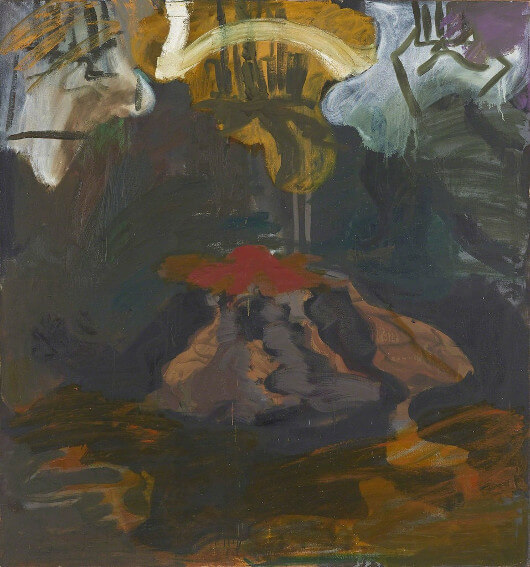 Per Kirkeby - Untitled, 1989. Oil on canvas. 57 × 53 1/4 in. 144.8 × 135.3 cm. Michael Werner Gallery, New York, London. © Per Kirkeby
And yet, one of the paradoxical things many people mention about his paintings is that despite the open, illusionistic worlds that seem to be expanding within them, something about them also stops viewers from ever really being able to penetrate those inner worlds. Kirkeby once commented on this aspect of his work, saying that he felt his own paintings were somehow simultaneously inviting and repelling. The way he put it is that when people try to enter his paintings they hit their head against a wall. It is as if despite his desire to open his paintings up, like deep inner worlds, they ended up acting more like windows. We viewers stand so close to the complex, inviting, mystical universe they contain, but we can only look into this private space, without ever being able to completely enter it.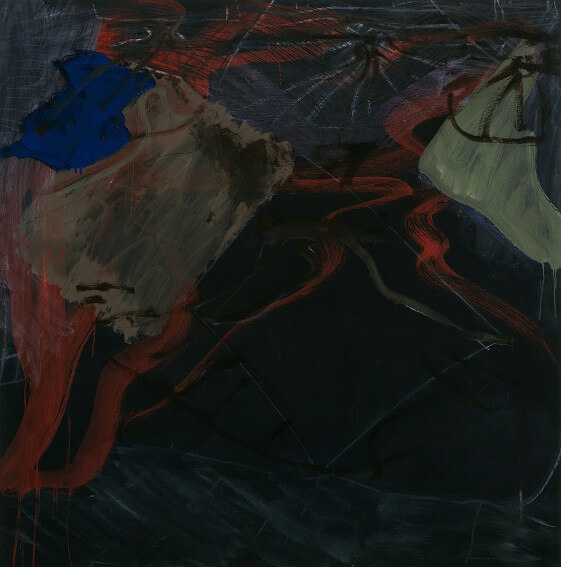 Per Kirkeby - Untitled, 1991. Mixed media on Masonite. 48 × 48 in. 121.9 × 121.9 cm. Michael Werner Gallery, New York, London. © Per Kirkeby
Creating Is Destroying
The mutually inviting and repelling nature of the work Kirkeby did leant it the attitude of enigmatic poetry. Equally poetic was his color palette—dark reds, browns, grays, and blacks, same as the color palette of fire and brimstone, lava and rock. This was not an accident. Before attending the Eks-skolen (Experimental Art School) in Copenhagen, Kirkeby first earned his Masters of Education Degree in Arctic Geology. He was intimately familiar with the churning, boiling, underlying forces that are constantly at work beneath the surface of the land. He intended his work to remind us of our own mortality, and of our connection to everything else that lives and dies in the natural world. It is strangely beautiful, in fact, that although it transpired in Copenhagen 7,000 miles away, his passing coincided with the eruption of the Kilauea volcano on the big island of Hawaii.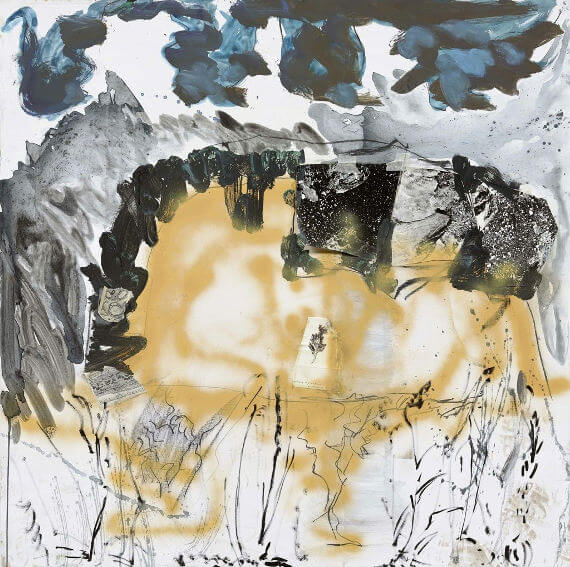 Per Kirkeby - Untitled, 2013. Mixed media on Masonite. 48 × 48 in. 121.9 × 121.9 cm. Michael Werner Gallery, New York, London. © Per Kirkeby
Take a moment and do an online image search for the abstract landscape paintings Kirkeby made, and then do another search for aerial pictures of the dozens of fissures that have recently been opening up in the ground and spewing forth lava around Kilauea. It is as if the earth itself is picking up where this geologist-turned-artist left off. Throughout his career, Kirkeby never talked publicly about the fear of death. He celebrated the knowledge he had that all things in this world are in a constant state of creative destruction. His paintings unfold in protean layers, as disparate, unstable elements collapse in on themselves, like cracks opening up in the surface of a lush hillside, swallowing up trees and homes. His sculptures declare themselves as physical explorations of elemental forces, and manifestations of geologic power. Each work Kirkeby made expresses the feeling that something in the midst of falling apart has been suspended at the point of no return—a transformational moment of tension held together in a frozen moment in time. Now that he has died, it is wonderful to reflect on what he left behind—haunting images of collapsing landscapes becoming something new that also hint that there is something aspirational about our own roots within the constantly shifting ground.
Featured image: Per Kirkeby - Untitled, 2005. Tempera on canvas. 78 3/4 × 118 in. 200 × 299.7 cm. Michael Werner Gallery, New York, London. © Per Kirkeby
All images used for illustrative purposes only
By Phillip Barcio