Blog Home
Painting the Painting Itself - Abstract Artist Marcia Hafif Dies
Apr 25, 2018
Abstract painter Marcia Hafif has died at age 88. Despite being a prolific multidisciplinary artist who experimented with film, installation art, drawing and conceptual art, Hafif is remembered primarily for her monochrome paintings, the surfaces of which shimmer with light. Anyone who has ever looked deeply at one will recall not only the remarkable hues, but also the sensuality of the visible brushstrokes on the surface. Hafif layered paint on top of paint obsessively, building each surface towards some unknowable moment when it would exclaim its own completion. She was not painting content; nor was she really painting color. She was painting an explanation of what painting is, using a painting as a concrete definition of itself. Her methods have been called "zen-like" and meditative, because it was clear to anyone who watched her work that she calmly, methodically built up her surfaces. But her inspiration was not metaphysical, it was intellectual. She had an academic dedication to "painting the painting." Her attitude evolved in an era in which teachers filled aspiring artists with an inescapable awareness that they are being watched and analyzed by their colleagues. Hafif felt she had to validate her desire to be a painter to every artist who had come before her and to every artist who would come after her. She felt the responsibility to acknowledge her place in the apparently linear history of art. She wanted to prove that painting was still relevant; to breath into it new life. She put such pressure on herself in this respect that her legacy is not only one of art, but one of thought. Her writings are immensely informative for anyone who has ever wanted to get into the head of an "artist's artist," meaning someone whose work seems to have been almost entirely made for other artists to consider. Yet such was her talent that despite the intellectual nature of her work, her methods nonetheless produced an oeuvre that transcends its academic roots to become an iconic reminder of the simple, universal, and timeless qualities of paint.
Beginning Again
In 1978, Hafif published an essay in Artforum titled "Beginning Again." Its opening sentences reveal a tortured mind, ravaged by worry about its own desire to create art. They read, "The options open to painting in the recent past appeared to be extremely limited. It was not that everything had been done, but rather that the impulses to create which had functioned in the past were no longer urgent or even meaningful." Her contemporaries were declaring that painting was dead. How horrible for a painter to hear such a thing, that the activity they are compelled to spend their life doing is dead! As the rest of this formative essay makes clear, that belief in the demise of painting was based not only on the hyper-awareness that humans have been painting for tens of thousands of years and had thus made it very difficult to make an original painting, but also a belief that the reasons humans painted had somehow changed.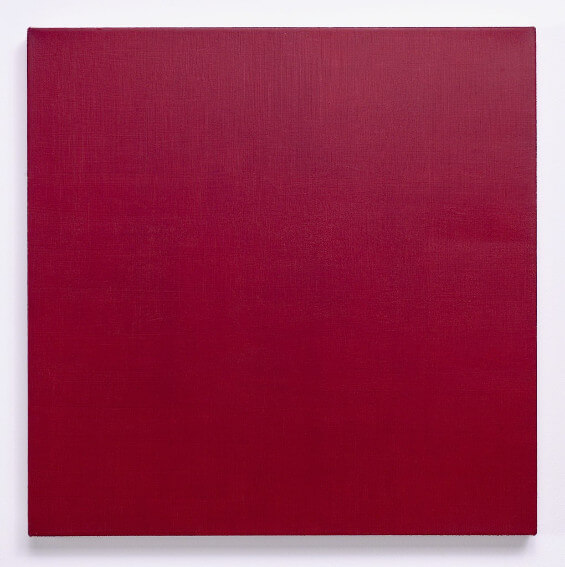 Marcia Hafif - Glaze Painting: Rose Madder Deep, 1995, Oil on canvas, 22 × 22 in, 56 × 56 cm, © Marcia Hafif and CONRADS Düsseldorf
Hafif and her contemporaries outsmarted themselves by falsely thinking they needed different reasons for making art than every other generation of humans had that preceded them. Objective reasoning proves that theoretical starting point, which led Hafif to write "Beginning Again," is flawed. Artists owe nothing to history; they owe nothing to academia; they owe nothing to any institution; they owe nothing to each other; they owe nothing any particular viewer. A painter is as free to simply paint as a dancer is free to move their body. Dancing will never die; neither will painting. Happily, despite the absurdity of the mindset that dominated academia when Hafif was in school, she had the intellectual strength and will to free herself from its burden. "Beginning Again" is a treatise on how to break down painting, to understand what it objectively is. It is an argument in favor of going back to the roots of painting without the need to worry whether it is relevant.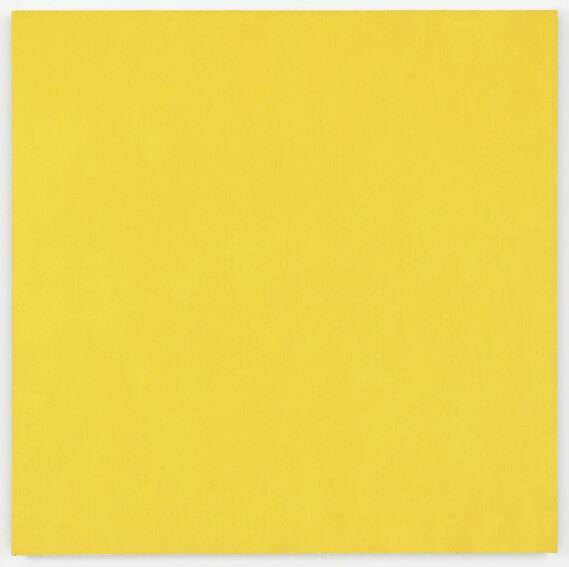 Marcia Hafif - Mass Tone Paintings: Hansa Yellow, March 12, 1974, 1974, Oil on canvas, 38 × 38 in, 96.5 × 96.5 cm, Richard Taittinger Gallery, New York, © Marcia Hafif
The Endless Method
With her monochromes, Hafif developed a method to make painting young again. When there was nothing else to paint, she could always paint a painting of paint. Most of her series are limited to square surfaces of the exact same dimensions. She limited herself, and through those limitations, she was free to explore the depth of her medium and her technique. Along the way, she frequently had other ideas about what she wanted to achieve as an artist. She made wall paintings, grid drawings, and engaged in conceptual performances. Two of her most impactful works were text based. One was an installation she created in 1976 at P.S.1 titled "Schoolroom," for which Hafif wrote an erotic passage in cursive text in chalk on chalkboards. The other was a revisitation of that work in 2013, titled "From the day a woman…," which consisted of a cursive expression of the sexuality of a woman after menopause.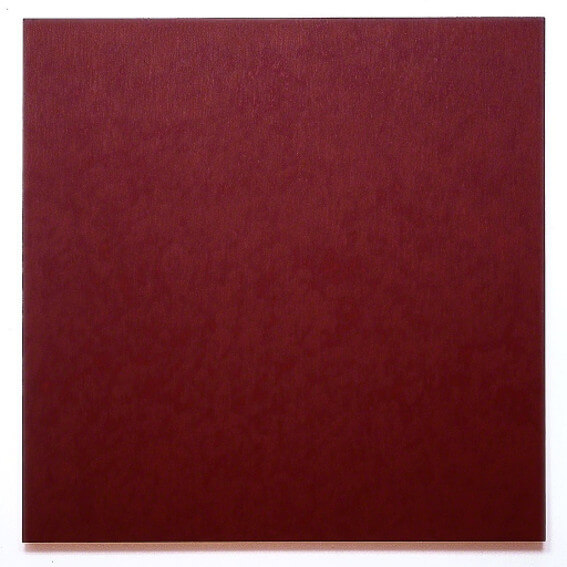 Marcia Hafif - Red Painting: Paliogen Maroon, 1998, Oil on canvas, 26 × 26 in, 66 × 66 cm, © Marcia Hafif and CONRADS Düsseldorf
It would make me feel sad to imagine that Hafif spent her entire career feeling concerned about whether her paintings were valid or relevant, or whether they stacked up against some imagined idea of sophistication and taste. That might, however, have been the case, as evidenced by the fact that she called her work "inventory," a commentary that art is nothing but a commodity. Nonetheless, regardless of her own thoughts on the matter, she left behind one of the truly iconic bodies of abstract painting created in the past half century. When I look at her monochromes, I feel soulful and inquisitive. They are both tense and harmonious. Rather than seeing them as nothing more than the anxious relics of a tortured genius, I choose to also see them as proof that artists can free themselves from the agonizing pressures of the art world by discovering and then surrendering to whatever method works for them.
Featured image: Marcia Hafif: The Italian Paintings, 1961-1969, installation view at Fergus McCaffrey, New York, 2016. Courtesy Fergus McCaffrey, New York. © Marcia Hafif
All images used for illustrative purposes only
By Phillip Barcio