Blog Home
The Most Typical Abstract Art Techniques
Jun 28, 2016
Prior to the rise of Modernist abstract art, most art techniques were developed with one objective in mind: to help artists more accurately mimic reality in their work. Once the quest for mimicry began fading in importance, artists were no longer limited by the existing techniques. They could modify them or abandon them altogether in search of new ways to achieve the goals of non-objective art. Since abstract art is founded on the principals of freedom and inventiveness new techniques are being invented all the time, so no list of abstract art techniques can ever be exhaustive. But here's a rundown of eight common Modernist art techniques that abstract artists often use.
Action Painting as one of the Most Radical Art Techniques
The heading of action painting actually incorporates a number of different tendencies including splatter painting, drip painting and gestural mark making. The Abstract Expressionists originated this technique. The goal of action painting is to inject spontaneity and physicality into the painting process. Some critics accuse action painters of making work that's chaotic and uncontrolled, but painters such as Jackson Pollock , the primary founder of action painting, maintained that their work was not chaotic but rather was guided and intuitive. Thanks to the iconic works made by action painters like Pollock, Willem de Kooning and Franz Kline, action painting is one of the most common and easily recognizable abstract art techniques today.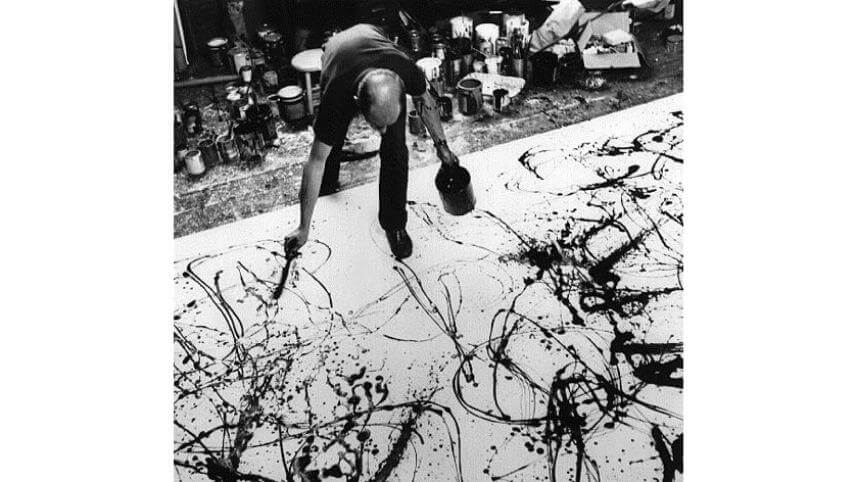 Jackson Pollock at work on an action painting
Collage
Most collages are made with paper, but any two-dimensional artwork that's made by adding a combination of materials other than liquid medium onto its surface can be called a collage. The first Modernist artists to incorporate collage into their works were the Cubists, namely Pablo Picasso and Georges Braque. Though many consider their Cubist collages to be abstract, they maintain that they were actually attempting to more accurately depict reality, as the mind perceives it, by adding elements of the objective world to their images. Many other abstract art movements since have also famously included collage, such as Dadaism and Abstract Expressionism.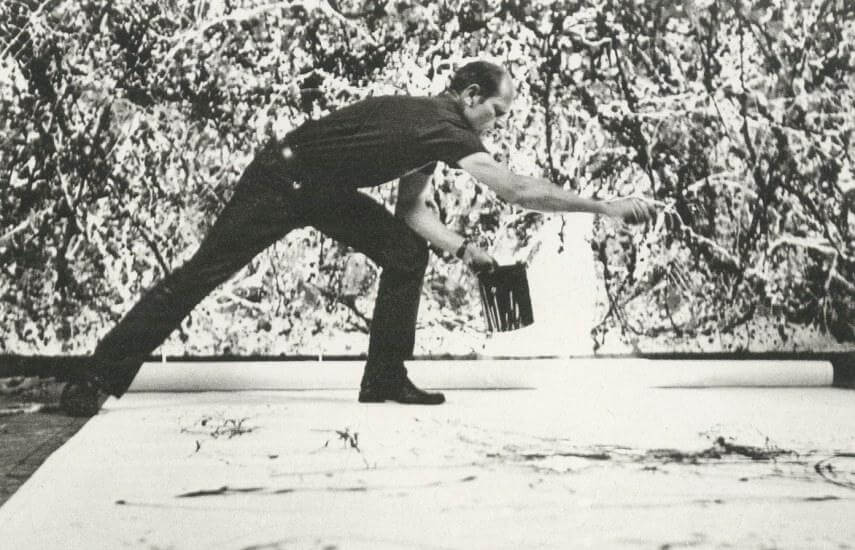 Jackson Pollock at work
Decollage
Essentially the opposite of collage, decollage is an art technique that involves cutting or tearing away elements of an original image. In an abstract decollage, an artist might first add layers of paper to a surface and then use tools or their hands to remove parts of the various layers in order to create an abstract composition. Often, public surfaces where people post bills begin to resemble decollages as the layers of posters decay and get torn away over the years.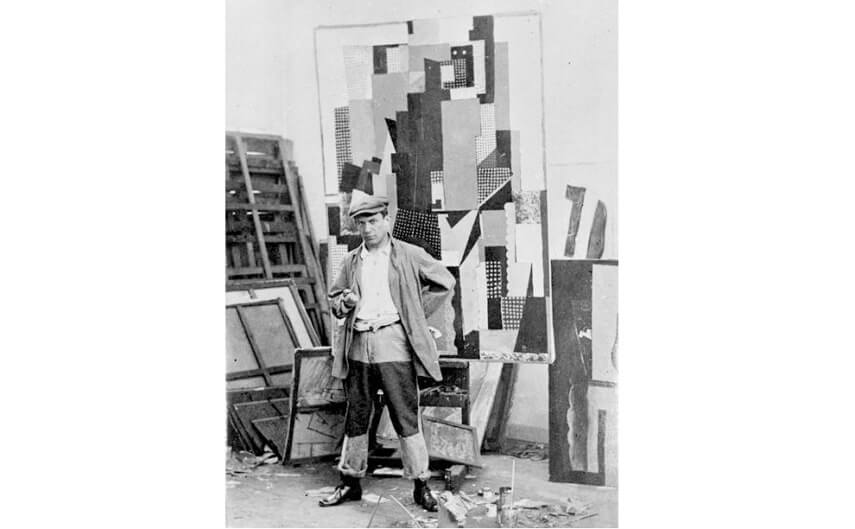 Picasso in his studio, inventing Modernist collage
Staining
In the 1950s, Helen Frankenthaler invented what she called the "soak stain" technique. It involved pouring thinned painting medium directly onto unprimed canvas. By not priming the canvas first, the medium spread out from where it was originally applied, creating organic swaths of color that revealed no brush marks or other remnants of the artist's hand. Staining was soon adopted by many other abstract artists, especially Morris Louis and Kenneth Noland, and helped to inspire what came to be known as Color Field painting.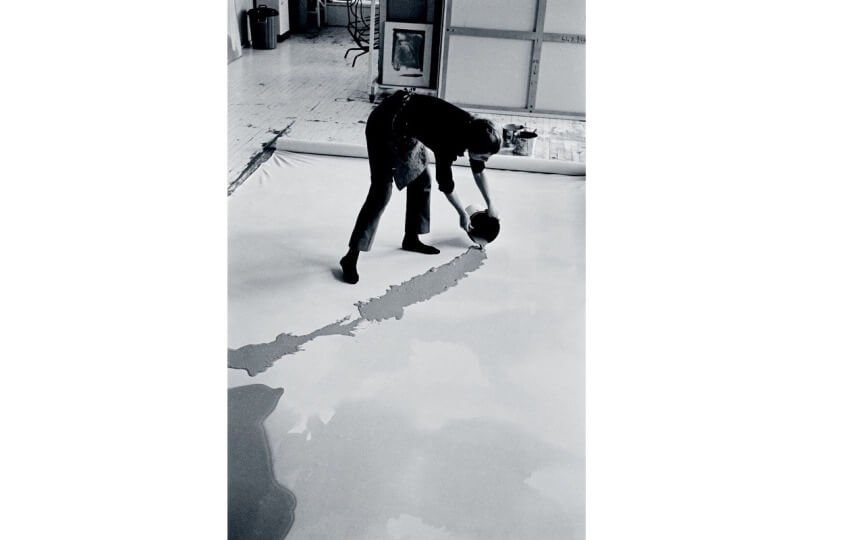 Helen Frankenthaler in her studio mastering her soak staining technique
Fabrication
When you have something fabricated that means that you have it manufactured, usually by way of an industrial process. The Minimalists were the most famous abstract artists to intentionally adopt the widespread use of fabrication as an art technique. One of the key objectives of Minimalism was to eliminate any reference to the artist's ego. Minimalist artists would design their aesthetic objects and then have them fabricated out of industrial materials by other parties. Fabrication of abstract art raises questions of the importance of the artist actually making work.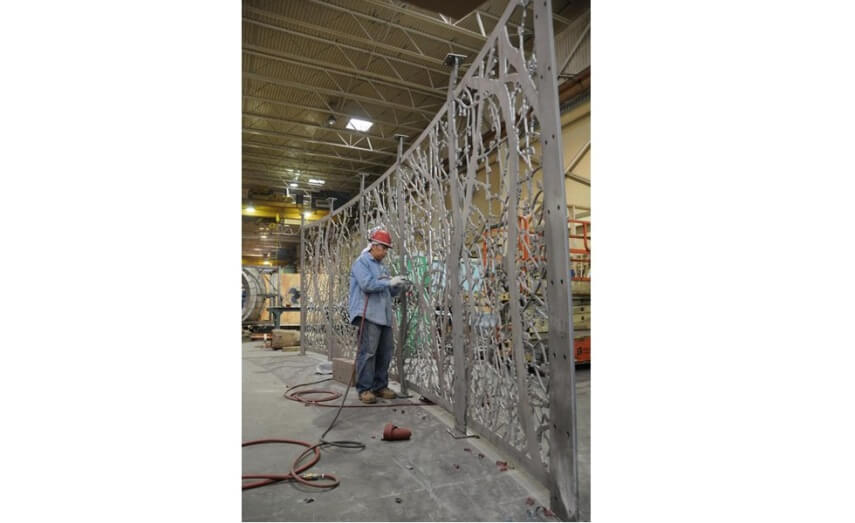 The Process of Fabrication
Assemblage
As an art technique, assemblage is considered the opposite of sculpture. Sculpture is the act of creating a form through carving a material such as wood or stone or by casting it out of a material such as plastic or metal or by shaping it out of a material such as clay. In an assemblage, the artist creates a three-dimensional form by combining disparate elements together. An abstract artist famous for using the assemblage technique was Robert Rauschenberg, who used it to create his famous "combines."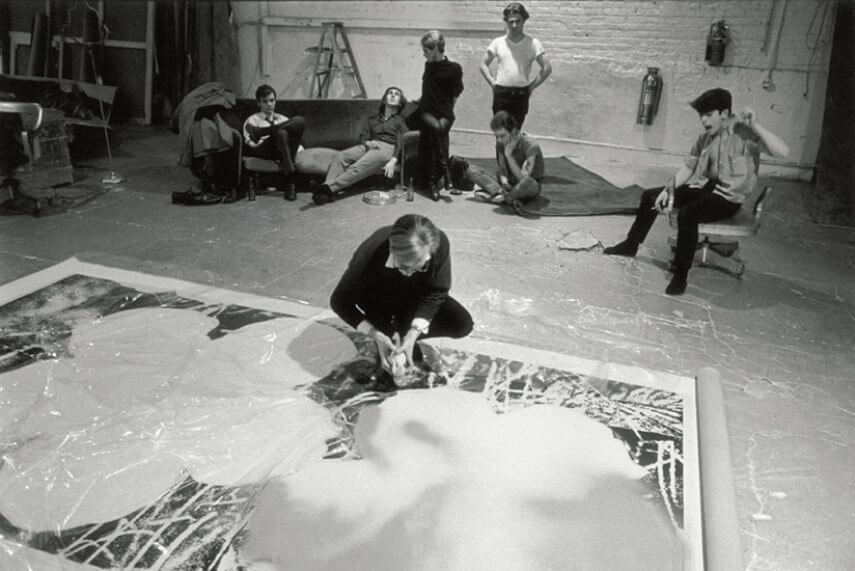 Andy Warhol in his studio, "The Factory," in 1965 working on his iconic screenprint "Flowers"
Printmaking
A print is any two-dimensional image transferred onto a surface from a previously prepared matrix. There are multiple ways to make a print, including lithography, woodcuts, etching, screenprinting and digital printing. As an art technique, printmaking allows an artist to create an image ahead of time and then make multiple copies of it. Aside from digital prints, most copies of prints are not actually identical because most printmaking procedures create inconsistencies due to minor flaws and changes in the surface of the original plate, from which the prints are made. Those inconsistencies are vital to the individual uniqueness of signed and numbered prints. Inconsistencies were a major aesthetic concern of Andy Warhol, who extensively relied on printmaking and other mechanical processes in his work.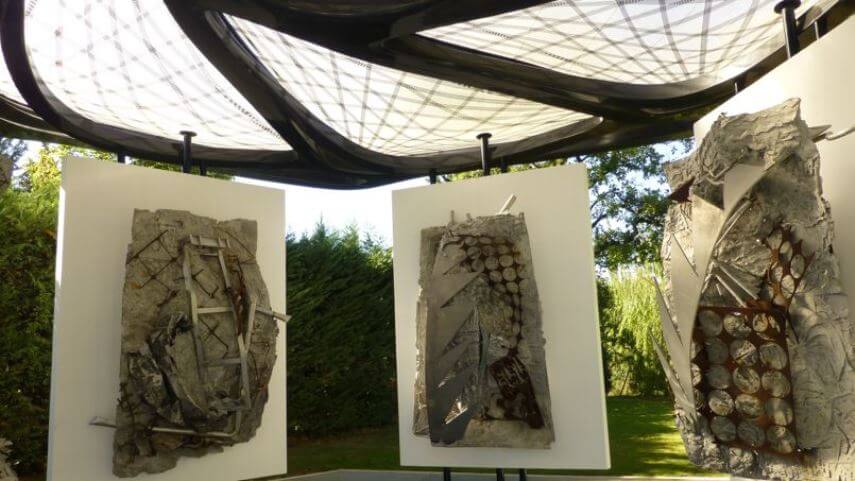 Interior view of three of the relief pieces at the Frank Stella Chapel in France
Relief
The relief technique involves sculpting an image from a two-dimensional surface so that the sculpted image protrudes out of the surface of the work. Sometimes other materials and elements are added to a relief in order to create what is called a composite relief, which is like a combination of relief and collage. The artist Frank Stella has long included composite relief into his multi-disciplinary practice. Six of his large-scale composite relief works are located on the grounds of the Venet Foundation in France in a permanent outdoor installation called the Frank Stella Chapel.
Featured Image: Robert Rauschenberg (on the right) working with Billy Klüver, an electrical engineer from Bell Telephone Laboratories, on Rauschenberg's assemblage "Oracle" in 1965
All images used for illsutartive purposes only
By Phillip Barcio