Blog Home
Icon of the Late Abstract Expressionism, William Scharf, Has Died
Feb 7, 2018
American abstract painter and educator William Scharf has died at age 90. Scharf is often categorized either as an Abstract Expressionist or as a Color Field artist. Each of those labels has some claim to authenticity. After serving in the U.S Army in World War II, Scharf spent five years studying art, mostly at the Pennsylvania Academy of the Fine Arts. He moved to New York in 1952 to be a full-time artist. At that time, Abstract Expressionism was the prevailing trend, and Scharf absorbed himself in the scene. He also befriended the great Color Field pioneer Mark Rothko in the 1950s. Rothko mentored Scharf and instilled in him an appreciation for the emotive power of color. The two became so close that in the early 1970s, Scharf even helped with the Rothko Chapel in Houston—a landmark of Color Field painting, and one of the most important destinations in the world for lovers of abstract art. But despite those undeniable roots in both Ab Ex and Color Field painting, the oeuvre Scharf built over the course of his life defies such easy descriptors. His work is indeed colorful—even luminous. And his gestures are expressively lyrical, intuitive and abstract. But his vision is almost Baroque in its ability to narrate emotion. Scharf was a master of evocation and suggestibility; he channeled color and form into compositions with mysterious mythic qualities. He assigned his works titles that let us know of his intent to tell stories—poetic tales full of feeling, which cannot help but hint at the meaning of the work.
Adventures in Exploration
The first feeling I have when looking at a painting by Scharf is fun. I do not mean the paintings are whimsical, or easy. They are often neither of those things. I just mean I feel like the image is inviting me on an adventure. His 1956 painting Of the Square and by the Night possesses the color palette of a city street seen through car windows. Red, white, blue and black forms mingle and seem to bounce around before the eye. Biomorphic blobs resemble street lights, moons and stars. Geometric shapes evoke buildings and signs. On the left side, an enigmatic assemblage of red markings hints at the presence of a being.
This picture feels alive and exciting, like a night on the town. It is obviously abstract, but its title, and more importantly its energy, open up doors to narrative possibilities. Its sense of adventure is something that remained present in his work as long as Scharf kept working. It is essential to his process, which embodied a childlike spirit of exploration. He once spoke about that feeling of making that first make mark on a blank page or a chalkboard as a child—that sense of possibility, of the ability to formulate new worlds in space. He called it, "explorations of a kind that could haunt and obsess the entire life of a painter."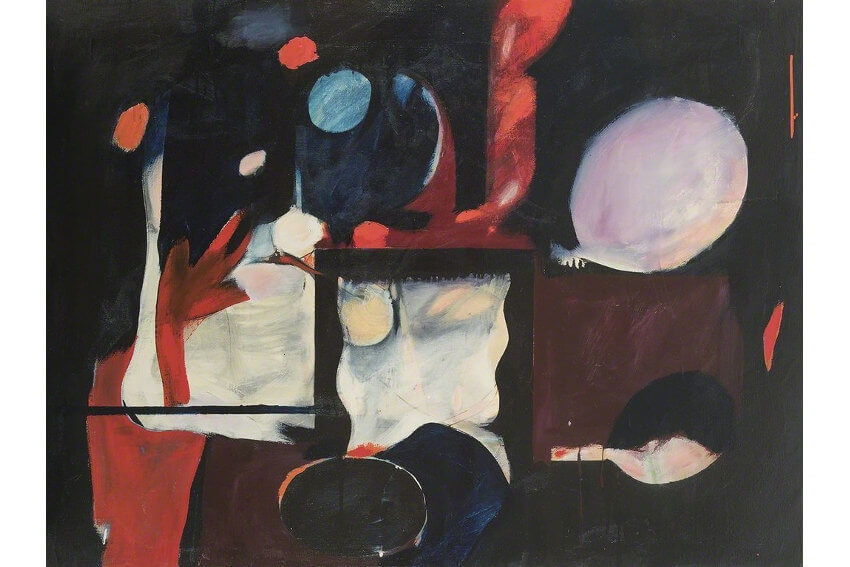 William Scharf - Of the Square and by the Night, 1956, Oil on canvas, 36 × 48 in, 91.4 × 121.9 cm, Hollis Taggart Galleries, New York, © 2018 William Scharf
A Dreamlike Glow
Another instantly recognizable power Scharf possessed was the ability to coax phosphorescent luster out of his paints. He spent his entire career working with acrylics. When you buy a new tube of acrylic paint at the store, the medium has its own glow—pure pigment. But as anyone who has ever worked with paint knows, the second the artist begins to play with that color, to mix it in search for the perfect hue, it loses its luminosity. Sometimes it turns to the color of dirt. Almost never does it retain its original shine. But rarely, out of luck or because of skill, an artist brings even more light out of paint.
To see for yourself the dreamlike radiance Scharf seduced from his mediums, visit the website of the Smithsonian American Art Museum, which owns ten paintings by Scharf in its collection. In person, they are even more brilliant, and more complex. Up close you can see that even though Scharf retained the gestural quickness and energy of his early influencers, there was nothing haphazard or accidental about his work. These layers have depth—yet they convey a simplicity and freshness, as though they just floated into space out of the mind of a visual storyteller.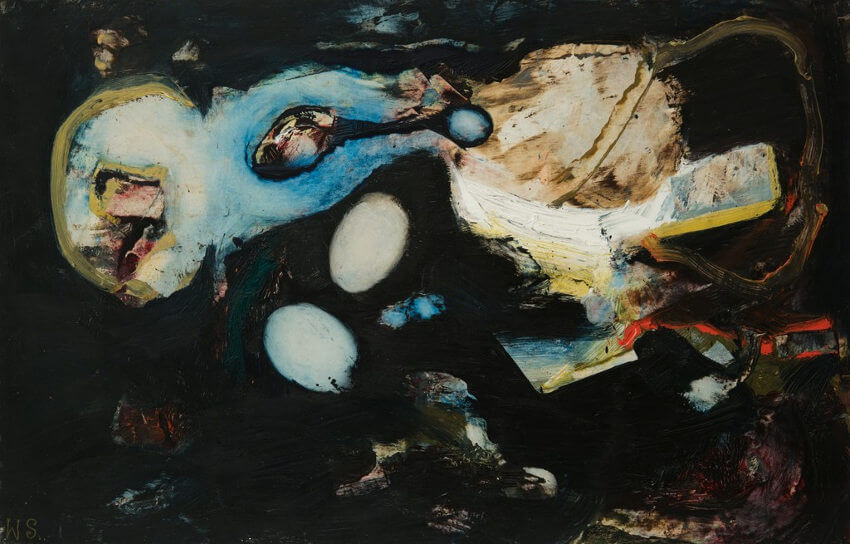 William Scharf - Night Move, 1964, Oil on paper mounted to board, 12 1/2 × 19 1/2 in, 31.8 × 49.5 cm, Hollis Taggart Galleries, New York, © 2018 William Scharf
An Artist Amongst Artists
Beginning in 1950, Scharf never stopped exhibiting. His works are in the permanent collections of dozens of important institutions, including the Philadelphia Museum of Art, the Boston Institute of Contemporary Art, and the Museum of Modern Art (MOMA) and Solomon R. Guggenheim Museum in New York. Nonetheless, his public reputation is limited. His is not a household name, despite his success and the obvious allure of his work. He was what is sometimes called an artist amongst artists—a strange compliment that speaks to the influence Scharf had overhis contemporaries as well as over three generations of students.
Scharf began his teaching career in 1964 at the MOMA Art Center in New York. He went on to teach at the School of Visual Arts in New York, the San Francisco Institute of Fine Arts, the prestigious Art Students League, where he taught from 1987 until he died, as well as the Pratt Institute, Stanford University and the California College of Arts and Crafts in San Francisco. What is said about his teaching is high praise—that he helped his students achieve the best possible version of themselves. Especially in the competitive art market of today, when following trends or not can mean the difference between fame and anonymity, the ability Scharf had to allow his students to find themselves was precious. His respect for individual vision is what allowed him to create a body of work that is undefinable. It is also what extends his legacy beyond the limitations of his time.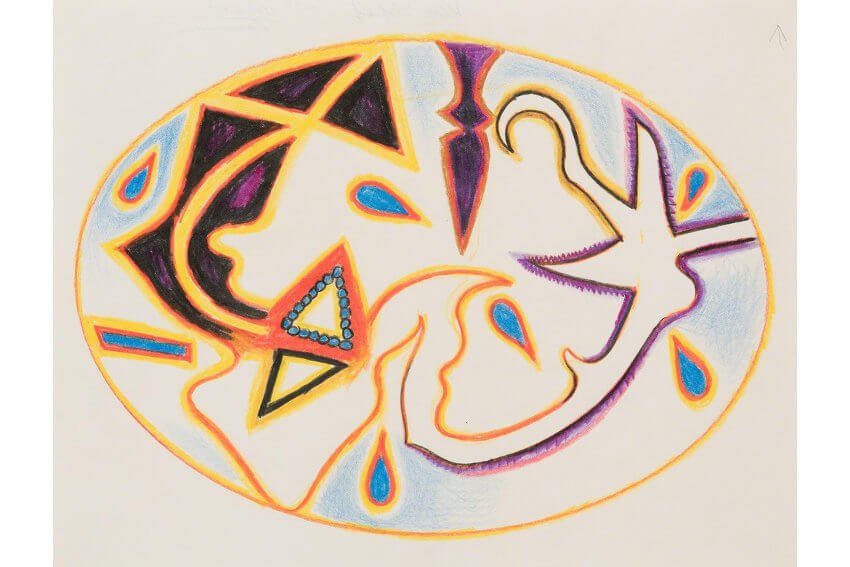 William Scharf - Untitled, 1985, Colored pencil on paper, 8 1/2 × 11 in, 21.6 × 27.9 cm, Hollis Taggart Galleries, New York, © 2018 William Scharf
Featured image: William Scharf - To Golden Wreath, The Geometric Smile, On the Trance Branch (From left to right), n.d., 2001, 2007 (From left to right), Acrylic on paper, 9 × 12 in, 22.9 × 30.5 cm, Hollis Taggart Galleries, New York, © 2018 William Scharf
All images used for illustrative purposes only
By Phillip Barcio