Blog Home
The Abstraction Shining in Neon Art
Mar 22, 2017
Zdenek Pesanek was the first to make neon art. Pesanek was a kinetic artist known previously as the inventor of the Spectrophone, or color piano. His earliest neon works were abstract sculptures, assemblages of machinery and dismembered human torsos with neon tubes wrapping around and jutting outward from the forms. By the time Pesanek pioneered neon tubes an artistic medium they had already existed for decades, buzzing and flashing and attracting human eyes like moths to a flame since 1910. And though for a different cause, Pesanek partially used neon the same way: to create a spectacle. But there was more to his neon sculptures than simple flash. Pesanek sensed that light possesses a deeper value as an aesthetic tool, and that neon is a particularly special form of light, unique in its medium specificity. Following in his footsteps, multiple generations of artists have taken their shot at exploring what else neon might offer abstract art. Today, after nearly a century of neon art, we are still far from realizing the full potential of this fascinating medium.
Mystic Truths
A walk through almost any international art fair today will likely reveal dozens of examples of neon art. But in all likelihood, the vast majority of them will be similar: they will consist of text—words and/or numbers written in various neon fonts, hung on a wall. This is unquestionably the most common trope in contemporary neon art: write something in neon then dare the audience to try to figure out if it is supposed to be read literally, satirically, ironically, abstractly, conceptually, poetically, or whether it is intended to be read at all.
The artist we have to thank for the words-in-neon proposition is Bruce Nauman. His 1967 installation The True Artist Helps the World by Revealing Mystic Truths, which presented that exact sentence in neon letters on a sign hanging in the window of a former storefront in San Francisco, is credited with establishing the tendency. Nauman wanted viewers to do more than simply read the work. He intended the piece to be the opposite of typical neon signage hanging in other store windows in the neighborhood at the time. Commercial signage is specific and direct. Art, Nauman believed, should be unclear.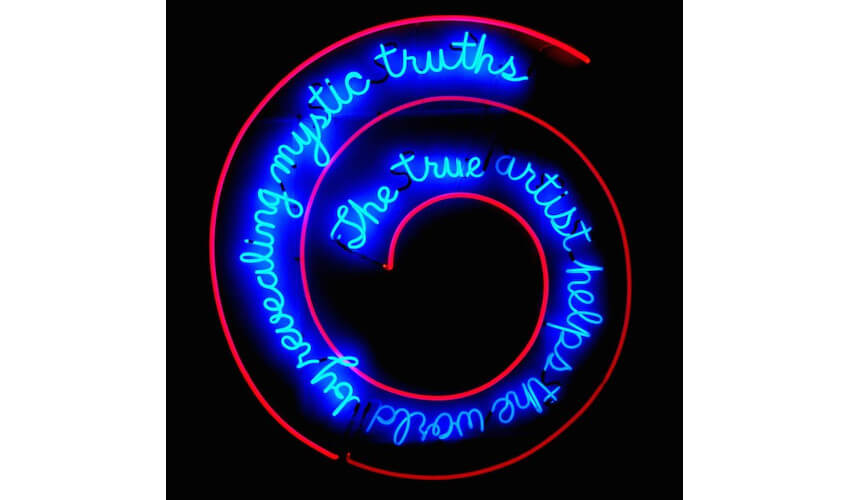 Bruce Nauman - The True Artist Helps the World by Revealing Mystic Truths, 1967, neon wall sign, © 2018 Philadelphia Museum of Art
Iconic Gestures
Several years before Bruce Nauman used neon in art, another light artist, Dan Flavin, used the medium in a more abstract way. Flavin was a painter and sculptor who had begun adding lights to his work in the early 1960s. His earliest light works, called Icons, were painted objects with incandescent light bulbs attached in various ways to their forms. In 1963, Flavin had a breakthrough when he created The Diagonal of May 25, 1963 (to Constantin Brancusi), his first work using fluorescent light.
Some people would not think of fluorescent light as being the same as neon light, but they are almost identical in their essential nature. Both are created when gas is activated by electricity. Neon light obviously comes from neon gas. But a neon light created using only neon gas will always be red. When other gasses, such as argon, are added, the color changes. Fluorescent lights contain a mixture of gasses, of which neon and argon are two. Another difference between neon and fluorescents is that neon lights are made using hand blown glass, whereas fluorescent lights are industrial products. Flavin embraced the industrial nature of fluorescents as key to the abstract nature of his work, a choice that aligned him and Robert Irwin—another artist who used fluorescents—with Minimalist artists like Donald Judd.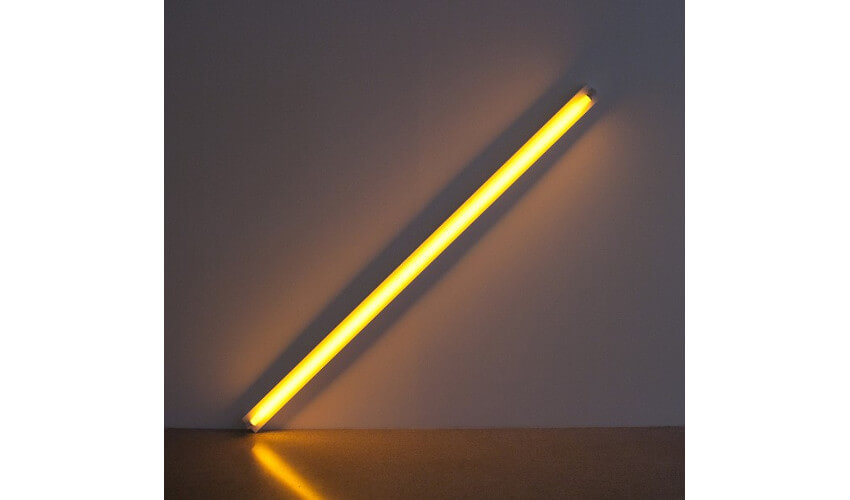 Dan Flavin - The Diagonal of May 25, 1963 (to Constantin Brancusi), 1963, fluorescent tube, © 2018 Dia Art Foundation
Contemporary Neon Art
A multitude of artists work with neon today. The majority, as we mentioned already, use it to make text. But they use the text differently than the proposition Bruce Nauman made with the medium decades ago. Contemporary neon text artists like Meryl Pataky, Robert Montgomery, Kelly Mark, Soledad Arias, Alexandro Diaz and Yael Bartana seem to intend for viewers to interact literally with the content of the language. They are making actual signs, advertising their thoughts as commodities. The medium specificity of neon is secondary, if not irrelevant. It begs the question: why make art? Why not just write?
One exception is Joseph Kosuth (b. 1945). Kosuth has been using words in his art for decades. Neon is just one medium that he has used in his work. Many of the text-based works Kosuth has created are intended to undermine our relationship to words as symbols. Kosuth uses the text in a conceptual sense, making works that resist meaningful interpretation by becoming self-referential. His neon sculptures incorporate the essential qualities of the medium, using color and light as both material and content.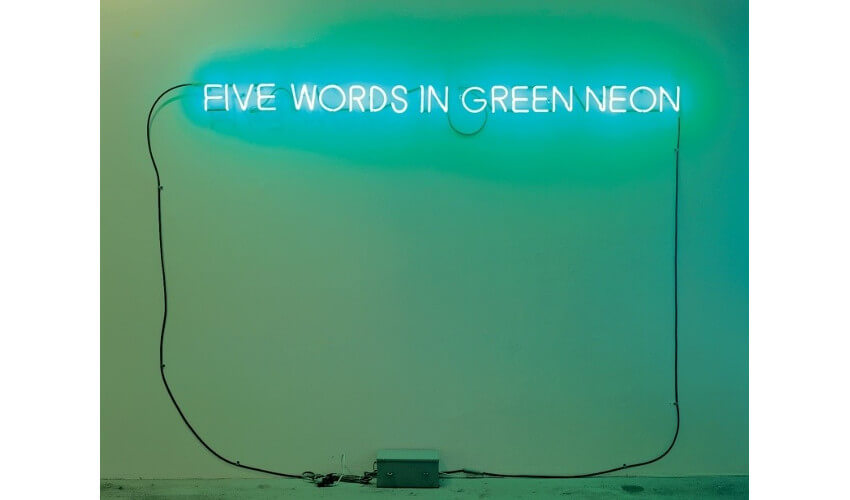 Joseph Kosuth - Five Words in Green Neon, 1965, neon tubes, © 2018 Whitney Museum
Pure Abstraction in Neon Art
Some contemporary neon artists are using the medium to make purely abstract art. Prominent among them is Leo Villareal, who uses neon as well as LEDs and traditional incandescent bulbs in his work. Villareal is notable for his monumental public installations, such as Multiverse, at the National Gallery of Art in Washington, DC, Hive, in a subway station in New York City, and The Bay Lights, a light installation that spans the length of the Bay Bridge connecting San Francisco with Oakland.
Villareal cites Dan Flavin as one of his primary inspirations, but he uses neon to achieve a much different end than Flavin. Villareal calls his artworks manifestations of the concepts of John Conway, the British mathematician who pioneered the field of recreational mathematics. He uses light, color and patterns to challenge the human tendency to seek rationality and predictability in randomness. Neon, fluorescents and LEDs are essential to his abstract ideas about modern technology and the ways people over-rely on it to create a world they can understand.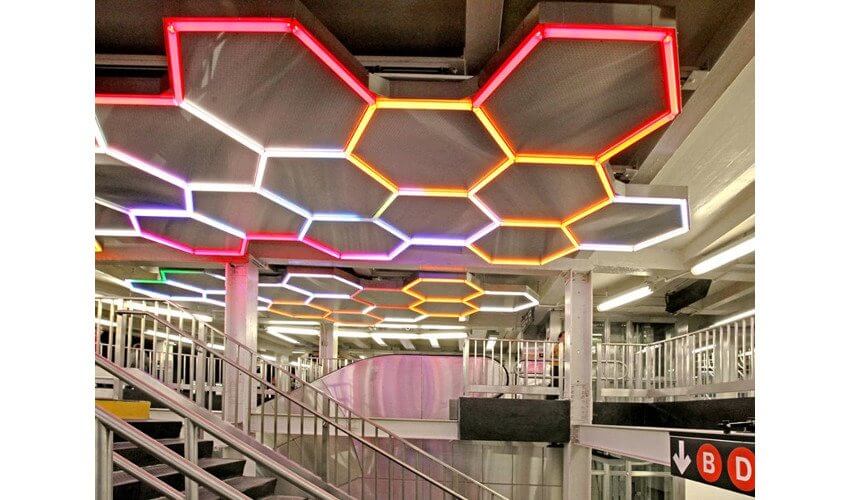 Leo Villareal - Hive (Bleecker Street), 2012
Other Abstract Neon Artists
Keith Sonnier, one of the most influential neon artists of the 1960s, is still experimenting with the medium in interesting ways today. Sonnier approaches neon in a fundamentally different way than do many of his contemporaries. He sees it as a force that interacts with the space around it, and admires its ability to affect its surroundings despite being confined within a tight vessel. As he says, "The light is a trapped gas. A gaseous light has more extension, and it begins to make color become volumetric." The installations Sonnier created in the late 1960s dealt with volume through skeletal neon forms that used the emanating light to fill out the imaginary space, referencing in a non-biological way the ephemeral, biological stuff of the natural world.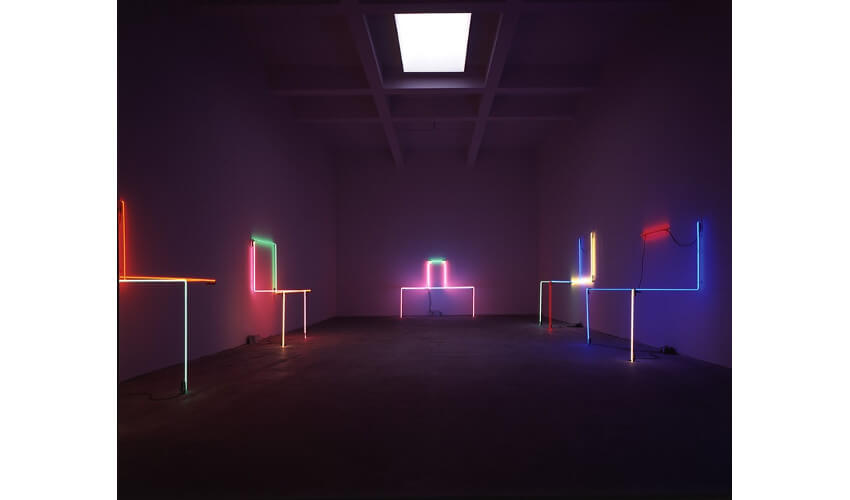 Keith Sonnier - Neon Wrapping Neon, installation at Ace Gallery, Los Angeles, 1968, © 2018 Keith Sonnier
Laddie John Dill is another contemporary neon artist who is using the medium in abstract ways. In his Sand Light installations, he builds environments out of sand that resemble mountainous landscapes. He then intertwines neon tubes into the environment, creating a spectral landscape where glass and its main component, sand, intermix with the natural forces of electricity and gas. The resulting aesthetic is at once geometric and biomorphic, scientific and poetic. Dill also uses neon to create what he calls Light Sentences. Rather than using text, these sentences use neon to create strings of abstract language based on relationships between different colors and intensities of light.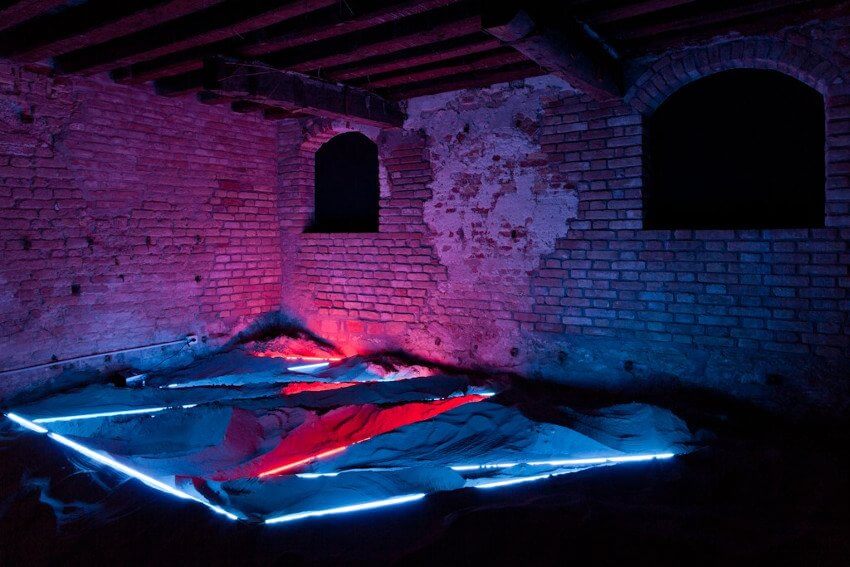 Laddie John Dill - Sand Light installation at Venice Biennale, 2011, © 2018 Laddie John Dill
The Future of Neon Art
Despite the large number of artists who have experimented with neon over the past century, and the multitude who are still experimenting with it today, there is still much more to discover about the abstract potential of this unique medium. It possesses so many intriguing qualities. Neon is dangerous, but not deadly. It contains mercury, but not enough to harm us. It could be a fire hazard, but is also one of the most benign and efficient forms of light.
Neon is also ethereal, lasting only about a dozen years when lit 24 hours a day and seven days a week. It can be seen from far away, and distance has a direct effect on how it is perceived by the eye. It is handcrafted, and yet highly scientific. It is fragile, fun, attention-grabbing, glowing and colorful. There are so many fascinating elements to this element, we are certain there is much more exciting abstract neon art to come.
Featured image: The first Neon Art: Zdenek Pesanek - One Hundred Years of Electricity, kinetic light sculpture, 1932-36
All images used for illustrative purposes only
By Phillip Barcio