Blog Home
Three of the Most Effective Ways to Light Your Art
May 5, 2016
"Let there be light" - if only it was that easy for abstract art lovers to display their collections optimally. Too much light and the intensity could overpower the artwork; too little and its beauty is compromised. In order to fully appreciate a work of abstract art, the way you light it must do it justice and maximize its effectiveness. When correct, we can often see new elements in a piece that we've never seen before; you might say you'll see the art in a whole new light. Removing glare and shadows is a high-end skill, to the point that the people responsible for ensuring an audience can optimally view an artist's work are considered artists themselves (lighting artists). But how can you light up your own abstract art collections without forking out for professionals? Here are some techniques used by galleries around the world. Learn something about fine art lighting.
Fine Art Lighting - Spotlights and Track Lighting
Like a performer on a stage, artwork is always the focal point; it owns the room and attracts all of the attention. In the same way that a singer is lit up during a solo verse, spotlights are also used to draw eyes to art. However, the background and surroundings of a painting or sculpture must be considered and manipulated to accentuate Abstraction.
A rule of thumb when lighting your abstract art collection is to ensure the light source assigned to the art is three times the intensity (or brightness) of the rest of the room. Another rule of thumb when it comes to spotlighting is to position the light at a 30-degree angle from the art to help reduce the amount of glare. For larger frames you can add five degrees, while you can reduce five degrees in order to accent texture.
Spotlights are placed in front of your art, and are attached to the ceiling more often than not. We recommend them for sculptures, acrylic paintings and unframed drawings. Depending on the size of your collection, you may require track lighting in order to cover all the bases. Track lighting is by far the most flexible way to light your art, as it contains several lights on one fixture which can be easily adjusted to optimally display one or more pieces of art from floor to ceiling.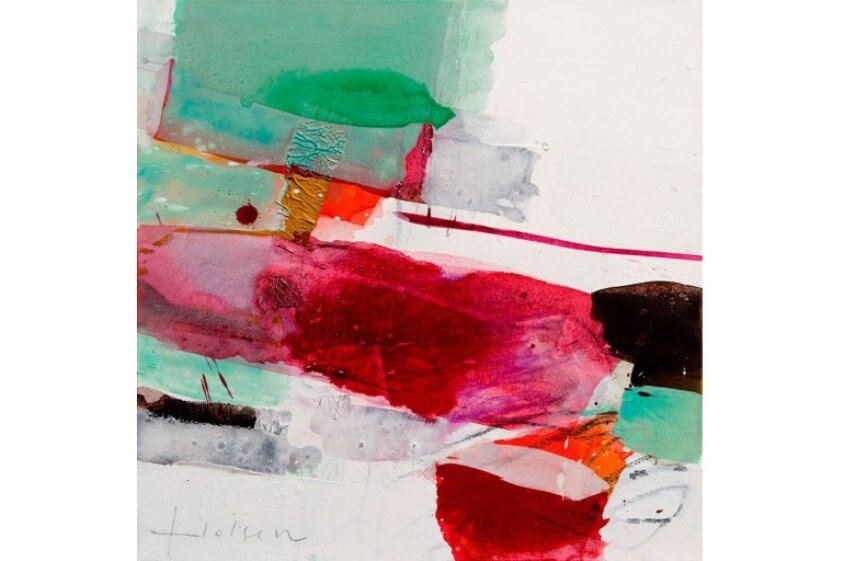 Greet Helsen - Color Gardening II, 2014, 19.7 x 19.7 in
Picture Lighting
Cordless picture lights have become a staple of art galleries around the world, due to their efficiency and ability to cause minimal distraction - particularly crucial for abstract art, where the audience must discover their own meaning in a piece. Picture lights are lights assigned to individual pieces which are often attached to picture frames and light the art from the top. The lighting can be very dramatic, and is incredibly effective for large, heavily-framed pieces. If the right lighting fixture is selected, the picture light can almost become part of the piece.
Due to the intensity that picture lighting can provide, infrared light and ultraviolet light has the potential to damage certain artwork. It's important to evaluate any potential damage that could come from lighting your piece; for example, you should avoid using picture lights over watercolors, acrylics, and oils.
In terms of style, you'll want to choose a picture light that compliments both the piece itself and its surroundings. A traditional, bold 'classic' light is best suited for elaborately-framed large pieces in elegant surroundings, whereas a 'contemporary' light is rounded and neat, unique but not overwhelming. A 'slimline' light, on the other hand, is stylish and practical, yet has the ability to effectively light even wide pieces subtly.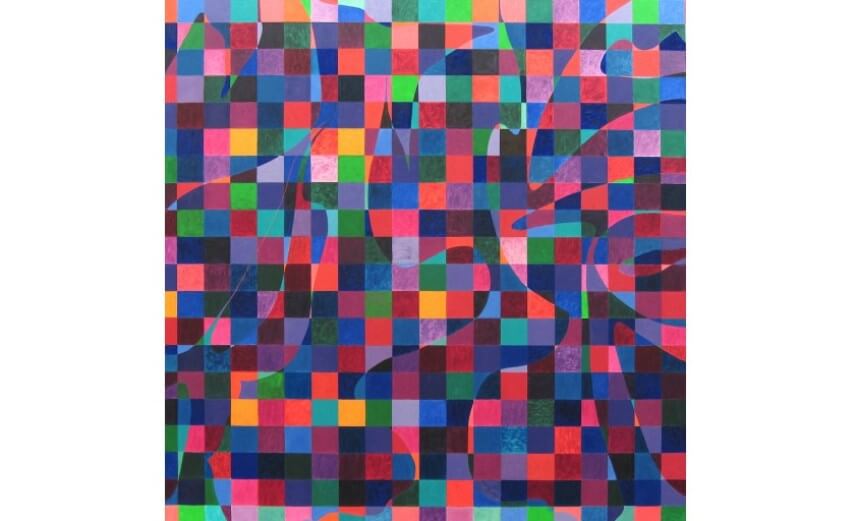 Dana Gordon - Night, 2012, 59.8 x 78 in
Recessed lighting
An increasing number of art collectors are making a switch from track lighting to recessed lighting. Not only does it create the illusion of more space in the room, but the soft, subtle glow that it presents artwork in naturally attracts attention without immediately revealing its source, allowing greater focus to be placed on the abstract work.
The placement of recessed lighting for art arguably requires the most intelligence, as a combination of lights is normally used to highlight one piece from different angles. The lights blend in well with their surroundings, are covered to protect them from dust, and dimming options allow you to adjust depending on the time of day. Oil paintings and glass-covered pieces will benefit the most from recessed lighting.
Featured Image: Sarah Hinckley - Star in the Sky (2), 2009, 15 x 9.8 in