Blog Home
The Will to Restraint: Tendencies of Reductive Art
Apr 29, 2016
When thinking about art, it's rare to arrive at terminology that transcends the limiting concepts of style, period, or movement. But when we do it can be liberating, even unifying, to discover language that might reference all artwork, regardless of when it was made or by whom. Reductive art is such a term. It doesn't refer to a movement or a style or a period in art. It represents an idea. Reductive art is art created through a process intended to simplify, to consolidate, to condense. In a stretch of the term, you could you say that in a sense Michelangelo's David, a sculpture carved from marble, is reductive. After all, it was created through a process of editing the original form. Except that David is also a gross complication of the original form. If Michelangelo had simply squared off the corners of the original block of marble and displayed it as a vertical rectangle, implying humanness rather than explicitly representing it, that would have shown restraint. It would have been subtle. It would have been reductive.
Ask Agnes
"When I first made a grid, I happened to be thinking of the innocence of trees, and then a grid came into my mind and I thought it represented innocence…so I painted it and then I was satisfied." - Agnes Martin
The American Abstract Expressionist painter Agnes Martin is often referred to as a painter whose work embodied the essence of reductive art. Her lined paintings convey subconscious emotion in the most direct, simplified way she could find. Martin's work possessed clarity. It incorporated a narrow palette. It drew on a drastically limited language of forms. It expanded its insinuations by limiting its assertions. Additionally, Agnes Martin's work demonstrated precise craftsmanship, demonstrating another requirement of reductive art; that the work strives to eliminate distracting elements that might interfere with the viewer's experience with the art. Modestly framed and precisely executed, Martin's paintings seem simultaneously confident and humble.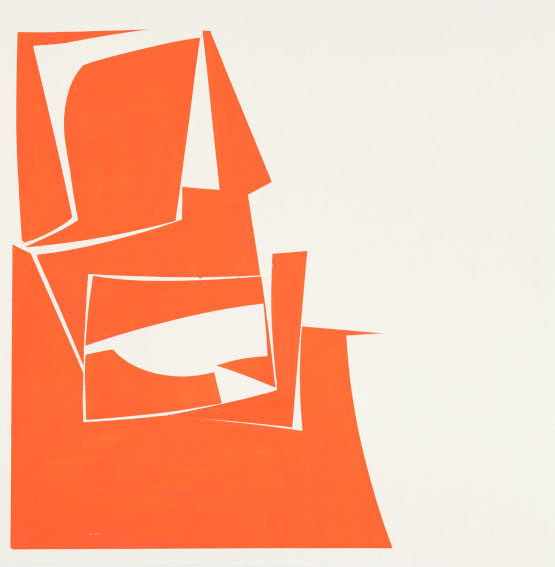 Joanne Freeman - Covers 20 Red A, 2015. Gouache on handmade Khadi paper. 50.8 x 50.8 cm.
Contemporary Trends in Reduction
The work of the contemporary American abstract painter Joanne Freeman is often described as reductive. Using a vivid, pared down color palette, Freeman paints hard-edged geometric forms and simplified, intuitive gestural marks atop stark white backgrounds. Freeman is inspired by subject matter such as urban signage, architecture, Mid-Century graphic design trends, and the hard-edged shadows that often appear on buildings exposed to sunlight. Her paintings reference that contemporary visual language, but in a restrained, contemplative way.
Swiss painter Daniel Göttin strives also for clarity and simplification in his work. He works with a restricted language of recognizable geometric shapes, lines and patterns. He incorporates a limited range of color in order to present bold, direct aesthetic statements. Göttin has said that he intends to direct the viewer's attention "to the space within the object." This Zen-like invitation toward a meditative encounter with the work makes the viewer experience somewhat akin to repeating a mantra.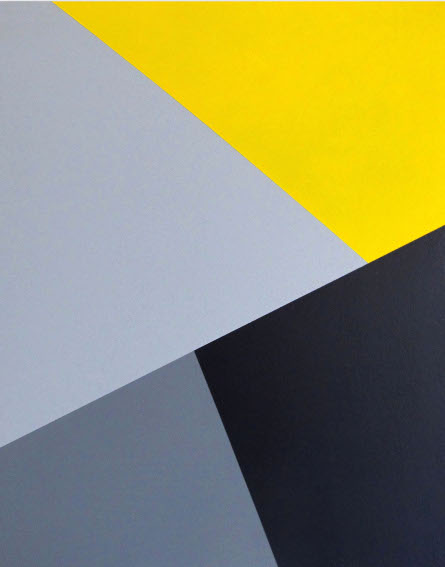 Daniel Göttin - Slopes B4, 2016. Acrylic on MDF. 30 x 24 cm.
Phenomenological Reduction
We, humans specialize in having experiences. We perceive our experiences through our consciousness. In order to contextualize our experiences, we create structures in our minds. Through our actions, we share those structures with each other, and the structures in turn manifest in the physical world in countless ways, philosophically, materially, emotionally, socially, etc. The study of those structures of human experience and consciousness is called Phenomenology. Phenomenology is at the heart of reductive art. By studying the structures of human experiences, and by reducing the visual language that extends from those experiences, an artist may arrive at a symbolic language capable of accessing the deeper meanings behind the complicated world of our consciousnesses.
The American abstract artist Tom McGlynn focuses on a phenomenological approach in his practice. By distilling the visual language of the city, McGlynn has developed a visual vocabulary limited to hard-edged squares, rectangles and lines. His paintings are rigorously controlled and precisely crafted. They present glimpses of a simplified urban conversation, conducted symbolically and in two dimensions. McGlynn's work is a subconscious, reductive translation of the built landscape it inhabits.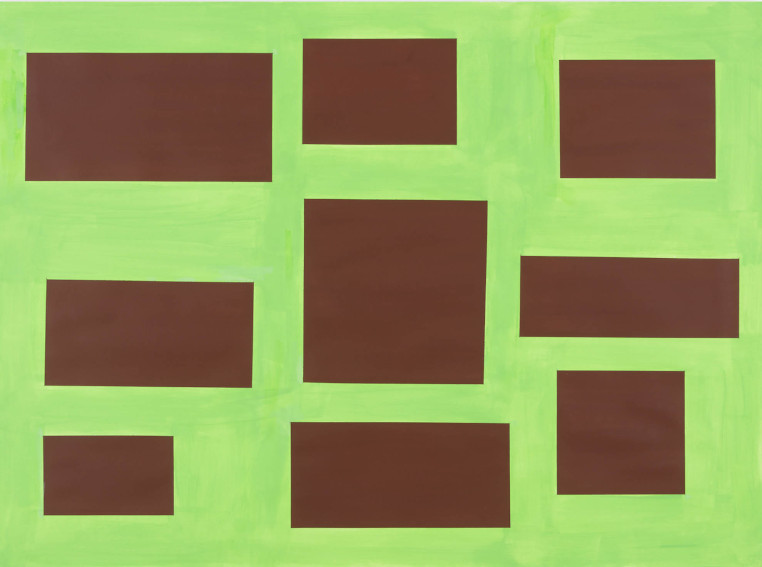 Tom Mcglynn - Survey 4, 2013. Acrylic on Fabriano paper. 55.8 x 83.8 cm
The Goal of Reductive Art
"People who look at my painting say that it makes them happy, like the feeling when you wake up in the morning. And happiness is the goal, isn't it?" - Agnes Martin
This quote sums up perfectly the goal, and the result of successful reductive art. Of course, obviously not everyone wakes up in the morning, and not everyone who does wake up in the morning feels happy about it. That's not the point. The point is simplification. Agnes Martin felt happy in the morning, and she somehow extrapolated that precise feeling and expressed it in her work, and some viewers who encountered the work felt it, too. That's clarity. That's what reductive art is about.
Featured Image: Tom Mcglynn - Test Pattern 11 (Kelly), 2005. Acrylic on Fabriano paper. 55.8 x 83.8 cm.
By Phillip Barcio