Blog Home
How to Hang Your Art?
Apr 28, 2015
There is so much beauty out in the world that it's hardly surprising we want to capture a little of it and bring it into our homes by hanging art. But not everything in the world is clear; there is as much chaos as there is calm, as much randomness as predictability, and as much knowing as unknowing. It's for this reason many people prefer to collect and keep works of abstract art in their homes. When one can look out the window at the reality, sometimes it's important to escape reality inside. Abstraction exists with a degree of independence from visual references in the world - creating a visual language that must be stared at and contemplated rather than spoke.
Yet, in order to truly appreciate quality works of Abstraction in a home, they must be presented befittingly. So in this article, we're not going to be talking about measurements and string and hammers and nails. Those things are as applicable to a work of abstract art as they are to a university diploma. No, we're going to be looking at how to hang abstract art specifically, in order to truly discover the beauty and surprise it can present.
Compliment Your Surroundings
It starts with walls and colour. Sometimes we're so taken by a piece that we purchase it without giving it a second thought - in this case, "where should I hang it?" And when you return home with it or it arrives at your door, it doesn't seem to fit anywhere. You might think that it doesn't matter, as you want your abstract art to stand out (and it will, but we'll get to that). But if matched with an uncomplimentary backdrop it might stand out for the wrong reason: not looking particularly great. That's not the desired outcome of a new addition to a collection. Rooms decorated white and black are the safest bet, providing the most freedom in terms of colours. The unremarkable backdrop will give greater depth and emphasis on the abstract art piece. That's not to say that Abstraction doesn't have a place in front of bold and vivid colours, however; just be aware of that vividness when being bold in your purchasing.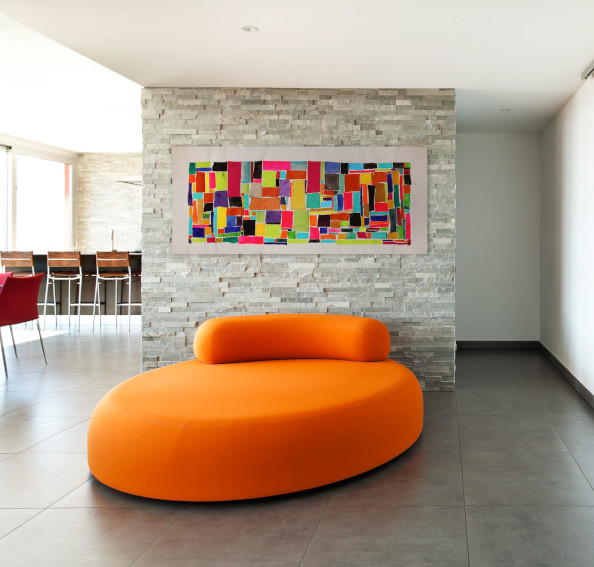 Deanna Sirlin - On Again, 2015, installation view. Mixed media on unstretched canvas. 86.4 x 212.1 cm.
Give Prominence
As we already touched on, abstract art has a tendency to stand out from the crowd, for it presents us with visions we're not used to seeing. But making every piece of Abstraction you buy the complete center of attention becomes harder and harder as your collection gets larger. For those with space, layout your abstract art like you would expect to view it in a gallery. Try designating one piece to each wall, and hang it in the place you believe will draw the most attention (at eye level). If you have other smaller pieces that will complement a larger one, circle the smaller pieces around it - centering the main attraction.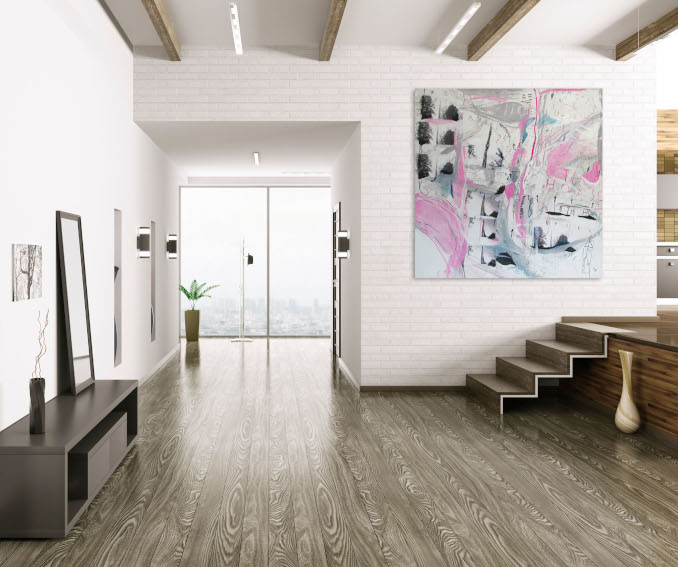 Macha Poynder - 5th House, 2016, installation view. Acrylic, collage and pastel on un-stretched canvas. 158 x 152 cm.
White Light White Heat
Just as you wouldn't shine a light directly onto a television screen, you'll want to ensure you're protecting the visual clarity of your abstract art by keeping it out of direct sunlight. Extensive periods of time in the sun will discolour and fade your art, whilst the glare (if it's hung near where the sun shines in) can prevent full comfort and satisfaction. Abstract art requires time for looking and contemplating - nothing should get in the way of that. Likewise, position your abstract away from heat sources like radiators or open fireplaces to avoid damage.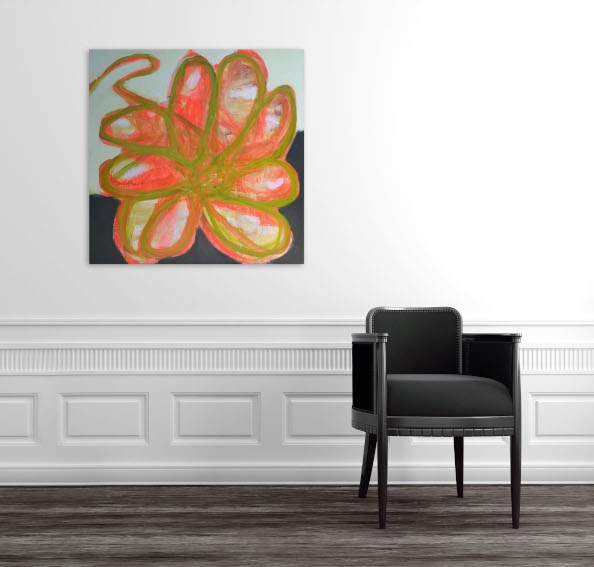 Brenda Zappitell - Flower I, 2018, installation view. Flashe, acrylic and micaceous iron oxide on panel. 127 x 127 cm.
The Science of Hanging Art
If you wanted to make sure you're hanging your abstract art optimally, you might think you'd need to bring a gallerist or the artist themselves. While those things wouldn't hurt your cause, you might find it easier on the bank balance to follow the scientific way to hang a picture. Indeed, there are certain measurements that - according to Bruce Wiedrick, exhibitions coordinator for the Vancouver Art Gallery - one can follow when hanging their abstract art. So what's the magic number? 56 inches, or 142.2 cm, measured from the center of the piece to the floor. "It's for the average person [who is] in the five-foot-eight- inch to five-foot-10-inch range - Wiedrick advises - this seems to feel comfortable to the scale of their body."
Professional art installer Charles Tyler of Montreal explained how the science behind the magic number works: "Say a painting is 24 inches tall. You divide 24 by two and get 12. Add 56 inches to that, and that's where [the top of the painting will rest]. The hooks are normally three or four inches lower than the top of the painting, so that's where the nails go." Whilst it's not a 'set in stone' rule, it's certainly common in galleries. But 56 inches isn't enough to raise an extremely large piece. Essentially, a canvas should be at the very least nine inches off the floor. Or you could always forget the science and go with your gut - something that antique dealer Uno Langmann recommends. "You have to hang it so you see it the way you first fell in love with the painting," he says. "Forget about the furniture, forget about anything else, [hang it] where you get the most out of the work of art. Everything else will fit around it."
Featured image: Audrey Barcio - Untitled #8, 2017, installation view. Acrylic, flash and mica on canvas. 152.4 x 127 x 3.81 cm.