Blog Home
Decorating a Small Living Room with Abstract Art
Apr 5, 2019
Every interior design philosophy comes down to one overarching idea: you should feel comfortable inside your home. Abstract art can play an important role in creating that perfect interior space where comfort and joy can ensue. But many of us live in small, urban spaces. Decorating a small living room with abstract art can seem daunting. How do you pick works that collaborate with the space without taking it over or making it feel smaller? We've assembled some expert tips on how to bring a small living room to life with abstract art, because the right art can make any room feel like home.
Consider the Light
The first thing to think about when choosing abstract art for a small room is whether or not the room has a window that lets in natural light. If it does, your choice of art should take that light source into consideration. Unpainted, raw canvas can deteriorate when exposed to direct sun for a long time. However, in general, paintings made with oil paints or acrylics on canvas tend to do well in the sun without fading or cracking.
But say you are considering something more delicate for a sunny room, like a work on paper by Peter Soriano. A painting like Oberkampf 2 becomes even more radiant and complex in daylight, but like all works on paper it could fade over time if placed in direct sun. To protect works on paper and photographs from sun damage, frame them in museum-quality, UV-resistant glass. Any frame shop offers this option, and there are solutions on the market that block up to 99% of UV rays.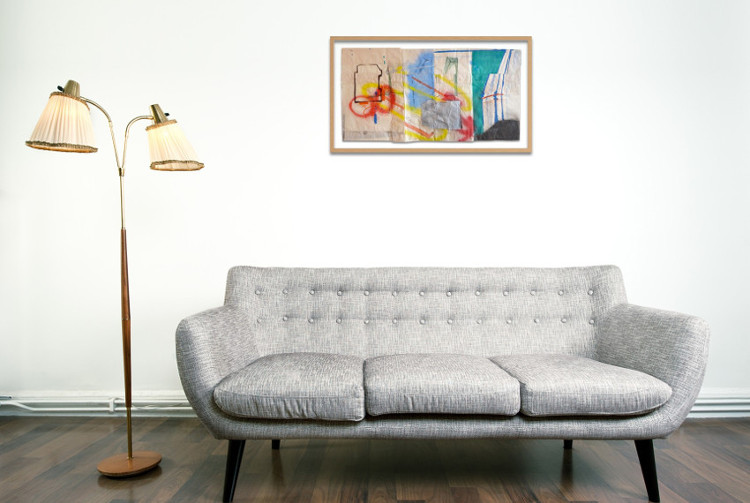 Peter Soriano - Oberkampf 2, 2019. Unique. Spray paint, pencil, ink, watercolor on paper. 47 x 91 cm
Consider the Darkness
Some small interior rooms receive no direct sunlight. In such cases, interior decorators often recommend hanging a mirror in the room to reflect ambient light and to give the illusion of more space. But the appearance of more space does not necessarily translate into more comfort. Why not skip the mirror and choose a luminous abstract artwork, like something with a reflective quality that can maximize ambient light or otherwise brighten up a room?
Pink Link by Jessica Snow offers a subtly luminous acrylic surface, as well as a color palette that collaborates with ambient light to create a welcoming glow. Or a work like Boom IV by Brent Hallard creates a reflective glow thanks to its glossy aluminum surface. The geometric abstract language Hallard works with can also create an impression of increased space.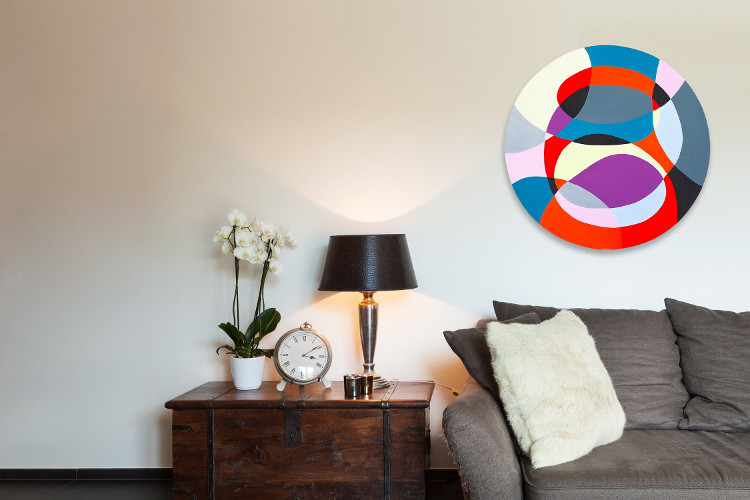 Jessica Snow - Pink Link, 2014. Unique. Oil on circular plexiglass. 46 x 46 cm
Consider the Height
If your living room has a low ceiling consider choosing a work with long vertical elements. Line can make a powerful visual statement and provide a focal point in the room that distracts from the height of the ceiling. A work like Falls of Solitude by the Estonian-born artist Jaanika Peerna can add height to a space while also communicating the physicality of the natural forces used in its creation.
Or if your ceiling is unusually high, do not be afraid to choose a large work like Night by Dana Gordon to match the height. Most professional art installers will say the proper spot to hang a painting is 58 to 60 inches from the floor, on center. But when hanging a large work in a small room with high ceilings, hang it so the bottom of the work is no more than 15 inches off the ground, or 15 inches higher than the back of any furniture beneath it.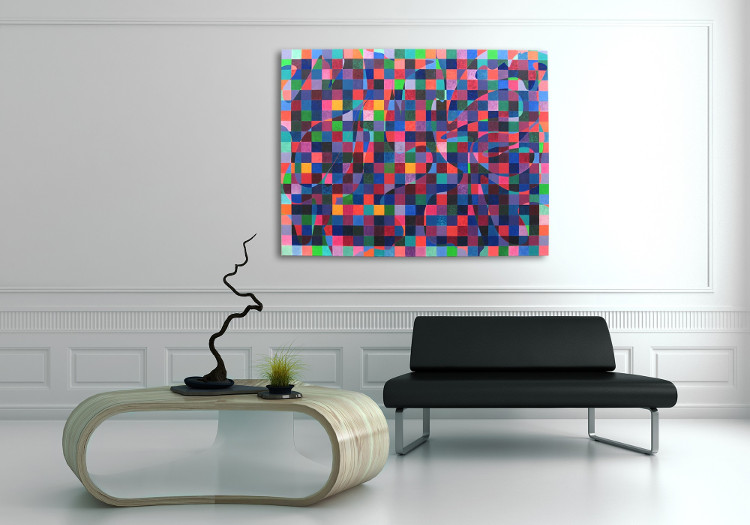 Dana Gordon - Night, 2012. Unique. Oil on canvas. 152.4 x 198.2 cm
Corner Pieces
No matter how small your living room is there are likely overlooked wall spaces that can be enhanced with a work of art. For example, corners. Often, people place a lamp in the corner or a small table. Or, if the room is extremely small the furniture may go right up to the corners. But corners are also an opportunity. The right artwork hung in a corner can create a sense of movement and life in the room.
When choosing art for a corner space, remember that most people will not want to stand facing a corner, even to look at art. Choose a bold, abstract image that is readable from a distance. Also, choose an image that is suitably scaled for the space, and ideally vertically oriented. A painting like Hashtag by Anya Spielman offers a perfectly scaled, direct statement of color and form that both captures the eye and creates momentum beyond its edge.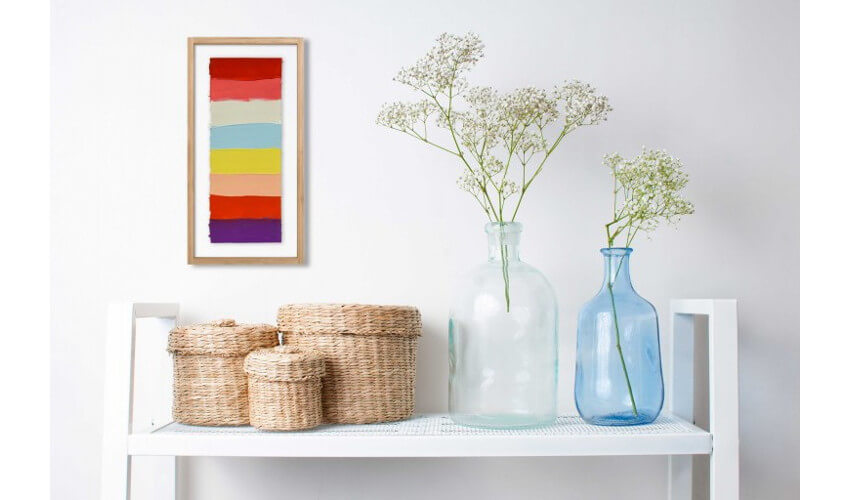 Anya Spielman - Hashtag, 2015. Unique. Oil on paper. 35.6 x 15.3 cm
Salon Style Hanging
The most dramatic way to maximize your enjoyment of art in a small living room is to go bold with a salon-style hanging. Salon style is when you hang an assortment of different works in a tight configuration on a wall. Sometimes the works can be hung in a cluster on part of the wall, and other times the entire wall can be covered in art, from the floor to the ceiling. The key is to be bold and confident and to choose works that are going to work in conversation with each other.
Juxtapose large and small paintings, geometric and biomorphic works, all-over paintings and more minimal expressions, paintings, and photographs, and works on paper and works on canvas. And be sure to include some pieces that do not fit the usual definitions, like a conceptual, geometric abstract object by Swiss artist Daniel Göttin. The perfect salon-style hanging creates a sense of cohesiveness, while also offering a variety of different aesthetic statements.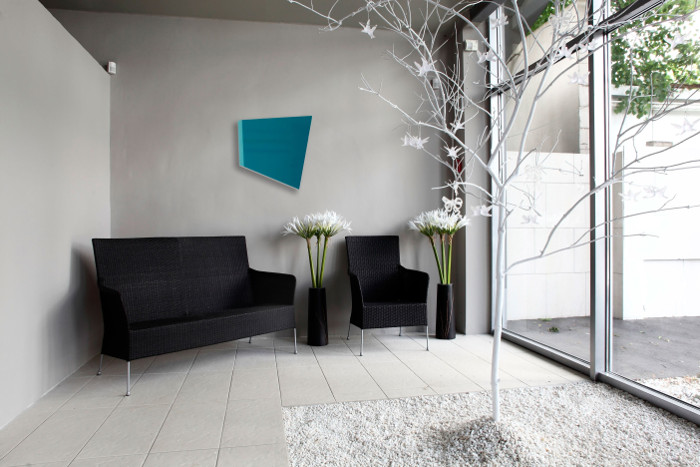 Daniel Gottin - Untitled (D3) 2005, 2005. Unique. Lacquer on MDF. 60 x 58 x 10 cm
Forget Conventional Wisdom
Lastly, we want to encourage anyone thinking of buying a work of abstract art to be brave! Some of our customers are new to collecting. Occasionally they ask us whether it is okay to buy abstract art purely for decorative purposes. They fear they should first understand the work from an intellectual standpoint, an academic standpoint, or perhaps a metaphysical standpoint. Our answer is always that your relationship with abstract art should be personal. Interact with it however you want. Whether it resides in a museum, a gallery, an artist studio or your home, every artwork has an aesthetic component. Buying it because you are pleased by its aesthetic qualities does not mean it is purely decorative. It just means it fits.
Remember, there are innumerable opinions circulating about how to buy abstract art for your home. It is okay to ignore them! The thing to keep in mind when choosing abstract art, whether it is for your small living room or for any other room in your home, is that it is your home. You are unique. Conventional wisdom should not determine your choices. Abstract art is like wine: buy what you like, regardless of the opinions of others. What good is sophistication unless it makes you happy?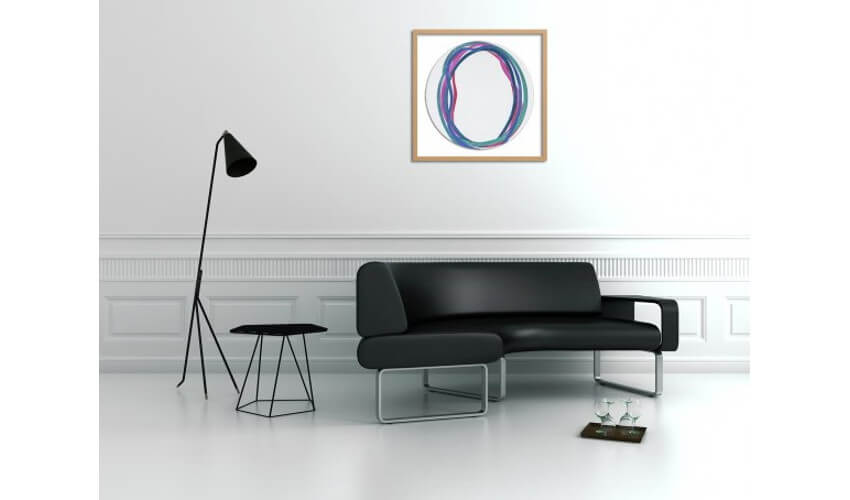 Joanne Freeman - Moonwalk F, 2015. Unique. Oil on circular canvas. 76.2 x 76.2 cm
Featured image: Tenesh Webber - Mid Point 2, 2015. Black and white photogram. 28 x 28 cm
All images © IdeelArt
By Phillip Barcio