Blog Home
Watercolor Paintings You Could Own Right Now
Dec 19, 2016
Watercolor paintings possess unique physical characteristics that often invite poetic associations. The medium is translucent, so past layers are always visible just below the surface. Watercolor paintings are never fixed. Just a dab more water and everything can change. Whatever accomplishment a watercolor painting represents must be protected because it can all so easily be washed away. And the way watercolors spread out across a porous surface, unwieldy and free; they are like a living, natural force. As the Italian painter Francesco Clemente once said, "When I look at a watercolor…it seems to me alive..." Part of what gives watercolors their special allure, especially for abstract painters, is that the medium can express ideas such as freedom, vivacity, translucence, delicacy and ethereality purely through aesthetic qualities like value and hue. That means that in addition to the other reasons you may admire one, when you bringing a watercolor painting into your home it might also offer you a constant, pleasant reminder that everything is in flux, and that what we find precious should be enjoyed. Here are five contemporary abstract artists who work with watercolors, along with a selection of some of their watercolor paintings that you could own right now.
Melissa Meyer
You may have spotted the work of Melissa Meyer on a trip to New York, since her paintings and prints are included in the permanent collections of many museums there, such as MoMA, the Metropolitan Museum of Art, the Solomon R. Guggenheim Museum, The Jewish Museum and the Brooklyn Museum. Her energetic, intuitive compositions are known for their confident language of color and form, and the ways they evoke the transitory nature of reality.
Painted in 2007, Ambassade 44 is part of a larger series of watercolor paintings Meyer named for the Ambassade, her favorite hotel in Amsterdam. If you have seen it in person, perhaps the imperfect vertical columns of the glyphic forms in this work might evoke the 17th Century architectural presence of the hotel. Or maybe the vibrant interplay of colors may speak to the flickering dance of energy and light in the city. The translucent layers of this painting illuminate thoughts of the present and the past, and bring to mind memories, emotions, and a world of possibilities.
In addition to making abstract watercolor paintings, Melissa Meyer also often creates unique watercolor monotypes. Her process involves painting watercolor images onto acetate sheets, which are then run through a press to create multiple layers on each print. Each watercolor monotype is a unique work of art. This particular work is part of a series Meyer created that is named after the song Love Me Do, by the Beatles. Its whimsical, lyrical qualities reflect the inspiration Meyer receives from music.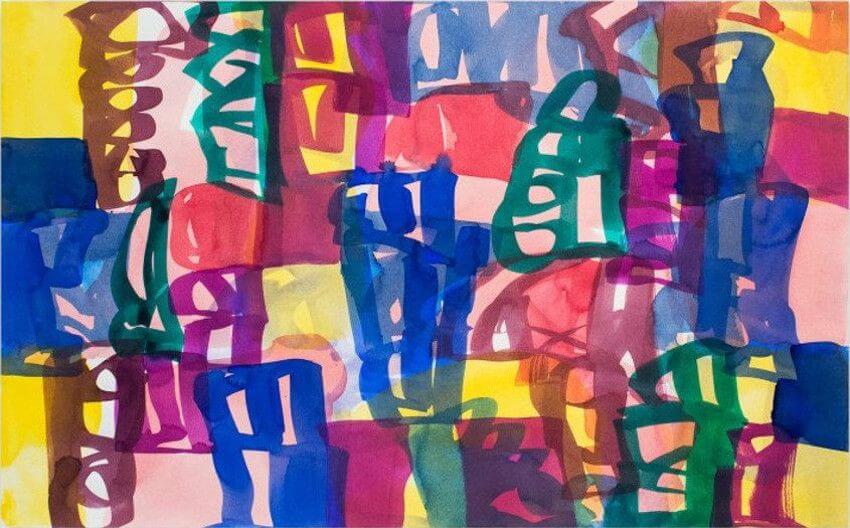 Melissa Meyer - Ambassade 44, 2007. Watercolor on hot press paper. 19.7 x 31.9 in
Jessica Snow
The paintings of San Francisco-based artist Jessica Snow are defined by lightness, color, and a compositional world that fluctuates between structure and play. About her paintings Snow has said, "The colors and shapes of my work should hopefully make that person feel more at home in this world." A sense of immediacy is vital to her process, as she wants her paintings to look as if they "just happened." In addition to her thriving studio practice, Snow teaches studio and art history classes at the University of San Francisco. She has exhibited throughout the US as well as in Australia, the Netherlands, France, and Germany.
The watercolor paintings in her Fling series utilize the unique qualities of the medium to accomplish a sense of active, lively energy. A feeling of push and pull resulting from the variations in darkness and lightness adds perspective to the compositions. Some brushstrokes and forms seem to be in the act of becoming or disappearing, while others assert confidence in their presence. These works echo the interest Snow has in the interplay between complementary forces such as chaos and order, line and form, and geometry and nature. This series also represents the addition of a gestural element to her ongoing examination of composition and shape.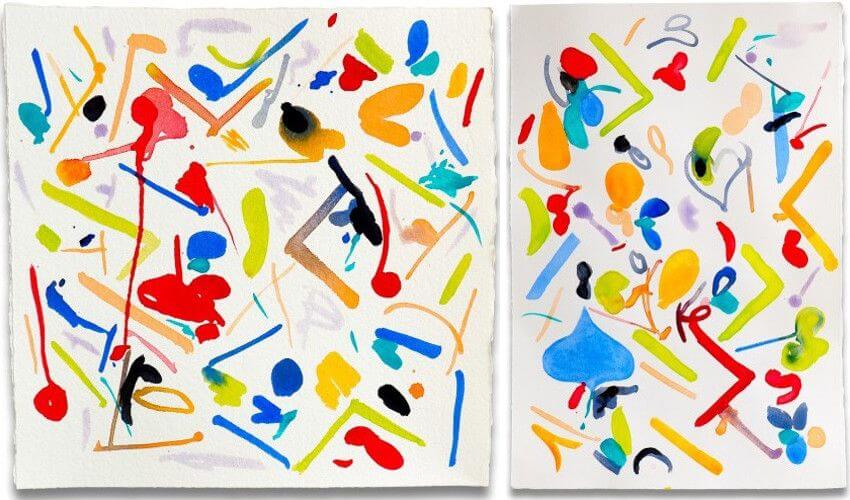 Jessica Snow - Fling 1, 2015. Watercolor on paper. 12.2 x 12.2 in (Left) and Fling 3, 2015. Watercolor on paper. 14.2 x 9.8 in (Right)
Peter Soriano
In 2011, the work of French-American artist Peter Soriano was included in an exhibition in London called Provisional Painting, along with work by Richard Tuttle and Julian Schnabel, among others. The show was named after an eponymous 2009 article in Art in America, written by Raphael Rubinstein. The article and the exhibition both aimed at identifying work that possesses an intentional unfinished, fragile quality: as if it is in an interim state, open to later revision.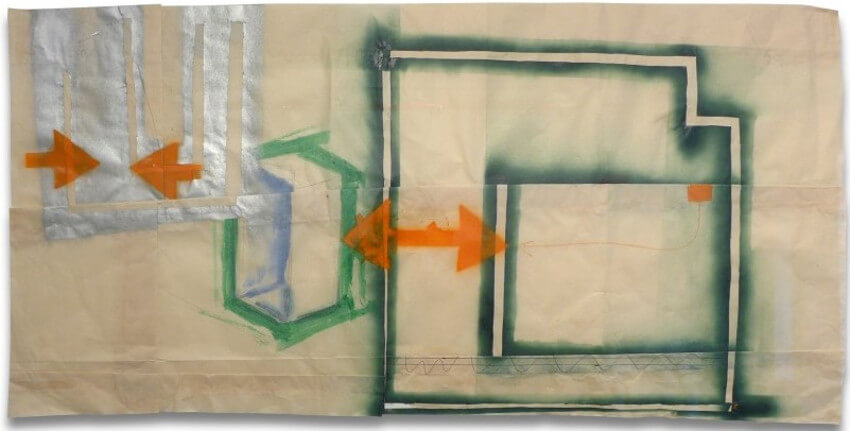 Peter Soriano - Porch Drawing 6, 2010. Spray paint, pencil, ink, watercolor on paper. 18.9 x 39.4 in
Soriano uses watercolors along with other mediums, which adds to the sense in his paintings that some elements are stabile while others are in flux. By juxtaposing mediums in the same work, each has an opportunity to express its specific qualities so the composition can develop textural and dimensional qualities that would not be possible through watercolors alone. In his painting L.I.C (Blue), the initials L.I.C. refer to Long Island City, the site of his current studio. The watercolors help evoke the transience of the various architectural elements that Soriano removed from the space while renovating it.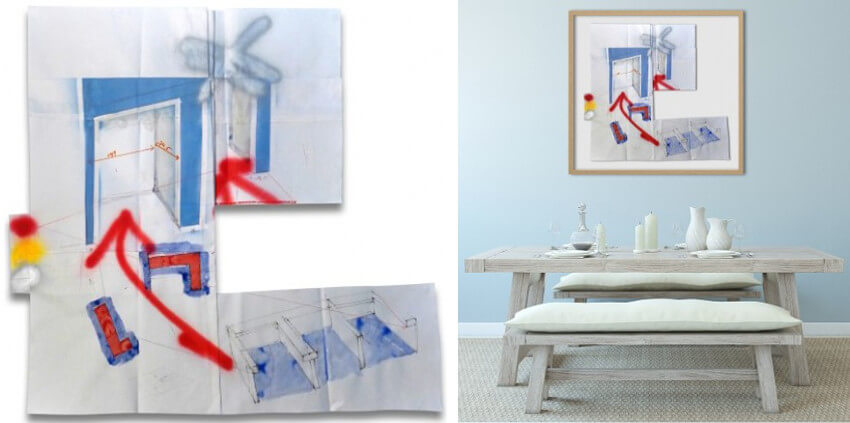 Peter Soriano - L.I.C. (Blue), 2015. Spray paint, pencil, ink, watercolor on paper. 37.8 x 38.6 in
Laura Newman
A feeling of what lies beyond is inherent in the work of New York-based painter Laura Newman. Confident forms inhabit her paintings, and yet the images she creates remain open-ended. Elements seem always to be shifting and transforming, much like in the urban environment that surrounds her studio. Newman combines mediums like watercolor, ink and acrylic in her paintings in order to achieve her atmospheric effects, resulting in complex, layered compositions that read as both anchored and dynamic.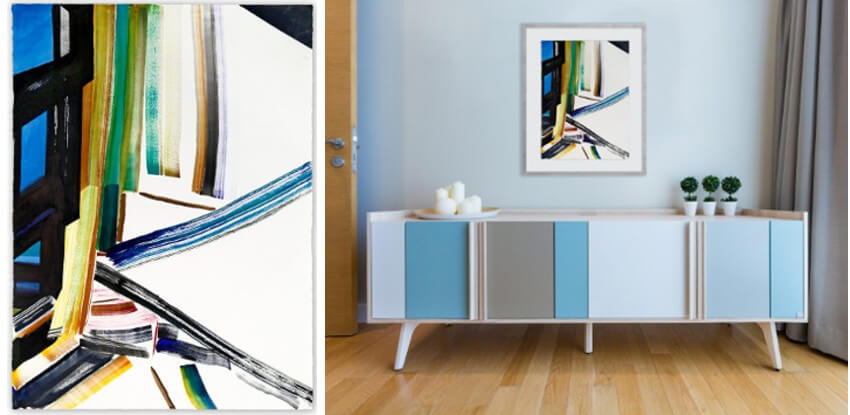 Laura Newman - Drybrush With Building, 2014. Ink, acrylic and watercolor on paper. 29.9 x 21.7 in
Her watercolor painting Swoop, as well as her paintings Frames and Swerve, were painted on a hand-made paper called Wasli, which Newman discovered while on a trip to India. Her painting Drybrush with Building is part of a series of paintings that she created in an effort to address the environmental surroundings of Deer Isle, Maine.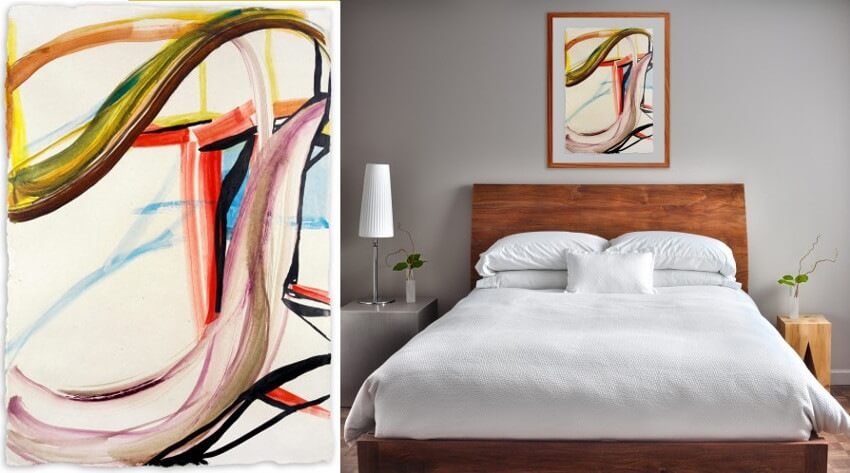 Laura Newman - Swoop, 2015. Acrylic and watercolor on handmade wasli paper. 29.9 x 22 in
Jose Heerkens
Dutch painter Jose Heerkens is interested in the sense of movement that can be created by the interaction of different colors. Her linear compositions utilize horizontal and vertical grids and variances between color values in order to create a sense of dimensionality. For Heerkens the grid acts as a support for her compositions, giving her works an architectonic presence.
In her work, color acts as a natural force within the structure. It creates a dynamic presence within the predefined boundaries created by the elements of form and line. Heerkens has said, "In the complexity of the process of painting I strive for simplicity and clearness." In her watercolor paintings, the transparency of the medium adds even more of a sense of movement and rhythm to the compositions, developing a feeling, as she says, "like walking steps."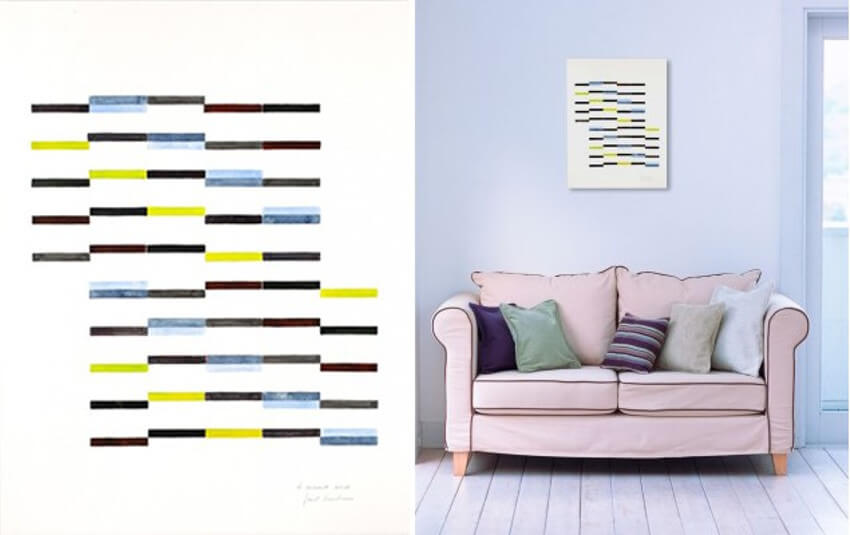 Jose Heerkens - P18, Travelin' Light, 2013. Watercolor on Hahnemühle 300gr. 25.6 x 19.7 in
Featured image: Melissa Meyer - Love Me De (X), 2010. Watercolor Monotype. 20,9 x 28,7 in
By Phillip Barcio