Blog Home
Finding the Best Art for Interior Designers
Apr 5, 2019
The relationship between art and interior design is complex. Every interior designer has an ongoing need for original fine art. But few fine artists embark on the creation of new work with the stated intention of making art for interior designers. Some artists are suspicious of the decorative or commercial aspects of interior design. Yet interior designers directly connect the public with artists. Viewers today are more likely to encounter a work of art in a built commercial or public environment than in a traditional art space. One of the most direct ways for contemporary artists to reach the culture at large is by fostering relationships with the people deciding how art inhabits the public sphere. How can interested artists better understand the potential of their relationship to interior design? They can start by considering the factors that make artworks coalesce with the environments designers create.
Understanding Interior Design
The urge toward interior design has existed as long as interiors have existed. But the interior design profession is a relatively modern concept. In 1913, the American actress and socialite Elsie de Wolfe published The House in Good Taste, a book that launched the notion of interior decorating as a career. But it was not until the 1980s that official standards were adopted regulating the profession.
According to the Council for Interior Design Qualification, interior designers engage in a multi-faceted profession in which creative and technical solutions are applied within a structure to achieve a built interior environment. These solutions are functional, enhance the quality of life and culture of the occupants and are aesthetically attractive. In other words, to be useful to interior designers, artworks should be pleasing to look at, enriching to contemplate, and non-competitive with the intended uses of a space.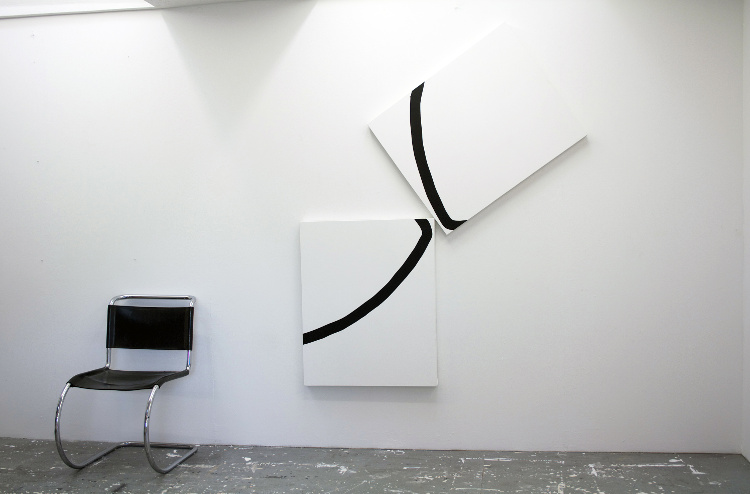 Pierre Muckensturm - 1811P13062A+B, 2018. Unique. Acrylic on canvas. 200 x 135 cm
Abstraction Works Best
Beauty, contemplativeness and functionality can be achieved through any artistic position. But most interior designers prefer to incorporate abstract art when creating a modern space. Viewers tend to first interpret objective figurative artwork according to its subject matter. If that subject matter seems more compelling than the environment itself, the artwork can become a distraction rather than an enhancement.
Abstract art is therefore far more versatile. Not only could a work like (r)evolution 39 by Tracey Adams potentially enhance a variety of different environments; it also versatile within a given space. It can be the focal point if necessary, or it can be utilized in a way that its formal qualities alone converse with the space, allowing viewers to contemplate the art within the larger context of the environment.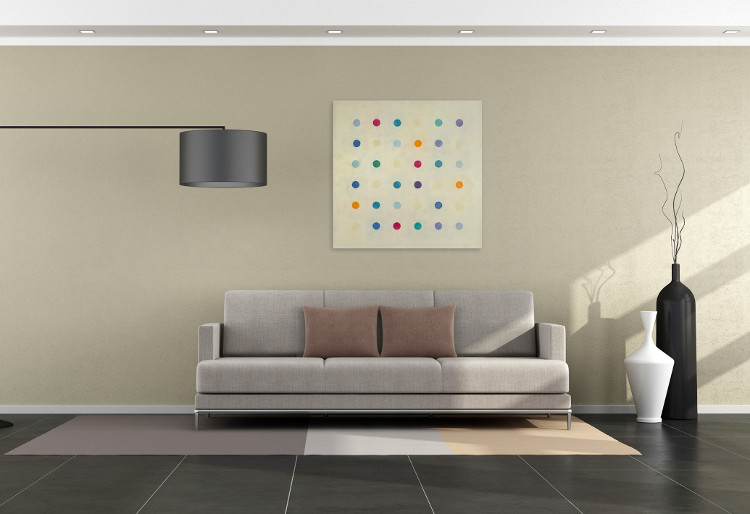 Tracey Adams - (r)evolution 39, 2015. Unique. Pigmented beeswax, oil and collage on wood panel. 101.6 x 101.6 cm
Mind the Budget
In a perfect world, every interior designer would hire artists to custom make original artwork for every environment. That way, artists could collaborate in the process in a personal way, creating something with the specific environment in mind. Money is the reason that rarely happens. Every interior design project has a budget, and customization is almost always more expensive than buying existing art.
There is no universally ideal price range for art for interior designers, but they generally need to stretch their money as far as possible. Their needs are different than those of investors or collectors. Artists like Tenesh Webber are therefore attractive to interior designers because, not only is her process unique and her work aesthetically pleasing, but she also creates artworks in many different sizes and price points. Her work can accommodate multiple spaces and budgets.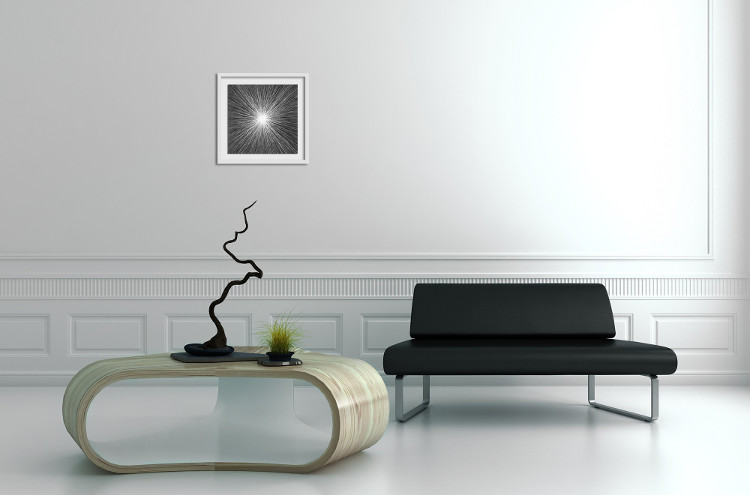 Tenesh Webber - String Burst, 2015. Multiple. Black and white photogram. 50.8 x 50.8 cm
How Big is Big?
Interior designers like artworks that can help them address as much space as possible with their budget. But since every built environment is different, it is impossible to offer specifics about what defines a big work of art. Scale and proportion are the real problems, not size. That said, when most interior designers say they want a big painting, they mean something larger than 92 x 92 centimeters (36 x 36 inches). Many interior designers report that reasonably priced, high quality, large, original paintings like Orquevaux 14 by Yari Ostovany are difficult to find and in high demand.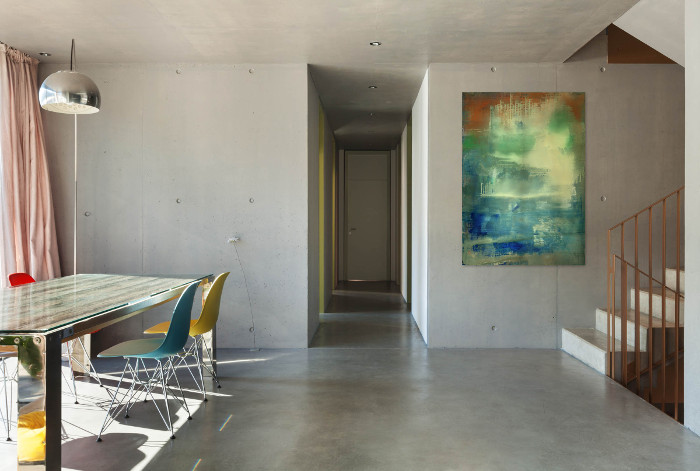 Yari Ostovany - Orquevaux 14, 2018. Unique. Acrylic on canvas. 152 x 108 cm
Complimentary Colors
Many interior design projects focus on residential homes or hospitality-related businesses, spaces that require a welcoming, relaxing atmosphere. Color is a major concern for such environments. The colors in the art do not have to match the environment; they simply must complement it. There are various strategies artists use to approach color trends. Jaanika Peerna works with a limited color palette that appeals to interior designers because it is classic and transcends fads. Brent Hallard incorporates a wide range of colors in his work, but each particular piece is limited in its palette. His bold aesthetic is idiosyncratic and easy for designers to keep in mind, and chances are he has a work to complement almost any color statement.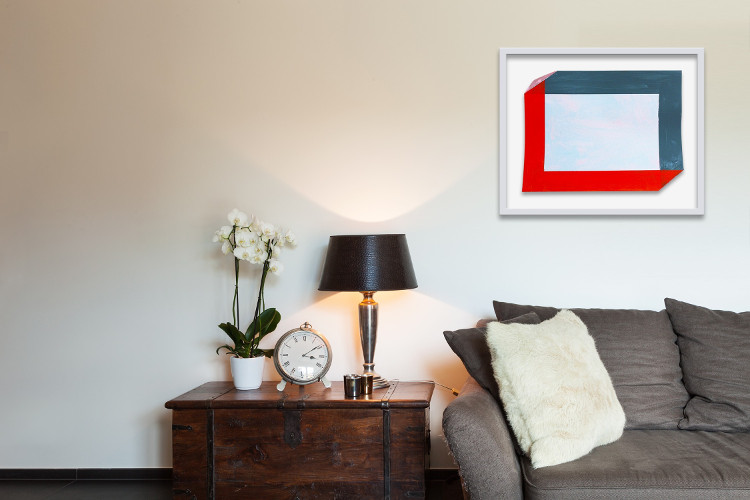 Brent Hallard - Clouds, 2013. Unique. Acrylic on paper. 25.4 x 35.6 cm
Be Original
Every interior designer cherishes originality. The whole idea of hiring a professional designer implies a desire for uniqueness. That could mean work that stands out for its process or work that uses sustainable, LEED-certified materials. Or in the case of a painting like Three Chords by Joanne Freeman it could mean it makes an unusual aesthetic statement with a shaped canvas.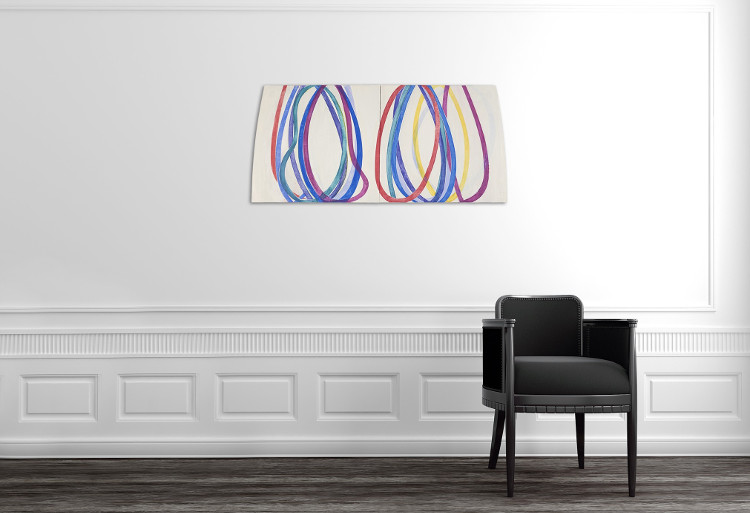 Joanne Freeman - Three Chords, 2013. Unique. Oil on shaped canvas. 76.2 x 167.7 cm
Final Thoughts
One practical service IdeelArt offers that interior designers appreciate is that the work we sell arrives unframed. Most designers have relationships with framers, and prefer selecting a custom framing method after the work arrives in the space. The other practical service we offer is a 30-day return policy, in case the work looks different once it arrives: a vital consideration for an online art dealer. As with our other tips, these gestures are intended to help interior designers stay versatile and flexible, which are ultimately their most important goals.
Featured image: Ellen Priest - Jazz Cubano 48: Percussion Drawing, 2012. Unique. Flashe & Pencil on paper. 76.2 x 76.2 cm
All images © IdeelArt
By Phillip Barcio