Blog Home
At Yossi Milo Gallery, A Group Show of Artists Painting with Light
Jan 14, 2019
On 17 January 2019, Yossi Milo Gallery in New York will open a group exhibition examining the contemporary state of Concrete Photography. Titled Painting with Light, the exhibition will include works by more than 25 artists who eschew traditional photographic strategies in favor of abstract, conceptual, or experimental methods of mobilizing light to alter a surface. Although the term was only coined in the 1960s, the idea of Concrete Photography has been around for more than a century. It is different in most ways from documentary photography, and even from many types of abstract photography. The purpose of most documentary photography is to take a record of a fleeting moment in time, capturing a partial image of reality as it passes in front of a camera lens. Abstract photography might also document reality, but rather than attempting to capture recognizable images of the world or tell a narrative story, the intent behind an abstract photograph might be to express formal elements like line, tone, shape, color or form in a symbolic, or purely plastic way. What sets Concrete Photography apart is also the intent of the artist, as well as the way the materials, tools and techniques of photography are employed. Concrete Photography eliminates the notion of "taking a picture," and replaces it with the idea of utilizing light to "make a picture" on a light sensitive surface, or to otherwise allow a visual composition to come into being through some combination of light, a surface, a camera, chemicals, or other materials. Concrete Photographs could be considered pure in the sense that their mission is not to reference something else, but rather to allow something self-referential to come into being. Here we examine the methods of seven of the artists featured in Painting with Light: Richard Caldicott, Gottfried Jäger, Luuk de Haan, Jessica Eaton, Tenesh Webber, Sheree Hovsepian, and Alison Rossiter. Each of these artists possesses a unique method, and is striving towards an idiosyncratic goal. And yet each also follows a similar conceptual thread: the belief that a photograph need not be a record of anything other than its own existence, or the materials and processes of its own creation.
Richard Caldicott
Richard Caldicott sometimes uses an analog camera as part of his process, but his photograms and photographs are not grounded in the intent to document. Instead, Caldicott meticulously constructs compositions that are minimal, colorful, geometric, and self-referential. In one of his series, for example, he creates a photogram print from a cut-our paper negative then displays the print and the negative side by side in a diptych, raising questions about the nature of the object and subject in photography, and whimsically critiquing where the beginning and end points of the photographic process might be.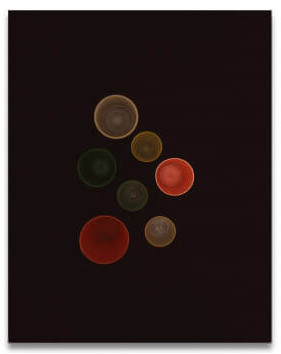 Richard Caldicott - Untitled 110/5, 1999. C-Print. 35.5 x 27.9 cm
Gottfried Jäger
The father of "Generative Photography," Gottfried Jäger is considered to be one of the most important pioneers of Concrete Photography. Jäger approaches the creation of a photograph not from the perspective of depicting forms from the natural world, but rather from the starting point of a mathematical system which he devises, which then determines the evolution of the image. Despite their rejection of natural imagery, his Generative Photographs reveal fantastical, complex systems that nonetheless evoke the most essential underlying aspects of the physical universe.
Luuk de Haan
In a conceptual twist of contemporary trends, Luuk de Haan starts his process on a computer and ends it with a camera. He creates a minimal, geometric composition using digital software then photographs the image right off of the computer screen. By altering the lighting conditions under which the photograph is taken, and by performing gestural motions with the camera, he attains unexpected results that give a sense of dynamism to his compositions.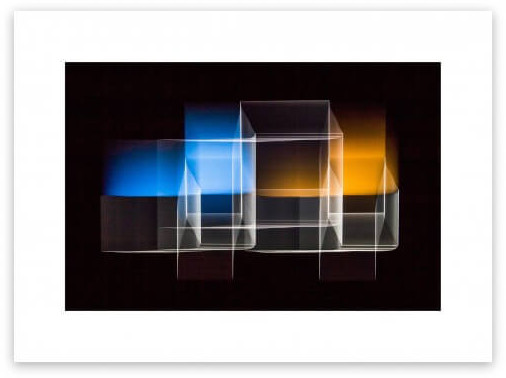 Luuk De Haan - two bridged squares 1, 2013. Unique. Ultrachrome HD ink on hahnemuhle paper. 42 x 57.8 cm
Jessica Eaton
Using a traditional large-format camera, Jessica Eaton employs techniques such as motion-blurring and multiple exposures to build ultra-luminous compositions that often reference the visual languages of Modernist art history. She uses the photographic process itself to defy its role as indexer. Rather than contemplating the subject matter in her photographs or the methods used in their creation, her prints invite viewers into a transcendent, conceptual visual realm.
Tenesh Webber
To create her camera-less photographs, Tenesh Webber layers thread, paper, hand-made objects and marked sheets of glass atop photosensitive paper, which she then exposes to light in a darkroom. The resulting photograms record a negative image of the physical materials used in their creation. The final image goes beyond being a record of materials and processes. Patterns, lines, shapes and voids conspire to create a sense of depth and complexity, evoking thoughts of the vastness of the physical and conceptual worlds.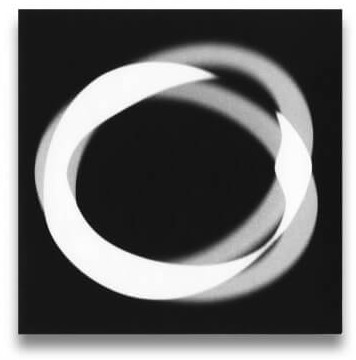 Tenesh Webber - Shift, 2004. Black and white photograph. 20.5 x 20.5 cm
Sheree Hovsepian
Rather than giving agency to the idea that a photograph can tell a complete story, Sheree Hovsepian highlights the fact that even the most realistic photograph only reveals fragments of truth. Her photograms are created by selectively exposing areas of light-sensitive paper to light. She sometimes exhibits the resulting image object on its own, and other times uses the silver gelatin print as a single element in a larger assemblage, which could also include a range of materials like nylon, pins, nails, string, wood, tape, or found objects.
Alison Rossiter
In some respects, Allison Rossiter could be described as more of a finder of images than a maker of them. Since 2007, Rossiter has been collecting expired rolls of unused film dating back in some cases nearly a century. She prints the unexposed film, allowing pictorial elements to manifest as the ravages of time express themselves on the paper. The haunting, dramatic images that emerge from this process could be seen as a collaboration between the manufacturer of the film, whomever stored and handled it over the decades, and Rossiter, who makes the aesthetic and technical decisions about when and how the final image comes into being.
Painting with Light will be on view from 17 January through 23 February 2019 at Yossi Milo Gallery, 245 Tenth Avenue, in the Chelsea neighborhood of New York.
Featured image: Liz Nielsen - Stone Arch Toro, 2018, Analog Chromogenic Photogram, Unique, on Fujiflex, 30 x 40. © Liz Nielsen. Courtesy of Danziger Gallery, New York
By Phillip Barcio