Blog Home
Why Mohamed Melehi Was Crucial for Postcolonial Moroccan Art
Apr 26, 2019
A new exhibition titled New Waves: Mohamed Melehi and the Casablanca Art School, at The Mosaic Rooms in London, brings to light the artistic achievements of Mohamed Melehi (b. 1936), an influential pioneer of Moroccan Modernism. Melehi was still a young college student when the Revolution of the King and the People broke out in 1955, instigating the transition of Morocco from a 19th Century European colony into a free, Modern, democratic, 20th Century Moroccan state. While his home country was going through this profound internal struggle, Melehi was engaged in his own personal transformation, receiving an international education in the arts while studying at the École des Beaux-Arts in Morocco, Spain, Italy and France. In 1962, his education received an even more tremendous boost when Melehi was awarded a Rockefeller Foundation scholarship to study at Columbia University in New York City. While in New York, Melehi had the good fortune to rent a studio in the same building as Jim Dine, and to befriend the Hard Edge abstract painter Frank Stella. The visual language of American Hard Edge Abstraction had a profound effect on Melehi. Not only did he embrace it for its Modernist qualities, but he quickly realized that it harkened back to something ancient from his own past—the historic aesthetic legacy of Islamic art. This revelation inspired him to create a new style based on colorful, hard edged, flat, wavy lines that speaks simultaneously to Arabic history and contemporary abstraction. His vibrant and confident work quickly drew the attention of his contemporaries, as well as curators. In 1963, Melehi even had some of his work included in the exhibition Hard Edge and Geometric Painting and Sculpture at MoMA. Yet, his enthusiasm for what he had discovered in Hard Edge Abstraction inspired him not to stay in America, but to return to Morocco, where he has since remained, discovering the Moroccan roots of Modernism and helping establish a new artistic avant-garde in his rapidly changing home.
The Melehi Look
The distinctive visual language for which Melehi has become known is on full show in New Waves: Mohamed Melehi and the Casablanca Art School. His style is particularly evident in his paintings, in which Hard Edge waves intertwine with circles, diagonals, and fields of solid, flat color. The compositions are visually weighted in a harmonious way despite rejecting traditional rules of balance. Melehi is deft at blending chaos with structure. It is as though he is painting pictures of the randomness of the universe as distilled through the discipline of the human hand. In addition to their unique compositional strategies, his paintings also stand out for their luminous color, thanks in large part to the choice of mediums Melehi used. After returning to Morocco in the 1960s, he transitioned into using mediums like automobile paint, which express his connection to the working class. These paintings remain as vibrant and pop-ish today as they must have been when they were first painted.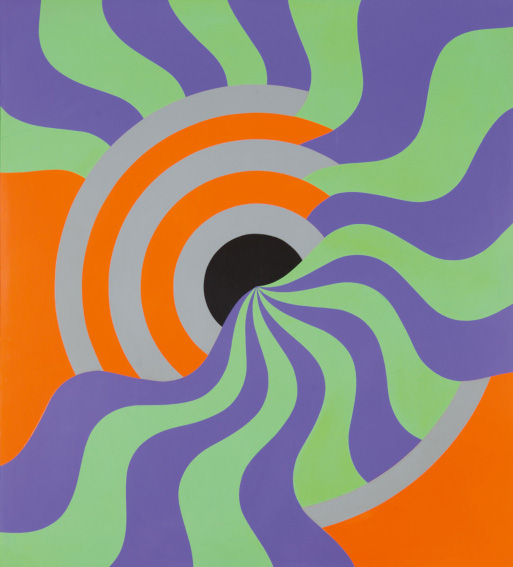 Mohammed Melehi - Composition, 1976. Cellulosic paint on panel. 110 x 100 cm. © Mohammed Melehi
The distinctive Melehi look is not only confined to paintings. In this exhibition we also see it expressed across multiple other mediums. A large, wavy sculpture undulates with three conjoined, white forms, while architectural models express the Bauhaus-inspired philosophy Melehi embraces, that art, architecture and design should be part of every aspect of daily life. Perhaps the most striking examples of his signature style, however, come through in the collection of journals, posters, and books that are on view, for which Melehi contributed graphic designs. His brilliant synthesis of order and improvisation shines in these designs, as he bridges European 20th Century graphic sensibilities such as those of De Stijl and Constructivism with a flowing visual freedom that reminds us that for a while Melehi was also a jazz drummer.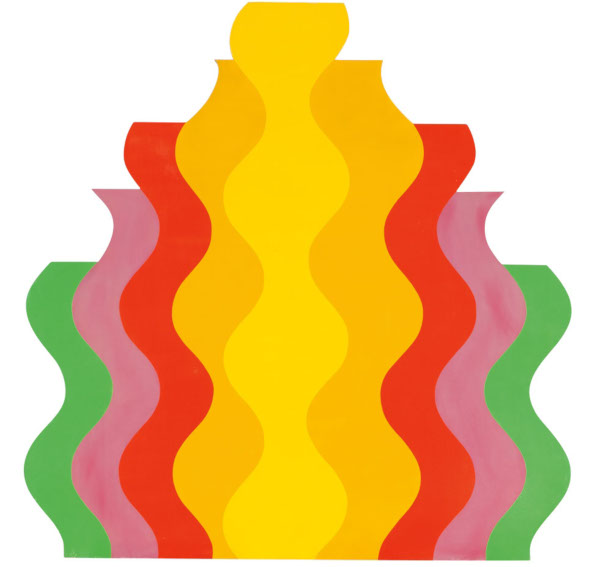 Mohammed Melehi - Flame, 1976. Cellulosic paint on wood. 123 x 119 cm. © Mohammed Melehi
Making Waves
The visual aspect of the Melehi story is not the only thing revealed by New Waves: Mohamed Melehi and the Casablanca Art School. With its immense collection of ephemera, the exhibition also tells a much larger story of how the efforts of this artist have profoundly affected his colleagues, his contemporaries from other countries, and the entire Moroccan culture. When Melehi returned to Morocco from New York, he encountered a nation that was struggling to hold on to its identity. The monarchy was reticent to let go of its power, and the people were struggling to find the courage to demand their own democratic agency. In the middle of this battle was the question of what exactly a modern Morocco looked like. Did Modernism and democracy mean letting go of history and tradition entirely? Considering the revelation he had recently experienced regarding the Islamic roots of Hard Edge Abstraction, Melehi was the perfect person to help answer this question.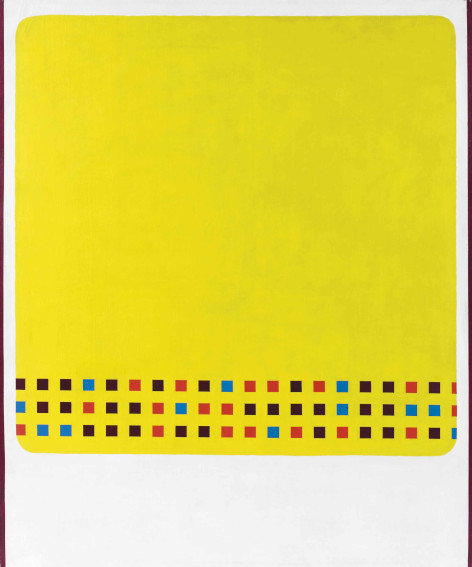 Mohammed Melehi - Time Square, 1963. Oil on canvas. 50 x 41 3/8 in (127 x 105 cm). © Mohammed Melehi
He took a position teaching at the École des Beaux-Arts of Casablanca. There, he taught his students to look around at Moroccan architecture and design in search of Modernist visual cues. He helped them see that the roots of abstraction were all around them, and guided them in the creation of a contemporary Moroccan abstract aesthetic that was rooted in history and tradition whilst also harkening towards something new. He found collaborators in the artists Farid Belkhahia and Mohamed Chabâa, with whom he formed an informal group called the Casablanca Art School, for which this exhibition is named. Not only did they form the foundation for what has become the contemporary Moroccan abstract aesthetic, but they also established the notion of art as something inherently independent, and inherently political. Their attitude was perfectly embodied in a 1969 exhibition that they mounted in opposition to a concurrent formal salon. They hung their abstract paintings on the walls of the city, leaving them outside for several days exposed to the weather—a testament to their lasting belief that art should reach out directly to the people, and not be the exclusive domain of the elites. New Waves: Mohamed Melehi and the Casablanca Art School is on view at The Mosaic Rooms in London through 22 June 2019.
Featured image: Mohammed Melehi - New-York, 1963. Acrylic on canvas. 153 x 127 cm. © Mohammed Melehi
All images used for illustrative purposes only
By Phillip Barcio