Blog Home
Love in the Age of Medium Specificity
May 10, 2016
As art lovers, we seek ways of increasing our enjoyment of art. One reliable way we've found to do this is to converse with each other about the art we love, to talk about what we like, what we don't like, and the reasons we feel the way we do. We look to art critics, historians and theorists to help us share our thoughts and feelings by giving us language and concepts to use in our conversations, to give structure to our repartee. Few have done more to inform the way contemporary art lovers talk about art than the art critic and essayist Clement Greenberg, best known for his early championing the Abstract Expressionists. Among other concepts, Greenberg popularized the idea of Medium Specificity. Unfortunately, his definition of the concept was somewhat obtuse; something along the lines of: "The unique and proper area of competence of each art coincides with all that is unique to the nature of its medium."
Medium Specificity - What Does That Mean?
It means a work of art can be judged according to how well it uses the unique properties of its medium. What's a medium? It's the physical stuff of the art. If a potter makes a clay bowl, clay is the medium. Medium Specificity is the idea that the bowl's success as a work of art depends on how well it capitalizes on clay's unique properties, such as the ability to be easily molded; the tendency to shrink when heated; the ability to be colored before or after being heated; the tendency to be soft before firing and hard after firing; graininess; cohesiveness; etc.
Clement Greenberg believed that by having an understanding of clay's unique properties, a viewer would have much to talk about when conversing about the success or failure of an artwork made of clay. That's Medium Specificity.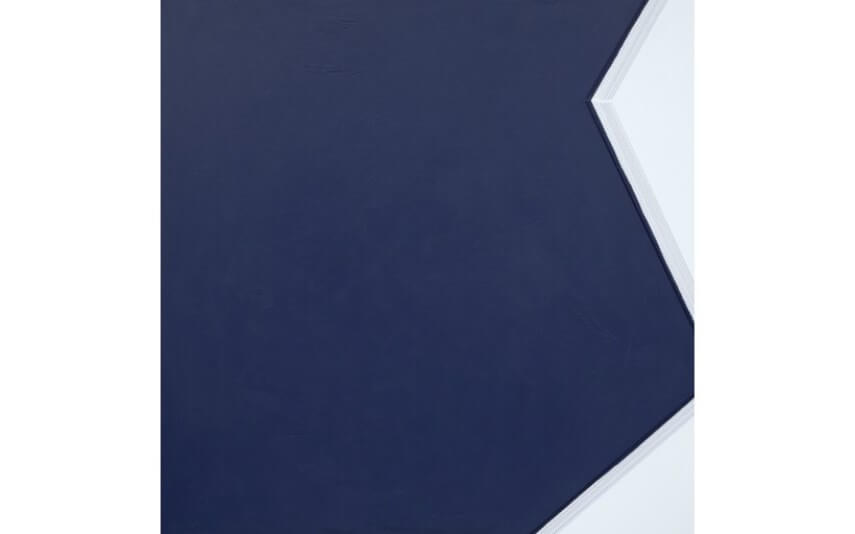 Holly Miller - Bend #14, 2014, 48 x 48 in
Medium Specificity in Contemporary Abstract Art
Materiality and process are important to the practice of many contemporary abstract artists. When endeavoring to connect with emotions and the subconscious, the most important thing is not to get in the way of the process. Each medium, as well as each type of surface, whether canvas, paper or metal, etc., demands different treatment in order for their essential qualities to be expressed. Understanding of those unique properties is paramount to an abstract artist's ability to be free, and to allow the work to manifest.
Holly Miller - Bulge #14, 2007, 13.8 x 13.8 in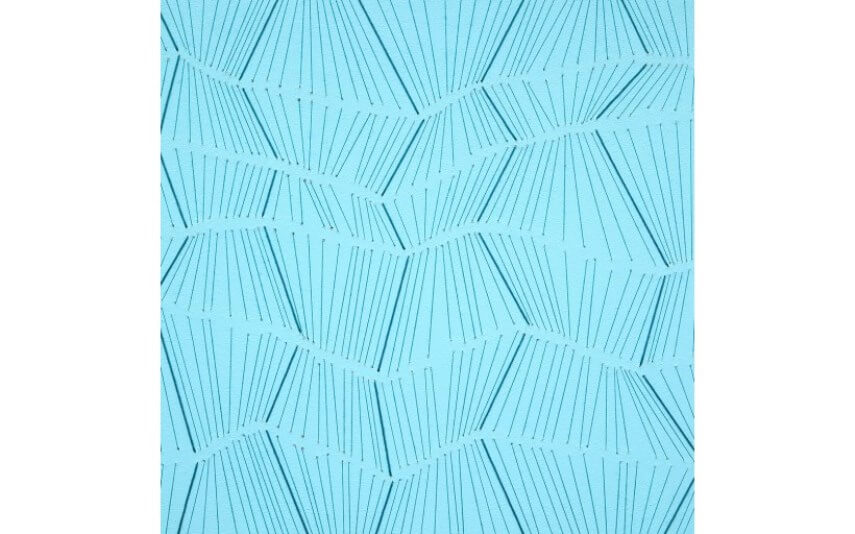 Graphite and Thread
American painter Holly Miller creates abstract images by applying acrylic paint, graphite and thread onto surfaces made of canvas. Miller's works incorporates painted geometric forms, graphite lines, holes punctured in the canvas, and strands of taut thread run through selected holes.
The word graphite refers to the medium's essential property, the ability to graph, or mark a surface. Miller's graphite lines evoke a sense of order, reading as rows, staves, or charts. The thread adds dimension to the work. Its unique properties, which include durability, softness and texture, give a sense of something being added, protected, or perhaps repaired.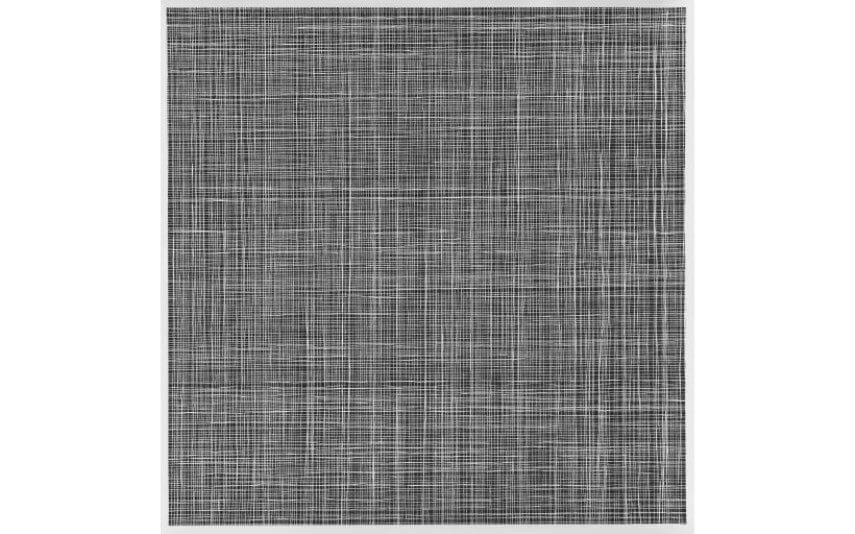 Tenesh Webber - String Grid, 2006, 19.7 x 19.7 in
Thread and Light
Canadian artist Tenesh Webber uses photo paper, thread and light to create abstract photograms. A photogram is an image made using materials common to photography, but without using a camera. Weber stretches thread onto a frame, creating layered patterns, and then burns the resulting image onto black and white photo paper.
Light is the unique quality of the photographic medium. Webber's images not only make use of light, but they themselves possess a sense of luminescence, embodying the process in the product. When laying out the thread, Webber allows the material some self-determination, taking advantage of thread's desire to crinkle and bend and otherwise not be perfectly straight. The result is an image consisting of imperfect, nonetheless cohesive patterns, suggesting both chaos and the touch of the artist's hand.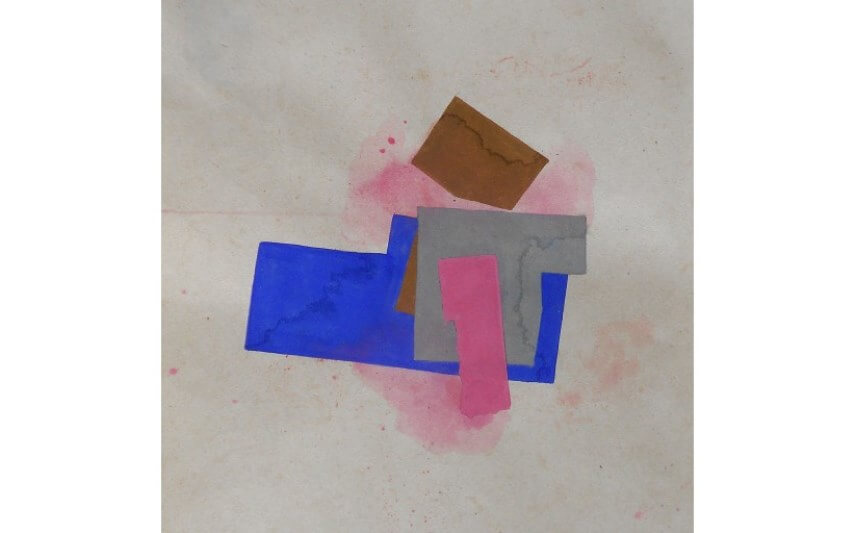 Jean Feinberg - P2.14, 2014, 21.7 x 12.2 in
Paper and Gouache
American artist Jean Feinberg works with the materials and techniques of painting and collage. She uses found paper as a point of departure for her images, layering it onto the surface of Japanese paper and adding abstract imagery painted with gouache. Feinberg's work has a profound sense of materiality. By layering paper on top of paper, she both defies and draws attention to paper's essential quality, which is flatness. Gouache introduces the delicacy of watercolors while echoing the found paper's opaqueness. By working in conversation with the color palette of the found paper, Feinberg embraces chance, allowing it guide the nature of the finished product.
Each of these artists creates work that demonstrates the essence of medium specificity, which is that there is a collaboration happening between artists and whatever mediums they use to make their work. The materials and processes assert their unique qualities in such a way that the medium adds to, and deepens, the interpretive layers of the art.
Featured Image: Tenesh Webber - Diamonds, 2002, 7.9. x 7.9 in