Blog Home
Oscar Murillo - A Pioneer of Visceral Contemporary Abstraction
Jan 27, 2017
It may be impossible to say what secret forces conspire in the creation of a good abstract painting. But Colombian-born, London-based artist Oscar Murillo harnesses these forces regularly in his studio. In recent years, Murillo has become globally acknowledged for the large-scale, visceral abstract paintings he makes by combining a multitude of surface elements, including canvas, plastic and pulped paper with a range of mediums including everything from oil paint to dirt from his studio floor. In addition to painting, his creative exploration includes performances, videos, installations, public artworks, and social-cultural-aesthetic mash-ups that involve multiple media but are less like art shows and more like family parties. Regardless what form his art takes, it all comes about through a gradual process Murillo likens to the creation of a stew, or the aging of cheese. During this long and unpredictable evolution his instincts, memories, philosophies and experiences synthesize with remnants of the cultural and material world, forming a rich, layered, textured, flavorful expression of our time.
Mastering the Viscerally Abstract
Oscar Murillo left his birthplace of La Paila, Colombia, at age ten, when his parents chose to move the family to London. When they arrived in England they did not speak the language. During the gradual, often difficult process of assimilation to his new culture, Murillo worked a variety of different jobs to help support his family, while also going to school. He developed an instinct for finding common ground and for taking chances. And he learned the value of combining the many seemingly disparate elements of life in new ways so that something harmonious and valuable might emerge.
Murillo excelled in his efforts, earning an art degree from the University of Westminster, and his M.F.A. from the Royal College of Art. All of the life skills he acquired along the way are represented now in the way he works in his studio. He combines found objects with traditional painting mediums and surfaces in ways that take disparate elements and build them toward an expression of completeness. He takes his time. He begins a work then folds it up and leaves it on the floor. He returns to it later after it has accumulated evidence of time, like wrinkles and dust. Then he adds to it in physical, gestural ways, using a visual language both wild and focused. Finally, the elements synthesize into something whole.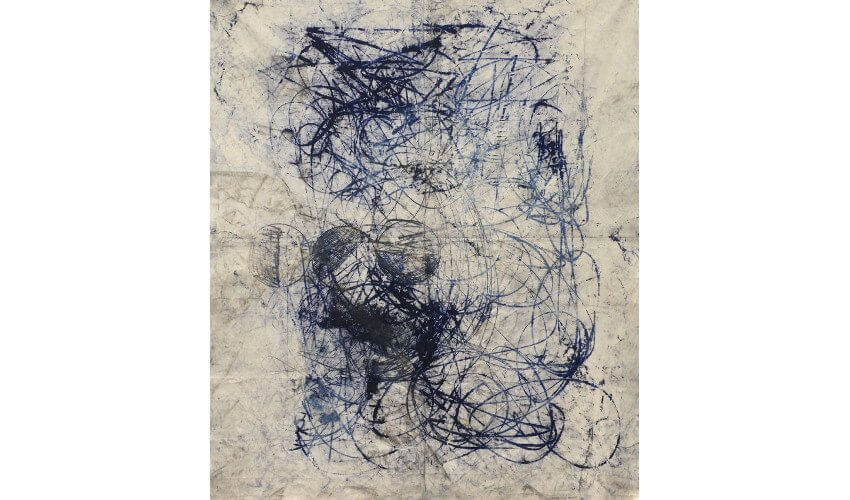 Oscar Murillo - Untitled, 2011. Oil, oil stick, graphite, dirt on canvas. © Oscar Murillo
Language is Feeling
One iconic element Murillo incorporates into many of his paintings is the use of words, scrawled primitively among the lines and color fields of his compositions. Some of the words relate to food, such as mango, chorizo and milk. Others relate to social and cultural concepts such as work, or yoga. Murillo chooses the words because they relate to things about which he can authoritatively speak. He has studied yoga extensively, for example, and the foods are often important to his personal diet.
When included into his patchwork abstract compositions the words take on a new importance. They could be interpreted as commentary or simply as formal elements, an extension of the primitive aesthetic. Or they could become associative guideposts that to each viewer may create personal meaning. Regardless of how they are interpreted, Murillo uses them in the same way he uses the rest of his materials. Like a football, a scrap of plastic or a broom handle, words and their possible meanings are influential elements of our time; elements that he hopes to combine in order to explore what potentialities might arise.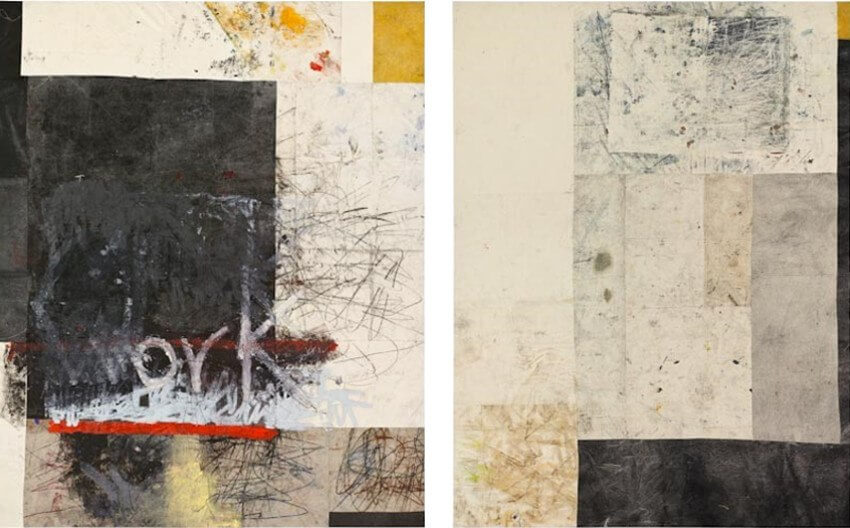 Oscar Murillo - Untitled, 2012, Oil paint and dirt on canvas (Left) / Oscar Murillo - Work 8, 2012, Oil paint and dirt on canvas (Right). © Oscar Murillo
Acting and Building
Though painting is one of the primary avenues through which Oscar Murillo explores his ideas, he has also been successful in translating his vision into the creation of more diversified aesthetic environments. He has staged dance performances and held cross-cultural parties, serving tamales with champagne or serving meals on surfaces covered with his art. In his 2013 exhibition, Dinner at the members club? Yes! i'll have a black americano first pls, Murillo created a false, reflective golden floor. Paintings leaned against the wall, while assemblages of surfaces and objects occupied the interior of the room. In his 2016 installation, through patches of corn, wheat and mud, Murillo filled the space with draped, stacked and folded canvases in an environment reminiscent of a workshop, bringing attention to the importance of processes, choices and physical work.
Building further on these ideas, Murillo recently opened an exhibition at Yarat Contemporary Art Space in Baku, Azerbaijan. An important stopover on the ancient Silk Road, and a once vital Soviet manufacturing site, Baku is now struggling to find its footing in a post-industrial reality. Murillo collaborated with artisans and workers there in the creation of his installation. Drawing on their traditional skills, together they manifested objects that could evoke new conversations about the future, and reveal the beauty and hidden potential lurking beneath the surface of a marginalized society.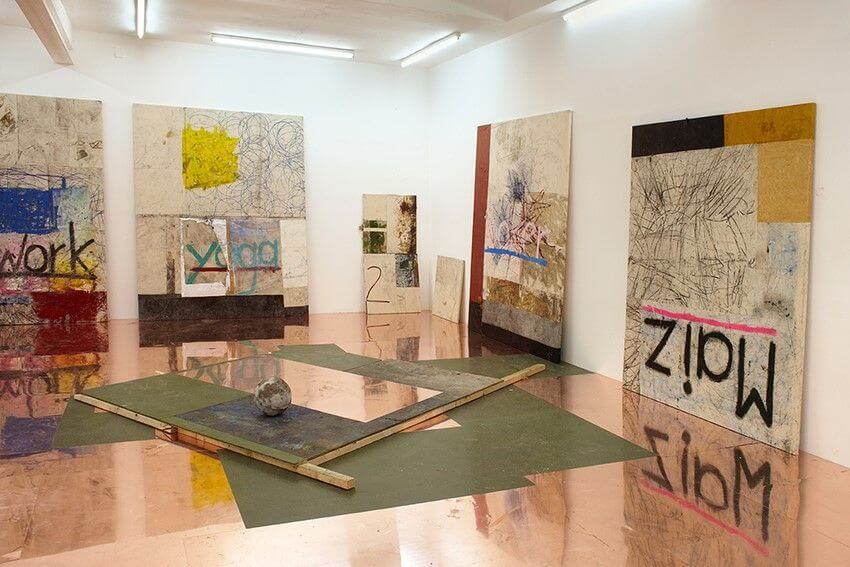 Oscar Murillo - Dinner at the members club? Yes! I'll have a black americano first pls, 2013. Installation view. © Oscar Murillo
Humble Efforts
Oscar Murillo is easily one of the most frantically collected young artists in the world today. Since his inaugural exhibition at David Zwirner New York in 2014, some of the most influential collectors in the world have acquired his work. But despite the global attention being paid to him, Murillo has withdrawn from the hype. He has expressed gratitude for the attention and said he knows how lucky he is, but he has also said that he feels he has accomplished little, and that there is still so much more to do. In interviews, he comes off as sincere, hardworking, open and motivated. He even responded to his own critics once by telling the New York Times, "If I were looking from the other side, I would be skeptical, too."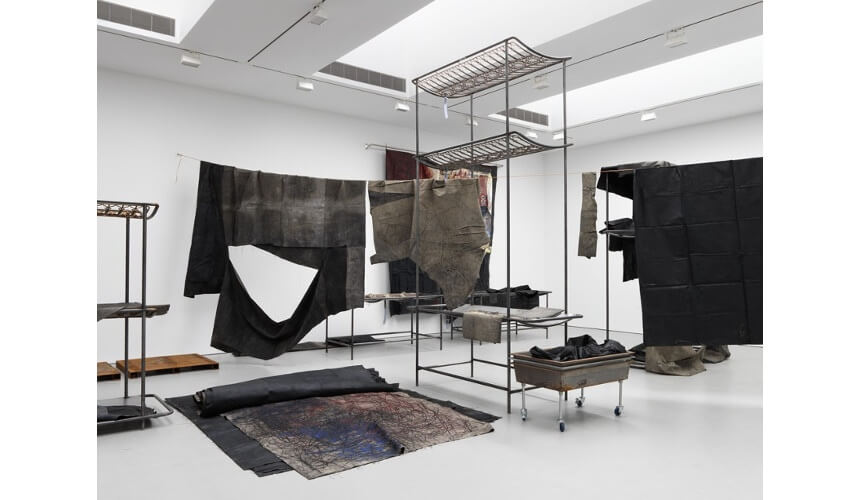 Oscar Murillo - Through patches of corn, wheat and mud, 2016. Installation view. © Oscar Murillo
Perhaps his earnestness and determination should have nothing to do with how we talk about his work. But the fact we see him searching, that he lacks an agenda, and that he is open to failure affects us nonetheless. His humility eliminates a barrier of suspicion between viewers and the work. It allows us to respond viscerally to what he has created, allowing our instincts and feelings to guide our interaction with it, just as he did when it was being created. Though we may not be able to assign definitive meaning to his work, there is no doubt in our mind that Murillo is a pioneer. We look forward to those who will join him in combining the aesthetic, social and material elements of our global present into an abstract aesthetic expression that helps us imagine the future from a position of hope.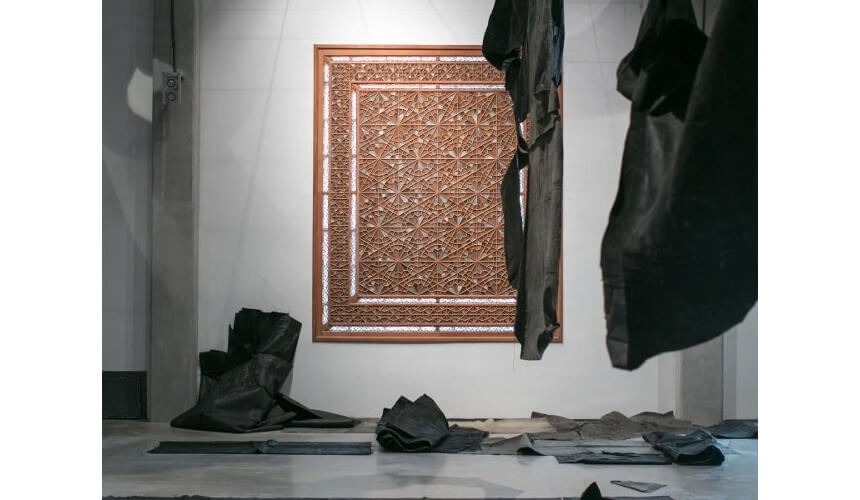 Oscar Murillo - DIS PLACE, Baku, Azerbaijan, 2016. Installation view. © Oscar Murillo
Featured image: Oscar Murillo - Untitled - mango (detail), 2012. Oil paint, plastic and dirt on canvas. © Oscar Murillo
All images used for illustrative purposes only
By Phillip Barcio