Blog Home
Mary Weatherford's Art Journey from the West to the East Coast
Nov 3, 2017
The word that comes to my mind when looking at the neon paintings Mary Weatherford has been making recently is, "Eureka." They have that inexpressible something—a sense of wonderment, a shock of life. And that is not only my opinion, by the way. It is also the opinion of one of the most powerful people in the art world: Larry Gagosian. Weatherford was just signed by Gagosian in October of 2017. One of her large-scale neon paintings is currently on view in his West 24th Street location in the LA Invitational exhibition, alongside the work of artists like Frank Gehry, Ed Ruscha, Sterling Ruby, Mike Kelley, and Nancy Rubins. Gagosian has gained his reputation as one of the most powerful people in the art world partially from the fact that he owns 16 galleries all over the world. It also comes partially from the fact that he is rich (it has been estimated that his business is worth around $1 Billion). But both of those factors are secondary. The reason he has so many locations and earns so much money is because of the number of other people who trust his instincts. He has nurtured an international reputation as someone who knows exactly when an artist has arrived at a moment that sets the work apart as something truly special. So what about Weatherford has attracted the attention of this certified star maker? Is it simply the fact that half a decade age she suddenly started adding neon lights to her paintings? Well, sort of. But it is a bit more complicated that that. It has more to do with the winding road this veteran artist has taken to get here, and the mature depth, raw emotion, drama and power she has learned to infuse into her work.
California Soul
People often report that when they are standing in front of a Mary Weatherford painting they can feel a sense of place. And that is no mistake. Weatherford works hard to capture the essence of how she feels about specific times and places in her life, and then to convey those sensations through her work. Sometimes she even gives viewers a hint of the circumstances that inspired a work by referencing some specific locale in the title. And more often than not, when a locale is mentioned, it is some place in California. That is because Weatherford is a native Californian, and has lived there most of her life. She was born in Ojai in 1963, a place that is widely known as a mecca for artists and free thinkers. A mountain village tucked away like a hidden paradise between Malibu and Santa Barbara, it has always been a slice of paradise. Once there, it is hard to leave. But Weatherford did leave, in 1969, when she was just six years old.
That was the same year the infamous Tate murders were committed by members of the Manson Family, and the same year that a massive oil spill spoiled the beaches of Santa Barbara. But it was also the same year Marlena Shaw sang, "Like a sound you hear, that lingers in your ear, but you can't forget, from sundown to sunset, it's all in the air, you hear it everywhere, no matter what you do, it's gonna grab a hold on you, California soul." Good times and bad. That was how Weatherford was introduced to life in Los Angeles. The city meant she did not have the same access to that part of the California soul that lurks in the mountains and forests. But she awoke to another aspect of this magical place: its sprawling urban sprit. She visited art museums with her dad, and took in the sunsets and city lights equally. She absorbed the layers of color and texture that define Los Angeles, and the diverse tapestry of symbols and cultures that come together to somehow make it seem unified. Unification through diversity. Layers and textures. That is the essence of California soul. And it is what has defined the work of Mary Weatherford for 30 years.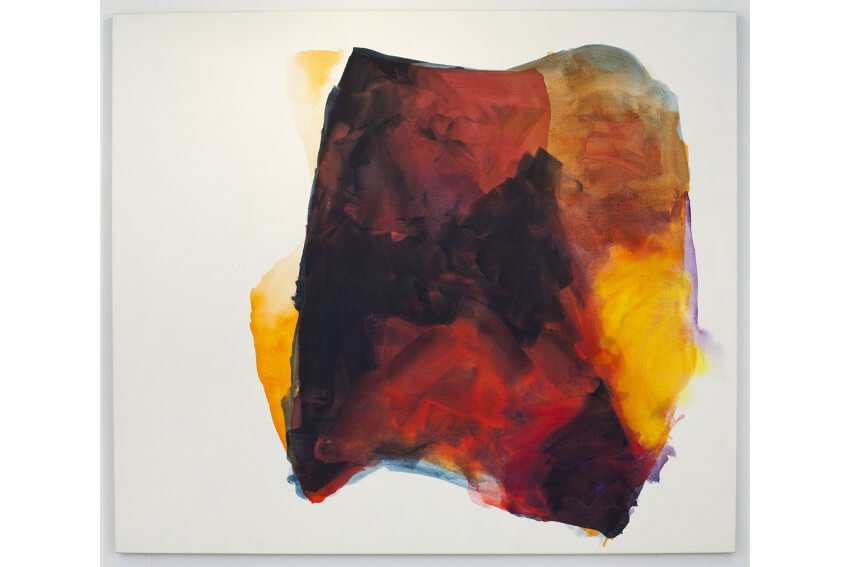 Mary Weatherford - love forever (cave) for MW, 2012, Flashe on linen, 200.7 x 236.2 cm, image © Mary Weatherford, courtesy of David Kordansky Gallery
Heading East
But Weatherford has not always lived on the West Coast. In 1980, she left California to attend Princeton University in New Jersey. That is where she discovered the work of Sherrie Levine, the Pictures Generation pioneer who made a powerful impact in the 1970s and 80s by re-photographing the work of other artists, in particular male artists. By appropriating the work of male artists from the past and claiming the reproduction as her own, Levine made a powerful feminist statement. And there was much more to it than that. It was audaciously experimental. It demonstrated that an artist does not have to know exactly what the full ramifications of a body of work are going to be—the work can be sent out into the world without an explanation or a defense. The main body of work by Levine that inspired Weatherford was her After Walker Evans series, which appropriated famous Depression-era photographs of sharecroppers taken by Walker Evans for the Farm Security Administration. These pictures marked a defining moment when an artist claimed the right to make work that exists outside of a rigid timeline of art history. It was a Post-Modernist landmark, and one that made a tremendous impact on Weatherford.
After Princeton, Weatherford moved to New York City and continued to develop her talents. She enthusiastically embraced the spirit of experimentation and curiosity, and her aesthetic changed often, sometimes from painting to painting. She explored different styles and fluctuated between figurative and abstract work. She also went back to her early roots as a sculptor, adding three-dimensional objects like sponges and star fishes to her canvases. Her work from this time shows a refreshing willingness to push the boundaries of her studio practice. It lacks what could be called an iconic expression of her voice. However, that would soon come. But not in New York. After 15 years on the East Coast, Weatherford moved back to California in 1999. And it was there that her work began to mature as she developed an idiosyncratic and mature ability to apply paint to the canvas. This maturation was noticed by many people in the art world. She was written about by major critics like Roberta Smith for the New York Times. And throughout the 2000s, it seemed to her and to others multiple times like she was about to break through.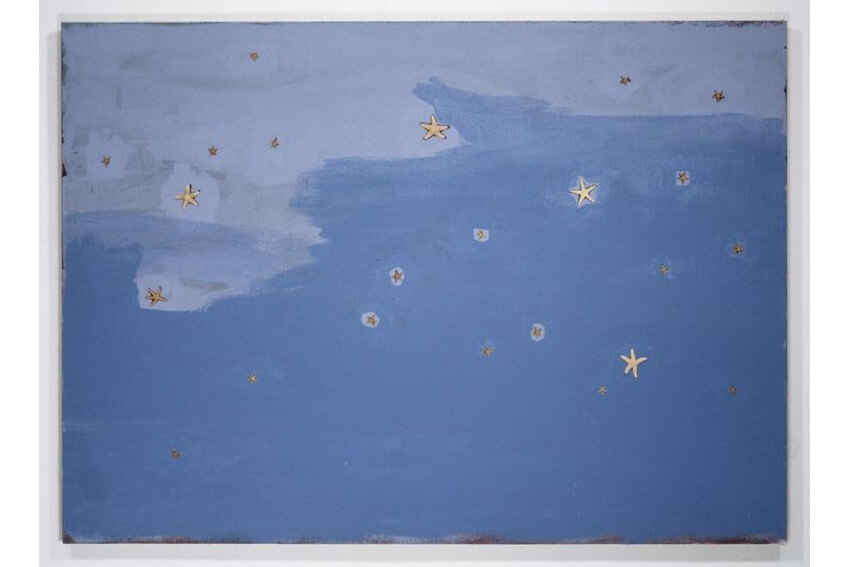 Mary Weatherford - The Ocean is in the sky, 1994, starfish, Flashe, molding, and paste on jute, 99.1 x 137.2 cm, image © Mary Weatherford, courtesy of David Kordansky Gallery
The Neon Paintings
But it was not until 2012 that Weatherford arrived at the eureka moment that has now defined her career. She had been making these stunning abstract paintings featuring luminous layers of color that coalesce to create these masses that seem to float in space. Their power and weight feels important and unique. But they also seem subtly lacking in an odd way. But then one evening, inspired by the sight of neon switching on in the fading light of sunset while driving through Bakersfield, California, she grasped that it was the light that gave emotional depth to the colors and textures of that place. She began adding neon bulbs to her canvases in the same way as she had added stars and sponges in the past. The neon played off the paint, elevating both elements to higher ground.
Interestingly, Gagosian was not the first gallerist to notice the power of these neon works. David Kordansky of the David Kordansky Gallery in Los Angeles bought one of the neon paintings in 2012, and then signed Weatherford in 2013. And he continues to represent her exclusively in California. What he noticed in these works, and what Gagosian has now also noticed, harks back to the legacy of Sherrie Levine—the freedom contemporary artists have to reference art history. It is impossible to look at these paintings after all and not think of artists like Dan Flavin and Robert Irwin. But as a medium, neon has been waiting a long time for a special enough artist to come along that could free it from the past. Weatherford has done it. That is why David Kordansky Gallery signed her back in 2013 and Gagosian has signed her now. Because she has found a way to mix painting and light in a way that feels timeless, inevitable, and yet brand new, and that captures the essence of California soul.
Featured image: Mary Weatherford - canyon, 2014, Flashe and neon on linen, 284.5 x 251.5 cm, image © Mary Weatherford, courtesy of David Kordansky
All images used for illustartive purposes only
By Phillip Barcio