Blog Home
Reflections in the Water - Barbara Vaughn Photography
Apr 12, 2017
One measure of the success of an abstract photograph is how easily it allows viewers to look beyond evidence of objectivity, and to open themselves up to connections with the unknown. By such a measure, the abstract water photographs of Barbara Vaughn almost always succeed. Vaughn began her career as a portrait photographer in the early 1990s, immortalizing influential personalities like Martha Stewart, Tory Burch, Bryan Hunt and Roy Lichtenstein. But along the way she began feeling attracted to abstraction. She created a series of nudes, in which she explored the symbiosis between the human form and the biomorphic attributes of nature. In these images the inherently abstract patterns and shapes of the natural environment are paramount. But the pictures are still figurative: bound somewhat by the limits of their subject matter. Then in 2000, while on a ski vacation in Idaho, Vaughn met a man named Telly Hoimes while waiting to rent a car. The two hit it off, and later married. Hoimes was from a family of Greek Americans. On a visit with him to his ancestral homeland, Vaughn noticed for the first time the fleeting abstract reflections of light and shapes that frolic atop the surface of water. Ever since, she has been attempting to freeze those ephemeral moments with her camera. The result has been extraordinary. Although her abstract water photographs can sometimes be read simply as beautiful reflections in water, quite often they transcend their figurative source, sublimating it, and offering us a glimpse of something universal.
Concrete Abstraction
The language of forms evident in many of the abstract water photographs Barbara Vaughn has taken has been compared to that in the works of some of the most famous abstract artists of the past. It has been likened to the paintings of Jackson Pollock, Pablo Picasso and Clyfford Still, and to the sculptures of Alexander Calder. In her Apokopes series the Calder reference is particularly evident, as circles, kidney and ovoid shapes arrange themselves with playful lines in a perfectly harmonious composition. Whereas Calder formulated his compositions in physical space using metal wire, these compositions were formulated by wind and waves and captured in a fraction of a second by the lens.
Barbara Vaughn - Apokopes 1, 2014, Archival pigment print (left) and Apokopes 2, 2014, Archival pigment print, (right). © Barbara Vaughn
The connections between Vaughn and Jackson Pollock can be most easily understood by looking at some of the images from her Donisi series. Though obviously as photographic prints these images lack the impasto texture of a Jackson Pollock action painting, the lines, layers, color combinations and compositional harmonies nonetheless immediately recall the sensual, flowing rhythms Pollock so often conveyed in such works. They bring to mind the famous response Pollock reportedly gave when Lee Krasner brought Hans Hofmann to his studio to see his work. Hofmann asked Pollock, "Do you work from nature?" To which Pollock answered, "I am nature."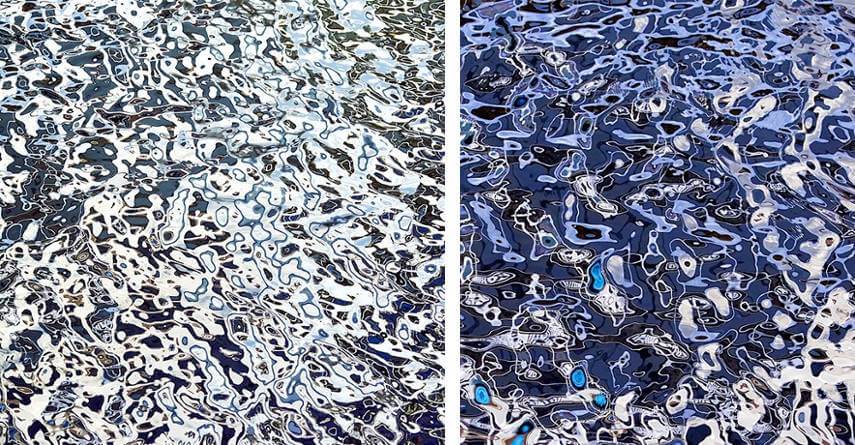 Barbara Vaughn - Donisi, 2014, Archival pigment print (left) and Donisi 2, 2016, Archival pigment print (right). © Barbara Vaughn
Ghosts of Abstraction Past
We could perhaps continue all day to draw other comparisons between the photographs of Barbara Vaughn and the works of other famous abstract artists from the 20th Century. For example, we can see the color palette of a Willem de Kooning abstract landscape in the photograph Vicinato, from 2012. The illusion of texture evident in some of the lines even hint at the technique De Kooning used, scraping and clawing at his surfaces. And in this same photograph we can also see the jagged color fields of Clyfford Still. Though the orientation of the photo is horizontal instead of the iconic verticals associated with Still, the emotive power of the color relationships remains.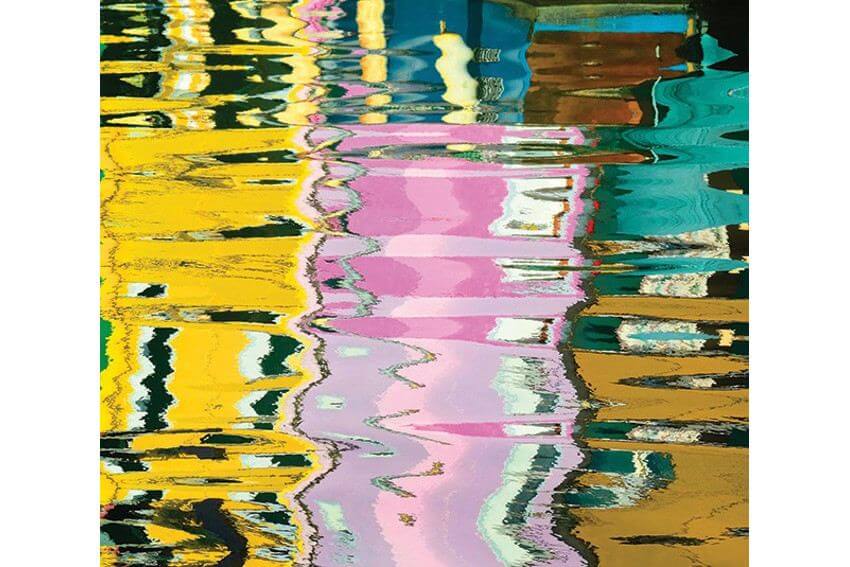 Barbara Vaughn - Vicinato, 2012, Archival pigment print. © Barbara Vaughn
In photographs like Varka (2012) and Symadoura (2011), it is quite tempting to see echoes of the graceful, flowing stains Helen Frankenthaler created with her soak-stain technique. What Frankenthaler brilliantly accomplished by pouring thinned acrylic paint directly onto unprimed canvas, Vaughn accomplished by waiting patiently with her camera, as the same natural forces that collaborated with Frankenthaler to transform the surface of her paintings worked their magic in passing moments on the surface of a body of water.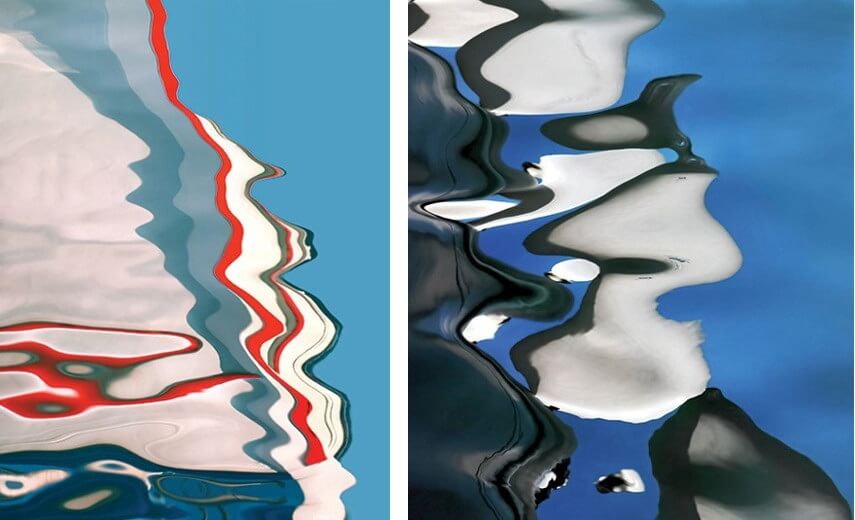 Barbara Vaughn - Varka, 2012, Archival pigment print (left) and Symadoura, 2011, Archival pigment print (right). © Barbara Vaughn
Beyond Comparisons
Nevertheless, despite how effortlessly they seem to come to mind, scanning the abstract water photographs of Barbara Vaughn in search of comparisons to the work of other artists is an instinct we should resist. What is the difference between seeking out references to other abstract art in an abstract image and searching it for figurative subject matter? It should be obvious by now that yes, objective phenomena in the natural and built environment we inhabit often results in imagery that correlates in not-so-subtle ways to aesthetic phenomena created by abstract artists.
But Barbara Vaughn is doing more than simply taking figurative photographs of abstract imagery. By watching tirelessly as the images before her eyes transform throughout the changing circumstances of the day, she is collaborating with forces she cannot control. She is making choices about where to wait, where to point her lens and when to snap the picture, while also accepting the inevitability of chance and the unknown. By doing so, she is not just expressing her own aesthetic position; she is allowing the underlying universalities that inform all aesthetic phenomena to be expressed.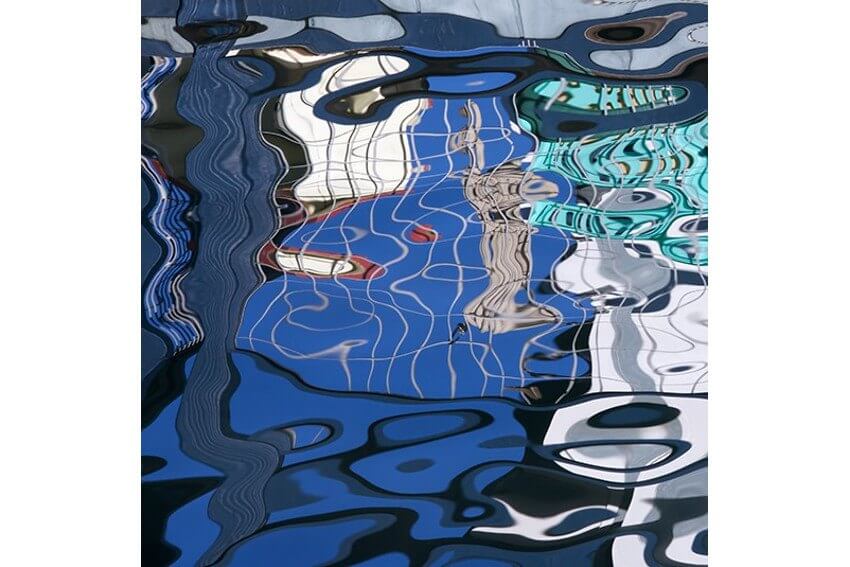 Barbara Vaughn - Synthesi, 2015, Archival pigment print. © Barbara Vaughn
Featured image: Barbara Vaughn - Portokali (detail), 2012, Archival pigment print. © Barbara Vaughn
All images used for illustrative purposes only
By Phillip Barcio