Blog Home
Between Industry and Craft - Patricia Urquiola
Oct 30, 2017
This winter, the Philadelphia Museum of Art will open the first ever solo exhibition of the work of designer Patricia Urquiola. This exhibition will offer viewers not only a chance to admire a curated selection of the award winning creations for which Urquiola has become renowned, but also an opportunity to examine the current state of design as fine art. Many people believe art and design are separate. Design, they feel, is a realm of human activity devoted to form and function. A well designed object (or building, or system) should be unobtrusive, attractive, and useful in a specific way. Such people believe that art, on the other hand, has the potential to be transcendent. In other words, design has to do with our corporeal existence; art has to do with our metaphysical existence. But that bias has often been challenged. Artists have argued successfully that the objects they make have no deeper meaning whatsoever—they are just useless aesthetic phenomena. Others have argued that art can in fact be utilitarian, as a mindfulness intermediary, talisman, aid to enlightenment, or trigger for change (personal or societal). Meanwhile, designers have argued successfully that good design can also be transcendent and achieve many of the same ideals as art. For example, a perfectly designed coffee cup can become an intermediary between its user and a state of mind conducive to happiness, while a poorly designed coffee cup can ruin an otherwise pleasant morning and lead to who-knows-what additional miseries (personal or societal). The exhibition Patricia Urquiola: Between Craft and Industry engages thoughtfully with this debate. And all hyperbole aside, considering the state of affairs on this planet right now it could not have come at a better time.
What the World Needs Now
The song says the world now needs "love, sweet love." But love is difficult. Discomfort, inequity, insecurity and scarcity get in the way of love. After all, how can we find time to nurture love when all we do is struggle with the difficulties of everyday life? This is the most practical question facing designers. Love and life work best when we have peace of mind. And whether they are designing a new structure in which people will live, work and interact with each other, or a new object that will perform some crucial function in such activities, designers take our peace of mind in their hands. They decide whether the functional spaces and objects surrounding us will contribute to our success as humans or detract from it. They choose the materials we will extract from our environment to make things. They choose the forms that we will see. They choose the color schemes our built world will adopt. They choose the atmosphere that will surround us, which directly affects our mood. In short, designers decide whether we live in a world that evokes sustainability, calmness, openness and beauty, or a world concerned with cheapness, ruthless efficiency, and ugliness.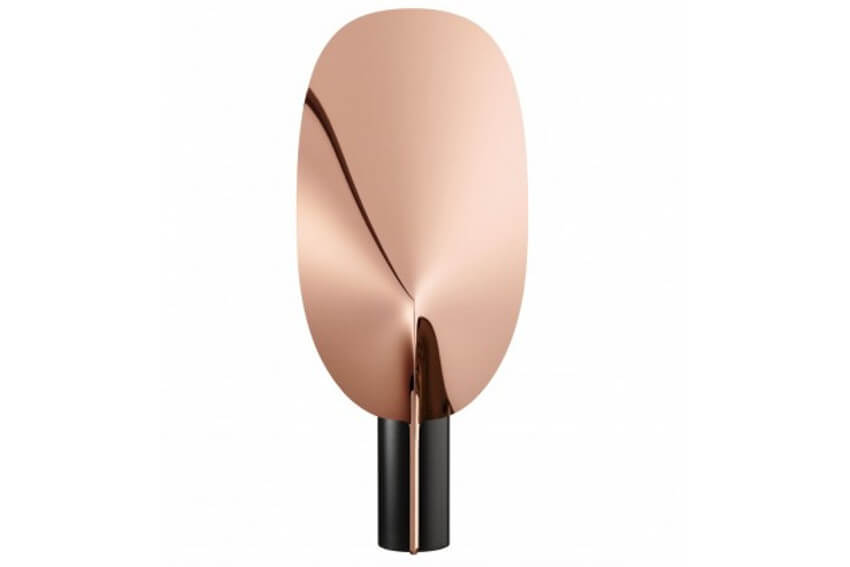 Patricia Urquiola - "Serena" Table Lamp, made by Flos S.p.A., Brescia, Italy. Designed in 2015. Aluminum, polycarbonate. Flos USA
What makes Patricia Urquiola worthy of our attention right now is that she has made choices that position her as an advocate of a more loving, peaceful world. She chooses materials that are recyclable, and often also recycled. That choice shows she believes endless resource extraction is not the right way forward for humanity. She chooses biomorphic forms and shapes that correlate to the abstract visual language employed by artists like Henry Moore, Barbara Hepworth, and Jean Arp. That choice evokes the organic world, and communicates a vision of the built environment as part of the natural environment. She designs her objects to be constructed using a combination of modern manufacturing techniques and the ancient crafts of traditional artisans. That choice states that regardless of our technological potential, human expression is a priority. These choices are not only about form and function—they are about values. They embrace an attitude toward design that strives for a world in which we can be comfortable, secure and generous, and thus better suited for love.
Who Needs Design
Because of all of those points in the preceding paragraph, I have no doubt the work Patricia Urquiola makes deserves consideration in the setting of an art museum. But I nonetheless would challenge Urquiola on one point, and that is who she thinks needs access to her vision. Who needs comfort, security, openness, equity, generosity and love to inundate every aspect of their everyday lives? Who needs to move around and live within well designed spaces, and interact with thoughtful, comforting objects? I would say everyone. But the prices for a Patricia Urquiola designed chair range from around €285 on the low side to upwards of €6000 on the high side. Her Fjord armchair, which is featured in the permanent collection of MoMA, retails for more than €2600.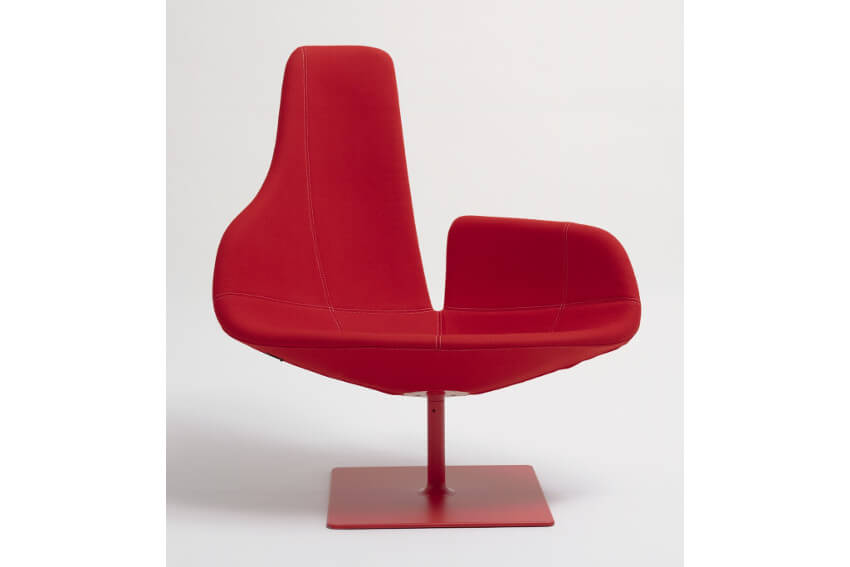 Patricia Urquiola - Fjord Armchair and Foot Stool, 2002, Steel, polyurethane foam and felt, 40 3/16 x 37 3/8 x 31 1/2" (102 x 95 x 80 cm), MOMA Collection, © 2017 Patricia Urquiola
In addition to her product designs, Urquiola has also designed interiors for multiple luxury hotels and corporate spaces. The designs are beautiful, inspirational, even artful. And in an abstract sense they encourage calmness and enable love. But in an economic sense, like her products, they are not for everyone. Likewise, admission price for an adult to the Philadelphia Museum of Art is $18. A minimum wage worker in that city makes $7.25 an hour. The museum offers two dollar admission for local residents enrolled in the food stamp program. But to someone who cannot afford food, even that is too much. There are also half a dozen or so "pay what you wish" times each month at the museum. But scheduling such a visit is difficult for someone with no economic means. Not that Patricia Urquiola or the Philadelphia Museum of Art is responsible for equalizing society. My point simply is that design, like art, can make the world a better place, as Urquiola demonstrates. But like art, its benefits only have value for humanity if they are available to all of humanity. Just something to think about next time you find yourself contemplating the mysteries of life as you swivel comfortably in a beautiful, sustainable, designer chair. Patricia Urquiola: Between Craft and Industry runs from 19 November 2017 through 4 March 2018.
Featured image: Photograph of Mandarin Oriental Hotel, Barcelona, Spain. Designed by Patricia Urquiola, Designed in 2010
All images used for illustrative purposes only
By Phillip Barcio