Blog Home
The Abstract Realities of Photographer J Henry Fair
Jun 23, 2017
Our natural environment appears to be changing at a horrifying clip. And few people on this planet are more aware of exactly what the appearance of a rapidly changing world looks like than J. Henry Fair. Fair is an artist working in the medium of photography, but he is also gaining a growing reputation as a scientist, an activist and an ecological whistle blower. Fair has spent roughly the past 16 years shooting pictures of the surface of our planet from seats in low flying airplanes. Specifically, he seeks out industrial sites where the human activities related to the production of resources like energy and food have substantially altered the physical landscape of the earth. His photographs capture the results of this activity in startling clarity, offering an undeniable view of precisely what corporations, governments, and the people who work for them, are doing to our air, water and land. But in addition to their value as documentation, the pictures of J. Henry Fair also capture an aesthetic reality, one that many people have noticed invites comparison to abstract art. He is certainly not the first photographer whose efforts have straddled a line between abstraction and realism. But in this case it seems vital that we as viewers make a clear and fundamental choice: is the work of J. Henry Fair journalism or art?
Journalism or Art
Fair first began his ambitious expedition to photograph the effect industrialization has had on the natural landscape around 2001. The area on which he focused first was the Mississippi River delta, a vast stretch of earth that has been ground zero for resource extraction in the United States for generations. Noticing quickly that the powers that be did not want the effects of their work to be seen by prying eyes, Fair realized that he was going to have to somehow get over the restricted view of fences and walls. So he took the sky. After documenting the devastation he saw from above along the Mississippi River, he went on to create an unparalleled collection of photographs of similarly imperiled sites all around the world. He has photographed the Canadian tar sands in Edmonton, Alberta, which are ranked as among the worst ecological disasters in the modern world. And he has photographed factory farms, among the greatest polluters of water as they release staggering amounts of animal waste into the watershed, creating algae blooms that choke out all other forms of life.
He was in a small plane flying above the Gulf of Mexico when the Deepwater Horizon oil drilling platform sprung a leak in 2010. From his birds eye view Fair photographed the result of millions of gallons of oil spoiling a massive swath of the sea, earnestly contextualizing the vast scale of the event in a way that no news organization was ever quite able to accomplish. He has also photographed fracking mines, the blasted off tops of strip mined mountains, coal ash facilities and their waste ponds, fertilizer manufacturing plants, and numerous other types of sites where industrial activities are making an unimaginably bleak mark on the planet. The results of his efforts have been collected in two photographic books so far. Fair has also delivered TED talks, and his writings on the topic of industrial pollution and environmental destruction have been covered extensively in the global press. But as we mentioned, the photographs Fair has taken of these devastated ecological wastelands have also been featured in a number of high profile art galleries around the world. Therein lies the heart of the question: are these photographs journalism or art. And does that distinction matter?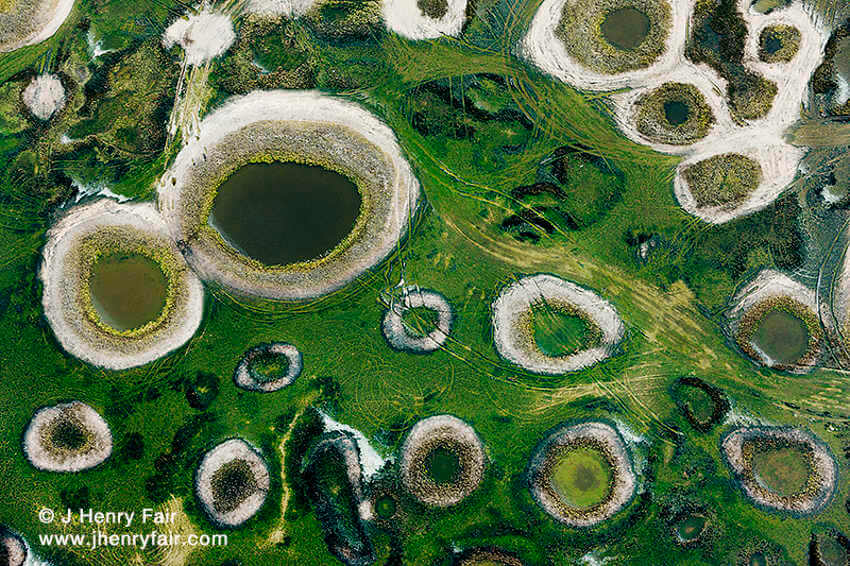 J Henry Fair - Auto tire tracks in wetland next to wildlife preserve, Brazoria National Wildlife Refuge, Freeport, TX
Materials and Processes
If we choose to look at the photographs of J. Henry Fair first and foremost as art, that means we must primarily consider them according to their aesthetic qualities. Since they are figurative images of the real world, they are inherently not abstract. So rather than going on about the fact that they sometimes may remind us of the work of various abstract artists, we could more comfortably compare them to the type of art that concerns itself with mediums, or materials. Members of the Japanese art collective the Gutai Group once took great steps toward trying to understand the relationship between artists and their materials. Whether wrestling with mud, stomping in paint, leaping through paper, or covering themselves in electrical bulbs they literally confronted the properties of the materials with which they worked. Though J. Henry Fair is not himself working with the materials that he makes the subject of his work, his investigation into the behaviors of materials could easily be seen as an extension of the work the Gutai Group started. But in order to appreciate it on this level we must simply admire the ways the materials that make up our physical world behave when manipulated by humans. When we begin to judge these interactions, our appreciation turns away from the aesthetic and verges more on the scientific, the ethical, or the moral.
Process is also vital to the work of J. Henry Fair. His photographs document in startling clarity the large scale results of such every day processes as gravity, luminosity, viscosity, erosion, explosion, and accumulation. His photographs are sometimes compared to Abstract Expressionist paintings, and although in many ways that comparison is absurd, in one sense it is accurate: the Abstract Expressionists channeled physical action and ancient forces, both of which are essential processes with which Fair is also concerned. These photographs also relate quite naturally to the work of Helen Frankenthaler, who poured thinned paint onto unprimed canvases in order to collaborate with gravity to manipulate the flow of liquids over a porous surface. If we can only separate our emotions from the images J. Henry Fair shows us in his photographs it would indeed be easy to see in their images echoes of the Frankenthaler soak-stain process. We could behold the color relationships, the lines, the harmonies and disharmonies in the compositions, and the striking ways these elements come together to create something aesthetically interesting. But unfortunately, once we know the truth about the subject matter, that is difficult to do.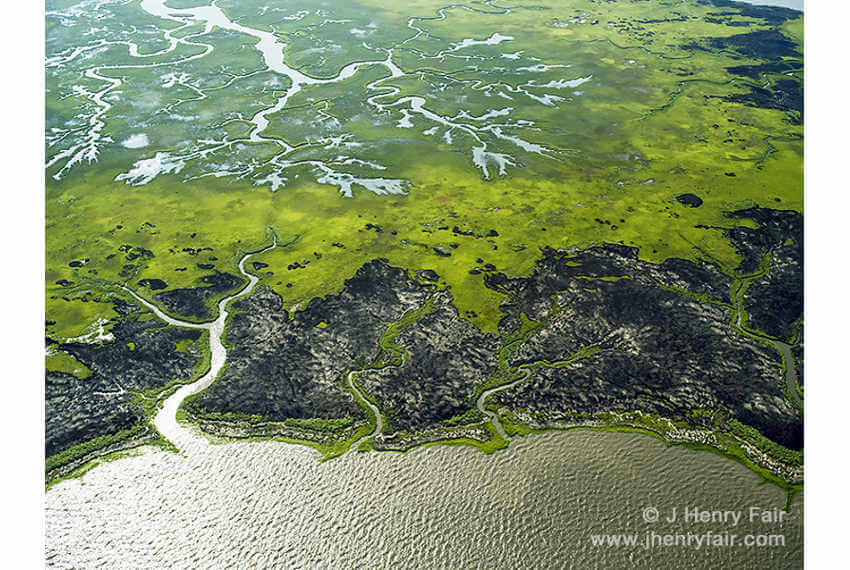 J Henry Fair - Coastal wetlands meet the ocean, Winyah Bay National Estuarine Research Reserve, South Carolina
Default to Journalism
Perhaps the reason so many art critics and journalists have written about these photographs by comparing them to abstract art is because that is their way of separating themselves from the disturbing reality of what they are actually being shown. But as with any other thing, when trying to come to grips with what it is for, we should first try to understand the intentions of whoever made it. When it comes to figuring out whether this work should be viewed as art or journalism, one advantage we have is that J. Henry Fair himself has spoken at length about how he hopes we will view his work. He makes no bones about the fact that he hopes we consider it journalism. In his opinion, this is news. This is a warning. Consider the organizations that have partnered with Fair to help him in his efforts to fly him over these industrial waste sights. The planes he shoots from are flown by volunteer pilots working for companies like South Wings: environmental non-governmental organizations that specialize in showing people ecological disaster from the skies. He also receives cooperation from groups like the Natural Resource Defense Council, which works to affect political change around the world in the realm of environmental justice.
Back in 2011, Roberta Smith, art critic for the New York Times, reviewed a show of the work of J. Henry Fair that was then on view at the Gerald Peters Gallery, titled Abstraction of Destruction. Smith is one of the most astute, knowledgable art critics in the world. If anyone would be capable of addressing the work of J. Henry Fair as art it would be her. But even she had difficulty grasping exactly how she was supposed to be reading this work. She called the show "a strange battle between medium and message, between harsh truths and trite, generic beauty." We find it distressing that so many art galleries have shown the work of J. Henry Fair, and that so many publications have covered his work from the perspective that it is art. Because if it is art, it may call us to feel something, to contemplate something and to indulge our ideas. But it does not, in any direct way, call us to action. As much as it is tempting to be drawn into a discussion about the relative merits of these photographs as art, we should resist. Fair may have the eye and the techniques of an artist, but we should not marvel at the miraculous luminosity of the green sludge spreading across our prairie lands, or the electric red glow of the crude accumulating atop our seas. We should recoil in horror at these colors. These forms and textures are foreboding signs of a creeping nightmare that might soon mean the end of us all.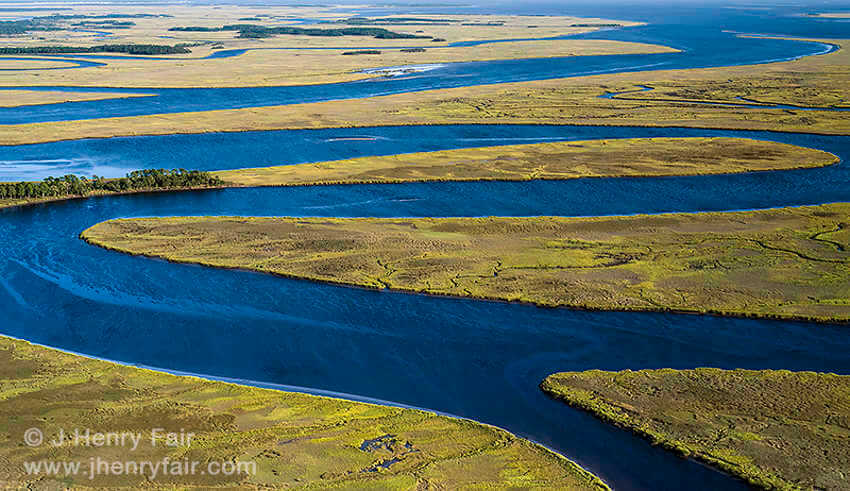 J Henry Fair - Wetlands at the entrance of the Combahee River into St Helena Sound, Beaufort, South Carolina
Featured image: J Henry Fair - Shipping container trailer beds at Houston harbor, Houston, TX
All images © J Henry Fair, all images used for illustrative purposes only
By Phillip Barcio