Blog Home
How Wolfgang Tillmans Used Technique to Reach Abstraction in Photography
Feb 10, 2017
Nothing can be fully appreciated without understanding its opposite. We appreciate warmth when we freeze. We love light when trapped in darkness. So it is no surprise that Wolfgang Tillmans, who first earned his reputation as a realistic photographer, has evolved to appreciate the power and potential of photographic abstraction. Over the past decade Tillmans has been intermixing in his exhibitions his compelling photographs of people and things with purely abstract prints made using only chemicals and light. The combination demonstrates that like warmth and cold or light and dark, abstraction and figuration are part of the same spectrum. One hides in plain sight within the other. Together they make up what is real.
Fact is Fiction
Wolfgang Tillmans originally made his name as an artist by photographing members of the rave and party culture in the mid-1990s, in which he was a participant. Sometimes he captured his subjects in natural surroundings, like while dancing. Other times he posed them, either in a studio or somewhere in the outside world. In either case, whether photographing a posed subject or one who was unaware of his presence, Tillmans demonstrated an intuitive gift for capturing the underlying realities of his subjects and their surroundings, such that even his fictional images seem true.
The quintessential example of his early abilities can be seen in one of the first images for which Tillmans was noticed, titled Lutz & Alex sitting in the trees (1992). It shows two of his friends posed semi-naked sitting on different branches of a tree. About it Tillmans said, "Two people sitting naked in a tree is hardly a documentary picture, but it was somehow instantly seen as a picture of the zeitgeist, of the reality." Though the picture was posed, it conveys the underlying realness of these kids and their culture. It is a vision of both what is authentic and what is imagined, and suggests that both are fundamentally part of the same experience of life.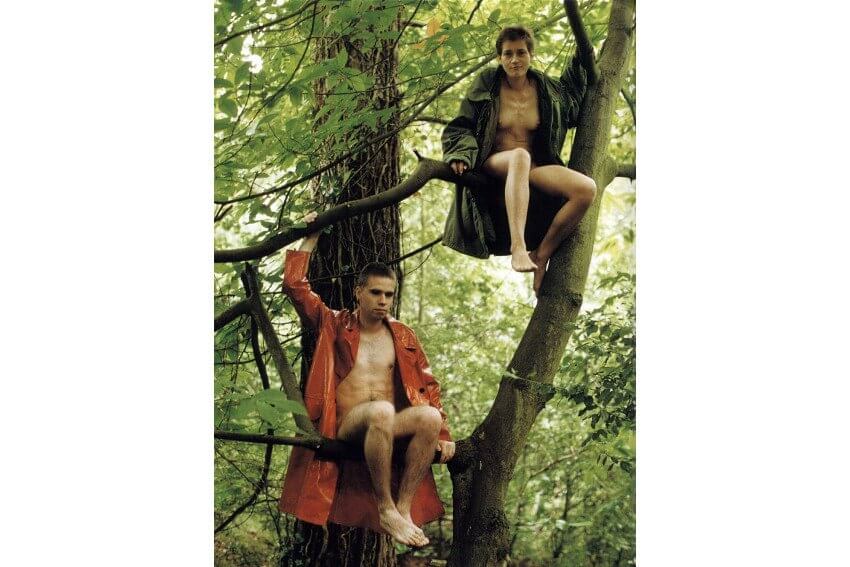 Wolfgang Tillmans - Lutz and Alex sitting in the trees, 1992, Inkjet print on paper, clips, © 2019 Wolfgang Tillmans
Photocopy-Realism
In his teen years, before joining the rave and party scene, Tillmans made pictures on a photocopier. In fact, he does not refer to the works he makes specifically as photographs, or to himself as strictly a photographer. Rather, he says, "I see my practice as picturemaking. Whatever is available, I use." On his photocopier he would begin with an image from the media then enlarge it multiple times, arriving at something more and more abstract. Such images could be appreciated as altered versions of reality, or for their formal aesthetic qualities alone, free from the burden of content.
After he began working with a camera full time, he maintained an eye for the abstracted imagery he first experimented with on that photocopier. Though taking mostly figurative photographs, he developed his own pictures and made his own prints in the darkroom. While working he often noticed photochemical accidents occurring on his prints. He kept them aside and studied what caused them so he could replicate the effects. Over time he developed techniques such as developing prints in dirty water, scratching the surface of prints, or exposing photo paper directly to light to make colorful abstract compositions, transforming mistakes into intentional processes.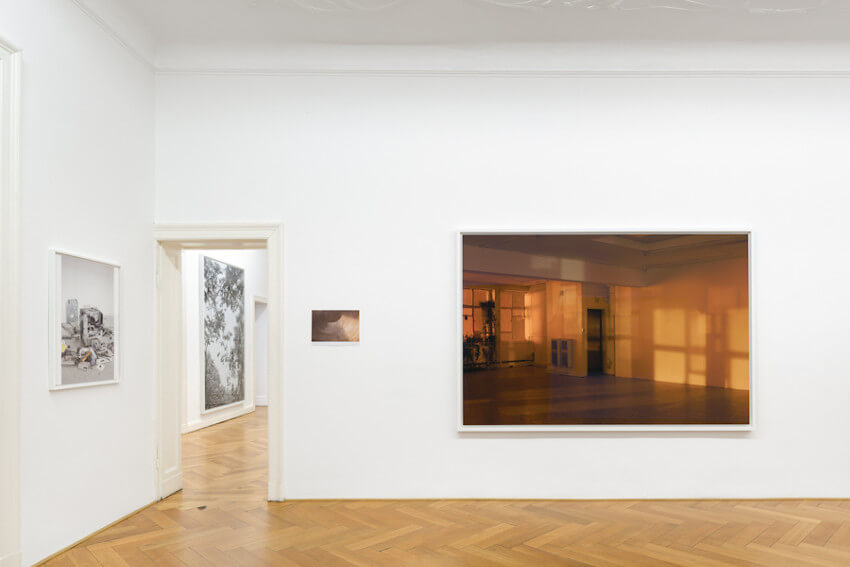 Wolfgang Tillmans - Studio, Galerie Buchholz, Berlin, 2016, installation view, © 2019 Wolfgang Tillmans
The Lighters
One of the abstract techniques with which Tillmans has experimented has manifested in a series of works he calls Lighters. For these images, he starts by making a cameraless photograph, meaning he exposes photosensitive paper directly to light and uses chemicals to fix the image. During the process he folds the paper, a sculptural gesture that results in a three-dimensional object. The combination of the chemical process and the folding results in a unique aesthetic position. The Lighters ask formal aesthetic questions, such as what is this object, while also posing questions about what constitutes a photograph.
But far from focusing only on their formal qualities, Tillmans also describes his Lighters as metaphysical. One way viewers might see them as such would be to compare them to the color field paintings of Mark Rothko, or to the monochromes of Yves Klein, interacting with them as aesthetic mediums assisting us toward a personal transcendent experience. But there is something else metaphysical about them as well. They are products of the mind. They are revelations of the potential for something beautiful to happen when a human interacts with the materials and processes of the physical world in an open but intentional way, without a predetermined outcome in mind.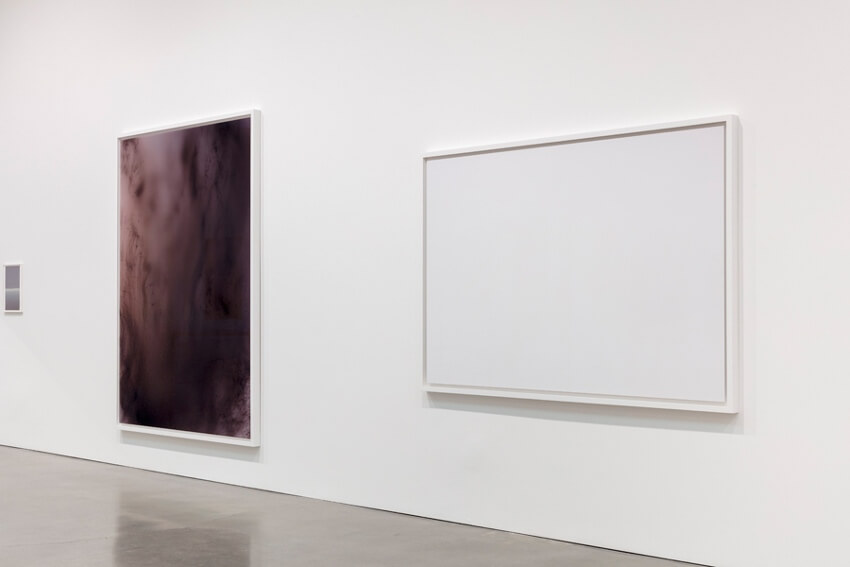 Wolfgang Tillmans - Regen Projects, Los Angeles, 2016, installation view, © 2019 Wolfgang Tillmans
Photo Authenticity
As mentioned earlier, Wolfgang Tillmans often exhibits his abstract photographs mixed in with his figurative works. His figurative subject matter has extended far beyond the club scene. He brings together images of humanity, nature and built environments from all over the globe. Side by side with those images are monochromatic prints, Lighters, and an array of other abstracted images large and small. It is a mixture of textures, colors, forms, lines, shapes and formal compositions side by side with social narratives, imagined stories, and multi-national, multi-cultural images both authentic and staged.
Some might notice the contradictions, and wonder why such different images hang in the same room. Others might intuitively understand, recognizing the colors, textures, lines and shapes in the so-called real world, and the rugged realities of pure color and concrete form in what is supposedly abstract. Both interpretations are valid. Both say something about Tillmans, about art, and about us as viewers. As Tillmans puts it, "I want the pictures to be working in both directions. I accept that they speak about me, and yet at the same time, I want and expect them to function in terms of the viewer and their experience." And that is the point; that we are present in the space along with the images; that we represent reality while intermingling with what is always fundamentally abstract.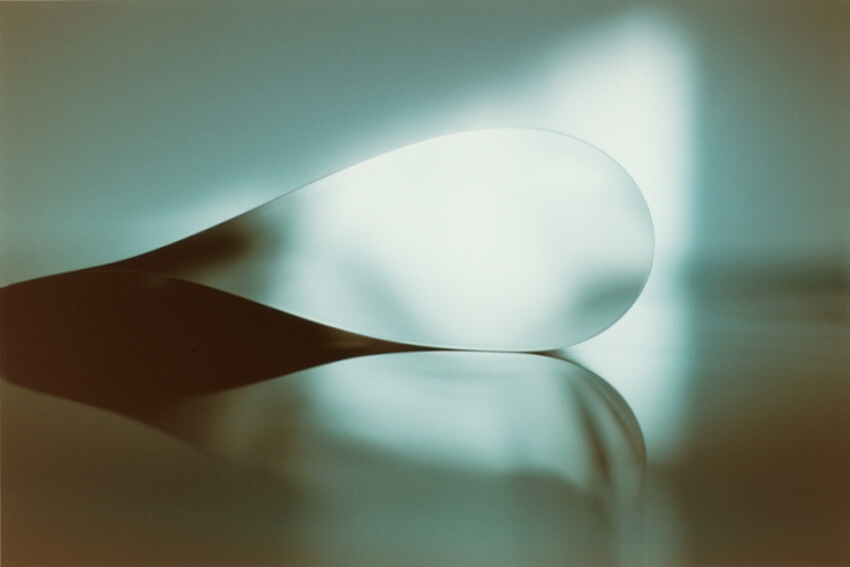 Wolfgang Tillmans - Paper drop (window), 2006, © 2019 Wolfgang Tillmans and Galerie Buchholz, Cologne, Berlin
Featured image: Wolfgang Tillmans - Galeria Juana de Aizpuru at ARCO, Madrid, 2011, installation view, © 2019 Wolfgang Tillmans
All images used for illustrative purposes only
By Phillip Barcio