Blog Home
The Mesmerizing Art of Fahrelnissa Zeid Gets a Tate Retrospective
May 24, 2017
Complexity may be the best word to define the life and the art of Fahrelnissa Zeid. Born in 1901 into a family with roots in both politics and art (her father was a diplomat, her brother was the writer Cevat Sakir Kabaagacli, and her sister was the painter Aliye Berger), Zeid made an early impact in her life by becoming one of the first women ever educated at the Güzel Sanatlar Akademisi, or Academy of Fine Art, in Istanbul. At age 19 she married her first husband, a novelist, and moved to Paris where she expanded her art education, becoming steeped in the active Modernist art scene of the 1920s. Then in 1933, she married Prince Zeid bin Hussein, a member of the House of Hashim, the royal family of Iraq. In total between her two marriages, she had four children, raising them while traveling between the cultural capitals of Europe and the Middle East. The global perspective she subsequently developed profoundly impacted her art. Her roots in Turkey instilled in Zeid the aesthetic of Byzantine painting, with its emphasis on iconography, vivid color relationships and exaggerated figuration. Her exposure to Islamic art gave her an appreciation for sacred geometric patterns and calligraphic gestures. And her exposure to the modern art scene in Europe inspired her to seek out the value and potential in abstraction. Together, all of these influences gave rise in Zeid to a unique and complex aesthetic voice. Now, Western audiences will soon be able to experience the full evolution of the work of Fahrelnissa Zeid, as the Tate Modern in London presents the first ever retrospective of her work in the UK, from 13 June 2017 through to 8 October 2017.
From Figuration to Abstraction
Fahrelnissa Zeid staged her first solo exhibition herself, in her apartment in Istanbul. Said her son, Prince Raad Bin Zeid, "She was very brave. She dedicated herself. She was afraid of no one. She was the first to make a show at home. In 1944, she took all the furnitures out from her flat in Maçka and exhibited her paintings. It was really avant-garde." On view in that show was an assortment of spectacular, large-scale paintings that demonstrated the complexity of the personal aesthetic journey Zeid was attempting to make from the narrative potentialities of figuration toward the universal possibilities of abstraction. A pivotal moment in that journey is exemplified in the painting Third Class Passenger, completed in 1943. Third Class Passengers is clearly narrative, but it also shows the distinct direction Zeid was heading toward paring down her images to formal elements like shape, color and form. Within just a few more years Zeid arrived at a fully abstract aesthetic position perfectly balanced between her many influences: one that was suitably complex and grand in scale to express the depth, excitement and vibrance of the complicated cultural interchange she represented. That aesthetic is beautifully expressed in her aptly titled canvas Resolved Problems, completed in 1948.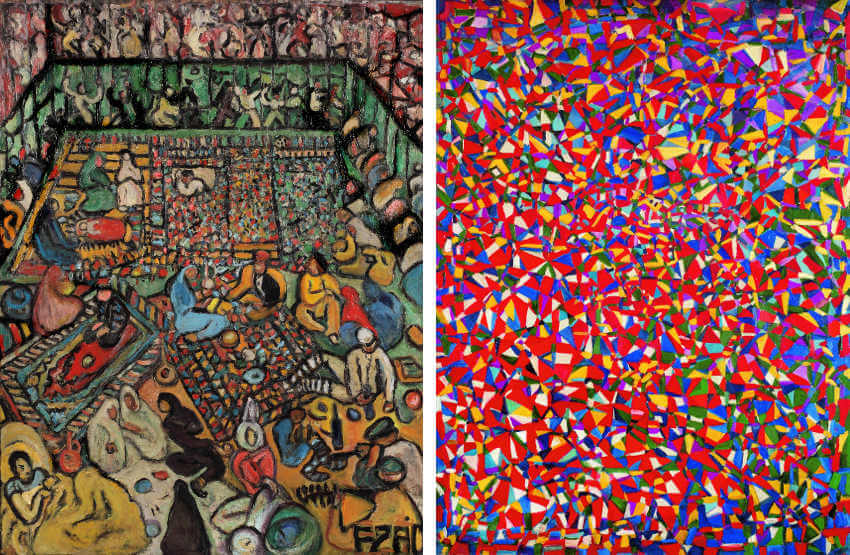 Fahrelnissa Zeid - Third Class Passengers, 1943, Oil paint on plywood, 130 x 100 cm. © The Raad Zeid Al-Hussein Collection (left) / Fahrelnissa Zeid - Resolved Problems, 1948, Oil paint on canvas, 130 x 97 cm. © Raad Zeid Al-Hussein Collection & Istanbul Museum of Modern Art (right)
Global Exposure
Following that intimate first exhibition in her apartment in Istanbul, Fahrelnissa Zeid went on to exhibit her work publicly more than 50 more times, in Paris, London, New York, and throughout the Middle East. Through the 1940s and most of the 50s, she continued to develop what became her iconic abstract perspective, one that touches equally on her Persian, Islamic and European influences. But in 1958, when the family of her husband was assassinated in a military coup in Iraq, her life changed dramatically. She was, for the first time, responsible for being a homemaker.

Her changing domestic reality manifested in her art as she began making work with the discarded bones of poultry she cooked. And also not long after the assassinations, Zeid abandoned her dedication to abstraction, instead returning to a novel style of figuration that combined the color palette, gestural qualities and compositional aesthetic of her abstract work with a modern updating of Byzantine icon painting. With this new style she spent the last two decades of her life painting portraits of her loved ones.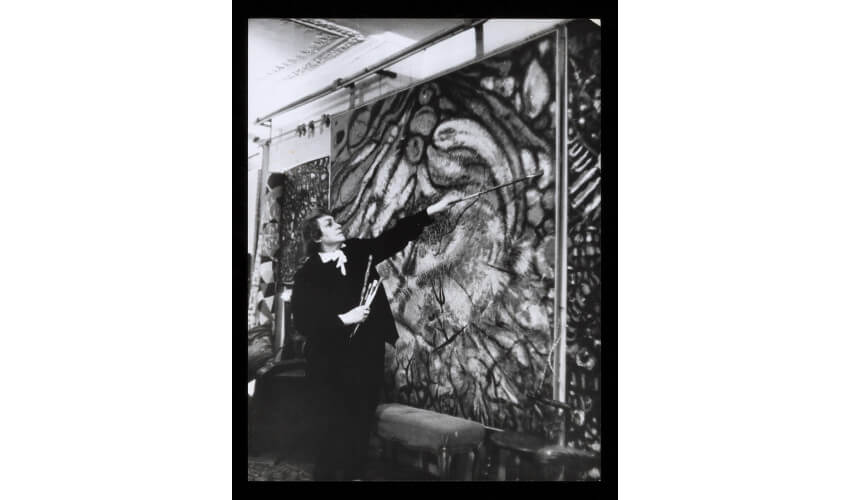 Fahrelnissa Zeid in her studio, Paris, c.1950s. © Raad bin Zeid Collection
The Later Years
In addition to her lasting legacy as one of the most prominent female Middle Eastern artists of the 20th Century, Fahrelnissa Zeid also made an impact as a teacher of the next generation of female artists. In 1975, she left Europe for the last time and moved to the city of Amman in Jordan, where she established a school for female painters in her apartment, called the Fahrelnissa Zeid Institute of Fine Arts. About a dozen painters studied with Zeid in her home, and in 1981 she held an exhibition of their work alongside her own, titled Fahrelnissa Zeid and her Institute. The exhibition continued the tradition she had started long ago of sharing art with the public in informal circumstances and established her belief in the importance of the tradition of informal, personal relationships between artists and their teachers.
Fahrelnissa Zeid at the Tate Modern is presented in partnership with Deutsche Bank, as a continuation of a project between the Tate and Deutsche Bank to explore the work of artists from Asia, Africa and the Middle East in a global context. For more information, visit the Tate official website.
Featured image: Fahrelnissa Zeid - Triton Octopus (detail), 1953, Oil paint on canvas. © The Raad Zeid Al-Hussein Collection and © Raad Zeid Al-Hussein Collection & Istanbul Museum of Modern Art
All images used for illustrative purposes only
By Phillip Barcio