Blog Home
The Miro-esque in the Work of Christian Rosa
Jan 22, 2017
It is a blessing and a curse for a young artist to be compared to a master. Consider Christian Rosa. Born in 1982, he received his first major solo gallery exhibition in 2014. Now he is already being compared to Joan Miró. The blessing of this comparison is that it has contextualized his work for collectors, who have flocked to buy it, causing his prices to skyrocket. The curse is that Rosa must now suffer critical analysis as to whether the comparison is valid. Miró was one of the most accomplished, original, important artists of the past century. For a young artist to be compared to him is like a young investor being compared to Warren Buffett, or a child emperor being compared to Genghis Khan. What is Miró-esque in the work of Christian Rosa? Here is our attempt to figure it out:
Process
Many have called both Christian Rosa and Joan Miró Surrealists. Rosa engages in a process described as automatic and instinctive. Surrealist made famous the technique of automatism, during which they allowed the body to move intuitively, creating images without conscious interference, channeling the work from the subconscious, similar to doodling.
Joan Miró used automatism, but here is what he said about the Surrealist label: "Another Surrealist artist said about me once that I was 'the most Surrealist of us all.' But I chose to reject membership to any artistic movement…I preferred my own style of art. My style is simple shapes with bold lines and bright colors." Miró understood that Surrealism was more than a technique. It was a philosophical investigation into "resolving the previously contradictory conditions of dream and reality." Both Rosa and Miró may have employed automatism, but so have microorganisms. Use of that technique does not make these artists comparable, nor does it make them Surrealists.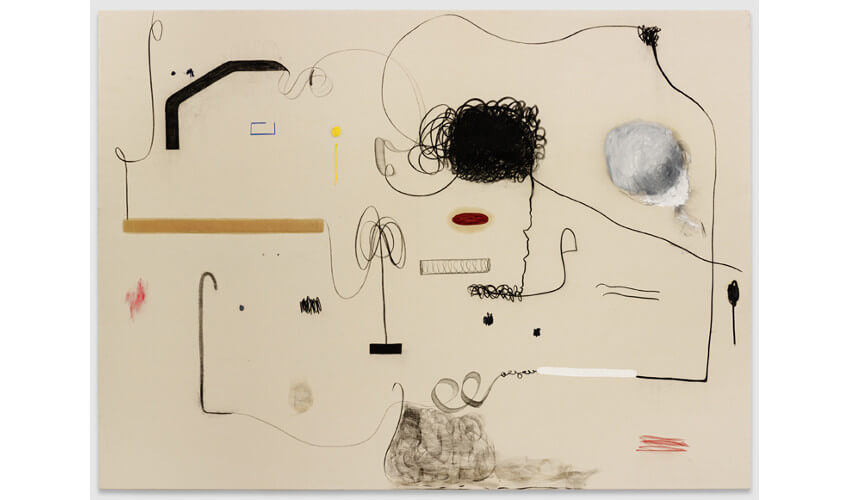 Christian Rosa - God Hope Coke Broke. Oil stick, oil paint, pencil, oil, charcoal on canvas. © Christian Rosa
Aesthetics
In formal terms, the way Miró described his style as simple shapes with bold lines and bright colors could also easily apply to the work of Christian Rosa. But that only describes a visual language. To say two painters are comparable because they employ the same visual language is like saying I am comparable to John Keats because we both write in English.
There are profound differences between how Rosa and Miró have employed their visual language. Miró assembled harmonious aesthetic statements. He utilized the entire surface of his paintings, unifying the aesthetic elements with the overall image and the support. Rosa paints on bare canvas. His images are assemblages of disparate elements, like machines made from parts of other machines. They accumulate on alien surfaces, amounting only to the sum of their parts. Rosa and Miró employ similar visual languages, but the comparison ends there.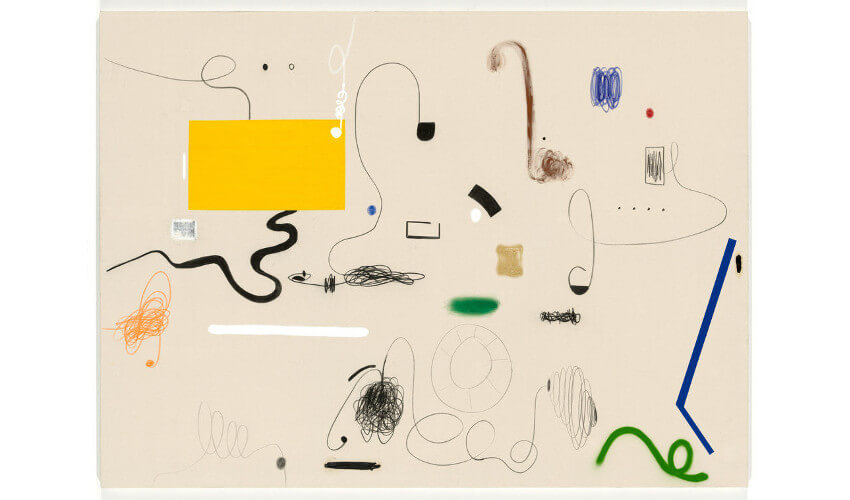 Christian Rosa - Google Maps My Ass. Oil, charcoal, spraypaint, pastel, resin and oil stick on canvas. © Christian Rosa
Persona
Hipness has no bearing on the ability to make good paintings. But how art makers express their personality publicly can tell us whether to take them seriously as artists, or whether to regard them as careerists making art as a pathway to success. When asked by 10 Magazine what is needed to become successful in his profession, Christian Rosa said, "Work, drink, work, party, work, meet people, work, party, work, meet people and work."
For comparison, when he was asked what choices young artists have to make in order to succeed, Miró said, "A choice artists make is how they choose to look at the world around them. This can have so much influence on the way they work, and resulting, their success. Another choice I made was to travel all over the world. From my homeland of Spain, to France and America. Traveling to all these places helped me explore my self and my soul more, and create deeper art work."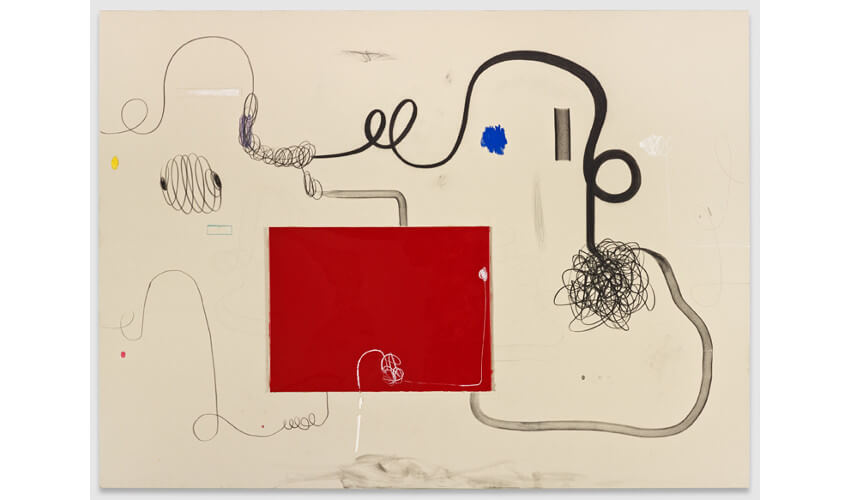 Christian Rosa - Pappi Chulo. Oil stick, oil paint, pencil, oil, charcoal on canvas. © Christian Rosa
Let Rosa Be Rosa
Miró was an art star, and profited from the interest the market took in his work. But he vehemently opposed the power of bourgeois society to affect what painters make. He was an artist first. Making good work was his priority. He was generous in his paintings, giving fully of his inner self and working to advance the art of his time.
Rosa is an art star, but he spends equal time talking about skateboarding and celebrity. His paintings are nice, but they are stingy. Their sardonic titles express more about his inner self than the images do. His work is quintessentially bourgeois: its talking points are repeated but never challenged. It is famous for being famous. Maybe Rosa is brilliant, but there is no basis for comparing him to Miró. And why should he want the comparison? If the only way to promote the work of an artist is to compare it to the work of another artist, why bother?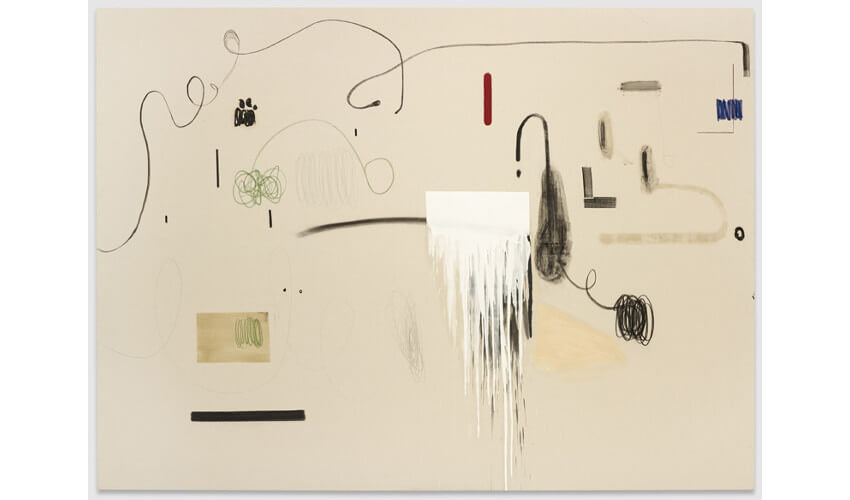 Christian Rosa - The End Is Near, oil stick, oil paint, pencil, oil, charcoal on canvas. © Christian Rosa
Featured image: Christian Rosa - Home Sweet Home (detail), oil, charcoal, pencil, resin and oil stick on canvas. © Christian Rosa
All images used for illustrative purposes only
By Phillip Barcio