Blog Home
Making Contemporary Tradition - Jeffrey Gibson
Sep 15, 2017
I had a rare experience recently while looking at the work of Jeffrey Gibson. Something about the work opened a door for me. It exposed me to a larger, and more interesting relationship with physical space. You see, I attend a lot of art exhibitions. And I tend to have the same general type of relationship with every exhibition I attend. You can probably guess what kind of relationship that is based on how I am talking about it right now. It is defined by the fact that I feel separate from the art and the space it inhabits. I see myself, the art, the exhibition, and the space as four separate things, with no inherent connection. I go into a space where art is on display, I look at the art, I think about what I am looking at, then later, as time wears on, the work may or may not resonate with me in various ways. Of course there have been some instances in which the work has caused me not to see it in that way, such as a James Turrell Skyspace, in which the space is the art. But for the most part, I almost always just see art exhibitions as chances to go somewhere and look at something. What happened with the work of James Gibson, however, is it coaxed a different kind of relationship out of me. It was not willing to accept the limitation of just being stuff in a space getting looked at and thought about. By the power of its presence it let me know I was not seeing the whole picture. It made me realize that art does not only occupy space: space and art inhabit each other. And when a person comes into that relationship, an event occurs in which all three—the art, the space and the person—become equal collaborators. I am not talking about anything spiritual or metaphysical. I am saying that in the same way as a person who puts on a military uniform "becomes" a soldier, or a person who puts on a vestment "becomes" a minister, when a space puts on an art exhibition it "becomes" something new, something more. And when we enter into a relationship with this new thing—this combination of art and space—we inhabit it in the same way as a priest inhabits a vestment or a soldier inhabits a uniform. We breathe life into it. We gives it power and its privileges. It is more than it otherwise would have been because of our presence. And it is up to us to demonstrate what it means.
Powwows and Raves
Jeffrey Gibson was born in Colorado in 1972. His family heritage is Native American, part Cherokee and part Choctaw. Because of the line of work his father was in, Gibson traveled as a young man, living at different times in South Korea, Germany, England, and various locations in the United States. The mix of cultural influences was at times enlightening for him, and was at other times frustrating. One prime example is his love for music and dancing. As a young man he was initiated into the Native American tradition of the powwow, a social gathering in which music is played, and vibrant costumes are brought to life by dancers. And as a teenager in Asia and Europe, he was able to bring that same spirit to bear in his life by going to going to clubs with his friends to listen to music and dance. But when he came back to the United States at age 16, he was thrust into a culture in which he was too young to get into bars and clubs. It was a subtle, but pervasive cultural oddity. He was drawn to music and dance, but had little way to express that feeling in a socially acceptable way.
One outlet he found was the underground rave scene, which he felt in many ways had the same kind of spirit as the powwow: it was social, it was built around music, and the scene encouraged individuals to manifest their personality through adornment and costumes, and to draw attention to themselves through dance. After graduating high school, he earned his BFA from the Art Institute of Chicago in 1995. Then, after earning admittance to the Masters of Fine Art program at the Royal College of Art in London, he found out from his Chief that the Mississippi Band of Choctaw Indians was willing to pay his tuition for him. Said Gibson in a 2007 interview with ARTnews, "My chief felt that me going there, being a strong artist, made him stronger." The work Gibson has been making since earning his MFA in 1998 and moving back to the United States is informed by that vast and diverse range of cultural experiences that filled his upbringing, especially a sense of his many communities, and an attraction to the legacy of powwows and raves: spaces that come to life when inhabited by people and art.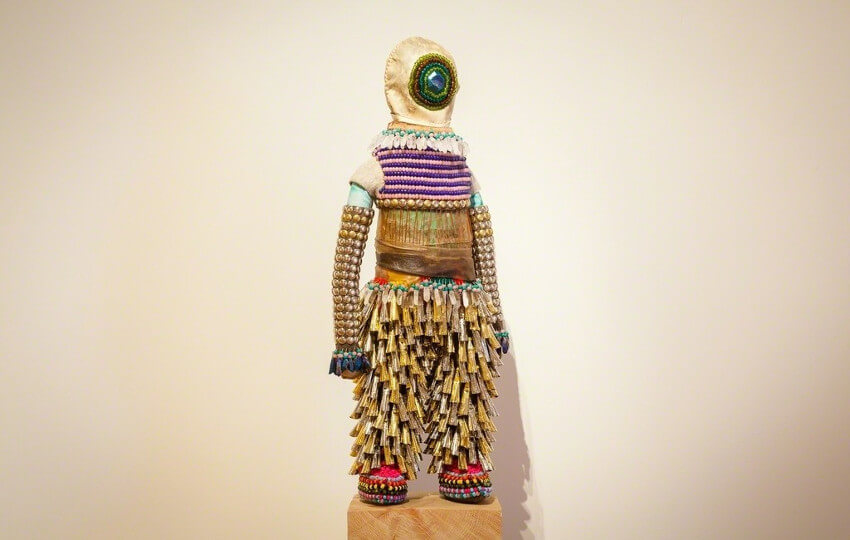 Jeffrey Gibson - Here it Comes, 2014, Mixed Media, Photo Credit Scott McCrossen/ FIVE65 Design
Fighting Generalizations
The work Gibson makes incorporates many mediums and forms, but conveys a unifying aesthetic language. That language is dominated by vivid, pure colors, hard edged geometric shapes, and optical patterns. The imagery immediately brings to mind both Modernist abstraction and Native american aesthetics. What is so effective about this combination is that it immediately opens up what both of those aesthetic positions can potentially offer. Modernist abstract art utilizes shapes and patterns in a self-referential way, calling triangles triangles, and nothing more, and asking viewers to enjoy color relationships on their own merit without searching for any sort of coded, underlying sense of meaning. But Native American tradition is inherently coded. A triangle is never only a triangle. It symbolizes something: perhaps something personal, perhaps something cultural, perhaps something poetic. But regardless, it has a meaning to somebody. Because of the dual traditions these pieces emerge from we are free to interpret them openly, adding our own traditions, codes, and expectations into the mix.
One of the most iconic bodies of work Gibson has created so far is a series of punching bags adorned with colorful beadwork. He first encountered punching bags when his therapist suggested he hire a personal trainer to help him with the anger he was feeling as a young artist trying to find his voice and his way in the contemporary art world. The form of the bag is itself symbolic. It implies resistance, isolation, and the transferal of energy. Punching bags move and sway. They give in to pressure, but also always return to their original position. They are soft and hard at the same time. Gibson creates imagery on them using mediums like beads and streaming textiles, which speak to the preconceived understanding contemporary people have of Native American art. He sometimes puts text into the compositions as well, inviting deeper contemplation of the imagery and form. The punching bags are covered with the visual language of art history, as well as the coded language of cultural narrative and the material language of generalization. They speak to the fight we all experience as we try to figure out what we are going to become.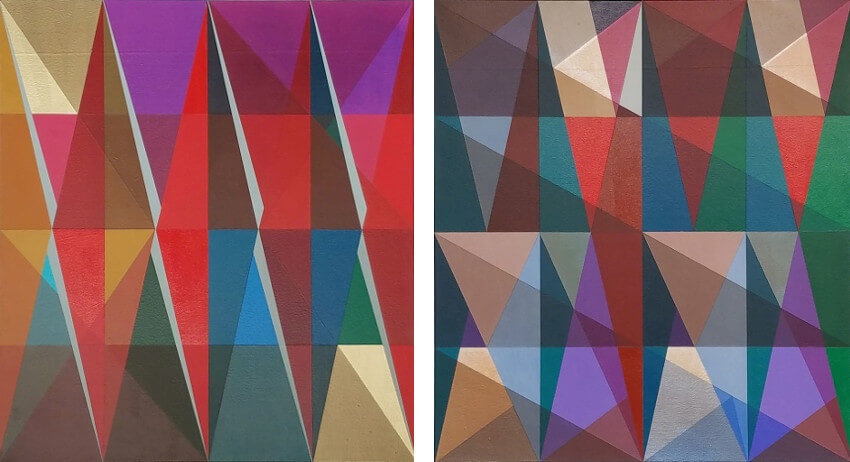 Jeffrey Gibson - Stillwater, 2017, Acrylic and Graphite on Canvas, 31 × 27 in, 78.7 × 68.6 cm (Left) and Village, 2017, Acrylic and Graphite on Canvas, 31 × 27 in, 78.7 × 68.6 cm (Right), photo credits De Buck Gallery
Inhabiting Forms
What most directly influences me when I consider the work of Jeffrey Gibson is his costumes. He creates flowing, colorful, elaborate costumes and places them on wooden structures. I immediately imagine putting one on. I think about the ways the costume would transform me if I wore it. Then I think about the way I would transform it. Together we would become something more expressive than either of us are on our own. The shapes and colors and patterns on the costume would take on new meaning when combined with the movements of my body. The art object and I would merge to become a living form of communication.
Something about the way these costumes illustrate the merging together of art, space, and the human body has given me new insight—not just into these artworks but into all artworks. The exhibition space is a holder of images and objects, just like these costumes. I enter it, just like putting a costume onto my body. As I inhabit the exhibition and move around within it, the images and objects on its surfaces are brought to life by my movement. Maybe it sounds corny, but no longer do I feel that I am just a guy going to art shows to look at art. Now I realize that every space that shows art is like one of these costumes Jeffrey Gibson makes. It is awaiting us, awaiting our breath and bodies so we can fill it up, animate it, bring it to life, and bestow upon each other more meaning than either of us ever could have had on our own.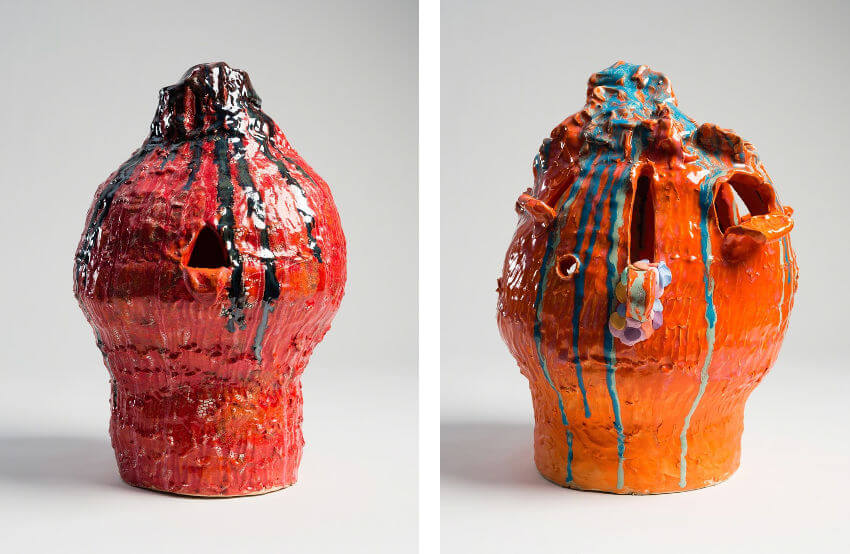 Jeffrey Gibson - Another Tongue, 2016 18 × 11 1/2 × 13 in, 45.7 × 29.2 × 33 cm (Left) and I Should Know Better, 2016, 18 1/2 × 15 × 14 in, 47 × 38.1 × 35.6 cm (Right), photo credits Roberts & Tilton, Culver City
Featured image: Jeffrey Gibson - Infinite Sampling, 2010, Pencil, watercolor, acrylic paint, tape, thread, archival pigment prints, 58 5/8 × 96 3/8 × 2 3/4 in, 148.9 × 244.8 × 7 cm
All images used for illustrative purposes only
By Phillip Barcio