Blog Home
The Story of Abstract Textile Design
Mar 10, 2017
Abstract textile design is not new. If fact, few elements of human culture are older. It is hard to say exactly how long textiles have existed, since unlike pottery or stone tools woven cloth disintegrates easily over time. But current evidence suggests our primitive ancestors wore clothes as early as half a million years ago. The practice of weaving is at least 40,000 years old, and the oldest dyed fabrics yet discovered date back 36,000 years. It is notable that every culture on the planet has a textile history. And every culture has also ultimately arrived at some kind of abstract textile design tradition. To understand our own global, contemporary abstract textile traditions, it is important to go back and explore their ancient roots. As Anni Albers, the undisputed master of Modernist abstract textile design, stated in her seminal book On Weaving: "Beginnings are usually more interesting than elaborations and endings. Beginning means exploration…I find it intriguing to look at early attempts in history, not for the sake of historical interest, that is, of looking back, but for the sake of looking forward from a point way back in time in order to experience vicariously the exhilaration of accomplishment reached step by step…This is learning."
Global Abstract Textile Designs
Although textile use in general dates back much farther, the beginnings of most global traditions of mass produced textiles date back to between 7,000 to 12,000 years ago. Though few examples of those original textiles still remain intact, we still have a relatively close idea of the traditional patterns and practices that developed in various areas since many of those traditions are still followed today, and have deviated little from their ancient roots. For example, in ancient South America, weavers 12,000 years ago developed a distinct language of abstract forms based largely on angled geometry, making use of triangles, squares, rectangles, chevrons, Xs, and checkerboards. This stands in stark contrast to Australian aboriginal traditions, which developed more toward a language of dots, circles and flowing, biomorphic shapes.
Meanwhile, throughout Africa a great number of unique, abstract textile design traditions evolved. Chief Nike Davies-Okundaye, a contemporary Nigerian artist, has sparked a revival of ancient weaving traditions in her culture by creating new works based on the ancient Nigerian textile designs, and by teaching the techniques and designs to a new generation of textile artists. The visual language of what she calls Adire patterns is diverse, and seems at first entirely abstract. But in an interview with Okay Africa, Chief Davies-Okundaye provided a translation of some of the traditional Adire designs, demonstrating there is much more to learn about the many other global ancient abstract textile design traditions as well.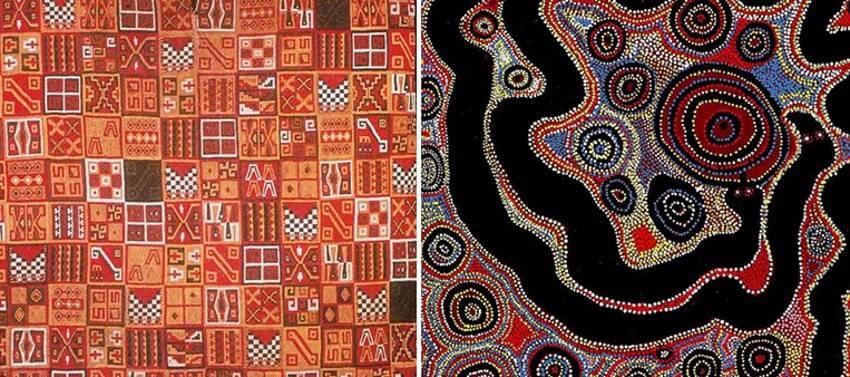 Comparison of ancient Peruvian (Left) and Australian aboriginal textile design (Right)
Contemporary Abstract Textile Art
The roots of contemporary abstract textile design can be traced back to the earliest days of Modernism. One of the ways misogyny manifested in the art world in the early 20th Century is that female artist were often expected to focus on textiles rather than other fine art mediums. Even at the otherwise progressive Bauhaus School, women were steered into studying weaving rather than pursuing other types of art. But we oddly have that backwards thinking to thank for one of the greatest gifts to 20th Century art: Anni Albers.
After being forced by the Bauhaus to study textiles, Albers embraced the medium and through it developed theories of making, teaching and studying art that remain some of the most progressive in the world today. Thanks to the contributions of artists like Anni Albers, and to the ancient global traditions of abstract textile art, contemporary abstract textile artists are able to explore innumerable forms and techniques. Here are just a few of the influential contemporary abstract textile artists working today, who are continually expanding and refreshing this timeless medium.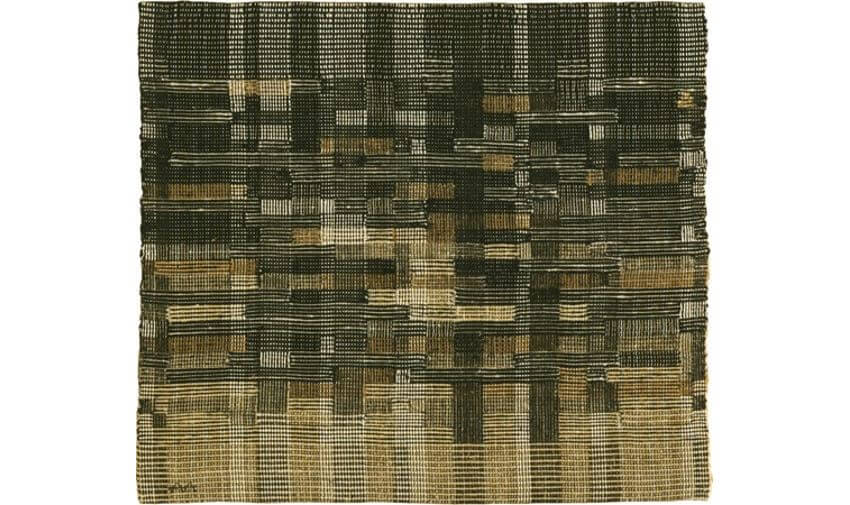 Anni Albers - Untitled abstract woven textile, 1948, Handwoven linen and cotton, 16 1/2 x 18 3/4 in (41.9 x 47.6 cm), credit Edgar Kaufmann, Jr. Purchase Fund, MoMA Collection, © 2018 The Josef and Anni Albers Foundation / Artists Rights Society (ARS), New York
Sheila Hicks
Sheila Hicks first discovered her interest in textiles and fibers while painting in Chile on a Fulbright Scholarship. She has since become a leading international voice in the world of contemporary fiber and textile art. In addition to her remarkable oeuvre, which includes a vast assortment of two and three-dimensional fiber and textile objects, Hicks has founded educational workshops in multiple countries. She has previously worked in Morocco and India, and currently lives and works in Paris and New York.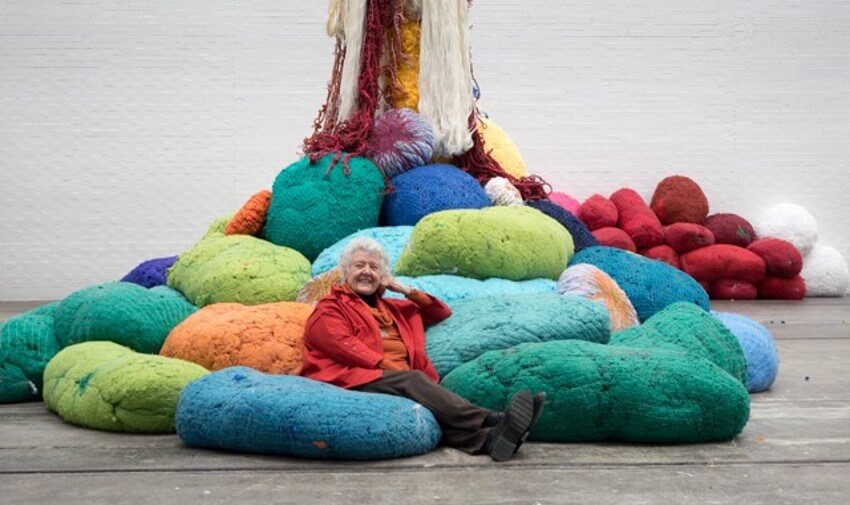 Sheila Hicks with her work Mighty Mathilde and Her Consort, at the 2016 Glasgow International, Linen and pigmented man-made fibers, bound treasures, fish and pigeon nets, © zanartu
Julia Bland
In between earning her BFA from the Rhode Island School of Design and earning her MFA from Yale, Julia Bland took advantage of a fellowship to travel to Morocco, where she studied Sufism and Islamic art and learned traditional textile weaving skills. Her large-scale abstract works combine painted canvas with hand-woven fabrics. The work blends a contemporary visual language of geometric abstraction with traditional forms and techniques resulting in imagery that feels at once intuitive and symbolic, ancient and contemporary.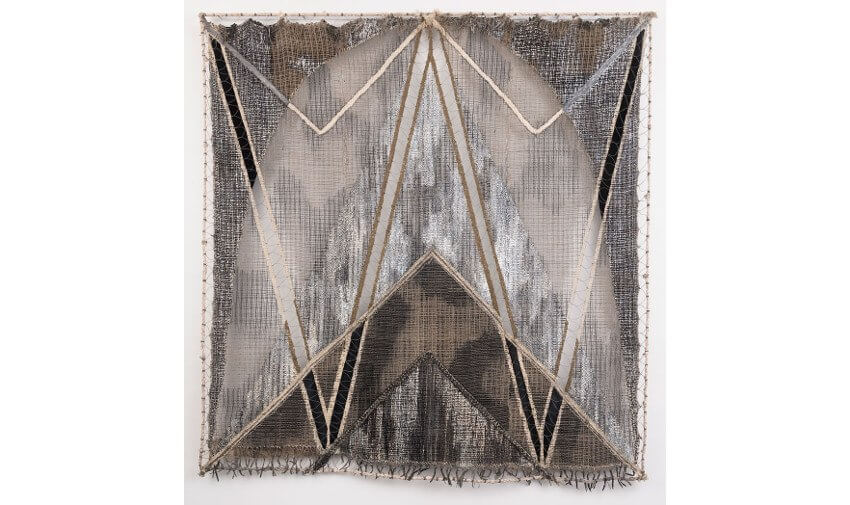 Julia Bland - Winter, 2015, Linen, wool, canvas, velvet, ink, bleach, and oil paint, 87 x 85 in, © Julia Bland
Josefina Conchae
Chilean-born textile artist Josefina Conchae receives inspiration from the forms and objects she encounters in nature, including hair, skin, animals and plants. The intricate, dynamic layers of tension that build up in her textiles arise in an intuitive process that develops out of her constantly evolving relationship with her materials.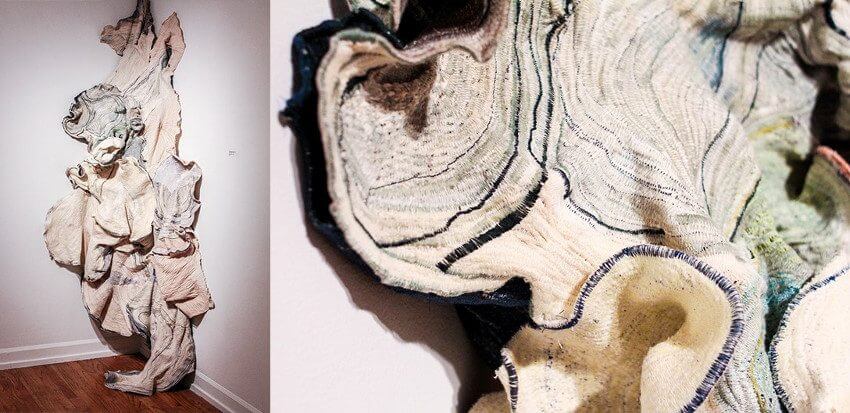 Josefina Conchae - Cuerpo Zurcido VIII, 2012, Stitching on canvas (Left) and Detail of the piece (Right), © Josefina Conchae
Ann Cathrin November Høibo
For the Norwegian artist Ann Cathrin November Høibo, textiles are only one part of her multi-disciplinary practice, but they lend a great deal to the overall sense of emotion she builds in her exhibitions. Her textiles remain in a state of unfinished bliss, offering a glimpse of both hope and despair, and creating an opportunity for transcendent contemplation of what it means to be complete.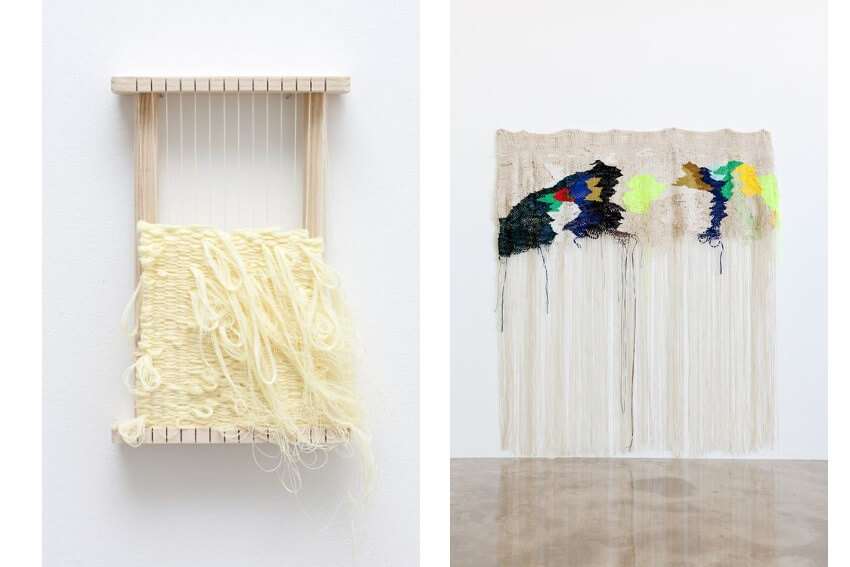 Ann Cathrin November Høibo - Untitled, 2014, Hand-woven polyester in ashwood loom (Left) and Untitled, 2013, Wool, silk and nylon tapestry (Right), images courtesy Standard (Oslo)
Shinique Smith
Baltimore-born Shinique Smith derives her inspiration from found and discarded consumer products. Her use of textiles often manifests as stunningly complex and colorful accumulations. Transforming existing textiles into raw material, she creates new abstract forms that possess dual identities: part formal exploration of texture, surface, color and form, and part biomorphic, anthropomorphic entity.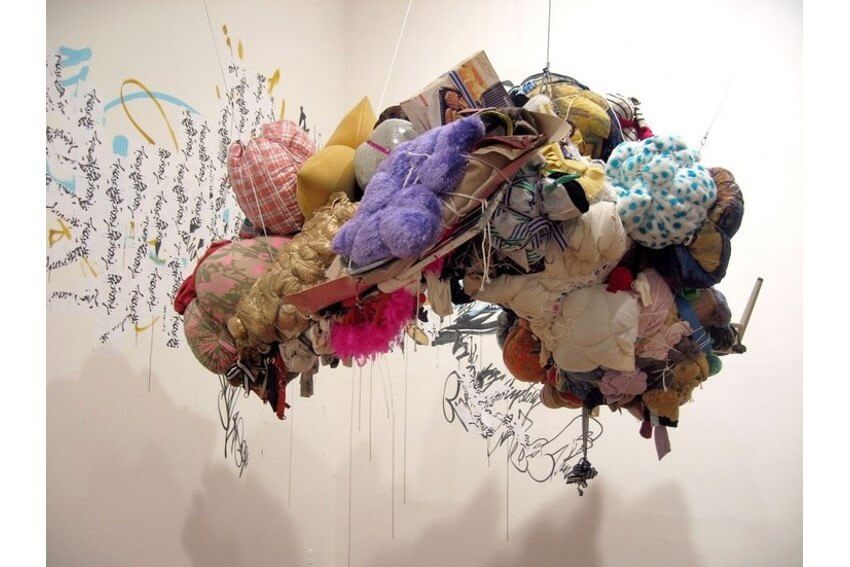 Shinique Smith - Arcadian Cluster (detail), 2006, © Shinique Smith
Outsider Abstract Textile Artists
In addition to mainstream, or fine art traditions in abstract textile art, there also remains a strong self-taught tradition in this medium. In fact, it seems ironic, and somehow wrong that we should even separate the two. Why apply such a term as outsider art to the practice of making textiles? The historic roots of the medium are grounded in self-teaching, experimentation, and the one-on-one handing down of skills and techniques. Schools of textile art are new inventions. It is ridiculous to automatically grant a professional artist more respect than a self-taught textile artist with no formal education. Respect should come from the quality of the work alone. Consider the following two so-called outsider abstract textile artists, whose work beautifully proves this point.
Marie "Big Mama" Roseman
Born in Mississippi in 1898, Marie Roseman lived to be 106 years old. She came from a diverse cultural heritage of African, Native American and European descent. She was raised to be an herbal healer, and was also trained at a young age to make quilts. In the 1970s she innovated a new approach to her quilt making, using found materials to create vibrant, complex, abstract embroidered textiles. She would often add three-dimensional elements to the works as well, including her signature dolls. Roseman died in 2004, and her work is now receiving fresh consideration.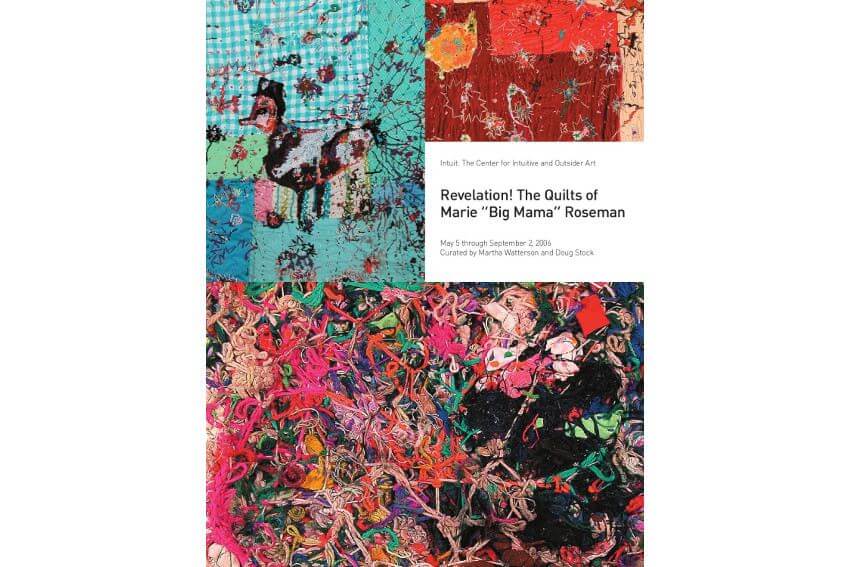 Exhibition catalogue cover for Marie Big Mama Roseman solo show, image courtesy of Intuit - The Center for Intuitive and Outsider Art
Judith Scott
We've written about Judith Scott before. Born deaf, mute and with Down Syndrome, this textile artist did not begin making art until she was in her 40s. To construct her biomorphic, abstract textile sculptures, Scott collected found objects then wound them with textile fibers, cocooning the objects within new woven forms. Scott embodied the ancient tradition of contemporary abstract textile art, as she began each work with something old and transformed it into something startlingly new.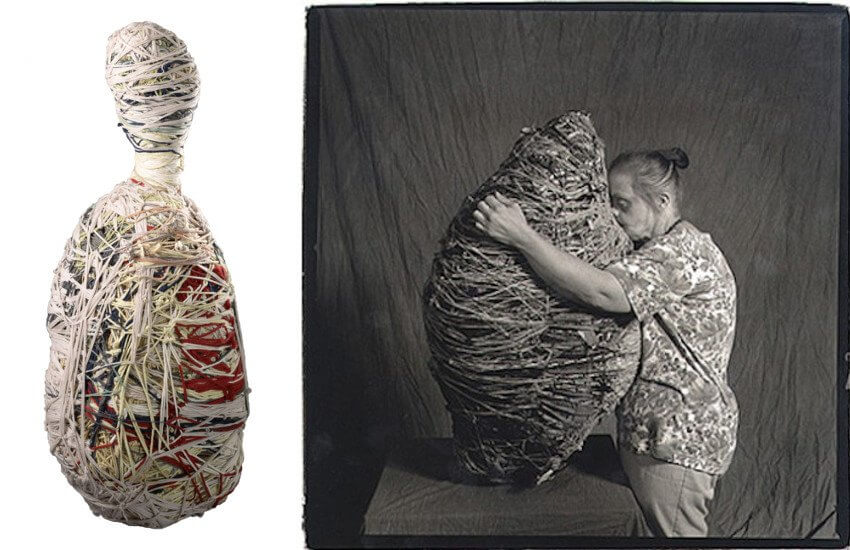 Fiber-cocooned abstractions by Judith Scott (Left) and Judith Scott with one of her creations (Right), © Judith Scott
Featured image: Anni Albers - City, 1949, Linen and cotton pictorial weaving, © 2019 The Josef and Anni Albers Foundation / Artists Rights Society (ARS), New York
All images used for illustrative purposes only
By Phillip Barcio