Blog Home
My Plastic Bag - Cheryl Donegan at Kunsthalle Zurich
Oct 23, 2017
For artists, it always has been, and hopefully always will be, perfectly reasonable to ask, "What is art?" Cynics, investors, politicians, academicians and other determined non-artists may mock the question, or scoff as if it is unanswerable. But artists—true artists—never tire of it. Just ask Cheryl Donegan. My Plastic Bag, a traveling, retrospective exhibition spanning the length of her 20-plus year, still early-career oeuvre, is currently on view at Kunsthalle Zürich in Switzerland. As is evident in this show, at every phase of her artistic development the definition of art has been at the heart of her searching. But rather than asking what art is and then trying to answer that question herself, Donegan takes a more independent approach. She makes whatever she wants and presents it—be that a lo-fi, unedited video, a performance, a traditional painting, a digitally printed painting, a print-on-demand tracksuit, or a product made overseas and available for all to buy online—then she leaves viewers, gallery owners, curators, buyers and critics to the task of asking, "Is this art?" To her, yes, of course, it is all art. Every one of these things is an aesthetic object that she is sharing as a creative person—an artist. If we fail to see it as art, that is only because of our own pretensions. We think art has to live up to some definition. And who knows? Maybe it does. But then that brings us back to the original question: What is art?
The Video Years
Cheryl Donegan was born in New Haven, Connecticut. She earned her BFA from the Rhode Island School of Design then went on to earn her Masters in Fine Art from Hunter College in New York. Her first works that gained the attention of the art establishment, meaning the art press, major galleries and museum curators, were videos. The two that made the earliest impact were Kiss My Royal Irish Ass (K.M.R.I.A.) (1993) and Head (1994). For Kiss My Royal Irish Ass, Donegan videotaped herself painting shamrock forms on a canvas in green paint with her naked butt. For Head, she videotaped herself sucking milk out of a hole in a milk carton then spitting it back into the carton. It was the subject matter of the videos that attracted so much attention. The action was interpreted as feminist and subversive. And the fact that it was on video tied in well with what was then the newly exploding trend of video art.
But a more detached observer might point out that, although the labels that were attached to these works (such as feminist, subversive and video art) are what brought Donegan into the public eye, thus making her "relevant," those labels may miss the point of what Donegan was really doing. She has often referred back to those early days and talked about how she knew nothing about how to make a video at the time. She did not know how to edit, so she just hit start and stop on the record button and pieced the thing together as she went along, shooting something improvisational in real time. In other words she was playing; experimenting; being intuitive. She was not trying to be a video artist—she was just an artist, using video. As for the content, it speaks for itself. It is not explicit in the sense of explaining what it means. It is implicit; suggestive. The eroticism, feminism and subversion attached to it is subjective. To say those ideas are entirely what define the work limits the work. There is much in these videos that is abstract. They are Rorschach tests—just look at the K.M.R.I.A. print at MoMA.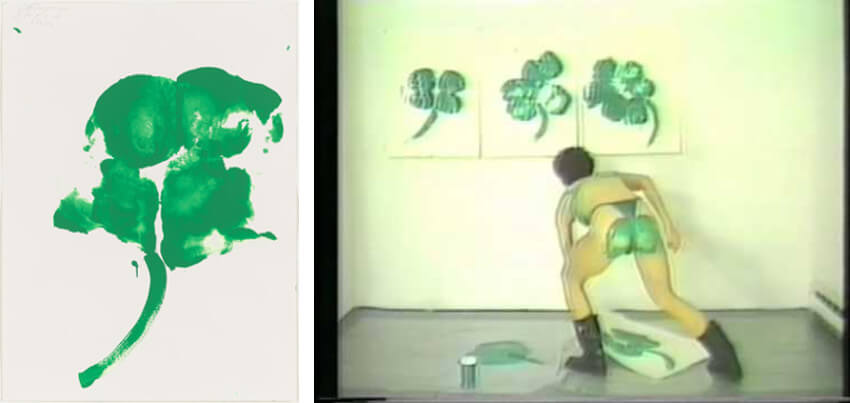 Cheryl Donegan - Butt Print, Kiss My Royal Irish Ass, 1993, Synthetic polymer paint on paper, 76.2 x 55.9 cm (Left) and video still from performance (Right), © 2017 Cheryl Donegan, courtesy of MoMA
Pictures of Painting
After receiving several years of attention from her videos, an experience that included being curated into the 1993 Venice Biennial, the 1995 Whitney Biennial, and the 1997 Semaine Internationale de la Videoin Geneva, Donegan shifted her focus just a tiny bit and exhibited a show of paintings along with a film. The 11 paintings and the film had the same name: Scenes + Commercials, and were shown at Basilico Fine Arts in New York. Critics panned the show. But the question is why? As you can see for yourself in My Plastic Bag, where the paintings and film are once again on view, the work is conceptually rigorous, well crafted, and visually compelling. The reviews caused Donegan to destroy one of the paintings. But what was the true source of the critical response? It seems as though it came not from the quality of the work, but from the fact that it was a different kind of work than what was expected from an artist that had already defined by the market as a "subversive, feminist video artist."
Donegan has persevered regardless. She has continued making films and various types of pictures. Most importantly, she has continued to experiment. The paintings she makes vary wildly in their techniques. They are not paintings in the sense that she "paints" them. But they are surfaces that hold a medium. For example, she makes "resist" paintings, on which she places wax prior to dying the surface then removes the wax afterward to reveal her marks. She also makes collages of dyed fabric, sometimes then photographing the collage and digitally printing the photograph onto another canvas. And since around 2009 she has been experimenting with contemporary digital consumer tools, such as print on demand websites, to have her images printed directly onto different surfaces. These experiments anger many traditionalists because Donegan is circumventing existing notions of how an artist is supposed to make work. Such people raise the question again and again—is this art? But Donegan is proof that only an artist has the right to finally answer that question.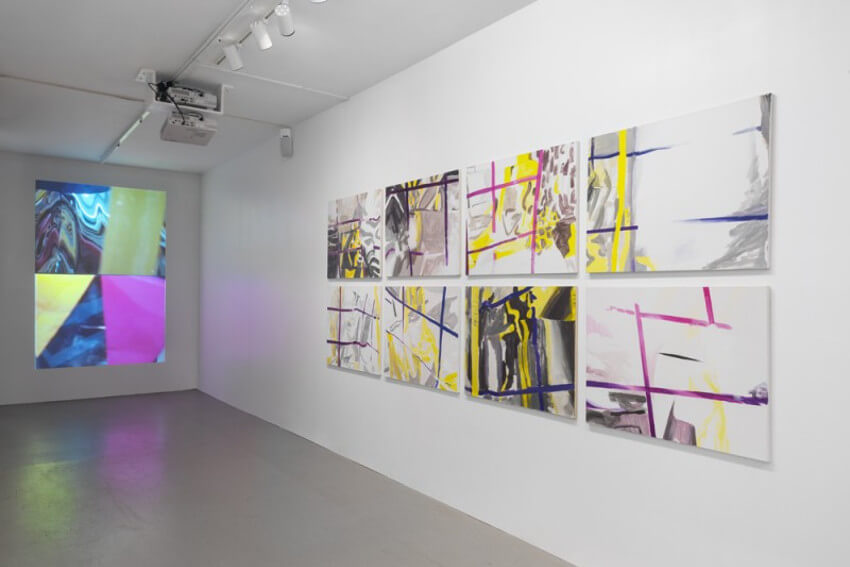 Cheryl Donegan - Scenes + Commercials, Installation view from show at the New Museum featuring paintings and video, 2016, © 2017 Cheryl Donegan, image courtesy the artist and the New Museum
Fashionable Statements
Most recently, Donegan has embarked on a body of work that appropriates the imagery of online consumerism, such as photographs of products from catalogues offering things made in factories overseas. She takes those images and collages them into compositions using photo manipulation software then takes that collaged image and has it printed onto clothing. There was a time not long ago that such a process would have been costly and time consuming. But today it is inexpensive and fast. She has had fashion shows with these creations, and many of her outfits are now on view in My Plastic Bag at Kunsthalle Zürich. Along with these outfits, the exhibition also shows some of her wall hangings, which she describes as being made with "digital paint." What is that, you wonder? Digital painting is a common process now, in which traditional painting mediums are applied to any surface with machines. Any digital image can thus become a painting. This is art.
It seems to me that over the past couple of decades, Cheryl Donegan has been kicked around by the art press. Some critics have fetishized her as a subversive. Some liked her "back when," and now longingly search for social, philosophical, or identity-focused statements in her new work. Others either praise her or villainize her for adapting new technologies and means of production. But in each of these cases, whether the opinion comes from a place of sympathy or antipathy, the point that seems to be left out is that Donegan is an artist who is experimenting. She is engaging in the ancient act of making. She is trying things and seeing what happens. She is not a sinner nor a saint, she is an artist. The wise thing would be to just look at the objects she makes and think about them. Stop asking whether they deserve to be there, or whether they are worthy of your attention. Just look and think. I may not know what art it, but I am positive that is what it is for.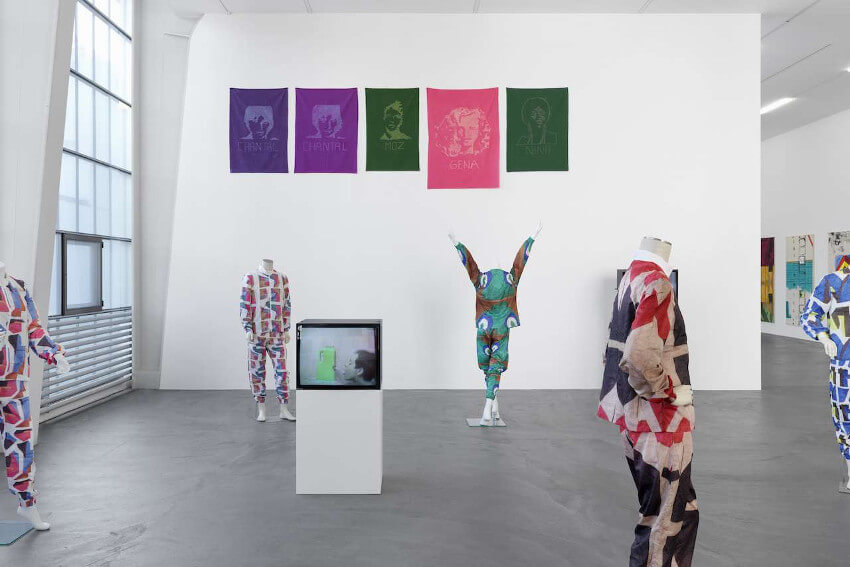 Cheryl Donegan - My Plastic Bag at Kunsthalle Zürich, Installation view showing wall hangings, print on demand clothing, videos and paintings, © 2017 Cheryl Donegan, image courtesy the artist and Kunsthalle Zürich
My Plastic Bag is on view at Kunsthalle Zürich through 12 November 2017, after which it will travel to the Contemporary Arts Museum in Houston, Texas, and then the Aspen Art Museum in Colorado.
Featured image: Cheryl Donegan - My Plastic Bag at Kunsthalle Zürich, installation view including print on demand clothing and surfaces painted with digital paint, 2017, © 2017 Cheryl Donegan, image courtesy of Kunsthalle Zürich
By Phillip Barcio