Blog Home
The Reality behind the Abstract Paintings of Chrissy Angliker
Oct 16, 2017
Chrissy Angliker appears to have had a breakthrough. The Zurich, Switzerland-born, New York-based painter has, over the past seven years, developed an instantly recognizable, and perfectly irresistible aesthetic style, dominated by casual drips that melt sensuously through painterly, abstracted compositions. But the paintings in her most recent solo exhibition, PAINT/ING/S, which runs from 19 October through 2 December 2017 at Galerie 94 in Baden, Switzerland, all but lack the iconic drips for which she has become known. They are powerful, colorful, and defined by lush, impasto layers of paint. They are pronouncements of an artist who has come into her own mature voice. As interesting looking as the drips in her earlier work are, they have also become a distraction of late; they feel less like spontaneity and more like flair. These new works are more confident. They have an emotional weight that emits its own gravity. Rather than the paint behaving as a vehicle for a composition, the composition and the paint now seem to collaborate harmoniously in support of something transcendent. Colors relationships, textures and gestural nuances are in the forefront, pulling the eye and body inward toward a journey of visual and visceral discovery. These new pictures are the works of a painter who has crossed over from a place anchored in reality into a world of complex and abstract potentiality.
Art Meets Design
Chrissy Angliker first came to America at age 16 with dreams of becoming an artist. Her parents enrolled her in a prestigious, private boarding school in Massachusetts, called the Walnut Hill School, which specializes in visual arts education. She excelled there. But after graduating, her parents insisted that she follow a more practical path at university, partly because of their own personal economic troubles. Angliker begrudgingly enrolled in the School of Design at the Pratt Institute in Brooklyn, where her teachers encouraged her to focus on industrial design. When she was first introduced to design methodology, she was repulsed. But after some initial resistance, she gradually began to adapt to the tightly controlled world of design. She found it to be quite the opposite of art, but she came to understand its value. As she put it in an interview with Forbes Magazine in 2017, "In design, you're in control. You're making products that are designed to be put into the world. For the world. But art is about the world. That's the difference. All that magic and all that unknown isn't a part of the design process."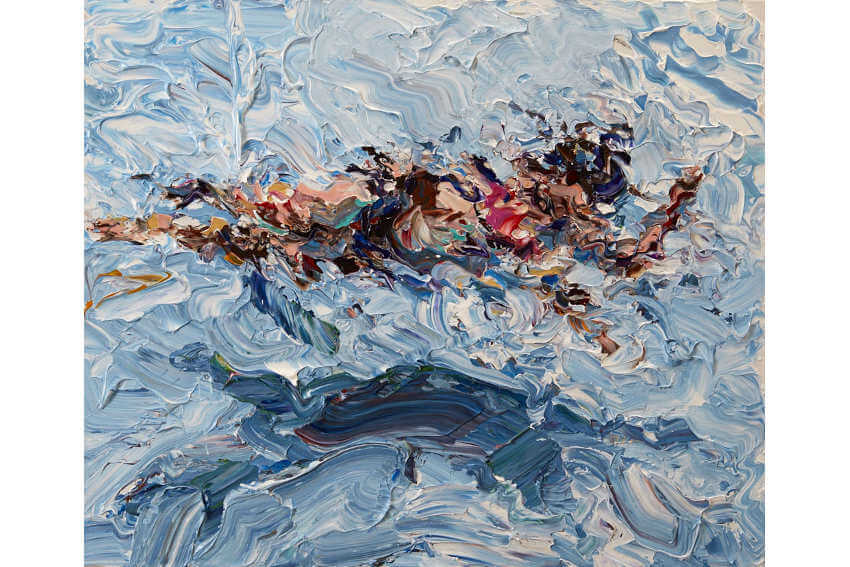 Chrissy Angliker - She Swims, Acrylic on Canvas, 20 x 24 Inches, 50.8 x 61cm, 2017
After graduating from Pratt, Angliker started a design business with some friends and found immediate success in the market. But in just a few short years she was burned out by the heavy demands on her schedule and the lack of personal creative control she had over her work. She took a trip home to Switzerland to regroup, and on the balcony of the apartment where she was staying, she sat down one day to paint. She started with just black paint, and made the simplest possible picture: a self-portrait. It was a tightly controlled composition, influenced by the design methodology she had embraced at Pratt. But then the paint started to drip. At first she was horrified, and thought that the picture was ruined. But then she became thrilled by the unexpected sense of chaos that was racing through both the picture and her mind. She applied even more paint and allowed more drips to roll down the surface. In that moment she realized that the excitement she felt was more intense than anything she had felt in years, and knew she had to return to painting full time.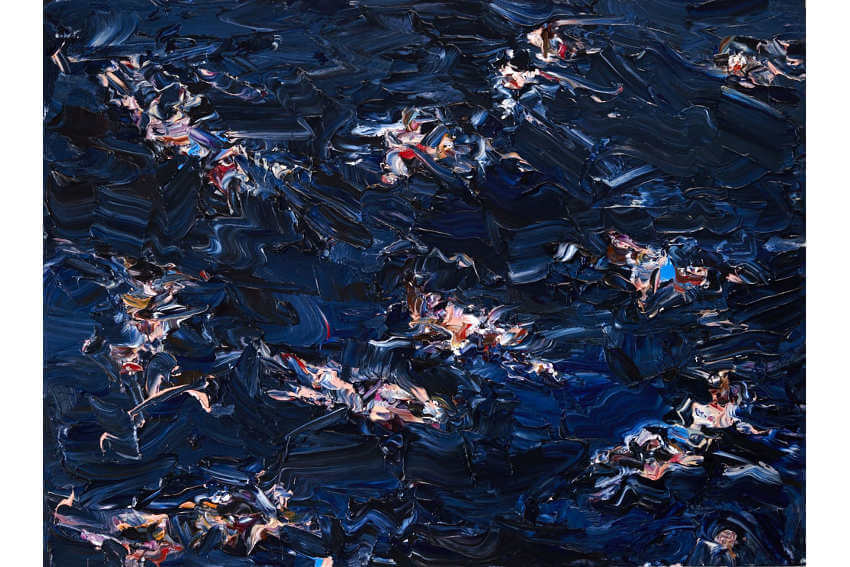 Chrissy Angliker - Swimming With Friends, Acrylic on Canvas, 30 x 40 Inches, 76.2 x 101.6cm, 2017
A Collaboration With the Paint
Angliker has been focused completely on painting now since 2008. The vast majority of the work she has made over the course of the recent years has been guided by that moment on the balcony in Switzerland, when the excess paint from her brush ran unexpectedly through her pristine composition. Her process in a way channels that moment, and replicates. She begins by taking a photograph of something in the real world that inspires her—often a scene involving people in water or at the beach. She then draws in black a loose, figurative composition based on the photograph. Then what occurs next is a slow, deliberate, ritualistic collaboration between painter and paint. Angliker applies a smudge of impasto color with a plastic spoon then pushes it soulfully across the surface. She applies more colors the same way, smudging them together, intermingling them. She lets the paint guide her. She opens herself up to unexpected color relationships and textural anomalies. Slowly a composition emerges.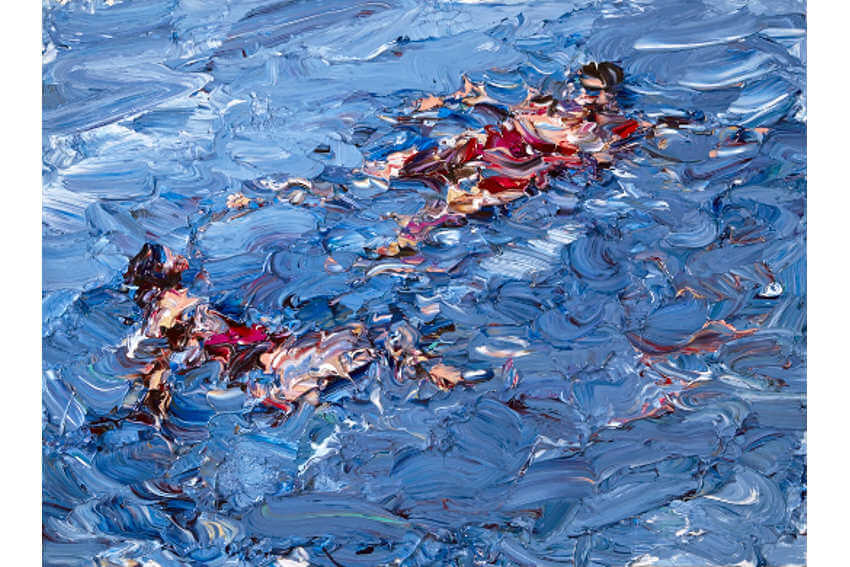 Chrissy Angliker - Mermaids, Acrylic on Canvas, 30 x 40 Inches, 76.2 x 101.6cm, 2016
Since she is working from a realistic portrait of the world, the final image resembles the source material to some degree. But the paintings possess their own sense of being. They are independent objects in space, which demand to be considered for their own material and aesthetic properties. And now that she has let go of her reliance on the excess paint drips, her paintings have come to possess even more composure. Their presence is mature. They seem both rooted in tradition as well as contemporary. In an interview in 2015 with the German magazine Style, Angliker mentioned that her favorite painter is Bram Bogart, a member of CoBrA who over the course of his life underwent a journey from figuration to abstraction. The paintings he made late in his life were purely abstract, monumental explorations of impasto brush strokes. Their impossibly dimensionality makes them both unique and undeniable. According to Angliker, they make her cry. And she would be happy to know that if the works on view in PAINT/ING/S are any indication, she is on a similar journey as Bogart, toward something layered, abstract, textured, primal and pure; something full of potential, and equally capable of evoking a reaction from the heart.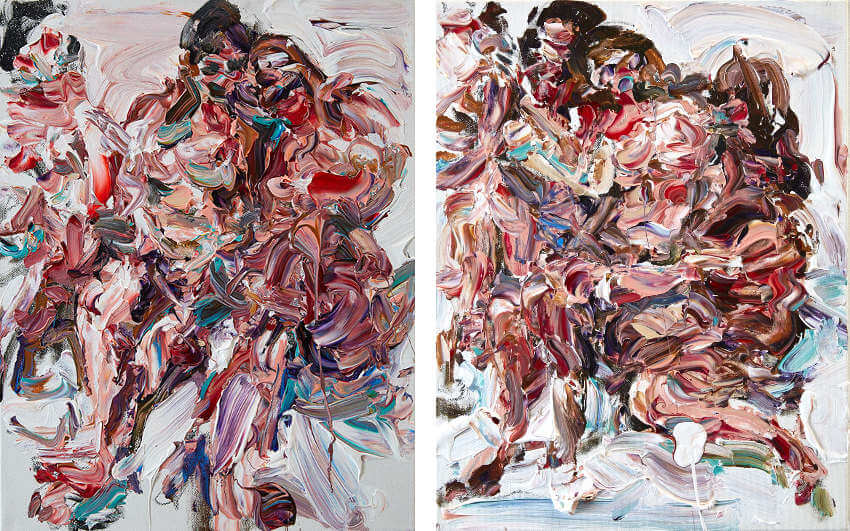 Chrissy Angliker - Lady Loves I, Acrylic on Canvas, 14 x 18 Inches, 35.5 x 45.7cm, 2017 (Left) and Lady Loves II, Acrylic on Canvas, 14 x 18 Inches, 35.5 x 45.7cm, 2017 (Right)
Featured image: Chrissy Angliker - Shara, Acrylic on Canvas, 30 x 40 Inches, 76.2 x 101.6cm, 2017
All images © Chrissy Angliker, all images used for illustrative purposes only
By Phillip Barcio