Blog Home
Most Notable Representatives of African Fabric Art at Sean Kelly
Jun 27, 2018
A new exhibition of African fabric art at Sean Kelly New York, titled Ravelled Threads, has got my mind buzzing with fascination. I confess that I love any chance to see the methods abstract artists develop to address social and political issues, whether its individual artists like Jeffrey Gibson using abstraction to confront Native American stereotypes, or curators like Celina Jeffery or Billy Gruner organizing group exhibitions to explore the health of the oceans, or gender issues in art. Ravelled Threads brings together ten contemporary African abstract artists from multiple generations who mobilize textiles to address global themes related to identity, sexuality, gender, religion, and place. These are concrete issues that could not be more relevant to our time, and yet there is very little about this show that is concrete. The ten artists whose work is in the show—Igshaan Adams, Joël Andrianomearisoa, Ayan Farah, Aboubakar Fofana, Alexandra Karakashian, Abdoulaye Konaté, Lawrence Lemaoana, Senzeni Marasela, Zohra Opoku and Athi-Patra Ruga—masterfully blend the formal visual heritages of to their individual cultures, which often involve narrative or figurative imagery, with the multitude of visual languages specific to contemporary abstraction. The artists represent ten distinct perspectives on identity. One even defies the parameters of the show, hailing not from Africa but from the UAE. Who decided that the UAE was part of Asia and not Africa? Does it really even matter what continent someone is from? As the title of this show suggests, abstraction is about making room in art for complications to arise. To "ravel" something means to entangle it, to confuse it, to mix it up. That is the aspect of this show that I find illuminating. It highlights work demonstrative of the idea that for abstraction to exert its relevance in culturally and politically contentious times, it must remain complex.
Fabrics of Identity
None of the works in Ravelled Threads lend themselves to quick interpretation. A line of geometric woven works by Joël Andrianomearisoa at first appear simple—like fancy carpet squares. Yet on closer look their nuanced hues and elaborate textures recall geography and geology as much as geometry. A group of tapestries by Athi-Patra Ruga show haunting, figurative images that invite you to consider their stories. Yet their subtly askew shape implies something is off—things are not the way they should be, or the way they seem to be. These works are many things simultaneously. They are two and three-dimensional. They are part painting, part weaving, and part sculpture. They are challenging in both physical and metaphysical ways.
Installation view of Ravelled Threads at Sean Kelly, New York. Photography: Jason Wyche, New York. Courtesy: Sean Kelly, New York
For me, one of the most challenging pieces in the show is "Passage I, II, III" (2018), a woven triptych by Igshaan Adams, of Cape Town, South Africa. The material presence of this work seems shredded on first glance, but the intricate networks that hold it together are in fact solid and tight. The patterns appear haphazard, but the longer you admire them, the more they reveal the strength of their organic structures. The colors, which first appear muted, again, over time, emerge as a fantastic rainbow of hues forming relationships that are beautiful and complex. "Passage I, II, III" is an eye-catching object, with enough formal abstract content to inspire long contemplation. And it becomes even more substantial when the story of the artist is taken into account. Adams is himself a ravelled tapestry of influences. Born into a mixed-race family, he was considered "colored" under the laws of apartheid. He was raised in a Christian household, but is a Muslim. His sexuality as a gay man places him in conflict with many of his cultural influences. In his work I see the inherent power of the idea of color relationships; the message that disparate structures can fuse into something strong; and proof that even when tattered, there is beauty in the organic complexity of existence.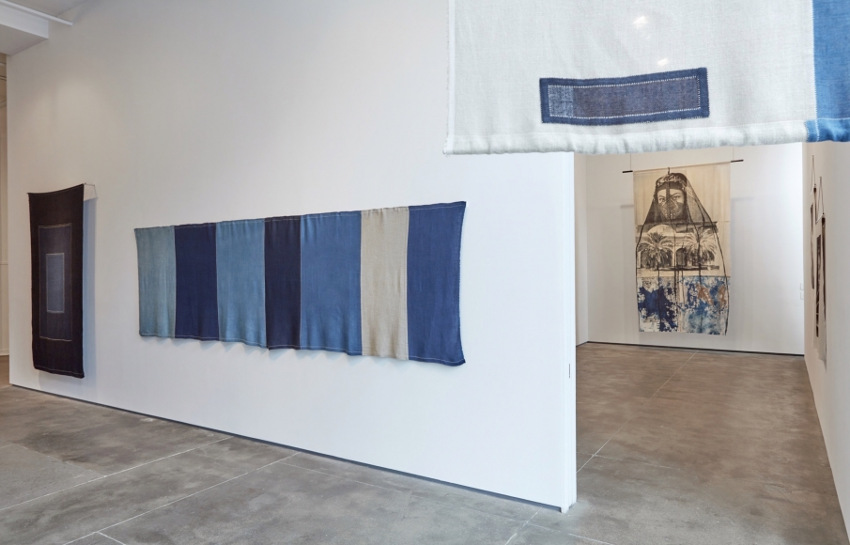 Installation view of Ravelled Threads at Sean Kelly, New York. Photography: Jason Wyche, New York. Courtesy: Sean Kelly, New York
Recorders of History
Another highlight of Ravelled Threads are the textile assemblages of 65-year old Malian artist Abdoulaye Konaté, especially his monumental "Composition en jaune" (2018), which measures 267 x 329 centimeters. Konaté made the piece using a labor-intensive process of sewing cloth tassels in layers, creating a fringe effect. Although the title of the work alludes solely to color, the imagery is rich with symbolism. It draws from other works in this series, which incorporate abstracted images of butterflies, human forms, plant life, and celestial forms. "Composition en jaune" amalgamates many of these elements, presenting a patchwork of patterns and forms that suggest a union of humanity, nature, and the stars. Simultaneously, the geometric shapes, lines, and color relationships converse effortlessly with Modernist abstract history such that a purely abstract reading of the work is equally rewarding.
Installation view of Ravelled Threads at Sean Kelly, New York. Photography: Jason Wyche, New York. Courtesy: Sean Kelly, New York
What I love about all of the works in this show is that when exhibited together in this way they become an interconnected record of history. They act as storyteller to those willing and able to read the layered symbology; they blend the ancient arts and crafts traditions of Central Africa with the theories and practices of European abstraction, which in so many cases were directly inspired by these same African roots traditions. Meanwhile, the material presence of the show records a history in which fabric has always served both utilitarian and aesthetic purposes. And although some artworks, such as "When the Wicked Rule" (2018) by Lawrence Lemaoana, or "Within Us" (2018), by Zohra Opoku, are in some ways overt in their engagement with politics, many others allude to a broader message. Their methods, their imagery, and their objective presence declares the vast, global, and timeless network of influences that inform contemporary abstraction, both in Africa and beyond. Ravelled Threads is on view at Sean Kelly New York through 3 August 2018.
Featured image: Installation view of Ravelled Threads at Sean Kelly, New York. Photography: Jason Wyche, New York. Courtesy: Sean Kelly, New York
By Phillip Barcio