Blog Home
Our Ephemeral Future – How Contemporary Abstract Artists Engage with the Environment
Jan 10, 2018
The coastline is where earth, wind and water meet. Poetically, it is a place teeming with allegory, where things can only stay the same through constant change. It is both concrete and abstract—an ideal physical and intellectual arena for Ephemeral Coast, a group which organizes site specific, group art exhibitions that explore the relationship between humanity and nature. Celina Jeffery, Ephemeral Coast Director, has curated exhibitions for the project at coastal locations all over the world. Her curatorial approach is open-ended. Rather than striving to make specific statements, she instigates conversations about the relationship between humanity and the biosphere by inviting artists to make work that explores "the changing ecology of coastlines." This winter, Jeffery will present These Waters Have Stories To Tell, a group exhibition at the Glynn Vivian Art Gallery, in Wales, United Kingdom. The venue is located about one kilometer from the coastline of the city of Swansea, about a 20-minute walk from the water. The show will include work by six artists: Jaanika Peerna (represented by IdeelArt), Julia Davis, Alexander Duncan, Shiraz Bayjoo, Sylvia Safdie, and Christian Sardet and The Macronauts. We caught up with Jeffery to discuss the exhibition, and to get her opinions about the current state of engagement between contemporary artists and the environment.
All Art is Political
Obviously, humanity faces many difficulties today: the refugee crisis, modern cities being reduced to rubble by war and natural disaster, bigotry, injustice, economic inequities. Environmental changes rank easily among our top concerns, since they directly affect each of these other issues. As a journalist, I have interviewed dozens of artists who employ aesthetic tactics to address nature and the environment. Their approaches have tended to fall into three broad categories: activism and propaganda (art as protest, or to promote a specific agenda); direct intervention (art that manifests concrete solutions to a problem); and abstraction (art that inquires, investigates or inspires in open ended ways). Each of these tactics produces different results, but all share one commonality: an expression of the awareness that humans are part of a natural system—one which we can affect but not control, and one that does not need us to survive.
In this context, I consider it impossible for an artist to deal with the topic of nature without appearing to be making political work. Celina Jeffery agrees. "I consider all art to be political on some level," she says, "and of course, in the era of Trump and Brexit, this has magnified exponentially." The question every artist must ask is whether they want to hit the situation head on and make work that promotes a point of view; whether they want to make work that suggests concrete solutions; or whether they want to admit there are more unknowns than knowns. Jeffery takes the latter approach. She curates projects that are geographically, rather than politically, specific. "Ephemeral Coast has largely developed out of an engagement with specific regions," she says. "The geographical came first and the stance or action came after. These Waters Have Stories To Tell is more contemplative and poetic – but this is still a stance so to speak. It suggests that we do need to slow down, connect and reconnect."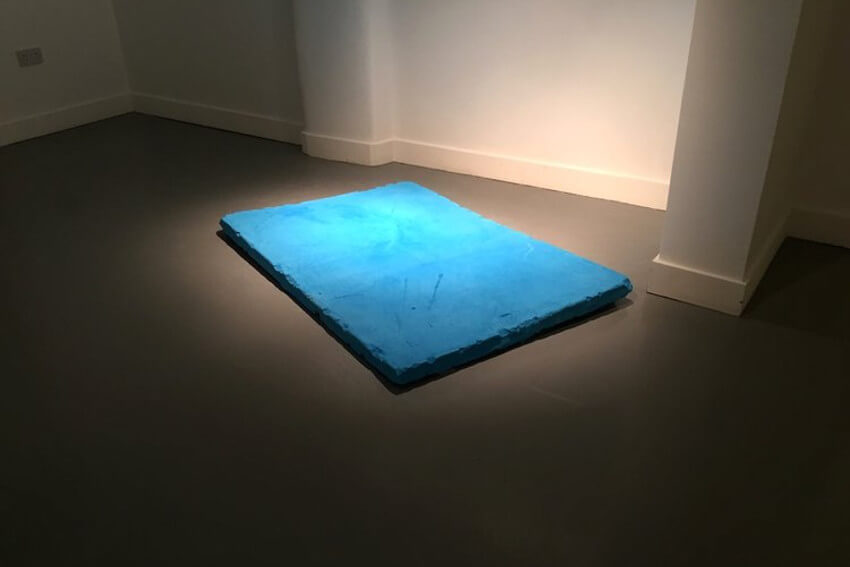 Alexander Duncan - Like Swimming (Big Blue) 2015, Concrete, pigment, 1430 x 955 x 60 mm, © Alexander Duncan
Inquire and Inspire
One reason some environmental art fails is because it presents itself in such a way that spectators confuse it for just another source of political propaganda—fake art news. Jeffery avoids that pitfall by finding questions rather than answers. As she states on the Ephemeral Coast website, "curating contemporary art is a unique process through which we may discover, analyze, re-imagine and re-frame the emotive discourses surrounding the ecological and cultural transformations of the coastline." She puts a higher premium on imagination than on data. Some of her past projects could even be considered ambivalent toward whether environmental changes threatening human survival are a negative or positive thing for the planet. Says Jeffery, "To an extent, this was the case for Nirveda Alleck, who was part of the Edge Effect exhibition in Mauritius. One of her works, Arise (2016), envisioned an environmental future in which new topographies and islands existed outside of humankind."
Jeffery herself is unambivalent toward environmental degradation. "For me it's the most pressing issue of the age," she says, "one that has profound implications for social justice." It was a series of personal connections with the crisis that brought her to Ephemeral Coast. "Until recently, I lived on the coast. I've witnessed—as we all have—such a rapid and devastating impact on the world's oceans during my lifetime that I felt compelled to address the coast as an interface between the social and the 'natural' world. I also lived in the American South during Hurricane Katrina, which registered the dual fissure of climate change and social injustice in such an incredible way that it triggered a whole series of projects in response. But I think contemporary art has been slow to engage with environmental degradation, and particularly, with the crises facing the ocean."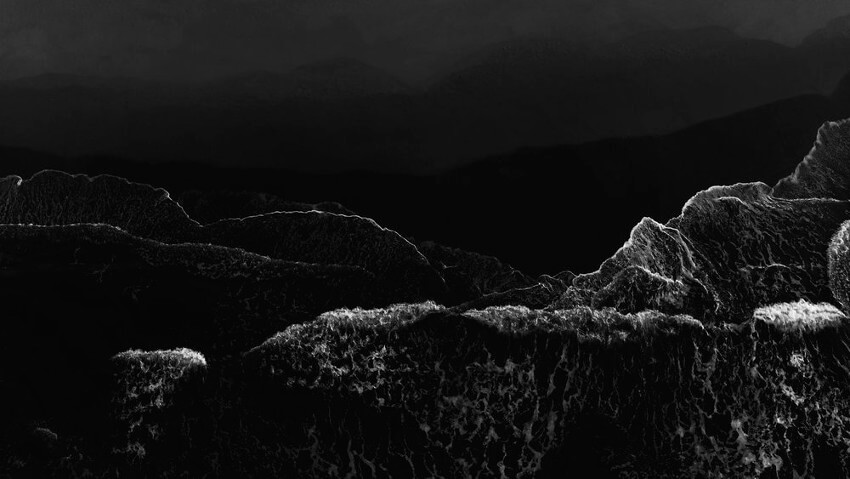 Julia Davis - Undercurrent, 2017, Video, endless loop, stereo sound, © Julia Davis
We Are Nature
One challenge Jeffery faces is finding artists whose work engages people with these issues in positive, constructive ways. That is what led her to Jaanika Peerna. Performance is a key aspect of the work Peerna makes. She intuits dance-like movements that communicate an intrinsic connection to nature. Embodying the natural processes of water, she manifests drawings that evoke the characteristics of the sea. The drawings are visual relics of a natural event, demonstrative of the same forces that shape and define the coastline. Says Jeffery, "I am interested in feminist material philosophy and art. Jaanika's work seems to embody aspects of these ideas. In particular, I am interested in how she explores embodiment of the sea's materials and movement as a gendered body. It acts as an interesting counterpoint to the masculinist myths of heroic exploration of the sea in a particular kind of way."
There are also contradictions in what Peerna does. The surfaces on which she draws are made from a type of plastic that threatens the ocean, a fact of which she is aware, but is also, like many artist, unsure how to address. Options are limited for equivalent materials that are beautiful, archival, and also bio-friendly. I asked Jeffery if she knew of any art supply companies specifically engaged with making materials that offer a neutral or positive environmental footprint. Her response: "No." This is a situation that can perhaps lead to invention. I remember writing about an artist named Jackie Brookner (1945 – 2015) several years ago for Tikkun Magazine. She created a transformative aesthetic legacy in the form of Biosculptures, what she described as "living works of art whose porous surfaces are inhabited by carefully selected organisms whose job it is in nature to clean and filter the toxins out of aquatic ecosystems." Lacking commercial options, Brookner invented materials with which to make works that heal the nature spaces they inhabit. They are the least totalitarian artworks imaginable. And they proove that alongside the contradictions faced by Peerna and other contemporary artists whose work exists in conversation with nature there are also opportunities.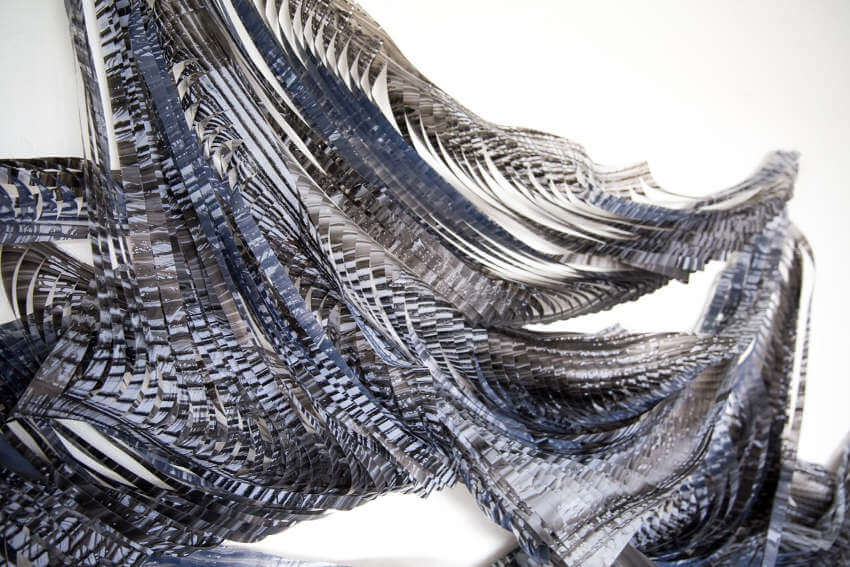 Jaanika Peerna - Sublime Ooze (detail), 2018, © Jaanika Peerna
Evolving Relationships
Overall, like the coastline itself, the relationship between contemporary art and the environment is an evolving situation. It is unclear whether the art market will ever take a side on the issue. It is equally unclear whether artists today feel any obligation to engage with this, or any other social or political concern. For these reasons, the work Ephemeral Coast does to inspire people to take an interest in one specific element of the natural world feels important. It presents the situation as local and personal, and acknowledges there are no easy answers. It does not tell us what to do. Rather, it aims to "develop a nexus of understanding between art, empathy, and the degradation of the ocean."
Says Jeffery, "We clearly emerged as a modern species because of our relationship to the coast—using it as a source of protein, navigation and wonder." Simply reminding people of that fact is a nobel effort. It reminds what we are, and that we are not separate from nature. That can play a pivotal role in how we imagine what could possibly happen next for us and our world.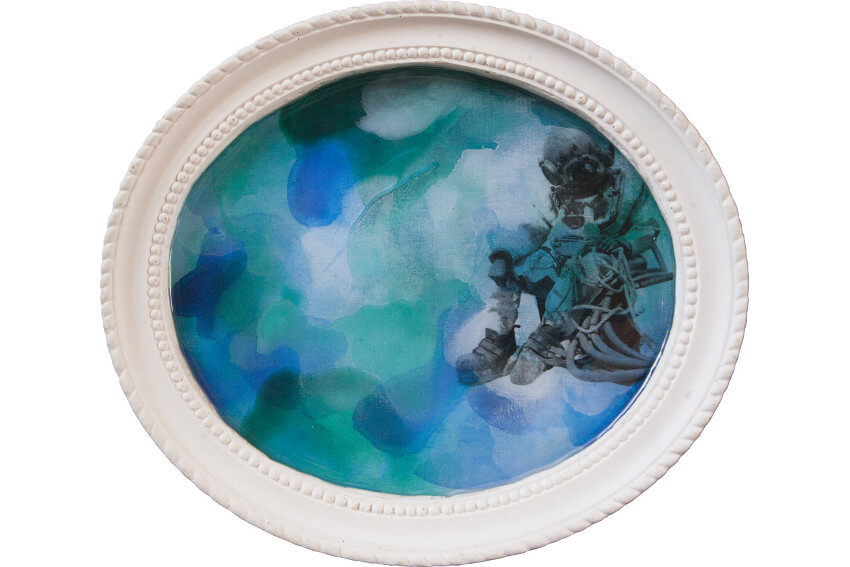 Shiraz Bayjoo - Port Hole no. 2, Oyster Diver, 2017, Acrylic on wood, resin, jesmonite, 27 x 23 x 3 cm, © Shiraz Bayjoo
These Waters Have Stories To Tell opens 19 January 2008 in the Glynn Vivian Art Gallery, Swansea, Wales, United Kingdom, and runs through 13 March. It features the work of Jaanika Peerna, Julia Davis, Alexander Duncan, Shiraz Bayjoo, Sylvia Safdie, and Christian Sardet and The Macronauts. For more information, Visit Ephemeral Coast on the web.
Featured image: Jaanika Peerna - Sublime Ooze, 2018, Large wall installation (dimensions site specific), Pigment and water on hand cut mylar in 40 elements attached to wall, © Jaanika Peerna
All images courtesy Ephemeral Coast
By Phillip Barcio