Blog Home
The Week in Abstract Art - Site Specifics
Sep 14, 2016
Late summer is the best time to visit New York! Then again early summer is pretty great. And winter is nice, too; ice skating at 30 Rock and snacking on roasted chestnuts in Central Park. Maybe there is no bad season for visiting New York. But we digress! The point is IdeelArt just wrapped up a lovely and productive late summer art trip to NYC and we have a lot we want to share! One story people all over town are talking about is that of a Keith Haring mural on the Upper West Side. Haring painted the mural in the stairwell of an income restricted apartment building in the late 1980s. The owners of the building now intend to redevelop the property, a project that threatens to destroy the mural. A city councilman and thousands of other citizens are endeavoring to save the work. But questions are also being raised about whether the mural should in fact be preserved. The first question has to do with Haring's intent when creating the work for that particular location, and whether, when a site perishes, its site-specific artwork should perish as well. The second question is who has the authority to answer the first question. After all, who truly owns this mural: the owners of the real estate to which it is attached, or the neighbors who because of their experience with it feel entitled to a sense of ownership over it? In solidarity with everyone working to come to terms with this fascinating debate, and in celebration of one of the world's greatest sites for all kinds of art, here are three other current and upcoming abstract art exhibitions incorporating site specificity, which we recommend you visit if you also happen to find yourself this late summer in New York.
Peter Soriano: 3 Murals and Related Drawings, Lennon Weinberg, 514 W 25th St #1, New York, NY
On view now through 22 October
For this exhibition Peter Soriano addresses ways of processing and communicating his own relationships with place and time. In a series of large-scale wall drawings, Soriano introduces a highly personal aesthetic code that seems at once both scientific and idiosyncratic. Contemplation of the code offers a glimpse into Soriano's relationship with the outside world as well as what hides within.
Lucky DeBellevue: Assignment, Kai Matsumiya, 153 1/2 Stanton St, New York, NY
On view 18 September through 30 October 2016
What has more power: a finished project or an unrealized idea? What causes us to choose to complete one project over another? For this exhibition, Lucky DeBellevue explores the intersection of performance and potential. Covering nearly every inch of wall space of Kai Matsumiya's intimate and energized Lower East Side space, DeBellevue presents for our perusal hundreds of sketches, drawings and text-based descriptions of more than 25 years of his unrealized ideas. Together the relics hover between abstraction and objectification, each invoking both a concept left suspended in time and a choice to nurture other work.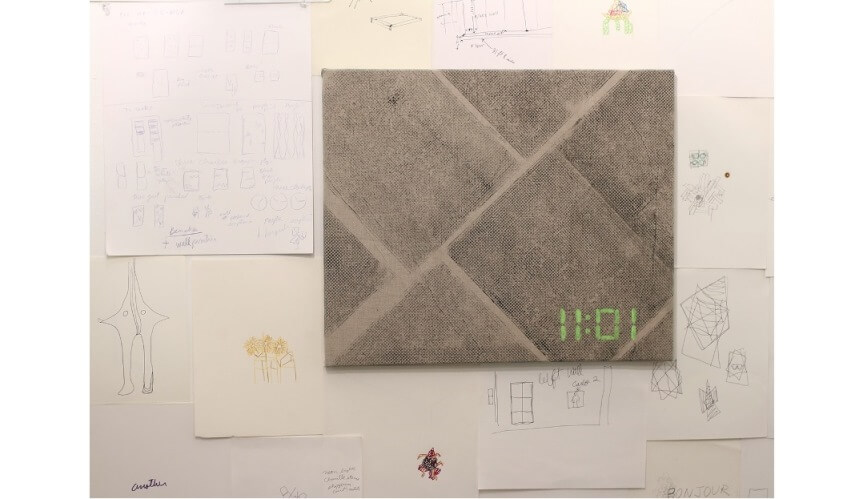 Lucky DeBellevue - Exhibition at Kai Matsumiya
Debra Ramsay: Hue(s)pace, ODETTA, 229 Cook Street, Brooklyn, NY
On view now through 9 October 2016
For this exhibition Ramsay presents new geometric, two-dimensional works in conversation with a monumental new site-specific installation. The installation, highlighting colorful, flowing rolls of polyester film, fluidly inhabits the architecture of the gallery, exploring the intersection of natural form and systematic process. Together with Ramsay's paintings it offers a contemplative expression of the union of math and metaphysics.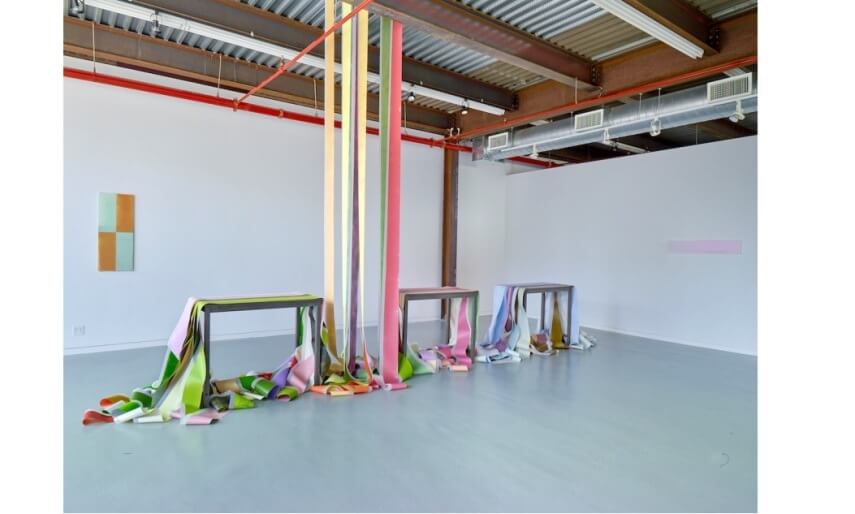 Debra Ramsay, Hue, Place, Pace, a Year of Color, 2016. Acrylic, polyester film, readymade tables, aluminum rods. Site specific installation. 168 x 276 x 60 inches. Courtesy
ODETTA
, copyright 2016, all rights reserved.
Featured Image: Peter Soriano Exhibition at Lennon Weinberg
By Phillip Barcio