Blog Home
Udo Zembok Creates an Open Space in France
May 14, 2018
Udo Zembok has been working with glass as an artistic medium since 1976. Zembok sees glass not only as a physical material, but as something more—he sees it as a metaphysical intermediary between humans and their experiences with color and light. Throughout his career he has made hundreds of pieces, from small scale glass "paintings," to multi-media installations in which his glass panels interact with projectors and audio recordings, to monumental, site specific, architectural installations. What Zembok does is akin to a philosophical quest. He is after an effect that is rooted in something conceptual, even spiritual. He wants to create an object that materializes an experience for viewers. He wants to make things that are capable of initiating moments of contemplation that are ephemeral and unexpected, and in which color and light can become one. Without a doubt these are lofty goals that he is after, and yet for Open Space, his current exhibition at MusVerre museum in Sars-Poteries, France, he has come closer to achieving his ambitions than in any of the exhibitions he has held in the past. His breakthrough has come in the form of a work titled Coeur II. The piece consists of two convex red walls that face each other like parenthesis, creating an ovular space through which viewers can walk. As the name suggests, this is the second version of this particular form that Zembok has created. What makes it different than its predecessor—and more successful—is a subtle change Zembok made to how it is displayed. In the past he has always set the glass panels within frames. In this exhibition, for the first time, he allows this piece to rest directly on the floor. It seems like a small gesture, but this decision allows the sculpture to declare itself as something independent and full of confidence, transforming it into an artwork worthy of elevation into the totemic realm.
Finding the Medium
Zembok discovered his love for glass while still an art student. He knew that he was inspired by Color Field painters such as Mark Rothko, who pursued the transcendent qualities of color. But whereas such painters often used oil paints and acrylics, which tend toward opacity, Zembok admired the transparent qualities of watercolor paints. He liked how each successive layer allows the colors of the previous layers to shine through, as though illuminated from underneath. He wondered how to capture that same luminosity in three-dimensional space. Glass, he realized, was the perfect medium with which to work. Glass allows the colors within it to be activated by light, letting the full depth of the color to be perceived by the eye. He also realized that glass could create a contemplative space, similar to that within a Rothko painting, because in a way, glass contains color; yet in another way, it projects color. In fact, Zembok realized that when light hits a color-infused pane of glass, the color actually becomes the light and the light becomes the color—they are inseparable.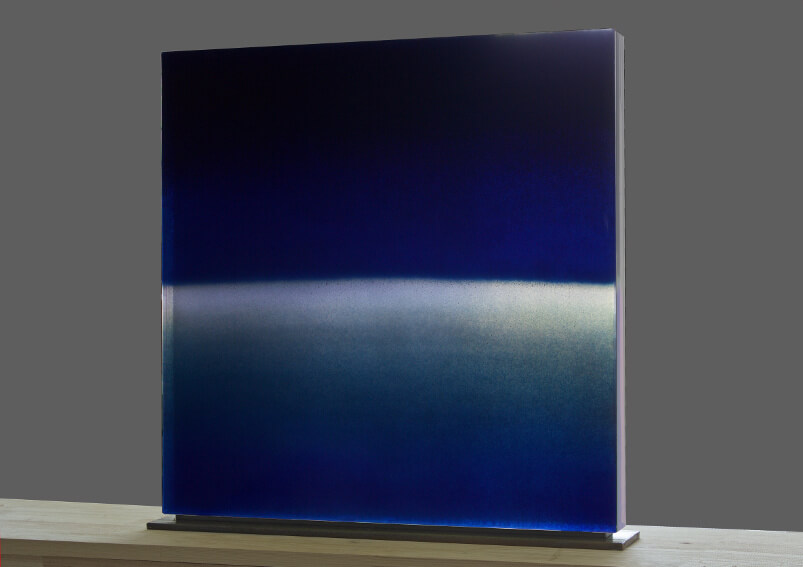 Udo Zembok - Spacecolour. © Udo Zembok
For more than 40 years, Zembok has been developing this simple idea, with often spectacular results. His most well-known efforts have been in the realm of architectural installations. Zembok has created monumental windows for public buildings, cathedrals, and corporate offices. He has also made many sculptural pieces that are installed within buildings, such as the glass partition he created for installation inside the Notre-Dame de Chartres cathedral. However, though beautiful and even sometimes even mesmerizing, these architectural installations ultimately become somewhat like decorative elements because they collaborate with the structures in such a way that their importance as independent artworks is subjugated. These works often do activate the space, but the space itself is what seems to be most important. The works fail to declare themselves as sovereign entities.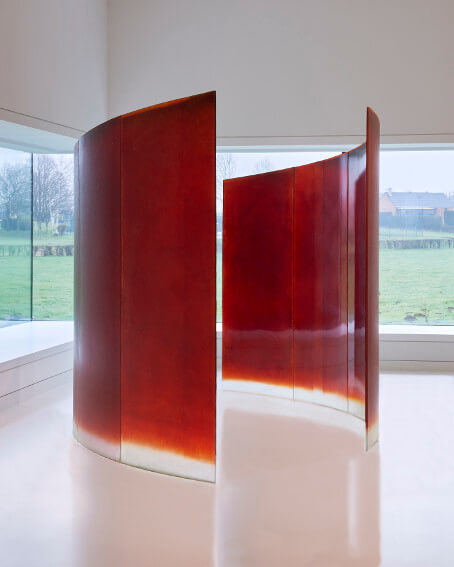 Udo Zembok - Cœur II. © Ph. Robin
Working With Space
Zembok has often come closer to achieving his goals with his smaller scale series of works he calls Space colours. These fused panes of glass are imbued with color, and are square or rectangular in form. They resemble the works of Rothko as their fields of spectral color pull the eye in towards an ephemeral psychic space. But many of theSpacecolours also sit atop attached bases, giving them an inherent flaw. The bases are purely functional, and they lure attention away from the work itself. It is a problem that goes back to the early days of Modernism, when artists like Marcel Duchamp wondered about how pedestals can alter the presence of an artwork. It is why Minimalist artists like Donald Judd asserted that a sculpture should always sit directly on the floor, so as not to take attention away from the work itself. Only the Space colours that support themselves succeed in attaining totemic status. And it is no coincidence that this same issue is what makes Coeur II so compelling in its current form at the MusVerre museum.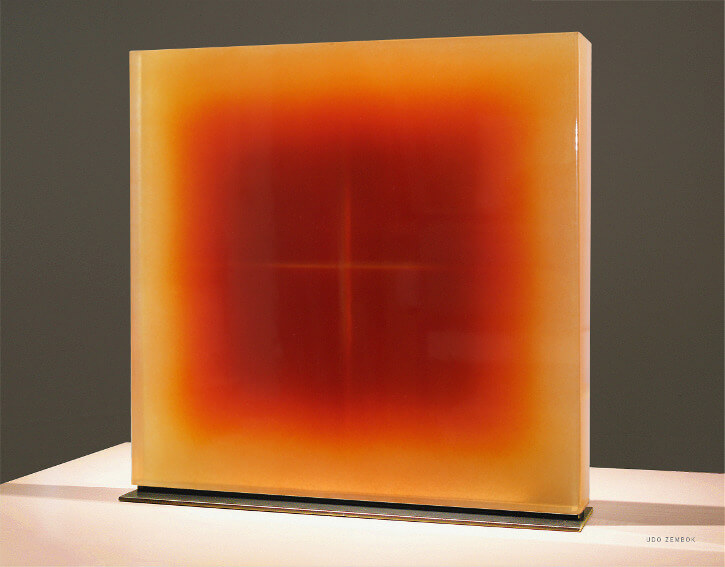 Udo Zembok - Spacecolour. © Udo Zembok
Each previous time Zembok exhibited this work it competed for attention with its support. In one previous exhibition, it sat inside of a metal base. In another, it sat atop a wooden platform and was held in place by wooden supports. There is something about displaying the piece in this way that takes away from its magic. But in its current manifestation, sitting directly on the floor, it exerts its authority as an independent form. It takes on the definitive presence of similarly-shaped iconic works by Richard Serra. And yet it also possesses the delicacy and nuance of glass. In this form, Zembok has found the perfect three-dimensional expression of the translucent beauty he has long sought, like a watercolor in space. He has elevated his vision, creating a physical manifestation of an intangible realm of metamorphoses, into which viewers might be absorbed. Udo Zembok: Open Space is on view through 28 September 2018 at the MusVerre museum, Sars-Poteries, France.
Featured image: Udo Zembok - Cœur II © Ph. Robin
All photos courtesy MusVerre museum, Sars-Poteries, France
By Phillip Barcio