Blog Home
Tal R's "This is Not Detroit" at MOCAD
May 18, 2018
On 11 May, a new exhibition of work by the Israel-born Danish painter Tal Rosenzweig, known professionally as Tal R, opened at the Museum of Contemporary Art Detroit. The show has me confused and irritated, but not because of the artist or his work. In fact, the paintings themselves are beautiful, even haunting. If I had no idea what they were about before seeing them, I would be gushing about them. What bothers me is how the concept of the show is being advertised by the museum and written about by the media. Titled ": This is Not Detroit" (I will explain the oddly placed colon later), the show includes seven large-scale paintings created on site by the artist. As the press release states, the paintings "depict the artist's vision of specific Detroit neighborhoods he has never visited." That is actually the entire basis for the show. Tal R has come to a place he has never visited in person before, and painted big, blue, abstract paintings symbolically depicting its various communities onto the walls of the local contemporary art museum. The hyperbolically sympathetic press release continues, stating, "The intricate, multipart installation manifests the artist's fantasy of Detroit, acting as a meditation on dream places, identity, and whimsy." While I agree there are fantasies at work here, I find nothing about this concept whimsical. It reeks of Orientalism. For those unfamiliar with that word, it is a general term for the patronizing treatment artists from Europe gave to the cultures, people and places of the Middle East, Africa, and Asia in the 19th Century. It was quite fashionable for a time for colonial people to hang fantasy images in their homes of the places their countries were conquering. Few if any Orientalist artists ever actually travelled to the places they painted. They based their paintings on fantastical, exaggerated stories reported by the invaders. Today, the invader is the internet. Tal R exclusively conducted his research about Detroit from its stories. He then absorbed those lies and transformed them into this Neo-Occidentalist disgrace, which offers little more than an assortment of abstract stereotypes of the Western World.
This Is Not Okay
The free floating colon placed in the title of ": This is Not Detroit is a grammatical trick. Tal R explained recently to Vogue Magazine that it is intentional. "If you see a painting," he says, "what you see is that something happened in the world, or in the everyday life of the painter, and then there is a painting. That means you are always seeing something after a colon." I agree with the artist that the colon here is important. What happened in the life of this painter prior to these paintings being made is essential to why this show is offensive. The painter was born in Tel Aviv, Israel, and now lives in Copenhagen, Denmark. For ten years, he taught in Düsseldorf, Germany. If Tal R wanted to make an exhibition about place, maybe what should have come after the colon is a sentence like "This is Not Tel Aviv", "This is Not Copenhagen," or "This is Not Düsseldorf."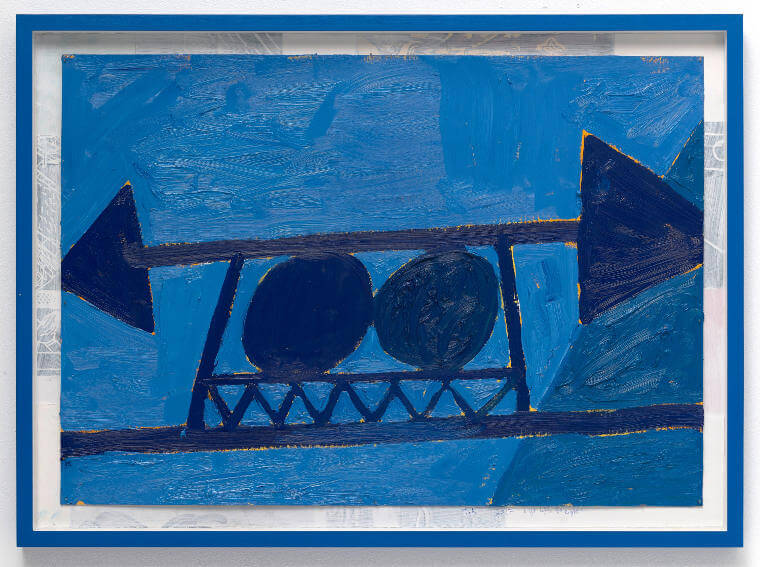 Tal R - Go left go right, 2017. Oil on hardboard, artist made frame. 82 x 112 cm. Paradis - Nansensgade 45 A, Baghuset 1366 København K. Courtesy of the artist. Reference image.
What he did instead has a name: cultural appropriation. Calling this haphazard representation of an unknown foreign culture "a meditation on dream places" and "identity" is a bad joke. For many years now, the everyday residents of Detroit have suffered quite literally from the attitude that their recently bankrupted city is a "dream place" outsiders are free to re-imagine. Many thousands of creative people and entrepreneurs have moved to Detroit hoping to remake its identity into something more suitable to their personal agendas. The automobile industry that built and then destroyed the economy of the city did the same thing. It created a myth and then right when everyone was fully bought in, they got smacked in the face with cruel reality. Even the museum hosting this show is located within a former car dealership—a perfect symbol for the misunderstanding this exhibition represents.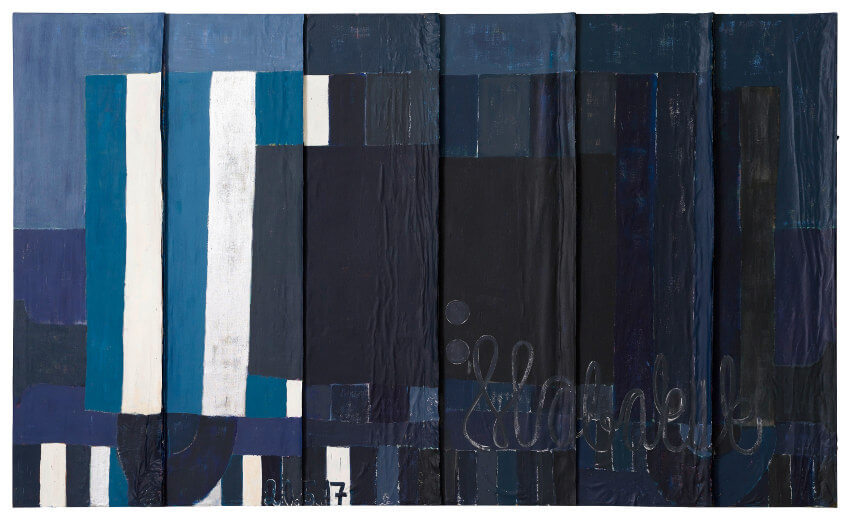 TAL R - Habakuk, 2017. Acrylic and pigment on canvas. 300 x 500 cm. Paradis - Nansensgade 45 A, Baghuset 1366 København K. Courtesy of the artist. Reference image.
The Treachery of Symbolism
When reading the title of this show, I cannot help but think of the Surrealist masterpiece by René Magritte called "The Treachery of Words." It features an image of a pipe along with the words "Ceci n'est pas une pipe," or "This is not a pipe." About the painting, Magritte said, "How people reproached me for it! And yet, could you stuff my pipe? No, it's just a representation, is it not? So if I had written on my picture 'This is a pipe', I'd have been lying " Magritte was fascinated by what the world is, compared to what we imagine it to be. This painting deftly states the fundamental difference that always ultimately exists between reality and art.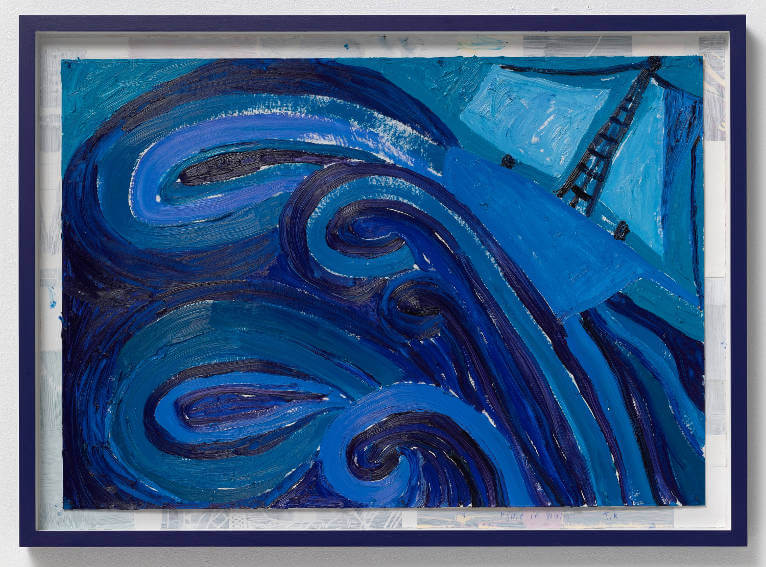 TAL R - Ship in waves, 2017. Oil on hardboard, artist made frame. 82 x 112 cm. Paradis - Nansensgade 45 A, Baghuset 1366 København K. Courtesy of the artist. Reference image.
Although Tal R also seems to be interested in what the world is compared to what we imagine it to be, he has adopted an opposite strategy to the one taken by Magritte. Whereas Magritte had seen many pipes, Tal R has never really seen Detroit. If Tal R and the MOCAD were signaling in some way that this exhibition is a critique on the fantasies infecting so many people who move to Detroit with hopes of transforming the city, I would be calling this one of the best shows of the year. But the artist and the museum are presenting it instead as something magical, and full of idealism. Unlike "The Treachery of Words," ": This is Not Detroit" is not a meta-message—subtext intended to get us to think about the absurdity of what we are seeing. Rather, it is a mesa-message—a flat, surface level perspective offered by a complete outsider. In a time when generations of young people have been born into a false idea that they can get a worthwhile understanding of the world from internet research alone, this exhibition elevates that lie.
Featured image: TAL R - Rainbow, 2017. Oil on hardboard, artist made frame. 2 Frames together, each frame measurs 112 x 82. Paradis - Nansensgade 45 A, Baghuset 1366 København K. Courtesy of the artist. Reference image.
By Phillip Barcio